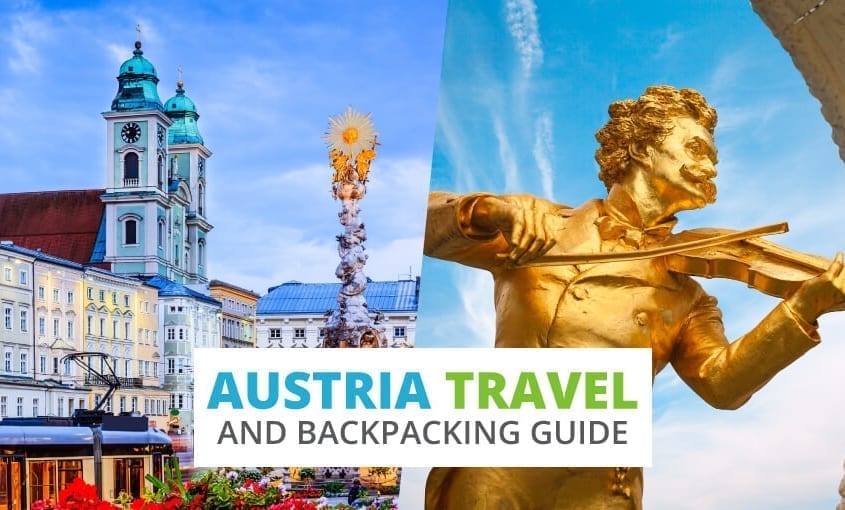 Backpacking Austria
Looking for important travel information while backpacking around Austria? Here you will find information on working in Austria, entry visas, Austria hostels, and much more.
Table of Contents

Facts About Austria
Austria is a diverse country, rich in culture with spectacular scenery. Its regions offer a wealth of activities and pursuits for all ages and interests. As one of the most mountainous countries in Europe (approximately 60% of the country's surface area), Austria undoubtedly boasts one of the most impressive skiing regions in the world, with many different resorts attracting tourists from far and wide. As well as skiing there is also a large number of hiking trails, cycling and many other leisure activities on offer.
Nightlife can vary; Austria can offer anything from beer gardens, laid-back taverns and great apres-ski spots, plus many trendy bars and clubs which are open until the early hours. Austria is a popular tourist destination all year round, with both summer and winter activities. Away from the ski slopes, the cities are well worth a visit. Vienna, the capital; renowned for having some of the most impressive architecture in Europe and is ideal for art and music enthusiasts. The city of Salzburg is the most popular among tourists. This stunning historical city was the birthplace of the great classical composer Mozart. The Salzburg festival held each summer still attracts the world's best classical artists.
Currency Euro
Time GMT +1
Language German
Telephone Services Country Code +43
Emergency numbers Police 133, Ambulance 144 and Fire 122.
Climate
The summers in Austria offer a comfortable heat with cool nights. However, in Vienna and other low lying cities temperatures can get uncomfortably hot between July and August. The winters are cold, below freezing in January and February which encourage plenty of winter sports. The winter ski season runs from December to April. Outdoor sports enthusiasts should note that the sun can be intense at high altitudes it is important to slather on the sun screen.
Things to see and do
Austria's capital, Vienna, is located in the northeast of the country at the foothills of the Alps, alongside the Danube River. This city boasts a rich musical tradition which is still evident today with world class museums, galleries and theatres. It is well worth taking time to visit the Schonbrunn Palace which was the residence of the famous Hapsburgs from the 18th century onwards. A tour of the palace gives visitors the chance to see a stunning assortment of Baroque and Rococo state rooms and to view the hall of mirrors where Mozart once played. The Palace is set in vast gardens which include a zoo and a maze. At approximately £8 per person this is definitely a visit not to be missed.
Salzburg, the birthplace of Mozart and music city and is perfect for those who like baroque architecture, church bells, cafes, chocolate and mountains. The Hellbrunn Palace is home to the famous Sound of Music Tour and the Eisriesenwelt Caves at Werfen south of the city contain remarkable frozen waterfalls and striking ice formations. Music lovers might like to go to the famous Salzburg festival: one of the world's best and biggest classical music festivals; presents performances of drama, concerts and opera over a period of five to six weeks each summer. (www.salzburgfestival.at)
Innsbruck is located at the centre of the Austrian Alps and has hosted the Winter Olympics twice. There are limitless opportunities for biking, hiking and winter sports. Innsbruck is also popular as a summer destination and has a wide choice of restaurants, bars and nightclubs.
One of the top destinations for British skiers and snowboarders is St Anton. These are the main activities St Anton has to offer, but there are some other options. In the summer an open-air heated pool on the mountainside proves very popular with tourists.
Travel
Austria has excellent rail connections to all major European destinations and transport systems within Austria are very efficient and highly developed. Both Eurail and Interrail passes can be used on all trains. An Austrian railpass is available and allows three days of unlimited second-class travel within a fifteen day period. (Price)
Bicycle travel is extremely popular among tourists in Austria. Bicycles can be hired from over 160 railway stations and returned to any other station with a rental office. The Danube cycling trail, from the Black Forest in Germany to Vienna and beyond is definitely one to consider.
The main domestic carrier is Tyrolean Airways and operates several flights a day between Austria's main cities, such as Vienna, Salzburg and Innsbruck. However, Austria is a small country and its rail network offers an efficient and comfortable way to travel around. However, if money is tight taking the bus can offer a cheaper alternative. The Bundesbus (federal bus) is used for local trips and for those on a tight budget, to get to the hard to reach places rather than for long distance travelling. Certain ski resorts in Voralberg and Tirol can only be reached by Bundesbus or private transport.
Austrians drive on the right. Roads are generally good, but some care should be taken with the difficult mountain routes. High altitude destinations can be reached by cable cars and gondolas.
Accommodation
Hotels in Austria tend to be quite expensive in the smaller cities, though there are the cheaper alternatives in the bigger cities. Youth hostels offer a cheaper alternative and generally offer a very high standard of accommodation.
Many hostels are independently owned and can range from large city hostels with bars to the smaller alpine lodges and chalets located in popular ski resorts. The Austrian Youth Hostel Association has over 100 hostels in various regions around the country. It is advisable to book your hostel in advance especially during peak season. For youth hostels in Austria, see our Austria hostels section
There are around 500 campsites in Austria, with around 160 sites equipped for winter camping. Camping grounds are exceptionally clean but are a bit more expensive than other countries in Central Europe.
Chalets, alpine huts, ski lodges and holiday apartments are all available for rent throughout Austria. For further details, contact your local travel agent or contact the Austrian National Tourist Office. Chalets and apartments can cost as little as £6 per person per night.
Health
A reciprocal agreement between EU member states enables you to get free or reduced cost necessary treatment is available if a valid European Health Insurance Card (EHIC) is produced. This has replaced the E111 which was no longer valid as of 31 December 2005. The EHIC gives access to state-provided medical treatment only, so it is advisable to take out comprehensive travel insurance before visiting Austria. For information, and how to apply for an EHIC online, please check www.dh.gov.uk.
No vaccinations are required. Visitors to the alpine areas should protect against altitude sickness and hypothermia.
Useful Links
Austrian National Tourist Office
www.austria.info

Austria Embassy
18 Belgrave Mews West
London 
SW16 8HU
Tel 020 735 3731
www.austria.org.uk

Austrian Hotel Association
Hofburg
Gottfried-von-Einem-Stiege
A-1010 Vienna
Austria 
Tel: (1) 5330 9520.
www.oehv.at 

Österreichische Jugendherbergsverband (Information on youth hostels)
Schottenring 28
A-1010 Vienna
Austria 
Tel: (1) 533 5353.
www.oejhv.or.at

Camping & Caravanning Club
Schubertring 1-3
A-1010 Vienna
Austria 
Tel: (1) 713 6151.
www.campingclub.at
Entry Visas for Austria
EU, US, Canadian, EEA, Israeli, Japanese, Korean, Malaysian, Singaporean, Australian and New Zealand citizens do not require visas for stays of up to three months. Nationals of African and Arabic countries generally require a visa, also valid for up to three months.
Addresses
Austrian Embassy in the UK
18 Belgrave Mews West
London
SW1X 8HU
UK 
Tel: (020) 7235 3731 or 7344 3289 or (09065) 508 961 (24-hour visa information). 
Website: www.aussenministerium.at

Austrian National Tourist Office (ANTO) in the UK
9-11 Richmond Buildings
Dean Street
London
W1D 38F
UK 
Tel: (020) 7440 3830 or (0845) 101 1818 (holiday information and brochure request line). 
Website: www.austria.info/uk
Foreigner Work Permits in Austria
European Union citizens can legally work in Austria, though you must register with the police station within five days of arriving in the country, this is a quick and easy process. Non-EU citizens can still find work, though the process is much more difficult. EU citizens can visit Austria without a stay permit or visa. You also don't need a work permit, although if you stay for longer than three months you will need an ID Card (EWR-Lichtbilausweis), which does include a residence permit.
Most travellers find work in the various ski regions especially in the Tyrol region. However, it is also possible to find work in Salzburg, particularly German speaking EU citizens.
Young people from abroad may work in Austria as an au pair. Au pairs are accepted as part of the host family and integrated into their everyday life.
There is plenty of work available in the tourism industry. Finding a job can be as easy as turning up at a hotel and asking. Seasonal work in the large ski resorts is probably the most likely option.
How to Say Common German Phrases
Meeting People
English

German

yes

ja

no

nein

thank you

danke

you are welcome

bitte schön

please

bitte

excuse me

entschuldigen sie

hello

guten tag

goodbye

auf wiedersehen

good morning

guten morgen

good night

gute nacht

I do not understand

Ich verstehe nicht

Do you speak …

Sprechen sie…

English

Englisch

German

Deutsch

What is your name?

Wie heifen sie?

Nice to meet you?

Sehr erfreut

How are you?

Wie geht's?

good

gut

bad

schlecht
Directions
English

German

map

die karte

left

links

right

rechts

straight on

geradeaus

far

weit

near

nahe
Methods of Transport
English

German

Where is…?

Wo ist…?

How much is the fare?

Wieviel kostet die fahrkarte

ticket

die fahrkarte

A ticket to…, please

Eine fahrkarte nach…

Where are you going?

Wohin gehen sie?

Where do you live?

Wo wohnen sie?

Train

die bahn

bus

der bus

Underground

die U-Bahn

airport

der flughafen

train station

der bahnhof

bus station

der busbahnhof

Underground station

der U-Bahnhof

departure

die abfahrt

arrival

die ankunft

parking

parken
Time
English

German

What time is it?

Wie spät ist es?

Today

heute

yesterday

gestern

tomorrow

morgen
Accomodation
English

German

hotel

das hotel

room

das zimmer

reservation

die reservierung

Are there any vacancies?

Haben sie ein zimmer frei?

No vacancies

Ausgebucht

Passport

Reisepal
Places
English

German

post office

die post

bank

die bank

police station

polizeiwache

hospital

das krankenhaus

chemist

die apotheke

shop

das geschäft

restaurant

das restaurant

museum

das museum

church

die kirche

street

die strafe

square

der platz
Shopping
English

German

How much does this cost?

Wieviel kostet das?

I will buy it

Ich nehme es

I would like to buy…

Ich muchte…kaufen

Do you have…?

Haben sie…?

open

auf

closed

geschlossen

postcard

die postkarte

stamps

die briefmarke

little

wenig

lot

sehr viel

all

alles
Meals
English

German

breakfast

das frühstück

lunch

das mittagessen

dinner

das abendessen

vegetarian

vegetarisch

cheers!

prost!

The bill please

Die rechnung, bitte
Drinks
English

German

drink

das getränk

coffee

der kaffee

tea

der tee

juice

der saft

water

das wasser

beer

das bier

wine

der wein
Food
English

German

meat

das fleisch

fish

der fisch

vegetable

das gemüse

fruit

die frucht

potato

die kartoffel

dessert

das dessert
Austria Hostels
Hostels are a cheap form of accomodation, and so they are essential to backpackers and other budget travellers. We have compiled a list of hostels in Austria to help you plan your journey. If you are looking for a hostel in Austria, you've come to the right place.
Burgenland
Carinthia
Lower Austria
Salzburg
Styria
Tirol
Upper Austria
Vorarlberg
Wien
There you have it, the ultimate Austria backpacking guide. We hope you have found all the information you need for backpacking around Austria.