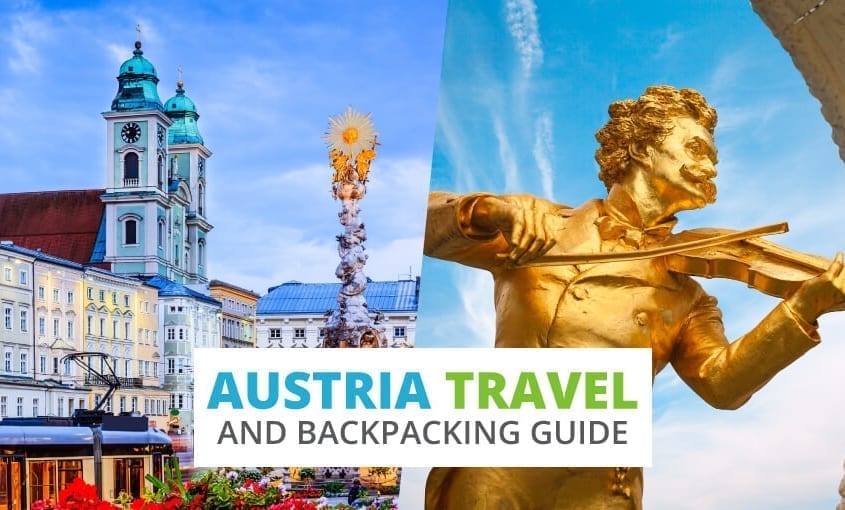 Backpacking Austria
Looking for important travel information while backpacking in Austria? Here you will find information on working in Austria, entry visas, Austria hostels, and much more.
Table of Contents
Facts About Austria
Austria is a diverse country, rich in culture with spectacular scenery. Its regions offer a wealth of activities and pursuits for all ages and interests. As one of the most mountainous countries in Europe (approximately 60% of the country's surface area), Austria undoubtedly boasts one of the most impressive skiing regions in the world, with many different resorts attracting tourists from far and wide. As well as skiing there is also a large number of hiking trails, cycling and many other leisure activities on offer.
Nightlife can vary; Austria can offer anything from beer gardens, laid-back taverns and great apres-ski spots, plus many trendy bars and clubs which are open until the early hours. Austria is a popular tourist destination all year round, with both summer and winter activities.
Away from the ski slopes, the cities are well worth a visit. Vienna, the capital; renowned for having some of the most impressive architecture in Europe and is ideal for art and music enthusiasts. The city of Salzburg is the most popular among tourists. This stunning historical city was the birthplace of the great classical composer Mozart. The Salzburg festival held each summer still attracts the world's best classical artists.
Currency Euro
Time GMT +1
Language German
Telephone Services Country Code +43
Emergency numbers Police 133, Ambulance 144 and Fire 122.
Climate in Austria
When deciding the best time to visit Austria, weather certainly plays a role. The summers in Austria offer a comfortable heat with cool nights. However, in Vienna and other low lying cities temperatures can get uncomfortably hot between July and August.
The winters are cold, below freezing in January and February which encourage plenty of winter sports. The winter ski season runs from December to April. Outdoor sports enthusiasts should note that the sun can be intense at high altitudes it is important to slather on the sun screen.
Things to do in Austria
When deciding the best things to do in Austria, there is an abundance of options. Here are the top bucket-list items when backpacking Austria.
Vienna
Austria's capital, Vienna, is located in the northeast of the country at the foothills of the Alps, alongside the Danube River. This city boasts a rich musical tradition which is still evident today with world class museums, galleries and theatres.
It is well worth taking time to visit the Schonbrunn Palace which was the residence of the famous Hapsburgs from the 18th century onwards. A tour of the palace gives visitors the chance to see a stunning assortment of Baroque and Rococo state rooms and to view the hall of mirrors where Mozart once played. The Palace is set in vast gardens which include a zoo and a maze. At approximately £8 per person this is definitely a visit not to be missed.
Since Vienna is one of the most visited cities in the world, it is wise to book tickets to popular attractions (historical sites, museums) ahead of time to avoid the lines. GetYourGuide is a one-stop shop for the most popular and unique experiences worldwide. You can book basic entrance tickets and pay exactly what the official ticket office would charge, without having to queue up. Some popular tourist attractions also offer 'Skip the Line' tickets, which are separate entrance for a slightly higher ticket price. Get your Guide offers these ticket varieties as well and it can be a worthwhile cost for popular attractions like the Schönbrunn Palace.
You can also book excursions and day trips with GetYourGuide. They work directly with local tour operators, so you won't have to scour the internet or roam around town trying to find the best deal.
Salzburg
Salzburg, the birthplace of Mozart and music city and is perfect for those who like baroque architecture, church bells, cafes, chocolate and mountains. The Hellbrunn Palace is home to the famous Sound of Music Tour and the Eisriesenwelt Caves at Werfen south of the city contain remarkable frozen waterfalls and striking ice formations.
Music lovers might like to go to the famous Salzburg festival: one of the world's best and biggest classical music festivals; presents performances of drama, concerts and opera over a period of five to six weeks each summer. (www.salzburgfestival.at)
Innsbruck
Innsbruck is located at the centre of the Austrian Alps and has hosted the Winter Olympics twice. There are limitless opportunities for biking, hiking and winter sports. Innsbruck is also popular as a summer destination and has a wide choice of restaurants, bars and nightclubs.
St. Anton
One of the top destinations for British skiers and snowboarders is St Anton. These are the main activities St Anton has to offer, but there are some other options. In the summer an open-air heated pool on the mountainside proves very popular with tourists.
Unique Activities in Austria
Since popular places in Austria can get crowded during tourist season, it is wise to reserve tickets and activities ahead of time. GetYourGuide sells entrance tickets to museums and landmarks at face value so you can avoid the lines and save that precious time for more exploring.
Viator is another popular travel website that helps you book things to do in Austria. They work directly with local tour operators in Austria, so you won't have to scour the internet or roam around town trying to find the best deal.
If you know your schedule ahead of time, a great insider tip is to buy tickets for major tourist attractions ahead of time. Tiqets has entrance tickets and skip-the-line passes for major attractions in Vienna, Salzburg, Innsbruck, and other hotspots, which can be a worthwhile cost during peak tourist season.
How to Get Cheap Flights to Austria
The main domestic carrier is Tyrolean Airways and operates several flights a day between Austria's main cities, such as Vienna, Salzburg and Innsbruck. However, Austria is a small country and its rail and bus networks offer an efficient and comfortable way to travel around.
If you're flying to Austria or plan to take short flights within the country, we recommend using a few different flight comparison search engines. Kiwi is a new favourite among travellers. On average, we have found the cheapest flights to Austria with them compared to the other websites out there.
Of course, it is always worth checking Skyscanner to guarantee you're getting the best deal. Both websites offer great flexible search options, allowing you to search the whole country of Austria to find the cheapest airport to fly into, and also see prices for a full month if you're flexible on travel dates.
How to Travel Around Austria on a Budget
Train and long-distance bus are the standard modes of transport for getting around the country. Buses are the more economical option, nevertheless, they are well-equipped with the usual modern conveniences that expect when travelling in Europe. Train travel, on the other hand, is the fastest way between two cities and the train stations are conveniently located right in the center of town. 
Certain routes are better suited to one mode of transport than the other. To compare your options for journeys from A to B, you can try Omio. They compare trains, buses (and even flights) so you can decide for yourself the tradeoff between cost and travel time.
High-altitude destinations can be reached by cable cars and gondolas. Bicycle travel is extremely popular among tourists in Austria. Bicycles can be hired from over 160 railway stations and returned to any other station with a rental office. The Danube cycling trail, from the Black Forest in Germany to Vienna and beyond is definitely one to consider.
Train travel in Austria
The Austrian Rail system is run by ÖBB, and with a punctuality score of 97%, it's one of the most reliable rail systems in Europe. Trains are comfortable, fast, and reasonably priced. Trains will have bathrooms and most routes also have a dining car, free WiFi and power sockets. The trains is oftentimes the best way to get from A to B, with an extensive network even covering the mountainous regions.
Austria is a part of the Eurail network, which is a good choice if you plan to take multiple train journeys in a short period of time. If you plan on doing lots of train travel in a short amount of time, a Rail Pass from Eurail might be the right choice for you. 
Bus travel in Austria
Taking the bus can offer a cheaper alternative. The Bundesbus (federal bus) is used for local trips and for those on a tight budget, to get to the hard to reach places rather than for long distance travelling. Certain ski resorts in Voralberg and Tirol can only be reached by Bundesbus or private transport.
Driving in Austria
Roads are generally good, but some care should be taken with the difficult mountain routes. You may also want the flexibility to stop in smaller towns between the major cities. If you decide you want to rent a car, you can use DiscoverCars to compare offers from the major car rental agencies in the region. Before deciding, read more about what to expect of driving in Europe.
If you want the flexibility to have a car available on-demand, you can sign up for ShareNow, which is the car-sharing app in Europe. Using their app, you can unlock cars within Vienna whether you need to rent a car for 2 minutes or 2 weeks. To sign up you'll need to download the app, and have a valid driver's license, so it's best to sign up before your trip.
Backpacking Group Tours in Austria
Though part of the fun of backpacking Austria is exploring on your own, there are situations, especially when venturing off the tourist trail, when it does make sense to go with a guide or a small group. 
The most popular option for a social travel experience is Contiki tours. Contiki trips offer more than just transportation, they are organized social group travel for travelers aged 18-35. Whether you're traveling by yourself or going with a group of friends, Contiki tours are perfect for people looking to have a blast, meet new friends, and form lifelong memories. They offer tours that travel primarily in Austria or longer tours that cover other nearby places.
G Adventures is another great option for organized travel, but with a smaller group. It's a great choice for anyone backpacking Austria alone who would like to meet up with like-minded travellers. It's also a practical option for exploring places where you need an experienced guide, like a long hiking adventure or visiting a place well off the beaten path. You can choose from different styles of small group tours like active, wellness, hiking trips, 18-30somethings, and more. Their most popular trips in Austria are their 9-day Rome to Budapest on a Shoestring tour through Hungary, Austria, and Italy, or their 9-day Central Europe tour in Hungary, Austria, Germany, and the Czech Republic.
Health and Safety in Austria
No vaccinations are required. Visitors to the alpine areas should protect against altitude sickness and hypothermia.
As with travel to all other countries abroad, it is vital that you get travel insurance before you leave. Even for short trips, our go-to travel insurance provider is World Nomads, which is also recommended by Lonely Planet, HostelWorld, and other major travel companies.
Entry visa requirements for Austria
EU, US, Canadian, EEA, Israeli, Japanese, Korean, Malaysian, Singaporean, Australian and New Zealand citizens do not require visas for stays of up to three months. Nationals of African and Arabic countries generally require a visa, also valid for up to three months.
Visa requirements for Austria can vary widely depending on your country of origin and can change over time. To avoid any unpleasant surprises, be sure to check the latest visa requirements while you're still planning your trip.
Foreigner work permits and backpacker jobs in Austria
European Union citizens can legally work in Austria, though you must register with the police station within five days of arriving in the country, this is a quick and easy process. Non-EU citizens can still find work, though the process is much more difficult. EU citizens can visit Austria without a stay permit or visa. You also don't need a work permit, although if you stay for longer than three months you will need an ID Card (EWR-Lichtbilausweis), which does include a residence permit.
Working at ski resorts in Austria
Most travellers find work in the various ski regions especially in the Tyrol region. However, it is also possible to find work in Salzburg, particularly German speaking EU citizens.
Working as an Au Pair in Austria
Young people from abroad may work in Austria as an au pair. Au pairs are accepted as part of the host family and integrated into their everyday life.
Working in tourism in Austria
There is plenty of work available in the tourism industry. Finding a job can be as easy as turning up at a hotel and asking. Seasonal work in the large ski resorts is probably the most likely option.
Volunteering in Austria
Volunteer travel is a great way to explore Austria on a budget while also giving back. Typically, you'll work on the project a set number of hours per week in exchange for free accommodation, and sometimes other perks such as free food, free bike rentals, and more. 
If volunteer work in Austria sounds like something you want to do, it's best to do it via a reputable agency. An agency will help screen volunteer programs and hosts in Austria to make sure you have support every step of the way.
Volunteer work in Austria can be organized through the WorldPackers agency, and you can use promo code BACKPACKING10 to save $10 on your membership. WorldPackers can connect you with volunteering opportunities in Austria with NGOs, hostels and homestays, agricultural or wildlife experiences, and more.
Agriculture and farming jobs in Austria
If working outdoors appeals to you,
WWOOF
is a voluntary organisation that provides work on organic farms and includes board and accommodation for a membership of €10 per year, check their website for more information.
Hostels and Budget Accommodation in Austria
Hotels in Austria tend to be quite expensive in the smaller cities, though there are cheaper alternatives in the bigger cities. Youth hostels offer a cheaper alternative and generally offer a very high standard of accommodation.
Many hostels are independently owned and can range from large city hostels with bars to the smaller alpine lodges and chalets located in popular ski resorts. The Austrian Youth Hostel Association has over 100 hostels in various regions around the country. It is advisable to book your hostel in advance especially during peak season.
We have had good experiences finding hostels on HostelWorld. They have the largest inventory of hostels worldwide, and with over 10 million reviews and ratings from other travellers you know exactly what to expect.
Another good way to find accommodation in Austria is by checking booking.com. On their site, you'll find hotels, homestays, hostels, and other unique accommodation. They have the most reviews and advanced filtering of any accommodation-booking site, so you'll be sure to find a great place in your budget. We have discovered some great finds and have appreciated the ability to book ahead. Many of the places on booking.com also offer free cancellation, which takes the pressure off the planning phase of your trip to Austria.
If you are backpacking with another travel companion, we highly recommend booking a rental via VRBO. With a vacation rental, you'll have more space, your own kitchen, and you'll get a better feel for how the locals live. Plus, the cost of a vacation rental can be split among your group, oftentimes making it cheaper than doing individual hotel rooms. 
If you're looking to save even more money while backpacking in Austria, there are plenty of creative ways to get free accommodation in exchange for work. For example, one of our favorite ways to stay in amazing locations for free is by signing up as a petsitter with Trusted Housesitters. The site connects responsible animal lovers with petsitting opportunities in Austria and all over the world. It's a win-win for both sides – travellers can stay in amazing locations for free, and homeowners can rest easy knowing that someone is watching over their place.
There are around 500 campsites in Austria, with around 160 sites equipped for winter camping. Camping grounds are exceptionally clean but are a bit more expensive than other countries in Central Europe.
Chalets, alpine huts, ski lodges and holiday apartments are all available for rent throughout Austria. For further details, contact your local travel agent or contact the Austrian National Tourist Office. Chalets and apartments can cost as little as £6 per person per night.
And lastly, CouchSurfing is a great community that connects travellers with local hosts. You can stay for free with verified hosts, who will usually show you around the locals spots.
Useful links for Backpacking in Austria
---
There you have it, the ultimate Austria backpacking guide. We hope you have found all the information you need for backpacking around Austria.
Next Up:
Liked this article? Share it with others who might be after the same information!