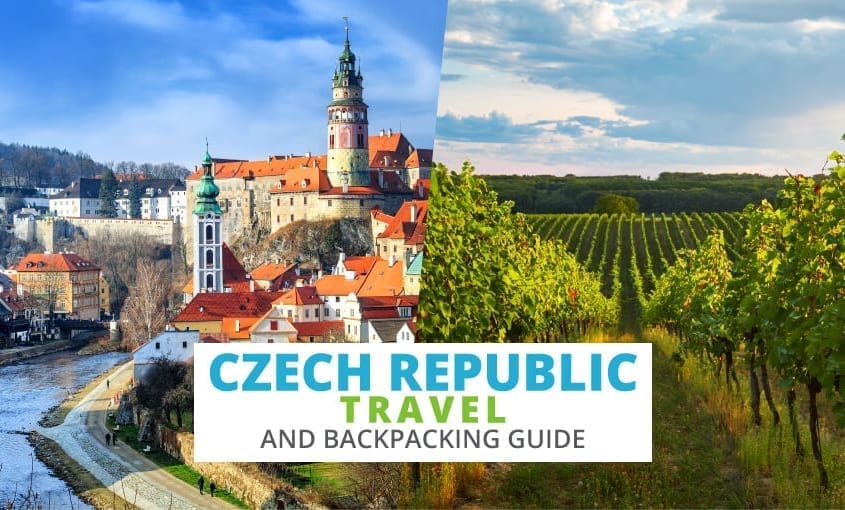 Backpacking Czech Republic
Looking for important travel information while backpacking around Czech Republic? Here you will find information on working in Czech Republic, entry visas, Czech Republic hostels, and much more.
Table of Contents

Facts About Czech Republic
The Czech Republic is a small country located in the heart of Europe. It has only quite recently returned to the economic and political freedom of a democratic system and with various historical and cultural points of interest, the Czech Republic has become a popular destination to visit.
The country is divided into two parts, Moravia and Bohemia. Moravian wine villages, Bohemian spa towns, unspoilt scenery, stunning countryside, forests and mountains show that the Czech Republic has so much to offer.
Prague, the cosmopolitan capital, virtually untouched by the wars of the twentieth century is a popular tourist hotspot attracting a great number of visitors each year. With museums and galleries scattered throughout the city and many festivals and concerts held throughout the year, there really is something for everyone.
No visit to Prague would be complete without a visit to one of the country's breweries. This ancient tradition dates back to the 10th century. So why not visit one and sample some of the world famous Czech beers, including Pilsner, Staropramen and Budweiser Budvar.
Currency Koruna (45CZK = 1GBP)
Time Zone GMT +1 (GMT + 2 from end of March to end of October)
Language Czech
Telephone Services County code is 420
Emergency numbers Police 158, Ambulance 155, Fire 150
Climate
Weather in the Czech Republic can really vary with cold winters and mild summers. High rainfall should be expected in spring and summer. The best time to visit is from May to September when days are warm and nights are cool.
Things to see and do
Prague, the capital of the Czech Republic, is one of the most attractive cities in Europe. With its medieval cobbled streets, ancient squares and spectacular architecture, Prague is quickly becoming a very popular short break destination.
Many of Prague's main attractions are located in certain areas, such as the Old Town and Wenceslas Square, these are all within easy reach and can be explored on foot. Several museums and galleries are scattered throughout the city and should feature on your list of things to do in Prague. For music lovers this city has everything from opera, ballet and classical to street buskers, live music and jazz bars. In spring the city really comes alive with The Prague International Music Festival which has been going for 50 years and one of the world's largest.
Prague castle is the most popular tourist attraction and should most certainly feature on your itinerary. Highlights include a network of tunnels, the Spanish Hall and the Rudolf Gallery which displays a collection of historic and architectural marvels, plus marching soldiers and entertainment. A Prague Card can be bought throughout the city which can be used as a ticket to at least 40 tourist locations in Prague as well as being used as a travel pass and is valid for three days.
For a really spectacular view of Prague, why not climb the 299 steps up to Petrin Hill and enjoy panoramic views of both the city and the central Bohemian woodlands. As well as its rich culture you can't go to Prague without sampling the vibrant nightlife. Wenceslas Square holds host to a wide range of bars, discos and nightclubs where you can party until the early hours. There are also red light districts in the city.
Although tourism is concentrated mainly in Prague, the rest of the country also has much to offer. Bohemia is the western region of the Czech Republic and a popular destination among Czech and German tourists. The Krknose (Giant) Mountains National Park boasts stunning scenery, it's the country's highest peak and offers great opportunities for hiking and many skiing and snowboarding facilities. For those of you wanting a more relaxing trip, western Bohemia is home to health resorts and spas. Karlovy Vary is a famous spa town where you can take a thermal bath, relax in hot springs and bathe in the sulphurous waters. It is also home to an annual international film festival.
Moravia is a truly beautiful region of the Czech Republic and features scenic mountains and picturesque villages. Brno, the Czech Republic's second largest city has lots to see and do. The city is compact yet packed with many restaurants, theatres, fountains and full of historical buildings. Freedom Square forms the heart of the city and forms a good base for exploring the rest of the Brno. Many cultural events also take place here. Beer lovers might like to take a trip to the real Pilsner Brewery and sample the delights on offer. North of Brno are the Macocha Caves which are definitely worth a visit. A tour of the caves will take you through winding tunnels and finishes with a boat ride on an underground river.
Travel
Czech Airlines is the main domestic carrier with many domestic flights operating from Prague to Ostrava, Brno and Karlovy Vary.
Czech Railways operates the rail network. It runs several daily express trains between Prague and other main cities. Train fares are reasonably low and it is advisable to make reservations in advance for the major routes. In Prague the Metro is a quick and inexpensive way to explore the city and a single ticket entitles you to an hour's travel anywhere on the system.
The Czech Republic public transport system is very good. The Bus network is comfortable and very efficient with buses operating until the early hours. For timetables, fares and other information on Prague please check out this travel information website, or this timetable information site which has timetable information for various forms of transport. Trams, buses and trolleybuses also operate in most other major cities including Ostrava, Brno and Plzen and many other towns. Trams provide a great way to enjoy Prague's scenery and are readily available.
Accommodation
There are many different accommodation options in Prague and many of them are within walking distance of the town centre. April to October is peak season and prices for accommodation can be up to twice as high. It is advisable to make your reservations before your arrival in Prague. Hotels can range from luxurious 5 stars to basic budget hotels.
Hostels offer a cheaper alternative to staying in a hotel. Many hostels in Prague come with the party vibe but there are also many with a relaxed atmosphere and can be as nice as any hotel. Many hostels also have the option of having a private room. There are YHA and independent hostels in the Czech Republic. There is a Czech Youth Hostel Association which was only set up in 2003. It accommodates mainly students, backpackers and independent travellers from overseas. Check our hostel directory for hostels in Czech Republic.
Boat hotels offer an alternative form of accommodation for those wanting something a little different.
Many companies throughout Prague offer apartments to rent for visitors. This is a great solution for families or for people travelling in groups, it may not be as cheap as staying in a hostel but does offer a more private and comfortable way to spend your time in Prague.
Health
No vaccinations are required for entry into the Czech Republic. Mains water is usually chlorinated, however it is advisable to drink bottled water which is available throughout the whole country. If planning to visit the forested areas you should seek more information on immunisation against tick borne encephalitis.
A reciprocal agreement between EU member states enables you to get free or reduced cost necessary treatment is available if a valid European Health Insurance Card (EHIC) is produced. This has replaced the E111 which was no longer valid as of 31 December 2005. The EHIC gives access to state-provided medical treatment only, so it is advisable to take out comprehensive travel insurance before visiting the Czech Republic. For information, and how to apply for an EHIC online, please check Department of Health.
Useful Links
Embassy of the Czech Republic in the UK
26-30 Kensington Palace Gardens, London W8 4QY, UK 
Tel: (020) 7243 1115 or (09069) 101 060 (24-hour recorded visa information; calls cost Kč 1 per minute). 
Website: www.mzv.cz/london

Czech Tourist Authority in the UK
13 Harley Street, London W1G 9QG, UK 
Tel: (020) 7631 0427 or (09063) 640 641 (24-hour enquiry line; calls cost 60p per minute). 
Website: http://www.czechtourism.com

Prague Convention Bureau
Rytirska 26, 110 00 Prague 1 
Tel: (2) 2423 5159.
E-mail: info@pragueconvention.cz
Entry Visas for Czech Republic
EU Citizens must hold a passport valid for at least three months beyond length of expiry. Full British passport holders and citizens of the European Union do not require a visa to enter the Czech Republic. If your stay will exceed 30 days you must register with the Alien and Border Police within 30 days of arrival. EU citizens intending to stay longer than three months must apply for a temporary or permanent residence permit with the Alien and Border Police in the Czech Republic. Please note this process can take up to 60 days. Please be advised in the past travellers with passports in poor condition have been refused entry to the Czech Republic. Further passport and visa information can be obtained from the Embassy of the Czech Republic.
Embassy of the Czech Republic in the UK
26-30 Kensington Palace Gardens, London W8 4QY, UK 
Tel: (020) 7243 1115 or (09069) 101 060 (24-hour recorded visa information; calls cost Kč 1 per minute). 
Website: www.mzv.cz/london
Foreigner Work Permits in Czech Republic
The demand for people teaching English in the Czech Republic is increasing. Work can be found in small towns as well as in larger cities of Brno and Prague. Most jobs for English teaching positions are listed in the Prague Post, which is the weekly English language newspaper and the best place to look for possible job opportunities. The TEFL qualification is not essential to secure a teaching job in the Czech Republic but you are more likely to find work with one. Visit the TEFL website for more information.
The chances of finding any other paid work are fairly slim. However, there are opportunities for voluntary work such as conservation, construction, renovation, care and social work. The International Voluntary Service is a British organisation which provides voluntary work in the Czech Republic, please see check out their website for further information.
The Employment Service in Czech Republic provides information from the area of employment and social security. A jobseeker would need a passport to register at the Employment Service.
How to Say Common Czech Phrases
Meeting People
English

Czech

yes

Ano

no

Ne

thank you

Děkuji

you are welcome

Rádo se stalo

please

Prosím

excuse me

Promiňte

hello

Dobrý den

goodbye

Na shledanou

good morning

Dobré ráno

good night

Dobrý večer

I do not understand

Nerozumím

do you speak English?

Mluvíte anglicky?

what is your name?

jak se jmenuješ?

nice to meet you

Rád vás poznávám

how are you?

Jak se máš?
Directions
English

Czech

map

mapě

left

vlevo

right

vpravo

straight

on rovně

past the..

za..

before the..

před..
Methods of Transport
English

Czech

where is…?

Kde je…?

how much is a ticket to…?

Kolik stojí jízdenka do…?

ticket

jízdenku

a ticket to…, please

Jednu jízdenku do …, prosím

where does this train/bus go?

Kam jede tento vlak/autobus?

train

vlak

bus

autobus

how do I get to…?

Jak se dostanu do/k/na..?

airport

na letiště?

train station

vlakové nádraží

bus station

autobusová zastávka

departure

objezdy

arrival

prijedzy
Time
English

Czech

what time is it?

Kolik je hodin?

today

dnes

yesterday

včera v noci

tomorrow

zítra

tonight

dnes večer
Accommodation
English

Czech

hotel

hotelu

room

pokoj

youth hostel

mladeznicka ubytovna

When is check out time?

Do kolika hodin ma byt pokoj vyklizen?

Passport

pas
Places
English

Czech

bank

banka

police station

policie

hospital

nemocnice

restaurant

restaurací

museum

muzeum

church

kostel

town square

namesti

street

ulice
Meals
English

Czech

breakfast

snidane

lunch

obed

dinner

vercere

vegetarian

vegetarian

cheers!

Na zdraví!

The bill please

Zaplatíme
Drinks
English

Czech

drink

napoj

coffee

kava

tea

caj

coke

kola

water

voda

beer

pivo

wine

vino
Food
English

Czech

Beef

Hovezi

Chicken

kure

fish

ryba

vegetable

zelenina

fruit

ovace

potato

brambory

salad

salat

dessert

moucnik/dezert
Buy phrasebooks online at Amazon.co.uk
Czech Republic Hostels
Hostels are a cheap form of accomodation, and so they are essential to backpackers and other budget travellers. We have compiled a list of hostels in Czech Republic to help you plan your journey. If you are looking for a hostel in Czech Republic, you've come to the right place.
Brno
Cesky Krumlov
Karlovy Vary
Olomouc
Prague
Trebic
There you have it, the ultimate Czech Republic backpacking guide. We hope you have found all the information you need for backpacking around Czech Republic.