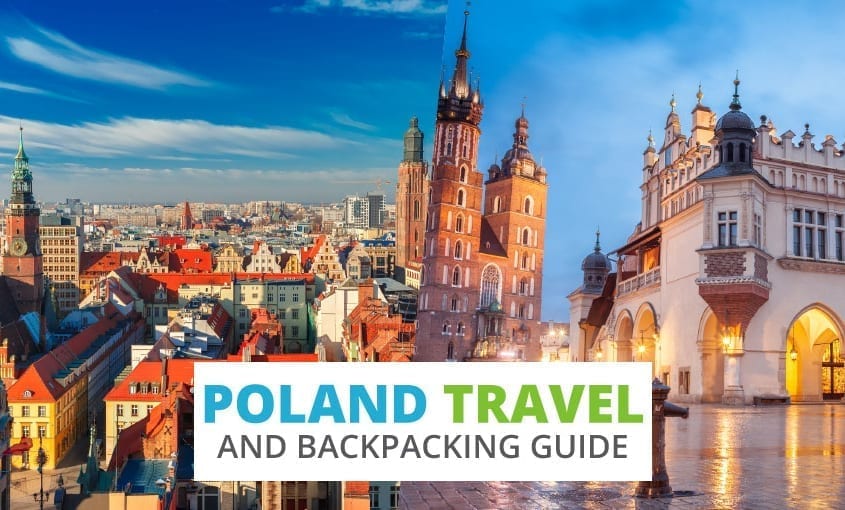 Backpacking Poland
Looking for important travel information while backpacking around Poland? Here you will find information on working in Poland, entry visas, Poland hostels, and much more.
Table of Contents

Facts About Poland
Poland is situated right in the centre of Europe, it represents in many ways a bridge between Eastern and Western Europe and this is reflected culturally in its charming mix of modern city skylines and traditional village based culture. Despite the fact that large areas of Poland were destroyed during World War II, the country has been rebuilt and restored into the strong and rapidly westernising country we see today. You will find Poland a nation very much in touch with its culture – from its traditional art and literature to its classical music.
Currency: Zloty (Zl) = 100 grozy
Time Zone: GMT + 1
Language: Polish
Telephone Services: Country code +48, International Access code 00
Emergency Numbers: 997 Police, 998 Fire, 999 Ambulance
Climate
Poland has quite a variable climate. The weather can change rapidly from one extreme to another. In general, the summers are pleasant but there can be heavy rains in some areas; the winters are cold and the higher lying areas are normally covered with a blanket of snow.
Things to see and do
Like much of Poland, Warsaw, the capital, sustained heavy damage during World War Two. The old town has been thoroughly restored to resemble Warsaw during the 17th and 18th centuries. The centre point of the city is the town square (an excellent example of restoration work), along with the Historical Museum of Warsaw which chronicles the reconstruction of the city. The rest of the city is quite modern in appearance although there are some concrete-block style buildings around.
When the king of Poland travelled from Warsaw to Gdańsk, he would take a specific route which is now known as the Royal Way. There are many beautiful sites along the Royal Way including churches, palaces and the acclaimed National Museum. While in Warsaw you can also find the ZAMEK KRÓLEWSKI W WARSAWIE, which is the Warsaw Royal Castle. This impressive structure dates back from the 14th century and was restored after suffering extensive damage during the war.
Everybody will no doubt be familiar with the infamous and terrible name Auschwitz. This former Nazi concentration camp is situated near Krakow and is now the site of a museum detailing the atrocities committed at Auschwitz. The camp was liberated by the Soviets in 1945, and the main entrance, railway, and gas chambers all remain in the same condition as the Russians found them in. There are several museums located on the site today and despite being a harrowing experience, Auschwitz is an essential stop on many visitors trips to Poland.
Krakow was formerly the royal capital of Poland and it is one of the few cities to survive the last war relatively unscathed. The old town, bordered by picturesque parkland, is full of historic architecture. The main market square dates from the mid-1200s and still hosts a market in the lower part of the impressive cloth hall. The oldest building in the square is also Krakow's first church, and its copper dome clearly distinguishes it from surrounding buildings. Krakow's old town is also home to the Czartoryski Museum which has impressive exhibits of European and Asian art.
Located near Krakow, the salt mine at Wieliczka is a World Heritage Site that is very popular with tourists. The mine, made of Miocene salt, has been dug by miners since Medieval times into beautiful detailed rooms and statues. The most extravagant being the great cathedral carved deep in the salt.
Travel
Trains are probably the best option for travelling within Poland; Polish State Railways operates the Intercity train network. The network is radial from Warsaw and connects to all the major cities. There are rail passes available that allow unlimited travel around Poland for a set number of days, depending on the type of rail pass you purchase. There are also discounts available for those under 26 years of age.
There are also many bus routes available, most are run by local private companies. The advantage of this is that companies are fiercely competitive over price so you will find bus travel quite cheap, if a little slow.
Accommodation
There are plenty of hotels in Poland, of particular interest are the International Student Hotels which are slightly more expensive than youth hostels but provide much better service and facilities. Generally, there is at least one of these in every major city. There are also about 450 Youth Hostels in Poland. You can contact the Polish Youth Hostel Association for further details, see the Addresses section for contact information.
Health
There are no particular health risks when travelling to Poland, those who are likely to spend significant amounts of time in heavily forested areas should consult their GP's about tick borne encephalitis inoculations. The standard of healthcare is reasonable in Poland, although you will need comprehensive travel insurance if you want to avoid having to pay for medical care. The water is considered safe to drink and normal precautions should be taken when purchasing food.
Useful Links
Polish State Railways operates the Intercity rail network.
The Polish National Tourist Office provides tourist information and advice for visitors to Poland.
Entry Visas for Poland
A valid passport is required for all, a visa is not required for EU or USA Nationals who are staying for less than 90 days. If you are staying for longer than this period, or if will be working in Poland you should contact your local Polish Embassy or Consulate for more information.
Addresses
The Polish Youth Hostel Association carries details of about 450 youth hostels scattered throughout Poland:
Polskie Towarzystwo Schronisk Mlodziezowych
Ul. Chocimska
28, 00-791
Warsaw
tel: (22) 849 8128
fax: (22) 849 8354 or 642 8305
The Polish Embassy should be contacted for all visa and immigration related enquiries:
Embassy of the Republic of Poland 47 Portland Place London W1N 3GH Tel: +44 (0) 870 774 2700 Fax: +44 (0) 207 323 4018 www.poland.embassyhomepage.com
Or alternatively you can contact the Polish consulate here in the UK:
Consulate General of the Republic of Poland 73 New Cavendish Street London W1G 7LT Tel: (020) 7 580 0476 Fax: (020) 7 323 2320
While in Poland UK representation can be found at the British Embassy :
British Embassy
Warsaw Corporate Centre ul. E. Plater 28; 00-688 Warsaw Poland Tel: + [48] (22) 311 00 00 Consular/Visa Fax: + [48] (22) 311 03 11 email: ukembwcc@it.com.pl
There are also British Consulates in Katowice, Poznan, Gdansk, Szczecin, Krakow and Wroclaw.
Foreigner Work Permits in Poland
EU nationals need only a passport to enter and stay in Poland for up to 90 days. If you intend to work you will need to contact the Polish Embassy before leaving the UK to obtain a work visa. You will need proof of employment in Poland and will be issued a residence visa, which along with the work visa can get you a proper work permit once in Poland.
Teaching English
Poland is popular for those wanting to teach English as a foreign language. Jobs in major cities, as with other countries, may be particularly competitive and training for a TEFL qualification beforehand can gain you a lot of credit, and usually a greater chance of success.
English teachers are needed all over the country, not only in the major cities. Most work can be found in schools so it is worth asking around and checking local newspapers for vacancies. Alternatively, try organisations such as Berlitz who have language centres around the world and employ English instructors in various countries, including Poland. The Espero Language Centre in Poland offers placements to volunteers wanting to teach English in their centres. No money is given to workers, but accommodation and food is provided: volunteers live with a host family.
GAP Activity Projects Ltd.
GAP run projects across the world for placements of up to eleven months. Volunteers are expected to pay for insurance and registration fees, but are provided with accommodation, food, and pocket money. In Poland there are opportunities for working as English language teachers, and also in schools for children with special needs. The schools are mainly situated in Laski, Krakow, and Poznan. Placements in Poland start in either September or February; see the GAP website for more details.
Agricultural Work
The Young Farmers' Clubs International Experience Programme recruits workers who have at least two years' experience in the industry. Projects run all over the world, including in Poland. Workers must pay for their own travel and insurance but will be paid for the work that they do and so can usually expect to recoup their expenses.
Volunteering
The Wspólnocie w Wójtówce in Poland is a Camphill Community for adults with special needs. Camphill Communities run volunteer placements throughout the world. Volunteers work in communities with adults with special needs. You will be expected to work 6 days a week and it is usually preferred that you stay for at least one year. Accommodation is provided for the duration of your stay, but you will have to pay for your own meals.
Useful Addresses
National Federation of Young Farmers' Clubs
The International Farm Experience Programme YFC Centre National Agricultural Centre Stoneleigh Park Kenilworth Warwickshire CV8 2LG
Useful Links
How to Say Common Polish Phrases
Meeting People
English

Polish

yes

tak

no

nie

thank you

dzie

you are welcome

nie ma za co

please

prosze

excuse me

przepraszam

hello

dzien'dobry

goodbye

do widzenia

Good morning

Dzien'dobry

Good night

Dobranoc

I do not understand

Nie rozumiem

Do you speak…?

Czy mowi pan…? (pani to a woman)

English

po angielsku

Polish

Polski

What is your name?

Jak masz na imie?

Nice to meet you

Milo mi cie

How are you?

Jak sie, masz?

Good

dobrze

bad

z'le
Directions
English

Polish

map

mapa

left

lewo

right

prawo

straight on

prosto

far

daleko

near

blisko
Methods of Transport
English

Polish

Where is…?

Gdzie jest…?

How much is the fare?

Ile kosztuje przejazd?

Ticket

bilet

A ticket to…, please

Jeden bilet do…, poprosze

Where are you going?

Doka, d pan(i) jedzie?

Where do you live?

Gdzie pan(i) mieszka?

train

pocia

bus

autobus

underground

metro

airport

lotnisko

train station

stacja kolejowa

bus station

dworzec autobusowy

underground station

stacja metro

departure

odjazd

arrival

przyjazd

parking

parking
Time
English

Polish

What time is it?

Która godzina?

today

dzis

yesterday

wczoraj

tomorrow

jutro
Accommodation
English

Polish

hotel

hotel

room

pokój

reservation

rezerwacja

Are there any vacancies?

Czy sa, wolne pokje na dzisiejsza?

No vacancies

Nie ma wolnych pokoi

passport

paszport
Places
English

Polish

post office

poczta

bank

bank

police station

posterunek policji

hospital

szpital

chemist

apteka

shop

sklep

restaurant

restauracja

museum

muzeum

church

kościół

squre

plac

street

ulica
Shopping
English

Polish

How much does this cost?

Ile to kosztuje?

I will buy it

Kupie, to

I would like to buy…

Ja bym poprosil(a)…

Do you have…?

Czy pan(i) ma…?

open

otwarte

closed

zamknie, te

postcard

kartka pocztowa

stamps

znaczki pocztowe

little

troche

lot

duzo

all

wszystko
Meals
English

Polish

breakfast

s'niadanie

lunch

drugie sniadanie

dinner

obiad

vegetarian

wegetarianin

cheers!

na zdrowie!

The bill please

Rachunek poprosze
Drinks
English

Polish

drink

napój

coffee

kawa

tea

herbata

juice

sok

water

woda

beer

piwo

wine

wino
Food
English

Polish

meat

mie,so

fish

ryby

vegetable

warzywa

fruit

owoc

potato

ziemniak

salad

surówka

dessert

deser
Buy phrasebooks online at Amazon.co.uk
Poland Hostels
Hostels are a cheap form of accomodation, and so they are essential to backpackers and other budget travellers. We have compiled a list of hostels in Poland to help you plan your journey. If you are looking for a hostel in Poland, you've come to the right place.
Ciezkowice
Gdansk
Karpacz
Krakow
Lodz
Nowy Lupkow
Warsaw
Wroclaw
There you have it, the ultimate Poland backpacking guide. We hope you have found all the information you need for backpacking around Poland.
Top Products for Backpackers