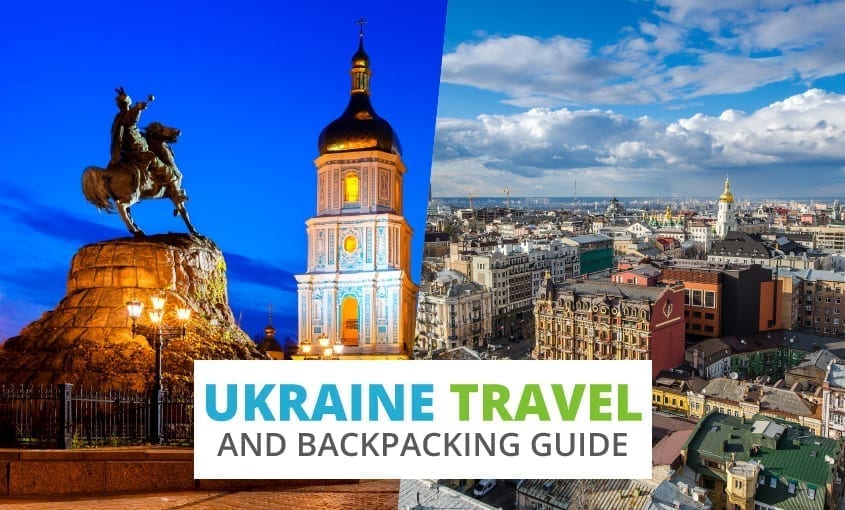 Backpacking Ukraine
Looking for important travel information while backpacking around Ukraine? Here you will find information on working in Ukraine, entry visas, Ukraine hostels, and much more.
Table of Contents

Facts About Ukraine
The Ukraine stepped into the international limelight in 2004 when ten days of mass protests took place in reaction to electoral fraud, leading to a re-run of the presidential election and the declaration of Viktor Yushchenko as President. Since the installment of Yushchenko Ukraine the Ukraine has gradually begun to find its place on the tourist map and, although there are still many areas across the country where poverty reigns, the state's economy continues to improve and there is an air of optimism and liberation amongst the Ukrainian people.
Geographically, the Ukraine is an extremely varied country with spectacular landscapes ranging from the Carpathian Mountains in the west, its central plains in the middle and the vineyards and coastal Black Sea views in the south. It is also marked by culture and heritage and has architectural remains dating as far back as the 8th and 9th century when it was a part of the prosperous Kiev Russian state.
Climate
The winters in Ukraine are extremely cold, particularly when the easterly winds blow from Siberia, although further south the weather is milder. Spring comes earlier in the Ukraine than in the European parts of Russia and the snow tends to thaw at the beginning of April. The south coast of the Crimean Peninsular has relatively warm winter months and during the summer it is a popular holiday destination having ten or more hours of often stifling sunshine each day. Ukraine has high levels of rain fall and in the milder parts where it is too warm for snow, rain falls all year round.
Things to see and do
The Ukraine's capital Kiev is today witness to the changes that have been made since the 2004 Orange Revolution and the scenic city is marked by emerging Western shops and signs of industrialisation as well as a fresh attitude of rebellion and liberation amongst its younger inhabitants. The city hasn't lost its signs of ancient prosperity either, and is marked by significant pieces of 11th century architecture.
Lviv is one of Europe's oldest and most beautiful cities and provides striking examples of Baroque and Renaissance architecture. Neglected by travellers over the years Lviv is on the crest of a tourist revolution and is well worth visiting before it becomes 'the new Prague.' The city boasts a romantic old opera house, a Gallery of Painting with a vast collection of historic and modern artworks and a range of towering grand buildings in its 'Old Square' which have avoided being tarnished by the strains of communism over the years.
Odessa is best known for its Potemkin Stairway but is also well-known for housing one of the world's largest opera houses. As a coastal resort Odessa has long been a Black Sea shipping centre and was the centre of the 1905 revolution when the battleship Potemkin Tavrichesky was used to support rebellious workers.
The coastal resorts of the Crimea are very popular with tourists, boasting Black Sea views and milder weather conditions. Known as the 'pearl of the Crimea,' the town of Yalta attracts the majority of visitors during the summer months and was once a favourite destination for Kremlin leaders.
The Carpathian and Crimean mountains are popular during both the summer and winter months. During the winter the snow falls thickly and a large skiing district has been built up around the Carpathian Mountains. In the summer, locals focus on the great outdoors and theatres are closed until autumn, with Ukrainians and visitors flocking to the mountains to go hiking and make the most of the sunshine after the long harsh winter months.
The Carpathian National Park is Ukraine's largest expanse of parkland, spanning 503sq km. The park boasts the country's highest peak, Mount Hoverla, which stands at 2061m high, as well as a vast collection of wild animals including wolves, brown bears, bison, lynx and deer.
Travel
The Ukraine's major airport is Boryspil International Airport which is approximately 40km south east of Kiev's city centre. There is also an airport at Lviv which has connections to London, and another in Odessa, which has flights going to Moscow and to Vienna. Kiev's train station is on the western fringe of downtown Kiev and direct trains travel daily from Kiev to Moscow, Berlin, Warsaw and Brest. There are also good train links from Lviv to Moscow and most major Eastern European cities. A boat is also a viable transport option to Ukraine, with ferries travelling between Odessa or Yalta to various Mediterranean or Black Sea locations with the most frequent and reliable being the route from Odessa to Istanbul.
Accommodation
Backpacking hostels can be found in all of the Ukraine's major cities but are most common in Kiev, Lviv and Odessa. Most hostels are very cheap with basic, 'Soviet-style' facilities, but there are more Western hostels springing up, particularly in the larger cities and further south in the Crimean region where tourism flourishes.
Health Care Issues
Health care professionals usually advise that British nationals travelling to Ukraine are immunised against diphtheria, tetanus and hepatitis A. It is also suggested that visitors are given vaccines for rabies, tuberculosis, hepatitis B, typhoid and tick-borne encephalitis. It is also advised that European nationals carry the European Health Insurance Card (EHIC) that entitles visitors to reduced-cost medical care if required.
Useful Links
Ukrainian hostels provide comprehensive list of backpacking hostels across the Ukraine.
The official Ukrainian Tourist Website
Entry Visas for Ukraine
British nationals may enter Ukraine without a visa providing their stay is for 90 days or less. It is advised that if staying longer than 90 days visitors apply for their visa in their own country before travelling.
Foreigner Work Permits in Ukraine
Finding temporary work in Ukraine is not an easy task given that there is still a great deal of poverty across the country. There are, however, various opportunities for volunteer workers that offer accommodation and food and the chance to get involved with a local project. The Ukraine Orphanage Project gives volunteers the chance to stay with a Ukrainian family whilst helping with a wide range of activities in one of Kiev's three large orphanages. Although the project does cost money to take part in, it is a good way to see the country and learn what it is like to live as a Ukrainian in the country's capital city.
How to Say Common Ukrainian/Russian Phrases
Russian is the most common language in Ukraine although in the south-west region of the country locals speak Ukrainian.
Useful Phrases
English

Ukrainian/Russian

Hello

Pryvit (Ukrainian) Zdravstvuite (Russian)

Hello (informal)

Zdrastuy (Ukrainian) Zdorovo (Russian)

Goodbye

Do pobachennya (Ukrainian) Do svidanja (Russian)

Goodbye (informal)

Prosh-chavay (Ukrainian) Proshyai (Russian)

Please

Proshu (Ukrainian) Pozhaluista (Russian)

Thankyou

Dyakooyu (Ukrainian) Spasibo (Russian)

How are you?

Yak mayetes? (Ukrainian) Kak dyela? (Russian)

Do you speak English?

Chi vi hororite po-angliskih? (Ukrainian) Vy ponimayete po-angliski? (Russian)

I don't understand

Ya ne razumiyu (Ukrainian) Nye panimay (Russian)

What is your name?

Yak vy nazyvayetsya? (Ukrainian) Kak vas zavut? (Russian)

My name is…

Mene zavut… (Ukrainian) Menya zavut… (Russian)
Ukraine Hostels
Hostels are a cheap form of accomodation, and so they are essential to backpackers and other budget travellers. We have compiled a list of hostels in Ukraine to help you plan your journey. If you are looking for a hostel in Ukraine, you've come to the right place.
There you have it, the ultimate Ukraine backpacking guide. We hope you have found all the information you need for backpacking around Ukraine.
Top Products for Backpackers