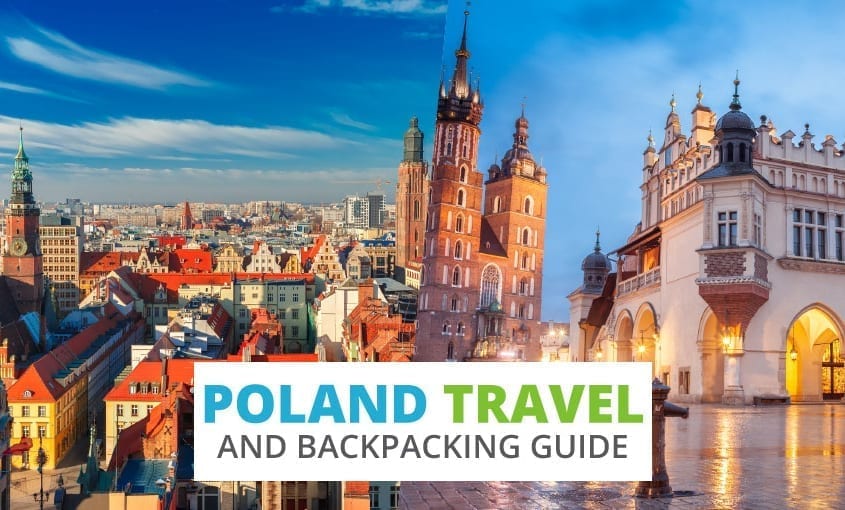 Backpacking Poland
Looking for important travel information while backpacking in Poland? Here you will find information on working in Poland, entry visas, Poland hostels, and much more.
Table of Contents
Facts About Poland
Poland is situated right in the centre of Europe, it represents in many ways a bridge between Eastern and Western Europe and this is reflected culturally in its charming mix of modern city skylines and traditional village-based culture.
Despite the fact that large areas of Poland were destroyed during World War II, the country has been rebuilt and restored into the strong and rapidly westernising country we see today. You will find Poland a nation very much in touch with its culture – from its traditional art and literature to its classical music.
Currency: Zloty (Zl) = 100 grozy
Time Zone: GMT + 1
Language: Polish
Telephone Services: Country code +48, International Access code 00
Emergency Numbers: 997 Police, 998 Fire, 999 Ambulance
Climate in Poland
Poland has quite a variable climate. The weather can change rapidly from one extreme to another. In general, the summers are pleasant but there can be heavy rains in some areas; the winters are cold and the higher lying areas are normally covered with a blanket of snow.
Things to see and do in Poland
Warsaw
Like much of Poland, Warsaw, the capital, sustained heavy damage during World War Two. The old town has been thoroughly restored to resemble Warsaw during the 17th and 18th centuries.
The centre point of the city is the town square (an excellent example of restoration work), along with the Historical Museum of Warsaw which chronicles the reconstruction of the city. The rest of the city is quite modern in appearance although there are some concrete-block style buildings around.
When the king of Poland travelled from Warsaw to Gdańsk, he would take a specific route which is now known as the Royal Way. There are many beautiful sites along the Royal Way including churches, palaces and the acclaimed National Museum.
While in Warsaw you can also find the ZAMEK KRÓLEWSKI W WARSAWIE, which is the Warsaw Royal Castle. This impressive structure dates back from the 14th century and was restored after suffering extensive damage during the war.
Auschwitz
Everybody will no doubt be familiar with the infamous and terrible name Auschwitz. This former Nazi concentration camp is situated near Krakow and is now the site of a museum detailing the atrocities committed at Auschwitz.
The camp was liberated by the Soviets in 1945, and the main entrance, railway, and gas chambers all remain in the same condition as the Russians found them in. There are several museums located on the site today and despite being a harrowing experience, Auschwitz is an essential stop on many visitors trips to Poland.
Krakow
Krakow was formerly the royal capital of Poland and it is one of the few cities to survive the last war relatively unscathed. The old town, bordered by picturesque parkland, is full of historic architecture.
The main market square dates from the mid-1200s and still hosts a market in the lower part of the impressive cloth hall. The oldest building in the square is also Krakow's first church, and its copper dome clearly distinguishes it from surrounding buildings. Krakow's old town is also home to the Czartoryski Museum which has impressive exhibits of European and Asian art.
Wieliczka
Located near Krakow, the salt mine at Wieliczka is a World Heritage Site that is very popular with tourists. The mine, made of Miocene salt, has been dug by miners since Medieval times into beautiful detailed rooms and statues. The most extravagant being the great cathedral carved deep in the salt.
Tours and activities in Poland
Since popular places in Poland can get crowded during tourist season, it is wise to reserve tickets and activities ahead of time. GetYourGuide sells entrance tickets to museums and landmarks at face value so you can avoid the lines and save that precious time for more exploring.
Viator is another popular travel website that helps you book things to do in Poland. They work directly with local tour operators in Poland, so you won't have to scour the internet or roam around town trying to find the best deal.
If you know your schedule ahead of time, a great insider tip is to buy tickets for major tourist attractions ahead of time. Tiqets has entrance tickets and skip-the-line passes for major attractions in Poland, which can be a worthwhile cost during peak tourist season.
Small group adventure travel
Though part of the fun of backpacking Poland is exploring on your own, there are situations, especially when venturing off the tourist trail, when it does make sense to go with a guide or a small group. 
The most popular option for a social travel experience is Contiki tours. Contiki trips offer more than just transportation, they are organized social group travel for travelers aged 18-35. Whether you're traveling by yourself or going with a group of friends, Contiki tours are perfect for people looking to have a blast, meet new friends, and form lifelong memories. They offer tours that travel primarily in Poland or longer tours that cover other nearby places.
G Adventures is another great option for organized travel, but with a smaller group. It's a great choice for anyone backpacking Poland alone who would like to meet up with like-minded travellers. It's also a practical option for exploring places where you need an experienced guide, like a long hiking adventure or visiting a place well off the beaten path. You can choose from different styles of small group tours like active, wellness, hiking trips, 18-30somethings, and more.
How to Find Cheap Flights to Poland
If you're flying to Poland or plan to take short flights within the country, we recommend using a few different flight comparison search engines. Kiwi is a new favourite among travellers. On average, we have found the cheapest flights to Poland with them compared to the other websites out there.
Of course, it is always worth checking Skyscanner to guarantee you're getting the best deal. Both websites offer great flexible search options, allowing you to search the whole country of Poland to find the cheapest airport to fly into, and also see prices for a full month if you're flexible on travel dates.
Another option to arrive in Poland is by Ferry, with boats arriving regularly at Gdynia from Sweden. They run from four to eight times a day depending on the season. Ferry Scanner provides further information and the schedules for the local ferries.
How to Travel in Poland on a Budget
Train and long-distance bus are the standard modes of transport for how to get around Poland. Buses are the more economical option, nevertheless, they are well-equipped with the usual modern conveniences that expect when travelling in Europe. Train travel, on the other hand, is the fastest way between two cities in Poland, and the train stations are conveniently located right in the center of town.
Certain routes are better suited to one mode of transport than the other. To compare your options for journeys from A to B, you can try Omio. They compare trains, buses (and even flights) so you can decide for yourself the tradeoff between cost and travel time.
For finding a carpool option between cities in
Poland
, you can use
BlaBlaCar
, which is a favorite mode of transport among budget-savvy locals. Just search for your destination, pick the date you want to travel and you'll see different carpool options. Some rides allow you to book instantly, while others require the driver to approve manually. The
BlaBlaCar site
defaults to German but you can change the language at the bottom of the page.
Train travel in Poland
Trains are probably the best option for travelling within Poland; Polish State Railways operates the Intercity train network. The network is radial from Warsaw and connects to all the major cities.
Poland is a part of the Eurail network, which is a good choice if you plan to take multiple train journeys in a short period of time. If you plan on doing lots of train travel in a short amount of time, a Rail Pass from Eurail might be the right choice for you. 
Bus travel in Poland
There are also many bus routes available, most are run by local private companies. The advantage of this is that companies are fiercely competitive over price so you will find bus travel quite cheap, if a little slow.
Renting a car in Poland
You may also want the flexibility to stop in smaller towns between the major cities. If you decide you want to rent a car, you can use DiscoverCars to compare offers from the major car rental agencies in the region.
Health issues in Poland
There are no particular health risks when travelling to Poland, those who are likely to spend significant amounts of time in heavily forested areas should consult their GP's about tick-borne encephalitis inoculations.
The standard of healthcare is reasonable in Poland, although you will need comprehensive travel insurance if you want to avoid having to pay for medical care. The water is considered safe to drink and normal precautions should be taken when purchasing food.
As with travel to all other countries abroad, it is vital that you get travel insurance before you leave. Even for short trips, our go-to travel insurance provider is World Nomads, which is also recommended by Lonely Planet, HostelWorld, and other major travel companies.
Entry visa requirements for Poland
A valid passport is required for all, a visa is not required for EU or USA Nationals who are staying for less than 90 days. If you are staying for longer than this period, or if you will be working in Poland you should contact your local Polish Embassy or Consulate for more information.
Foreigner work permits and backpacker jobs in Poland
EU nationals need only a passport to enter and stay in Poland for up to 90 days. If you intend to work you will need to contact the Polish Embassy before leaving the UK to obtain a work visa. You will need proof of employment in Poland and will be issued a residence visa, which along with the work visa can get you a proper work permit once in Poland.
Teaching English in Poland
Poland is popular for those wanting to teach English as a foreign language. Jobs in major cities, as with other countries, may be particularly competitive and training for a TEFL qualification beforehand can gain you a lot of credit, and usually a greater chance of success.
English teachers are needed all over the country, not only in the major cities. Most work can be found in schools so it is worth asking around and checking local newspapers for vacancies. Alternatively, try organisations such as Berlitz who have language centres around the world and employ English instructors in various countries, including Poland.
The Espero Language Centre in Poland offers placements to volunteers wanting to teach English in their centres. No money is given to workers, but accommodation and food are provided: volunteers live with a host family.
Agricultural work in Poland
The Young Farmers' Clubs International Experience Programme recruits workers who have at least two years' experience in the industry. Projects run all over the world, including in Poland. Workers must pay for their own travel and insurance but will be paid for the work that they do and so can usually expect to recoup their expenses.
Volunteering in Poland
The Wspólnocie w Wójtówce in Poland is a Camphill Community for adults with special needs. Camphill Communities run volunteer placements throughout the world. Volunteers work in communities with adults with special needs. You will be expected to work 6 days a week and it is usually preferred that you stay for at least one year. Accommodation is provided for the duration of your stay, but you will have to pay for your own meals.
Useful Addresses to find jobs and volunteer positions in Poland
TEFL is one of the leading organisations for teaching English abroad
Berlitz is another world-renowned company which teaches English abroad
Poland Hostels and Budget Accommodation

There are plenty of hotels in Poland, of particular interest are the International Student Hotels which are slightly more expensive than youth hostels but provide much better service and facilities. Generally, there is at least one of these in every major city. There are also about 450 Youth Hostels in Poland.
We have had good experiences finding hostels on HostelWorld. They have the largest inventory of hostels worldwide, and with over 10 million reviews and ratings from other travellers you know exactly what to expect.
Another good way to find accommodation in Poland is by checking booking.com. On their site, you'll find hotels, homestays, hostels, and other unique accommodation. They have the most reviews and advanced filtering of any accommodation-booking site, so you'll be sure to find a great place in your budget. We have discovered some great finds and have appreciated the ability to book ahead. Many of the places on booking.com also offer free cancellation, which takes the pressure off the planning phase of your trip to Poland.
If you are backpacking with another travel companion, we highly recommend booking a rental via VRBO. With a vacation rental, you'll have more space, your own kitchen, and you'll get a better feel for how the locals live. Plus, the cost of a vacation rental can be split among your group, oftentimes making it cheaper than doing individual hotel rooms. 
And lastly, CouchSurfing is a great community that connects travellers with local hosts. You can stay for free with verified hosts, who will usually show you around the locals spots.
Useful links for travel in Poland
The Polish National Tourist Office provides tourist information and advice for visitors to Poland.
Eurail

– Rail Passes for travellers who plan on doing lots of train travel in a short period of time. Single-Country passes for

Poland

as well as Multi-Country passes available

Omio

– Train, bus, and flight search for

Poland

and all of Europe. Offers online booking and mobile tickets

DiscoverCars –

The world's leading rental car search engines to rent a car in

Poland 

Kiwi

and

Skyscanner

– Flight comparison search engines to find the cheapest flights to

Poland

and within the country

GetYourGuide

and

Viator

–

a collection of local tours and activities in

Poland

. Also offers Skip the Line tickets for crowded attractions

Tiqets

– Website selling entrance tickets and skip the line tickets for major tourist attractions in

Poland

GAdventures

– guided small group tours in

Poland

, great for solo travellers or for those interested in a more adventurous trip which would require a guide

HostelWorld – #1 hostel search website to find accommodation while backpacking Poland. Thousands of hostels and millions of reviews from fellow travellers
Booking.com

– commonly used booking site for accommodation in

Poland

. Find hostels, hotels, and other unique accommodation in

Poland

with advanced filtering and millions of reviews

World Nomads Travel Insurance

– Comprehensive travel insurance for long and short trips when backpacking

Poland
---
There you have it, the ultimate Poland backpacking guide. We hope you have found all the information you need for backpacking around Poland.
Next up:
Liked this article? Share it for others who might be after the same information!