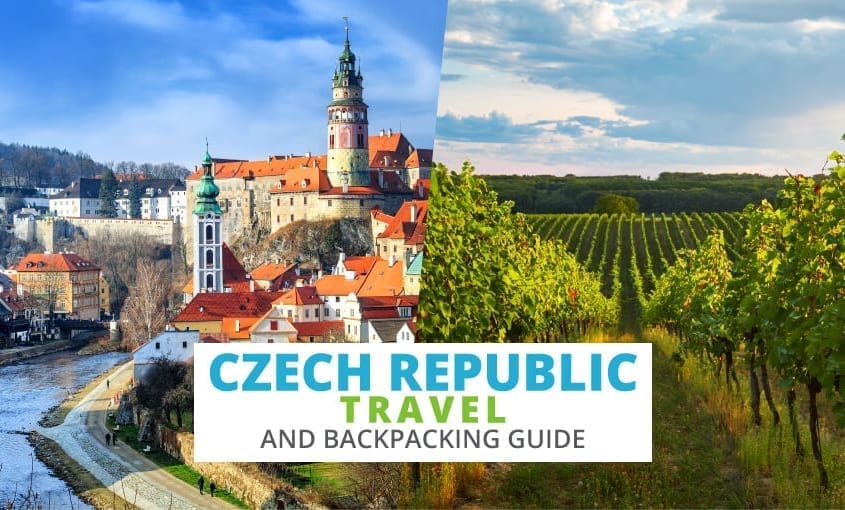 Backpacking Czech Republic
Looking for important travel information while backpacking in the Czech Republic? Here you will find information on working in the Czech Republic, entry visas, Czech Republic hostels, and much more.
Table of Contents
Facts About the Czech Republic
The Czech Republic is a small country located in the heart of Europe. It has only quite recently returned to the economic and political freedom of a democratic system and with various historical and cultural points of interest, the Czech Republic has become a popular destination to visit.
The country is divided into two parts, Moravia and Bohemia. Moravian wine villages, Bohemian spa towns, unspoilt scenery, stunning countryside, forests and mountains show that the Czech Republic has so much to offer.
Prague, the cosmopolitan capital, virtually untouched by the wars of the twentieth century is a popular tourist hotspot attracting a great number of visitors each year. With museums and galleries scattered throughout the city and many festivals and concerts held throughout the year, there really is something for everyone.
No visit to Prague would be complete without a visit to one of the country's breweries. This ancient tradition dates back to the 10th century. So why not visit one and sample some of the world famous Czech beers, including Pilsner, Staropramen and Budweiser Budvar.
Currency Koruna (45CZK = 1GBP)
Time Zone GMT +1 (GMT + 2 from end of March to end of October)
Language Czech
Telephone Services County code is 420
Emergency numbers Police 158, Ambulance 155, Fire 150
Climate in the Czech Republic
Weather in the Czech Republic can really vary with cold winters and mild summers. High rainfall should be expected in spring and summer. The best time to visit is from May to September when days are warm and nights are cool.
Top Things to do in the Czech Republic
Prague
Prague, the capital of the Czech Republic, is one of the most attractive cities in Europe. With its medieval cobbled streets, ancient squares and spectacular architecture, Prague is quickly becoming a very popular short break destination.
Many of Prague's main attractions are located in certain areas, such as the Old Town and Wenceslas Square, these are all within easy reach and can be explored on foot. Several museums and galleries are scattered throughout the city and should feature on your list of things to do in Prague. For music lovers, this city has everything from opera, ballet and classical to street buskers, live music and jazz bars. In spring the city really comes alive with The Prague International Music Festival which has been going for 50 years and one of the world's largest.
Prague castle is the most popular tourist attraction and should most certainly feature on your itinerary. Highlights include a network of tunnels, the Spanish Hall and the Rudolf Gallery which displays a collection of historic and architectural marvels, plus marching soldiers and entertainment. A Prague Card can be bought throughout the city which can be used as a ticket to at least 40 tourist locations in Prague as well as being used as a travel pass and is valid for three days.
For a really spectacular view of Prague, why not climb the 299 steps up to Petrin Hill and enjoy panoramic views of both the city and the central Bohemian woodlands. As well as its rich culture you can't go to Prague without sampling the vibrant nightlife. Wenceslas Square holds host to a wide range of bars, discos and nightclubs where you can party until the early hours. There are also red light districts in the city.
Bohemia
Although tourism is concentrated mainly in Prague, the rest of the country also has much to offer. Bohemia is the western region of the Czech Republic and a popular destination among Czech and German tourists. The Krknose (Giant) Mountains National Park boasts stunning scenery, it's the country's highest peak and offers great opportunities for hiking and many skiing and snowboarding facilities. For those of you wanting a more relaxing trip, western Bohemia is home to health resorts and spas. Karlovy Vary is a famous spa town where you can take a thermal bath, relax in hot springs and bathe in the sulphurous waters. It is also home to an annual international film festival.
Moravia
Moravia is a truly beautiful region of the Czech Republic and features scenic mountains and picturesque villages. Brno, the Czech Republic's second largest city has lots to see and do. The city is compact yet packed with many restaurants, theatres, fountains and full of historical buildings. Freedom Square forms the heart of the city and forms a good base for exploring the rest of the Brno. Many cultural events also take place here. Beer lovers might like to take a trip to the real Pilsner Brewery and sample the delights on offer. North of Brno are the Macocha Caves which are definitely worth a visit. A tour of the caves will take you through winding tunnels and finishes with a boat ride on an underground river.
Tours and activities in the Czech Republic
Since popular places in the Czech Republic can get crowded during tourist season, it is wise to reserve tickets and activities ahead of time. GetYourGuide sells entrance tickets to museums and landmarks at face value so you can avoid the lines and save that precious time for more exploring.
Viator is another popular travel website that helps you book things to do in the Czech Republic. They work directly with local tour operators in the Czech Republic, so you won't have to scour the internet or roam around town trying to find the best deal.
If you know your schedule ahead of time, a great insider tip is to buy tickets for major tourist attractions ahead of time. Tiqets has entrance tickets and skip-the-line passes for major attractions in the Czech Republic which can be a worthwhile cost for mega attractions in Kutná Hora and Prague during peak tourist season.
How to Get Cheap Flights to the Czech Republic
If you're flying to the Czech Republic or plan to take short flights within the country, we recommend using a few different flight comparison search engines. Kiwi is a new favourite among travellers. On average, we have found the cheapest flights to the Czech Republic with them compared to the other websites out there.
Of course, it is always worth checking Skyscanner to guarantee you're getting the best deal. Both websites offer great flexible search options, allowing you to search the whole country of the Czech Republic to find the cheapest airport to fly into, and also see prices for a full month if you're flexible on travel dates.
How to Travel Around the Czech Republic on a Budget
Train and long-distance bus are the standard modes of transport for how to get around the Czech Republic. Buses are the more economical option, nevertheless, they are well-equipped with the usual modern conveniences that expect when travelling in Europe. Train travel, on the other hand, is the fastest way between two cities in the Czech Republic, and the train stations are conveniently located right in the center of town.
Certain routes are better suited to one mode of transport than the other. To compare your options for journeys from A to B, you can try Omio. They compare trains, buses (and even flights) so you can decide for yourself the tradeoff between cost and travel time.
The Czech Republic is a part of the Eurail network, which is a good choice if you plan to take multiple train journeys in a short period of time. If you plan on doing lots of train travel in a short amount of time, a Rail Pass from Eurail might be the right choice for you.
Train travel in the Czech Republic
Czech Railways operates the rail network. It runs several daily express trains between Prague and other main cities. Train fares are reasonably low and it is advisable to make reservations in advance for the major routes. In Prague, the Metro is a quick and inexpensive way to explore the city and a single ticket entitles you to an hour's travel anywhere on the system.
Bus travel in the Czech Republic
The Czech Republic's public transport system is very good. The Bus network is comfortable and very efficient with buses operating until the early hours. For timetables, fares and other information on Prague please check out this travel information website, or this timetable information site which has timetable information for various forms of transport. Trams, buses and trolleybuses also operate in most other major cities including Ostrava, Brno and Plzen and many other towns. Trams provide a great way to enjoy Prague's scenery and are readily available.
Renting a car in the Czech Republic
You may also want the flexibility to stop in smaller towns between the major cities. If you decide you want to rent a car, you can use DiscoverCars to compare offers from the major car rental agencies in the region.
Health and Safety Issues in the Czech Republic
No vaccinations are required for entry into the Czech Republic. Mains water is usually chlorinated, however it is advisable to drink bottled water which is available throughout the whole country. If planning to visit the forested areas you should seek more information on immunisation against tick-borne encephalitis.
As with travel to all other countries abroad, it is vital that you get travel insurance before you leave. Even for short trips, our go-to travel insurance provider is World Nomads, which is also recommended by Lonely Planet, HostelWorld, and other major travel companies.
Entry visa requirements for the Czech Republic
EU Citizens must hold a passport valid for at least three months beyond length of expiry. Full British passport holders and citizens of the European Union do not require a visa to enter the Czech Republic. If your stay will exceed 30 days you must register with the Alien and Border Police within 30 days of arrival. EU citizens intending to stay longer than three months must apply for a temporary or permanent residence permit with the Alien and Border Police in the Czech Republic. Please note this process can take up to 60 days. Please be advised in the past travellers with passports in poor condition have been refused entry to the Czech Republic. Further passport and visa information can be obtained from the Embassy of the Czech Republic.
Foreigner work permits and backpacker jobs in the Czech Republic
The demand for people teaching English in the Czech Republic is increasing. Work can be found in small towns as well as in larger cities of Brno and Prague. Most jobs for English teaching positions are listed in the Prague Post, which is the weekly English language newspaper and the best place to look for possible job opportunities. The TEFL qualification is not essential to secure a teaching job in the Czech Republic but you are more likely to find work with one. Visit the TEFL website for more information.
The chances of finding any other paid work are fairly slim. However, there are opportunities for voluntary work such as conservation, construction, renovation, care and social work. The International Voluntary Service is a British organisation which provides voluntary work in the Czech Republic, please see check out their website for further information.
The Employment Service in the Czech Republic provides information from the area of employment and social security. A jobseeker would need a passport to register at the Employment Service.
Czech Republic hostels and budget accommodation
There are many different accommodation options in Prague and many of them are within walking distance of the town centre. April to October is peak season and prices for accommodation can be up to twice as high. It is advisable to make your reservations before your arrival in Prague. Hotels can range from luxurious 5 stars to basic budget hotels.
Hostels offer a cheaper alternative to staying in a hotel. Many hostels in Prague come with the party vibe but there are also many with a relaxed atmosphere and can be as nice as any hotel. Many hostels also have the option of having a private room.
We have had good experiences finding hostels on HostelWorld. They have the largest inventory of hostels worldwide, and with over 10 million reviews and ratings from other travellers you know exactly what to expect.
Another good way to find accommodation in the Czech Republic is by checking booking.com. On their site, you'll find hotels, homestays, hostels, and other unique accommodation. They have the most reviews and advanced filtering of any accommodation-booking site, so you'll be sure to find a great place in your budget. We have discovered some great finds and have appreciated the ability to book ahead. Many of the places on booking.com also offer free cancellation, which takes the pressure off the planning phase of your trip to the Czech Republic.
If you are backpacking with another travel companion, we highly recommend booking a rental via VRBO. With a vacation rental, you'll have more space, your own kitchen, and you'll get a better feel for how the locals live. Plus, the cost of a vacation rental can be split among your group, oftentimes making it cheaper than doing individual hotel rooms. 
And lastly, CouchSurfing is a great community that connects travellers with local hosts. You can stay for free with verified hosts, who will usually show you around the locals spots.
Boat hotels offer an alternative form of accommodation for those wanting something a little different.
Useful links for travel in the Czech Republic
—
There you have it, the ultimate Czech Republic backpacking guide. We hope you have found all the information you need for backpacking around the Czech Republic.
Next up:
Liked this article? Share it for others who might be after the same information!