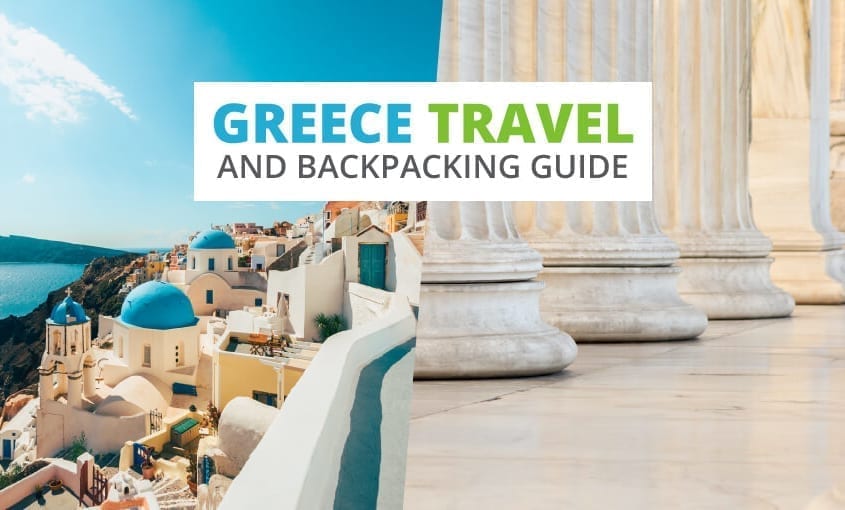 Backpacking Greece
Looking for important travel information while backpacking in Greece? Here you will find information on working in Greece, entry visas, Greece hostels, and much more.
Table of Contents
Facts About Greece
This country has left a legacy on worldwide history that far belies its modern importance. From Greece sprang the fundamentals of modern philosophy, maths, and science as well as significant contributions to art and engineering. The ancient Greeks are responsible for large chunks of what is now international culture such as the spread of democracy and Western values.
This, of course, means that visitors are spoilt for choice when it comes to seeing ancient Greek ruins and artifacts however there is plenty more to do whilst in Greece. Most visitors these days are attracted by the gorgeous beaches, the Aegean Sea, and all night parties.
With Greece becoming an increasingly popular destination you can expect the comfort and conveniences of modern Europe yet stood side by side with both relics of a glorious and ancient empire and the simple life of many Greek citizens.
Currency: Euro (€)
Time Zone: GMT + 2
Language: Greek
Telephone Services: Country code +30
Emergency Numbers: 112 for all services
Climate in Greece
When deciding the best time to visit Greece, the weather plays an important role.
Situated in the Mediterranean, Greece has the climate you would come to expect. Be prepared for dry hot days with the occasional cool breeze in summer. Athens is especially hot due to the smog during the summer.
Evenings can get quite cool in the summer so be prepared for this! In the winter the northern part of the country can be quite cold, the south, however, is much milder. Throughout Greece, the rainy season occurs between November and March when you can expect high levels of precipitation. It's important to know that on the Greek islands, many hotels and restaurants will close between November and March. If visiting the islands during this off-season, it will be better to stick to larger cities and towns that have a year-round population.
Things to do in Greece
When deciding the best things to do in Greece, there is an abundance of options. But here are the top bucket-list items when backpacking Greece.
Athens
The capital Athens was according to Greek mythology won by Athena (goddess of wisdom) from Poseidon. The story tells of how Athena's victory was honored by the construction of a temple on the Acropolis. The Acropolis is a large stony hill at the center of Athens, it was the site of the original settlement and is now home to the Pantheon which is a temple depicting ancient Greece's many gods and goddesses.
The traffic and smog can be quite bad in Athens but it is worth enduring for some of the most varied and bustling restaurants and nightlife in the country. Athens is worth visiting, especially to see sights such as the Athen's Acropolis, and Ancient Agora, and wander the Plaka neighborhood. Athens also has great nightlife, and areas such as Psyrri, Exarchia, and  Monastiraki are worth checking out. A few days in Athens is a perfect amount of time to explore the city before heading out to other parts of Greece.
Since Athens is one of the most visited cities in the world, it is wise to book tickets to popular attractions (landmarks, museums) ahead of time to avoid the lines. GetYourGuide sells entrance tickets at face value and you can avoid waiting in line. You might also see 'Skip the Line' tickets on their site, which are separate entrances for a higher ticket price. It can be a worthwhile cost for mega attractions like the Acropolis, which can have up to 2 hour wait time for General Entrance during peak tourist season.
Delphi
Elsewhere in Greece, there are plenty of other attractions to see, one of the most popular is Delphi. This ancient city supposedly marked the center of the Greek world and is located high on Mount Parnassos. Delphi was home to the famous Oracle of Delphi and the Temple of Apollo. The ruins of Delphi are now a major tourist attraction and for just over 12 euros you can get entrance to the actual ruins themselves and the associated museum. 
Olympia
Most travelers also like to take in the birthplace of the Olympics, Olympia. This remarkable site is situated in the Peloponnesus Valley, about 200km west of Athens. There are numerous famous buildings to see here including the famed Hippodrome and the magnificent temple of Zeus. While here why not try to make time to see some of the lesser-known sites as well like the Palaestra (wrestling school) and the Heraeum.
Meteora
Meteora is a unique place to visit and consists of monasteries built on top of unique pillar rocks. In the 11th century, monks seeking solitude ascended these pillar rocks and built impressive monasteries on top of them. Today, there are 6 monasteries that can be visited for an entrance fee of 2 or 3 Euros. You can get to the monasteries by either driving or hiking up from the small village of Kastraki.
Crete
A short ferry hop from Athens can take you across to the Island of Crete. By far the most interesting place on this sunny little Island is the city of Knossos. This city was built by the ancient Minoans and was reputedly home to King Minos, the labyrinth, and the mythical half-bull half-man known as the minotaur. Large parts of Knossos have been restored and there is visitor access to the Palace of Knossos, the royal villa, the house of frescoes, and the Temple Tomb. In addition to historical locations, Crete boasts some of Greece's most beautiful beaches, like Elafonisi (the pink sand beach) and Balos Beach.
Santorini
Another famous Greek Island is Santorini. Santorini is a beautiful island with a dramatic landscape due to a volcano eruption causing a unique caldera formation. Santorini is also known for the village of Oia, and the picturesque blue-dome churches that line the island. While Santorini can be considered an expensive island in Greece, it is very possible to visit Santorini on a budget. One of the best free things to do is to hike from Fira to Oia, which provides incredible views over the Aegean Sea. Additionally, you can visit the ruins of Ancient Akrotiri for around 12 Euros, which was the ancient town that was on Santorini during the volcanic eruption.
Naxos
Naxos is another Greek island worth visiting. Naxos is known for its sandy beaches and is a great place to visit in the summer. While it is in close proximity to popular islands such as Mykonos and Santorini, Naxos is less of a tourist hotspot and much more budget-friendly.
Booking Activities in Greece
Since popular places in Greece can get crowded during tourist season, it is wise to reserve tickets and activities ahead of time. GetYourGuide sells entrance tickets to museums and landmarks at face value so you can avoid the lines and save that precious time for more exploring.
Viator is another popular travel website that helps you book things to do in Greece. They work directly with local tour operators in Greece, so you won't have to scour the internet or roam around town trying to find the best deal.
If you know your schedule ahead of time, a great insider tip is to buy tickets for major tourist attractions ahead of time. Tiqets has entrance tickets and skip-the-line passes for major attractions in Greece which can be a worthwhile cost for mega attractions like the Acropolis during peak tourist season.
How to Get Cheap Flights to Greece
To find the best flights to Greece we recommend using a few well-known flight comparison search engines. These websites offer powerful search options, like entering flexible dates and airports to find the cheapest flight to Greece.
Our go-to flight search engine is Skyscanner, which we love for its extremely flexible search options. Our favorite way to get travel inspiration is their "Everywhere" feature. Simply enter "Everywhere" as a destination, and it will then list all available flights from your departure city in order of price. This also works when entering the entire country of Greece as your destination. Skyscanner will search all possible airports in the country to find the cheapest option.
Kiwi is another new favorite flight search engine among savvy travelers. Kiwi works by combining flights from different carriers to get the best deal. Also, if there is a better ground or ferry option for the route you're searching, Kiwi will include that in the search results. On average, we have found the cheapest flights to Greece with them compared to the other websites out there.
How to Travel Around Greece on a Budget
Train and long-distance buses are the standard modes of transport for how to get around Greece. Buses are the more economical option, nevertheless, they are well-equipped with the usual modern conveniences that expect when traveling in Europe. Train travel, on the other hand, is the fastest way between two cities in Greece, and the train stations are conveniently located right in the center of town.
Certain routes are better suited to one mode of transport than the other. To compare your options for journeys from A to B, you can try Omio. They compare trains, buses (and even flights) so you can decide for yourself the tradeoff between cost and travel time.
Train travel in Greece
The Greek rail network is quite poor by European standards. You will find no service at all on the Greek Islands, a reasonable system on the Peloponnese peninsula. There are a few international rail connections from Greece but you will find a connection to Macedonia, Bulgaria, and Turkey from Athens or Thessaloniki.
If you are travelling by rail always try to book your seat a few days in advance and ask for a free seat reservation. The trains can be quite busy and in the heat of a typical Greek summer's day, you will not want to be standing up for a couple of hours on a train. Whatever you do don't purchase your ticket on the train as you will be charged 50% extra on the price served at stations.
Greece is a part of the Eurail network, which is a good choice if you plan to take multiple train journeys in a short period of time. If you plan on doing lots of train travel in a short amount of time, a Rail Pass from Eurail might be the right choice for you. 
Bus travel in Greece
Due to the somewhat lacking train service, most travelers find the bus a much more convenient way to get around in Greece. KTEL runs most domestic Greek routes while OSE serves international routes. Almost all cities of any size have a central bus depot with left-luggage facilities. Larger cities such as Athens may have more than one such station (Athens, in fact, has 4).
Prices are generally cheaper than taking the train and you won't normally have to book in advance unless it is exceptionally busy. There have been a few cases of luggage theft from buses so take normal security precautions such as if you intend sleeping ensure your baggage is stowed securely in the luggage compartment or out of sight of potential thieves.
Driving in Greece
You may also want the flexibility to stop in smaller towns between the major cities. If you decide you want to rent a car, you can use DiscoverCars to compare offers from the major car rental agencies in the region.
Ferries in Greece
Ferries are commonly used to travel around Greece since it's made up of hundreds of miles of coastline and a multitude of islands. 
Ferries link several offshore islands with major coastal towns and ports. They run from four to eight times a day depending on the season. Ferry Scanner provides further information and the schedules for the local ferries.
Flights in Greece
Flying is a cost-effective way to get to the Greek islands. While ferries are popular in Greece, flights can actually be cheaper and shorter than taking the ferry. There are several low-cost airlines such as Aegean, Olympic, Sky Express, and RyanAir.
Backpacking Tours in Greece
Though part of the fun of backpacking Greece is exploring on your own, there are situations, especially when venturing off the tourist trail, when it does make sense to go with a guide or a small group. 
The most popular option for a social travel experience is Contiki Tours. Contiki trips offer more than just transportation, they are organized social group travel for travelers aged 18-35. Whether you're traveling by yourself or going with a group of friends, Contiki Tours are perfect for people looking to have a blast, meet new friends, and form lifelong memories. They offer tours that travel primarily in Greece or longer tours that cover other nearby places.
G Adventures is another great option for organized travel but with a smaller group. It's a great choice for anyone backpacking Greece alone who would like to meet up with like-minded travelers. It's also a practical option for exploring places where you need an experienced guide, like a long hiking adventure or visiting a place well off the beaten path. You can choose from different styles of small group tours like active, wellness, hiking trips, 18-30somethings, and more.
Health and Safety in Greece
The Greek National Health System provides medical services to Greek NI contributors and operates in a reciprocal agreement with the British NHS. This means with an EH 111 form you should receive medical attention should you need it. Be aware that many services which would be done on the NHS in the UK may require a private doctor in Greece.
As with travel to all other countries abroad, it is vital that you get travel insurance before you leave. Even for short trips, our go-to travel insurance provider is World Nomads, which is also recommended by Lonely Planet, HostelWorld, and other major travel companies.
The standard of healthcare whilst generally good does lag behind Western Europe in some ways. Outside of major cities such as Athens, the ambulance service is stretched and is very basic. Therefore, if you really need urgent attention and can move freely, a taxi to the nearest hospital might be quicker than waiting for an ambulance (if there is any danger that movement might make the patient worse then always wait for an ambulance).
Entry visa requirements for Greece
Greece, being part of the EU means that EU nationals or USA nationals will need only their passport or national ID card. No visa is required for a stay of up to 3 months. If you intend to stay longer or intend to work in Greece you should contact the Greek embassy.
Visa requirements for Greece can vary widely depending on your country of origin and can change over time. To avoid any unpleasant surprises, be sure to check the latest visa requirements while you're still planning your trip.
Work permits and backpacker jobs in Greece
EU nationals wishing to stay in Greece for longer than three months must apply for a residence permit within their three months of arrival. This can be obtained from a local police station, and you will need to show your passport and proof of having found employment. You must also register with the National Health Insurance Scheme (IKA). Greece has a great tourist industry, not only on the mainland but on its islands too. Greeks usually work a 5-day, 40-hour week.
Seasonal Work in Greece
Casual work in bars, clubs, and restaurants is best found by enquiring in person and most vacancies are likely in the busier tourist areas. Wages will depend on where you can find work, and what type of work it is, but remember that a lot of casual work in tourist areas can be busy and demanding. For work at hostels or hotels, it is good to check their website for seasonal openings.
Agricultural and Farm Work in Greece
Harvests throughout the year yield oranges, bananas, potatoes, olives, and grapes, in several places including Tol, Argos, and Crete. Therefore, work like fruit-picking jobs in Greece are fairly easy to find. Most agricultural work can be found by enquiring in person to various farmers.
The majority of jobs on farms will not pay particularly well and can be hard work requiring long hours to earn anything decent. If you are predominantly interested in the type of work available on farms and have at least two years experience in the industry, the Young Farmer's Clubs runs international schemes, including in Greece, that last between three and twelve months. Work is paid and although you are expected to pay your fares, the amount you earn will usually compensate for this.
Au Pair Programs in Greece
Athens is one of the surest places to find vacancies for au pair work in Greece. Agencies such as Nannies of Greece or Holiday Nannies Greece can arrange placements for 12 to 18-month placements with a Greek family.
As an au pair, you will be expected to look after the children and perform general domestic duties such as cleaning. In some cases, the family may pay your health insurance but it is important to check this, and if they do not, arrange your own. Payment for Greek au pairs very much depends on how much responsibility you are given and on the family that you are placed with. Au pair jobs can also be found online using websites such as aupair.com.
Volunteering in Greece
Volunteer travel is a great way to explore Greece on a budget while also giving back. Typically, you'll work on the project a set number of hours per week in exchange for free accommodation, and sometimes other perks such as free food, free bike rentals, and more. 
If volunteer work in Greece sounds like something you want to do, it's best to do it via a reputable agency. An agency will help screen volunteer programs and hosts in Greece to make sure you have support every step of the way.
Volunteer work in Greece can be organized through the WorldPackers agency, and you can use promo code BACKPACKING10 to save $10 on your membership. WorldPackers can connect you with volunteering opportunities in Greece with NGOs, hostels and homestays, animal rescues, and more.
Greece Hostels and Budget Accommodation
Hotels in Greece range from the luxurious and high-class common on the larger Greek Islands and the southern mainland to small seasonal chalets available almost everywhere. In the summer tourist season, you will have to book in advance or prepare to be disappointed. Self-catering apartments and houses are also a common form of accommodation on the Greek Islands.
Paradosiakoi oikismoi or traditional settlements can be found throughout the country. These are traditional Greek hostels and most offer single, double, or triple rooms or a four-bedroom house depending on numbers. These are a little more expensive than youth hostels but the quality is generally quite a bit higher and you won't find any dorms in these types of lodgings.
We have had good experiences finding hostels in Greece on HostelWorld. They have the largest inventory of hostels worldwide, and with over 10 million reviews and ratings from other travelers, you know exactly what to expect.
Another good way to find accommodation in Greece is by checking booking.com. You'll find hotels, homestays, hostels, and other unique accommodations. They have the most reviews and advanced filtering of any accommodation-booking site, so you'll be sure to find a great place in your budget. Many of the places on booking.com also offer free cancellation, which takes the pressure off the planning phase of your trip to Greece.
If you are backpacking with another travel companion, we highly recommend booking a rental via VRBO. With a vacation rental in Greece, you'll have more space, and your kitchen, and you'll get a better feel for how the locals live. Plus, the cost of a vacation rental can be split among your group, oftentimes making it cheaper than doing individual hotel rooms. 
If you're looking to save even more money while backpacking in Greece, there are plenty of creative ways to get free accommodation in exchange for work. For example, one of our favorite ways to stay in amazing locations for free is by signing up as a petsitter with Trusted Housesitters. The site connects responsible animal lovers with petsitting opportunities in Greece and all over the world. It's a win-win for both sides – travelers can stay in amazing locations for free, and homeowners can rest easy knowing that someone is watching over their place.
And lastly, CouchSurfing is a great community that connects travelers with local hosts in Greece. You can stay for free with verified hosts, who will usually take some time to show you around the local spots.
Useful Links for Backpacking in Greece
---
There you have it, the ultimate Greece backpacking guide. We hope you have found all the information you need for backpacking around Greece.
Next up:
Liked this article? Share it with others who might be after the same information!

---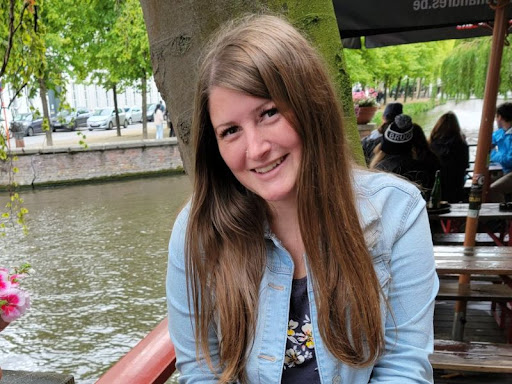 Author's Bio: This guide was written with help from Amber Hunt, a travel blogger behind Get Lost in Wanderlust, a site dedicated to travel around Europe. After falling in love with Greece, she has been back several times, most recently for a month-long backpacking trip throughout mainland Greece.