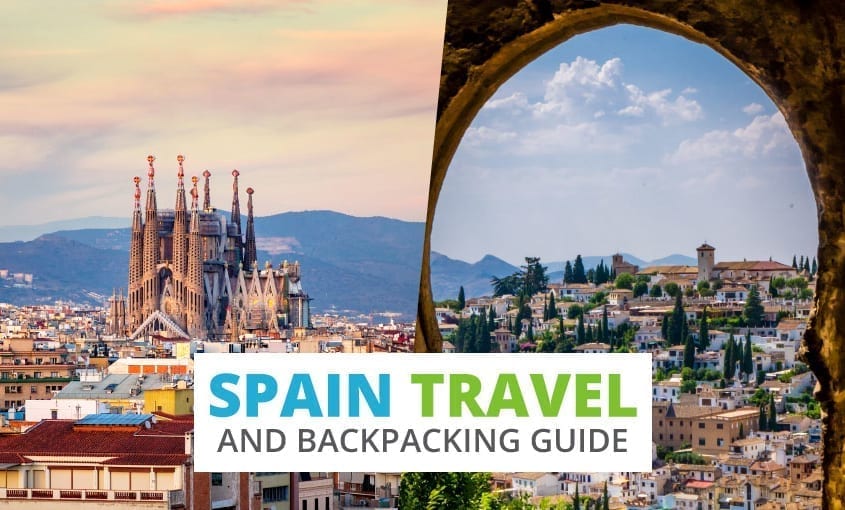 Backpacking Spain
Looking for important travel information while backpacking around Spain? Here you will find information on working in Spain, entry visas, Spain hostels, and much more.
Table of Contents

Facts About Spain
Spain is divided neatly into four regions, each with its own distinct personality and language. The Pamplona region is home to the San Fermins Festival and is the birthplace of the legendary Spanish Bullfights. The Northeast includes the sunny Balearic Islands and Catalunya, home to Picasso and Salvador Dali. The Northeastern region also includes Barcelona, one of Spain's most celebrated cities. Galicia is the northwest corner of the country; from here Portugal is just a short drive away. Finally, Andalucia is the most historic part of the country and contains cities such as Granada and Sevilla.
Currency: Euro 1 euro = 100 cents
Time Zone: GMT + 1
Language: Spanish (Castillan) although other regional dialects are also spoken
Telephone Services: Country code +34, International access number 00
Emergency Numbers: 112 for all service
Climate
The weather in Spain is generally good, ranging from temperate in the northern reaches of the country to hot and dry in the south. Some find the middle of the summer excessively hot, and if visiting at this time you may have to start taking a mid-day siesta like the locals!
Things to see and do
Spain has a whole range of things to see and do. For those who enjoy sampling new foods, wherever you are in Spain you should visit the local tapas bars. Tapas bars serve assorted dishes of local specialities which are normally eaten as a snack, perhaps whist relaxing with a glass of chilled sangria, another Spanish speciality.
If you are into your history you couldn't go wrong with a visit to Granada's Alhambra. This ancient Moorish palace is perched on the hillside overlooking Granada, and is surrounded by beautiful scenic mountains. It was built in 1238 by Ibn Ahmar, the founder of the Nasrid Dynasty. The Alcazaba (citadel) and palace sections are open to visitors, the highlight is the "Patio de los Le" (Court of the Lions) which is a magnificent alabaster basin supported by 12 ornate white marble lions.
Or perhaps you would rather spend a day at "Universal Mediterranea" a huge theme park on Spain's Costa Dorada. As well as the expected white-knuckle and water-splash rides there are nightly shows and other assorted entertainment.
Another great place to visit is the Basque Country with its stunning scenery, top quality museums and world-class gastronomy. The three major Basque cities are Vitoria, Bilbao and San Sebastian, each has its own unique charm where you can find a true sense of Spanish life.
Finally, there are the beaches. The magnificent Spanish weather attracts millions to the sun kissed beaches along the Costa del Sol, and to the alcohol fuelled party mayhem of the Spanish Islands. Whatever your taste, Spain is a classic beach destination. You will find beaches generally quite busy but well serviced by the inevitable hordes of tacky gift shops, English-style pubs, and other traditional tourist traps.
Travel
Spain is quite easy to travel around in, the rail network is for the most part well maintained and easy to use. RENFE operates a large network including connections between Madrid and most major cities. The network is fairly radial in topography so you might find buses better for short distances. Return fares offer you a 40% reduction on the return leg so it is wise to use them where possible.
As well as the travel passes outlined in our transport section, under 26's can purchase a "Tarjeta Explorerail" from RENFE which allows unlimited travel on most trains. These passes come in various flavours from 3 days right up to a month and represent good value for money. If, however, you are travelling through other European countries you might want to look into getting a more universal travel pass. See our section on European rail travel for more details.
Accommodation
Accommodation is easy to find; in any of the major tourist hot-spots there are the traditional sky rise hotels and sprawling hotel compounds. However, these are almost always fairly expensive. A far better way to stay is in "Pensiones" which are broadly the equivalent of a bed and breakfast and are generally run by a local family that lives on the premises.
Alternatively, Spain has a very well organised youth hostel network. REAJ is the Spanish hostel network and has information on over 200 hostels throughout Spain. Most can only be booked from Spain but in general this isn't a problem since they are rarely completely full. If you are travelling during a festival or other major holiday it might be worth phoning ahead a few days early though.
Health
The standard of Spanish healthcare is generally quite good, especially in the major tourist hot-spots. Carrying a valid EHIC card and taking out comprehensive travel insurance should guarantee you a good standard of treatment in local medical facilities. The tap water is considered drinkable and no special vaccinations are required when travelling to Spain.
Useful Links
Andalucia.com is an unofficial source of tourist information.
REAJ is the Spanish youth hostel network.
RENFE operate the major rail network in Spain.
tizz.com is another unofficial source of tourist informations.
Malaga Car Hire – Even backpackers might find themselves in situations where car hire might be an option to get across one or another region in Spain. Use this site to view a list of companies offering cost-effective car hire deals.
Entry Visas for Spain
A valid passport is required by everyone except EU nationals carrying an official ID card, and a visa is not required for a stay of up to 3 months.
Addresses
The Spanish Embassy should be contacted for all visa related and immigration enquiries.
Embassy of the Kingdom of Spain 39 Chesham Place London SW1X 8SB Tel: (020) 7235 5555 Fax: (020) 7259 5392
While in Spain you can find British representation at the British Embassy:
British Embassy
Calle de Fernando el Santo 16
28010 Madrid
Spain Tel: + [34] (91) 7008200 Fax: + [34] (91) 7008210 Information: [34] (91) 308 52 01 Email: bcon@cyberbcn.com
Foreigner Work Permits in Spain
As is the case with other European countries, EU citizens can enter Spain for up to three months without needing a visa or permit. If you intend to stay for longer than this you must apply for a residence card (tarjeta de residencia) in the first 30 days of arriving. The card can be obtained from a police headquarters (comisaria de Policia) or Foreigner's Office. You will need proof of having found employment.
Au Pairing
The main opportunities for au pair work can be found in cities, such as Madrid and Barcelona, where you can expect to earn between €42 and €51 (approx. €29 to €36) per week. Most agencies require that you are aged between 18 and 30 years old, although sometimes the maximum age is even lower.
Au pairs are expected to work for about thirty hours each week, which consists of general childcare: taking the children to and from school and looking after them in the evening, as well as general domestic tasks. As with most au pairing jobs, you will be provided with food and accommodation, but not many families in Spain pay the health insurance of their au pairs, so this is something that you would need to arrange individually. A great number of UK agencies communicate with those in Spain to provide vacancy listings for au pairing. See the websites, listed below, of agencies such as Accord Cultural Exchange, Childcare International Ltd., and The Solihull Au Pair & Nanny Agency.
Coastal Resorts
Tenerife, Lanzarote, the Costa del Sol, and the Costa Blanca are all good places to start looking for casual work. Opportunities range from bar staff, holiday reps, DJs, ticket sellers, and more. Most jobs can be found by personal contact, getting there early in the tourist season to find something that suits you. Wages vary from place to place and from job to job, but you can expect to be kept busy with this type of work, and to meet and deal with a variety of people. English language newspaper The SUR is published on Fridays and may contain vacancies for work in coastal resorts.
Campsites and Adventure Holidays
British and European camping agencies in Spain offer jobs during the peak tourist times in the summer. Eurocamp arranges work for couriers on Spanish campsites. It is preferred that you can speak another European language well because the job involves welcoming and interacting with a range of visiting nationalities. Employees must be over 18, and can anticipate earning approximately €95 per week.
PGL organises adventure holidays for children between February and November; centres can be found across Europe. Working for PGL as a helper or courier can earn you between €50 and €60 per week in Spain. Board and bed is provided, so you won't have to worry about finding, paying for, and travelling to and from suitable accommodation during your employment.
Touting
Spanish restaurants and bars pay workers to attract tourists to their businesses, particularly in competitive tourist areas such as coastal resorts and towns. Wages can vary but you could expect to earn between €15 and €25 per night, depending on the work and your success rate. This type of work involves handing out leaflets, putting up posters, or even chatting to passers-by. Again, it is seasonal work so there wouldn't be many opportunities for touting in the winter. Furthermore, touting is a late night job, and although it does pay, don't rely on this employment as your only source of money.
Agriculture
Spain's agricultural produce includes oranges, olives, grapes, and strawberries. Andalucia is a large region with opportunities for fruit picking. As with most jobs of this kind you are most likely to find vacancies by going from place to place and enquiring to farmers and land owners.
Fruit picking can be difficult work, and there is no guarantee that you will earn a decent wage from it. Some farmers may pay you depending on how much fruit you can collect, how much it is worth at market, or how long it takes you. Expect to earn anything from €10 to €50 per day.
If it is the actual agricultural work that appeals to you more than the money, the Young Farmers' Clubs International Farm Experience Programme is a voluntary organisation that can place you on farms in agricultural jobs in a range of countries, but two years' experience in the industry is essential.
Volunteering
There are a whole variety of voluntary organisations and programmes available throughout Spain. EIL is one such organisation that places volunteers in projects, including environmental management and conservation, and working with people with disabilities.
The South American Mission Society (SAMS) is concerned with church-run projects, joining people into communities as mission partners or church helpers. They offer short-term placements, see below for contact details.
For five or more weeks, for 35 hours each week, The Sunseed Trust welcomes people wanting to help in their work to make life and the environment better for those living in desert lands.
Endless opportunities exist for those wanting to make a difference in their time abroad by volunteering. However, it is worthwhile keeping in mind that the essence of volunteer work is that you don't get paid, and even those organisations providing pocket money will not provide sufficient financial backing for all your travelling needs. Some companies do include accommodation and meals for their volunteers, but it is always essential to check.
Useful Addresses
National Federation of Young Farmers' Clubs
The International Farm Experience Programme YFC Centre National Agricultural Centre Stoneleigh Park Kenilworth Warwickshire CV8 2LG
Useful Links
Au-pairing-world can help you find au pairing services.
Eurocamp are a major seasonal employer.
Children International can help you find au pairing services.
Europa Pages provides a database of au pairing opportunities in Spain.
The Solihull Au Pair & Nanny Agency are two leading European au pair agencies.
Eurocamp are a major seasonal employer.
PGL offer residential activity courses.
Experiment.org provides an insight into the volunteer work available with EIL.
How to Say Common Spanish Phrases
Meeting People
English

Spanish

yes

si

no

no

thank you

gracias

You are welcome

De nada

please

por favor

Excuse me

Discúlpeme

hello

hola

goodbye

adiós

Good morning

Buenos dias

Good night

Buenas noches

I do not understand.

No entiendo.

Do you speak…?

Habla usted…?

English

Inglés

Spanish

Español

What is your name?

Como se llama usted?

Nice to meet you

Encantado de conocerle

How are you?

Cómo estás?

Good

bien

bad

mal
Directions
English

Spanish

map

el mapa

left

la izquierda

right

la derecha

Straight on

directo

far

lejos

near

cerca
Methods of Transport
English

Spanish

Where is…?

Dónde está…?

How much is the fare?

Cuanto es lo justo?

Ticket

boleto

A ticket to…, please.

Un boleto para…, por favor.

Where are you going?

Hacia dónde vas?

Where do you live?

Dónde vive usted?

train

el tren

bus

el autobús

underground

el metro

airport

el aeropuerto

Train station

la estación del tren

Bus station

la estación de autobuses

Underground station

la estación del metro

departure

la salida

arrival

la llegada

parking

el estacionamiento
Time
English

Spanish

What time is it?

Qué hora es?

Today

hoy

yesterday

ayer

tomorrow

mañana
Accommodation
English

Spanish

hotel

el hotel

room

el cuarto

reservation

la reservación

Are there any vacancies?

Tiene habitaciones?

No vacancies.

No hay lugares.

Passport

el pasaporte
Places
English

Spanish

Post office

la officina de correo

bank

el banco

Police station

la estación de policía

hospital

el hospital

chemist

la farmacia

shop

la tienda

restaurant

el restaurante

museum

el museo

church

la iglesia

square

la plaza

strret

la calle
Shopping
English

Spanish

How much does this cost?

Cuánto cuesta?

I will buy it

Lo compro

I would like to buy…

Me gustaría comprar…

Do you have…?

Tiene usted…?

open

abierto

closed

cerrado

postcard

la postal

stamps

los timbres

little

poco

lot

mucho

all

todo
Meals
English

Spanish

breakfast

el desayuno

lunch

el almuerzo

dinner

la cena

vegetarian

vegetariano/vegetariana

cheers!

skal!

The bill please

Me trae la cuenta por favor
Drinks
English

Spanish

drink

la bebida

coffee

el café

tea

el té

juice

el jugo

water

el agua

beer

la cerveza

wine

el vino
Food
English

Spanish

meat

la carne

fish

el pescado

vegetable

las verduras

fruit

la fruta

potato

la patata

salad

la ensalada

dessert

el postre
Buy phrasebooks online at Amazon.co.uk
Spain Hostels
Hostels are a cheap form of accomodation, and so they are essential to backpackers and other budget travellers. We have compiled a list of hostels in Spain to help you plan your journey. If you are looking for a hostel in Spain, you've come to the right place.
Andalucia
Aragon
Balearic Islands
Basque Country And Navarra
Cantabria And Asturias
Castilla La Mancha
Castilla Y Leon
Catalunya
Comunidad Valenciana
Extremadura
Galicia
Madrid
There you have it, the ultimate Spain backpacking guide. We hope you have found all the information you need for backpacking around Spain.
Top Products for Backpackers