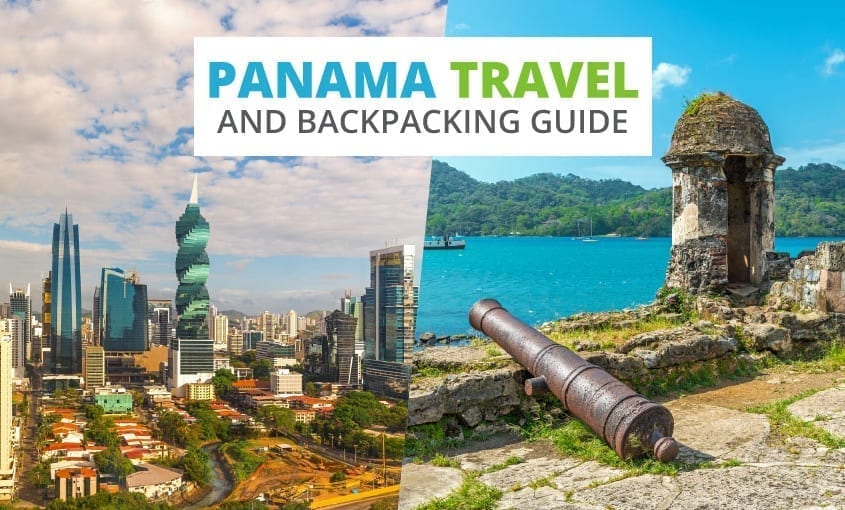 Backpacking Panama
Looking for important travel information while backpacking around Panama? Here you will find information on working in Panama, entry visas, Panama hostels, and much more.
Table of Contents

Facts About Panama
The Southernmost country on the Central American isthmus, Panama has always had a vibrant, multi-faceted culture. Since the construction of the Panama Canal, it has also been an industrially significant country with economic clout and a booming tourist industry. From Caribbean beaches to Pacific breaks, hiking adventures to spa hotels, Panama's got something for everyone, which explains why it has become such a popular destination for backpackers and package tourists alike in recent years.
Climate
Panama stretches from the Caribbean coast down to South America, and as you might expect its climate is hot and tropical. The dry season runs roughly from December to April and is the best time to visit, though temperatures can soar to uncomfortable heights in places. During the rainy season, though, it can really pour with rain , and mountainous regions can get much colder than the humid lowlands.
Temperatures do not vary too greatly year-round, with Panama City's temperature tending to fall in the mid-to-late 20o during any given month. The BBC weather website has a comprehensive and often accurate five-day forecast for Panama though you will need to search more widely to find more specific local breakdowns.
Things to do and see
Travellers to Panama will encounter a curious mix of American surfers on 'Spring Break', earnest bird-watching ecologists, retired couples and gap-year students, as well as the backpackers, families and even a Panamanian or two.
The surfing is justifiably famous, with the most skilful and daring heading to excellent breaks off the rugged Pacific coastline. The coast is also home to acre upon acre of American timeshares and golf-courses, which is unfortunate or exciting depending on your holidaying preferences.
Tours involving active sports also draw travellers. River rafting, boating, waterskiing and especially diving and snorkelling are available across the country. Snorkelling in the Caribbean coast is a popular option offering as it does an opportunity to see some spectacular underwater flora and fauna.
And if it's flora and fauna you want, Panama is the place to be. The mountains and jungles have extremely high biodiversity, and you might catch a glimpse of exotic creatures, from wildcats to giant spiders. Tours vary from arduous camping expeditions to gentle guided strolls around the national parks. Recent developments have constructed luxurious, eco-friendly cabins and tree houses with spas inside the national parks for a bit of post-hike relaxation.
The remains of Indo-American civilizations have always brought travellers to Panama, and though not as famous as the remains in Mexico and Costa Rica, evidence of ancient civilizations is scattered across Panama. See the architectural remains of the Cuevas and the Cocl civilizations everywhere from the remotest of mountains to Panama City itself.
The capital's malls and markets sell everything: fruit and vegetables, knock-off designer clothing, genuine designer clothing, native arts and crafts, local food and music.
Panama's most famous feature is not just for engineering buffs. Many travellers walk or cycle or boat along the Canal, and a trip to Panama just isn't valid unless you've at least seen it, and maybe bought the t-shirt.
Useful Links
www.panamainfo.com Telephone (507) 315-0609
Official tourism website: visitpanama.com
Travel
Although it is possible to travel to Panama by sea, this is a lengthy and often expensive option , most of the traffic comes from the pleasure-boat industry and from trading ships rather than independent travellers. Most people arrive in Panama by air or over land. It is possible to fly to Panama indirectly from the UK, changing in Europe, the USA or Latin America (or all three). No airlines offer budget flights to Panama at the time of writing, though STA Travel will offer younger travellers advice on the cheapest option.
Overland from Costa Rica or Columbia, bus is your best bet. Buses to and from the border are reliable and surprisingly frequent from across Costa Rica and Columbia , it should be fairly easy to find a connection by checking at the bus station in any town.
Panama is a small, thin worm of a country compared to some of its Latin American neighbours, so it is easy to travel round the country on public transport. And like most of its Latin American neighbours, bus is usually the most comprehensive and most frequent public transport system. Buses are reliable and mostly safe, though the comfort factor can be quite erratic, with air-conditioned coaches showing American DVDs and overheated, overcrowded minivans running the same routes.
Taxis are cheap in Panama and can often be a convenient, economic alternative to car hire, particularly given the less-than-desirable state of provincial roads. However, if you want a bit more freedom, then you can find car hire at www.car-hire-centre.co.uk.
In parts of Panama it's quickest and cheapest (and most fun) to get around by boat. Of course, this is particularly the case with the off-shore islands. It's usually possible to find a 'water taxi', that is, anyone with a boat who'll take a few coins to take you where you want to go. As always, be careful of who you get into a vehicle with.
Accommodation
Although there are limited property-rentals and package tours available, most backpackers in Panama will find themselves staying in a hostel or guesthouse as the cheapest and often most sociable accommodation. There are a number of websites catering specifically for this , try Hostels.com, Hostelworld.com, or HostelBookers.com.
In provincial Panama, it is not unlikely you'll find yourself in a place where there's no official 'tourist accommodation' option , and even in the city, there's often a very fine line between a family-run guesthouse and staying in a family's spare room. This tends to be a positive thing as with a little asking-around you can often find cheap accommodation with a friendly host, although the practice is dying out as tourism grows and the spread of official hostels , and of course, international hotel chains , continues.
It is rarely necessary to pre-book a hostel or hotel in Panama, though many have websites and it can be reassuring to do so for your first nights in a town. When visiting for feast days and carnival this is also advisable.
A number of websites also offer rental accommodation in Panama, although these can be bland and overpriced. Nonetheless, international companies such as Holiday Lettings or the Travel Library will be reliable.
Healthcare
UK residents can apply for a comprehensive, up-to-date report on health issues for travellers in Panama. The personal report, which includes recommended vaccinations, foreign office travel health advice, advice on seasonal diseases and up-to-date health news, is available from the Medical Advisory Services for Travel Abroad (MASTA). The MASTA website also has details of locations of travel clinics to visit before you leave.
Broadly speaking, Panama is a fairly safe country to travel to health-wise, so long as you don't take any foolish risks. Make sure you are vaccinated before you travel and carry a certificate of vaccinations with you. Current UK advice counsels Hepatitus A, Typhoid and Yellow Fever vaccinations for all travellers, as well as a number of others including Rabies for travellers who will be visiting at-risk areas or living long-term in Panama or Latin America. Check with your doctor or nhsdirect.nhs.uk (in the UK) for up-to-date advice.
Similarly, medical care in Panama is generally of a good standard. Clinics in Panama City are high-quality and will usually have at least one English-speaking doctor on hand. Outside the city, facilities are fewer and further between, and it's probably best to travel back to the capital for any non-emergency treatment.
However, it is not normally necessary to shell out on any premium-level insurance packages. The type of cover you choose will depend on your planned activities. Speak to an agent mentioning the areas you plan to visit and what you plan to do there, and they will be able to advise you on the best cover.
Entry Visas for Panama
Travellers are officially required to give proof of onward travel on entry into Panama , that is, whether you are arriving into the airport or over land, you will need to be able to prove you have a ticket to leave the country. On entry into the country you will be given a 30-day stamp on your passport, which stay can be extended at immigration offices in one of Panama's large cities.
UK citizens currently only need a valid passport in order to gain entry to the country, though citizens of the USA, Australia and elsewhere will have to purchase a tourist card from border control. The card should be under $10 USD, but ensure you have cash on you before you depart, particularly if you are making an overland entry. Citizens of some other countries will need to apply for a visa before entry into Panama.
However, the particularities of these entry requirements and the countries they apply to have been known to change, so it's best to contact the Panamanian Embassy well before you travel in order to ensure that you have your papers in order. The British Panamanian Embassy can be contacted from anywhere via their website. Contact details for the Panamanian diplomatic missions around the world can also be found here.
Foreigner Work Permits in Panama
The Panamanian government has traditionally tried to minimise native poverty by tough immigration laws which make it hard for foreigners to find work in Panama. This freeze on foreign employment is thawing to a certain degree, and foreign students and travellers can find casual, short-term or part-time work as deck-hands and baggage handlers, farm labourers and bar workers. However, it is vital that young foreign workers respect the needs of local labourers as well as legal restrictions when job-searching.
The other option for the non-skilled or casual (English-speaking) worker in Panama is to teach English , either through a language school in the city or offering independent tutorials. Official TEFL (Teaching English as a Foreign Language) websites such as Teach Abroad Panama give information on courses and job opportunities as well as country-specific advice on this work.
Although serious restrictions exist on paid work, a great number of foreign gap-year students and travellers commit to unpaid voluntary work in Panama, which can be rewarding in that it is educational, fun, and a great way to really get into local cultures. They vary wildly, from wildlife conservation projects such as Anconto government-run internships to English teaching or sports coaching in remote villages. Check charity and government websites for information on current projects.
Official Language of Panama
Spanish is the official language of Panama, however, this apparently simple statement belies a complex linguistic labyrinth that every traveller will have to negotiate to a greater or lesser degree. Nearly 20 languages have been identified as in use in Panama today, with dialectic differences complicating things further. The majority of these are the languages of native Indo-American tribes, which are in turn mixed with Chinese, French, English and even Arabic in various creoles. The multiple linguistic identity is due in part to the number of immigrants brought in to work on the construction of the Panama Canal over the last century. However, those who are not multi-lingual need not despair. A working knowledge of Spanish will be more than enough to get around Panama, and the fact that so many different languages co-exist, for the most part happily, means locals will often be open to translating your clumsy assaults on the local language.
Panamanian Spanish differs in a number of minor but not insignificant ways from European Spanish. It is worth investing in a Latin American Spanish guidebook in order to learn about the different forms, particularly as it is possible (though unlikely) that you may encounter some confusion or even hostility if speaking with textbook inflexions. However, some basic Spanish phrases should get you far:
Meeting People
English

Spanish

yes

si

no

no

thank you

gracias

You are welcome

De nada

please

por favor

Excuse me

Discúlpeme

hello

hola

goodbye

adiós

Good morning

Buenos dias

Good night

Buenas noches

I do not understand.

No entiendo.

Do you speak…?

Habla usted…?

English

Inglés

Spanish

Español

What is your name?

Como se llama usted?

Nice to meet you

Encantado de conocerle

How are you?

Cómo estás?

Good

bien

bad

mal
Directions
English

Spanish

map

el mapa

left

la izquierda

right

la derecha

Straight on

directo

far

lejos

near

cerca
Methods of Transport
English

Spanish

Where is…?

Dónde está…?

How much is the fare?

Cuanto es lo justo?

Ticket

boleto

A ticket to…, please.

Un boleto para…, por favor.

Where are you going?

Hacia dónde vas?

Where do you live?

Dónde vive usted?

train

el tren

bus

el autobús

underground

el metro

airport

el aeropuerto

Train station

la estación del tren

Bus station

la estación de autobuses

Underground station

la estación del metro

departure

la salida

arrival

la llegada

parking

el estacionamiento
Time
English

Spanish

What time is it?

Qué hora es?

Today

hoy

yesterday

ayer

tomorrow

mañana
Accommodation
English

Spanish

hotel

el hotel

room

el cuarto

reservation

la reservación

Are there any vacancies?

Tiene habitaciones?

No vacancies.

No hay lugares.

Passport

el pasaporte
Places
English

Spanish

Post office

la officina de correo

bank

el banco

Police station

la estación de policía

hospital

el hospital

chemist

la farmacia

shop

la tienda

restaurant

el restaurante

museum

el museo

church

la iglesia

square

la plaza

strret

la calle
Shopping
English

Spanish

How much does this cost?

Cuánto cuesta?

I will buy it

Lo compro

I would like to buy…

Me gustaría comprar…

Do you have…?

Tiene usted…?

open

abierto

closed

cerrado

postcard

la postal

stamps

los timbres

little

poco

lot

mucho

all

todo
Meals
English

Spanish

breakfast

el desayuno

lunch

el almuerzo

dinner

la cena

vegetarian

vegetariano/vegetariana

cheers!

skal!

The bill please

Me trae la cuenta por favor
Drinks
English

Spanish

drink

la bebida

coffee

el café

tea

el té

juice

el jugo

water

el agua

beer

la cerveza

wine

el vino
Food
English

Spanish

meat

la carne

fish

el pescado

vegetable

las verduras

fruit

la fruta

potato

la patata

salad

la ensalada

dessert

el postre
Panama Hostels
Hostels are a cheap form of accomodation, and so they are essential to backpackers and other budget travellers. We have compiled a list of hostels in Panama to help you plan your journey. If you are looking for a hostel in Panama, you've come to the right place.
There you have it, the ultimate Panama backpacking guide. We hope you have found all the information you need for backpacking around Panama.