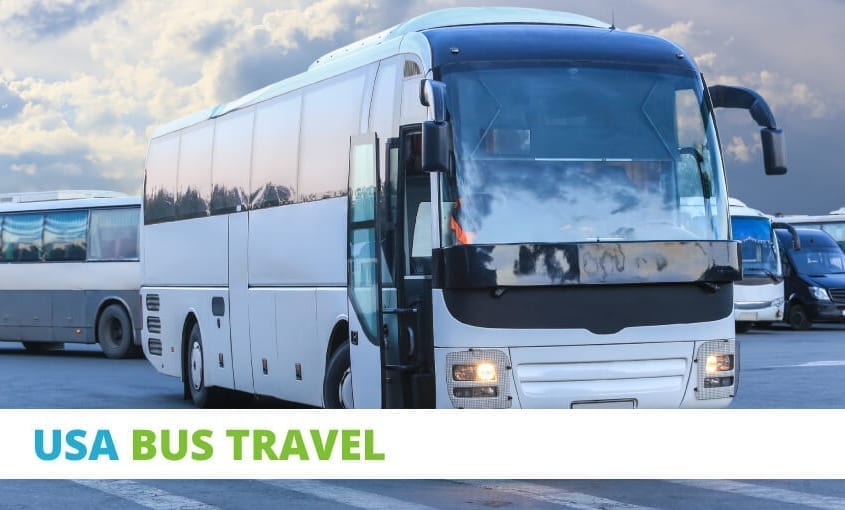 USA Bus Travel

If you are looking for an affordable way to travel in the United States, bus travel might be your best option. We will discuss the most popular method, Greyhound as well as some greyhound alternatives.

Travel By Greyhound Bus in the USA
While in the US one of the most economical methods of transport is undoubtedly the greyhound bus. Celebrated by travellers the world over Greyhound buses can take you to any of 3700 locations throughout the US. And Greyhound Canada can take you to a further 1300 in Canada. With such a large selection of destinations and an attractive range of ticketing options you can't really find a better way to travel in the US.
Greyhound Bus Comfort
Greyhound buses are extremely well equipped with all the usual mod-cons that you come to expect when travelling in the States. Buses have climate control so you don't have to worry about keeping cool while you are travelling around. Furthermore buses are equipped with a fully kitted out toilet, reclining seats and tinted windows. You will find that on popular routes buses are equipped with tv/video equipment.
Flexible travel
Buses operate 24 hours a day so many travelers opt to take sleeper buses so that waking hours aren't wasted travelling. While it is certainly possible to sleep on these buses you would probably be best to try and get a night in a bed after a few days sleeping on buses! The buses make intermediate stops to pick up and let off passengers, in addition rest stops are made every few hours including breaks at normal meal times.
Flexible Fares
Greyhound offer an impressive range of different fare and discount options including discounts for children, students, the elderly and military personnel. For the backpacker however the most useful choice is the discovery pass. This ticket allows unlimited travel within a set period of time which can range from 4 days up to 60. This includes unlimited stopovers and really gives you endless options for travelling. While you are travelling on greyhound buses you will undoubtedly meet and talk to people and with a discovery pass you can make detours on your trip should any of your new found travelling companions come up with a place to visit that really interests you.
You can also find discovery passes that include access to greyhound services in Canada which could allow you to visit the famous national parks in the summer or perhaps take you to a popular ski resort for some winter fun. Either way a visit to Canada is a very worthwhile detour if you are travelling in the US.
Greyhound Food Services
Greyhound operates their own cafeterias and gift shops at many stop-off points and food is typical American fast food. Expect to choose from items like Pizza, Burgers, Chicken and sandwiches. As can be expected at these locations where Greyhound have a "captive-audience" prices are slightly above normal rates but using these facilities really is the easiest way to get a quick bite to eat whilst travelling.
Greyhound Bus Food Policy
Per Greyhound's food policy, you will want to stock up for your trip. You can bring food and drink on the Greyhound bus with you. Remember, certain drinks and foods lend themselves better for travel. If you are traveling for a long period of time, you may not want food that needs to be refrigerated.
Alcoholic beverages are not permitted on Greyhound buses.
Drawbacks
Since September 11th Greyhound have been performing a series of "random and profile based" baggage searches. This does make delays quite likely but in comparison with the UK's various intercity bus companies this is not such a big deal as it sounds. Many Americans complain that Greyhound is slow compared to traveling by train or plane but for a backpacker who can find something to see at every major stop on route this isn't really a concern.
Greyhound Bus Alternatives
There are no bus companies that operate such an extensive national bus service although there are some regional companies. These don't really offer the flexibility of Greyhound and there is no central information source on them. If you know you will be travelling only in a specific region these might be worth checking out either on the net ahead of time or once you get there.
Things to Remember While Traveling by Bus
As with travelling on any public transport, make sure you keep an eye on your luggage. Thefts do happen from time to time but taking simple precautions like making sure your luggage is stowed away properly make this much less likely to happen to you.
Travelling on buses for long periods of time carries the same risks of Deep Vein Thrombosis as air travel. At the rest stops take the opportunity to get out and stretch your legs. For more information on DVTs see our partner site flight health.org.
Useful Links