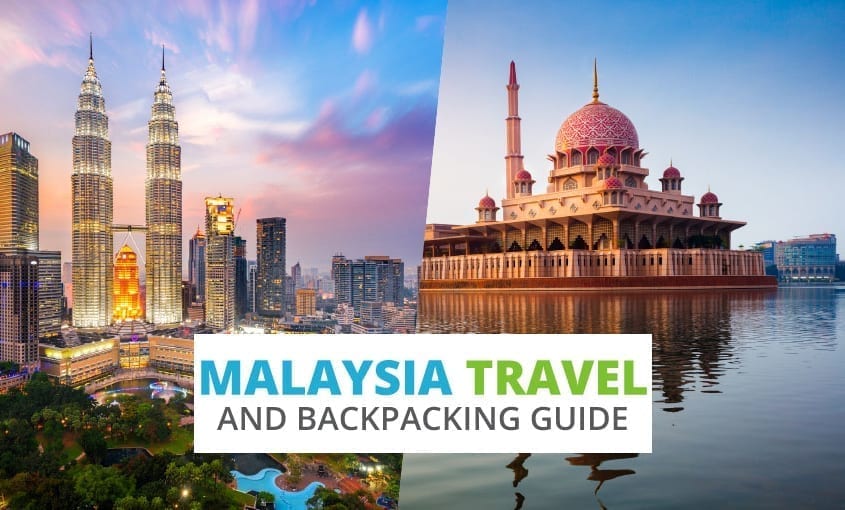 Backpacking Malaysia
Looking for important travel information while backpacking around Malaysia? Here you will find information on working in Malaysia, entry visas, Malaysia hostels, and much more.
Table of Contents

Facts About Malaysia
Malaysia is an extremely diverse and exotic country. Occupying the end of the Thai peninsula as a part of Indonesian Kalamantin, it boasts mountainous hinterland, dense virgin rainforests, stunning coastlines and paradisical, untouched tropical islands. In terms of natural environment, Malaysia is among the best.
Another face to the country is its roaring economy. The Malaysia of today is a prosperous nation and this newly gained wealth is evident in the high-tech, trendy capital city Kuala Lumpur. For the traveller, this is one of the most pleasurable and hassle-free of the Asian countries around which to base a trip.
Currency Malaysian Ringgit (RM)
Time GMT/UTC +8 ()
Language Malay (official), Tamil, English, Chinese.
Telephone Service Dialling code +60
Emergency Numbers All services 999
Climate
Malaysia is situated in the equatorial zone and for this reason experiences a perennially tropical climate. Temperatures average 30°C all year round and humidity levels usually hover around the 90% mark. Hot and humid day times are broken up by short and very intense bursts of torrential rain on a daily basis. At higher altitudes however, the intense Malaysian tropical climate is somewhat modified. Average temperatures drop considerably in the highland areas and humidity levels become much more bearable.
Malaysia is affected yearly by two rainy seasons, commonly referred to as "the monsoons". The effects of the monsoons vary in severity across the country: some areas become totally submerged by flooding, whereas mountainous areas are affected much less. The north-east monsoon generally occurs between the months of October and March, and from May to September the south-west monsoon sweeps the country. The heaviest rainfalls are experienced in spring and autumn as the monsoon changes direction.
The rains should never deter a visit to the West coast of Malaysia or indeed, the highland hill stations. Weather patterns remain more or less uniform despite the monsoon season. In the morning the sky is usually clear and sunny with rain clouds bringing short showers in the afternoon. It is rare to have a day without sun, or indeed without showers. It is however, advisable to avoid the east coast destinations during the rainy season months of November and January if you really want to take advantage of the beaches.
When packing, the golden rule is variation. Pack light summer clothes because heat and humidity are guaranteed, carry a good raincoat or umbrella and an extra warm sweater if you plan on trekking into the hills.
Things to See and Do
Kuala Lumpur is a city with two faces: its gleaming modern sky-scrapers, alongside the traditional Chinatown and Little India back streets, bustling with street vendors and night markets. In little more than a century the city has grown to be an extremely important economic centre in Asia. The high-tech modernism of the new city is symbolised in the famous 88 storey Petronas Towers, that rise an incredible 451.9m above the city. Take the lift to the 41st floor where there is a "Skybridge" viewing point that connects the two towers.
On a very different note, the Sri Mahamariamman Temple in Kuala Lumpur is well worth a visit. It is Kuala Lumpur's principal Hindu temple. After being greeted by its magnificent gate-tower, you will find a vibrantly colourful place, featuring the most important shrine in the city. Shoes must be removed at the entrance.
Islam is the primary religion on the Malaysian peninsula and hence, for any traveller truly interested in the culture of the country, a trip to the Islamic Museum is compulsory. A spacious, stunning white domed building, the museum houses scale-models of the world's most important mosques.
Leaving the capital and seeking respite from the bustling Asian city life, a good inland destination is the Cameron Highlands. Situated in the centre of the Malaysian peninsula, the area features a series of hill stations lying at altitudes between 1500-1800m (4920-5904ft). The fertile area is cultivated with tea plantations and walking around the forest trails, beautiful gardens and plantations is a little like stepping back into a forgotten colonial past.
Every trip to Malaysia should include a trek into the breathtaking wilderness of Taman Negara, an area of dense jungle that provides a haven for many endangered species like elephants, tigers, leopards and rhinos. To have a chance of spotting these animals it is necessary to venture quite deep into the wilderness, and this is best accomplished by taking the boat trip up the river. If you don't catch a sight of one of the endangered species, it is certain that you will spot snakes, lizards, monkeys, small deer and a plethora of bird and insect species. Taman Negara is among the world's most ancient primary rainforests. It remained untouched by southward creeping ice caps during the Ice Ages and the forest has also managed to escape major volcanic activity and other geological upheavals.
Other highlights include a visit out to the twin islands of Perhentian Besar and Perhentian Kecil. These are generally considered to be the most beautiful islands in Malaysia, with expansive, pristine, white sandy beaches. The crystal clear waters surrounding the islands host accessible reefs, and are perfect for scuba-diving and snorkelling, both popular activities on the islands.
For something particularly unusual and exotic, make a trip to the "Snake Temple" in Penang. Straight out of an Indiana Jones film, the temple swarms with poisonous snakes, that are heavily drugged with incense to avoid venomous attacks on tourists.
Travel
The most popular way to reach Malaysia is by getting a flight to Kuala Lumpur (Sepang International Airport 75km from the city). It is possible, however, to fly to other destinations within the country. Penang for example also has international flights.
Other popular ways to get to Malaysia are overland from Thailand or Singapore or by ferry from Singapore. There are five places where you can cross the Thailand/Malaysia border by road. There is a causeway that can be crossed to reach Singapore, or alternatively, you can take the ferry or the train.
There is no bad time to visit Malaysia, though the East coast beaches are best enjoyed outside the rainy season months of November to March. The capital Kuala Lumpur is hot and extremely humid all year round. The wettest months of the year are March to April and September to November, so travelling outside these months could prove slightly more pleasurable.
Public holidays can be a great time around which to coincide your trip to Malaysia. Despite being more chaotic and crowded than usual, the numerous public holidays can be an exciting time to travel as you can find yourself among the locals as they head out to the beaches and hills. Be warned however, Malaysia is predominantly a Muslim country and during large Festivals such as Ramadan, finding restaurants that are open can be a difficult task. Modern and liberal Kuala Lumpur is not affected by the large scale religious festivals.
Accommodation
In the capital Kuala Lumpur, all manner of accommodation options are available, though there are few quality budget places for the backpacker. Kuala Lumpur caters more effectively to more moneyed business travellers, with luxury hotels plentiful in the capital. Sometimes these hotels offer 50% discount, so can be a worthwhile option for the first couple of nights when starting out, or arriving with jet-lag to sleep off.
Most hotels, including the budget/mid-range ones are situated in the capital's Golden Triangle district, where most of the large shopping malls and nightlife is clustered. Chinatown is also a good option for the budget traveller and is packed full of cheap hotels and guest houses, though perhaps not an area for the faint hearted.
Budget room prices hover between 30-75RM mark ). Moving up in quality you can expect to pay 75-200RM.
Health
An excellent quality of medical care is available in Kuala Lumper, equal to that of Western countries. It is not, however, free and therefore medical insurance is a necessity.
In remote rural areas, medical facilities vary between being scarce and entirely absent. A good medical insurance policy is recommended in the case of serious illness or injury requiring an airlift from a remote area.
Before travel, be sure you are up to date on all routine immunisations. See your doctor at least 4-6 weeks before your trip to allow time for vaccinations to take effect.
Recommended Vaccinations:
Malaria: Prophylaxis with Lariam, Malarone, or doxycycline is recommended for all rural areas, but not urban or coastal areas.
Hepatitis A
Typhoid
Yellow Fever – certificate of immunisation is required if coming from a yellow fever endemic zone.
Japanese Encephalitis
Hepatitis B
Rabies
Measles, mumps, rubella
Tetanus-diphtheria
Useful Links
General Hospital Kuala Lumpur Kuala Lumpur General Hospital Jalan Pahang, Kuala Lumpur 50586 Tel: 03 2615 5555, Fax: 03 2698 9845 Kuala Lumpur General Hospital website
UK Embassy in Malaysia
British High Commission
185 Jalan Ampang 50450 Kuala Lumpur or PO Box 11030 50732 Kuala Lumpur Switchboard – (+60 3) 2170 2200 UK Embassy Malaysia website
Entry Visas for Malaysia
Citizens of most countries (including UK and US) do not need to apply for a visa to enter Malaysia providing the trip is for tourist purposes and the length of stay no more than 90 days.
In all cases a valid passport is required with at least six months remaining beyond the date of entry. Also, all travellers must be in possession of a return or onward ticket and sufficient funds (at least RM250). It is advised that you enter Malaysia on the passport on which you exited your last country of departure, as dual nationality is not recognised.
Unless flying from Malaysia (where it is already tacked onto the ticket price) you will have to pay a RM20 departure tax when flying international.
Addresses
Malaysian Embassy in London
Malaysian High Commission,
45 Belgrave Square,
London SW1X 8QT.
Tel: 020 7235 8033
Malaysian Embassy website
Foreigner Work Permits in Malaysia
To be able to work in Malaysia, it is necessary to apply for a working visa. Tourist visas do not permit legal work, but of course, volunteering is an option.
Teaching English Alternatively, if you plan to stay for a longer period and manage to get a working visa, a solid work option is teaching English. It is even better if you arrive with a TEFL qualification as you will be in a better position to demand decent working conditions. However, English teachers are in such high demand that even without the TEFL qualification, it shouldn't be a problem to find work. Work is readily available in private language institutions, public schools and also within companies.
Volunteering Volunteering work is a definite option in Malaysia and a great thing to do if you really want to spend some time in the country and also want to access areas and situations that are off the beaten track. Big volunteering organisations include; the VSO, Frontier or Gap activity projects.
How to Say Common Malay Phrases
Malay is the official language of Malaysia, although English and Chinese are also widely spoken. Below are some useful Malay phrases.
Meeting People
English

Malay

Hi!

Hi!

Good morning!

Selamat pagi

Good evening!

Selamat petang

Welcome!

Selamat datang

How are you?

Apa khabar?

I'm fine, thanks!

Khabar baik, terima kasih

Thank you (very much)!

Terima kasih berbanyak-banyak

You're welcome!

Sama-sama

Good night!

Selamat malam

See you later!

Jumpa lagi

Good bye!

Selamat jalan
Help & Directions
English

Malay

Can you help me?

Bolehkah anda membantu saya?

Where is the (bathroom/ pharmacy)?

Di manakah (bilik mandi/ farmasi)?

Go straight! then turn left/ right!

Jalan lurus/ kemudian pusing kiri/ kanan

How much is this?

Apakah harga barang ini?

Do you speak (English/ Malay)?

Adakah anda fasih berbahasa (Inggeris/ Melayu)?
Misunderstanding
English

Malay

I'm sorry? (if you don't hear something)

Maafkan saya?

Sorry (for a mistake)

Maafkan saya.

No problem!

Tiada masalah!

Can you say it again?

Bolehkah anda mengulangi apa yang telah anda sebutkan?

I don't understand!

Saya tidak faham!

I don't know!

Saya tidak tahu!

I have no idea.

Saya tiada idea.

What's that called in Malay?

Apakah nama benda ini?

What is this?

Apa ini?

My Malay is bad.

Penguasaan bahasa melayu saya lemah.

I need to practice my Malay

Saya perlu memperbaiki bahasa Melayu saya.

Don't worry!

Jangan (bimbang/ risau)
Food and Drink
English

Malay

bread

roti

beef

daging lembu

chicken

ayam

fish

ikan

vegetables

sayur

fried noodles

mee goreng

fried rice

nasi goreng

cup of coffee

kopi satu

a cup of tea

teh satu

water

air (ah-yayr)
Malaysia was under British administration for a long time and therefore, most foods are also labelled in English.
Malaysia Hostels
Hostels are a cheap form of accomodation, and so they are essential to backpackers and other budget travellers. We have compiled a list of hostels in Malaysia to help you plan your journey. If you are looking for a hostel in Malaysia, you've come to the right place.
There you have it, the ultimate Malaysia backpacking guide. We hope you have found all the information you need for backpacking around Malaysia.
Top Products for Backpackers