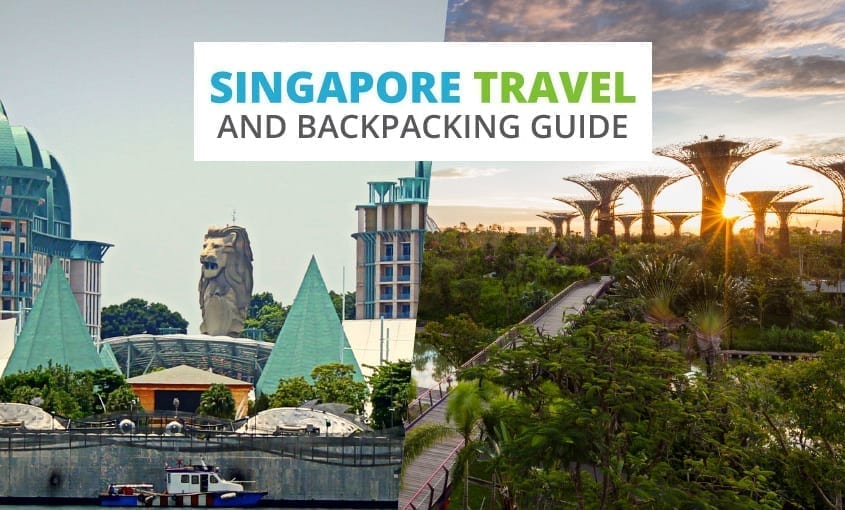 Backpacking Singapore
Looking for important travel information while backpacking around Singapore? Here you will find information on working in Singapore, entry visas, Singapore hostels, and much more.
Table of Contents

Facts About Singapore
Singapore is a sprawling city-state which is considered by many to be the jewel in Asia's crown. Keen to impress the international community the city has a reputation for impeccable cleanliness to the extent that chewing gum has been banned from the city. The best thing about Singapore is definitely the rich mix of influences, ranging from the hi-tech modern chrome and glass building via it's colonial past and stretching deep into its ancient cultural roots. Within the city you can do everything from Jungle trekking in the Bukit Timah Nature Reserve, to the usual Asian temple pilgrimages or just spend the day shopping in the unparalleled Orchard Road
Currency: Singapore Dollar (Sing $) = 100 cents
Time Zone: GMT + 8
Language: Mandarin
Telephone Services: Country code +65, International Access code 005
Emergency Numbers: 999 for all services
Climate
Singapore sits almost on the equator and enjoys a tropical climate. Temperatures are hot and humidity is high all year round with no distinct rainy season. Despite this the time between November and January has marginally more rainfall so visitors might want to avoid this time.
Things to see and do
Singapore has a lot of distinct influences on its culture, the most famous of which is probably the colonial influence. In particular Sir Raffles was responsible for the building and development of most of the infrastructure during colonial rule. The famous Raffles Hotel is world renowned as one of the most luxurious and high class hotels in Asia. Also impressive remnants from this era of Singapore's history is the fantastic Empress Palace building which now houses an exclusive restaurant as well as a museum and an art gallery. With colonial rule came the mark of Christianity and you can see excellent examples of architecture at both the St Andrew's Cathedral and the Cathedral of the Good Shepherd.
It is impossible to visit Singapore without paying a trip to Chinatown, this area is still very much the city's cultural hub and is representative of Singapore's ancient oriental roots. The entire area is bustling with activity and boasts some of the best food on the island. During the day it is possible to find plenty of traditional shops selling everything from incense and herbal remedies to Chinese style teahouses. Although the growth of the financial district and redevelopment has to a certain extent suppressed the charm of this area it is still possible to find plenty of examples of traditional Chinese style life, one superb example is the Thian Hock Keng Temple which is notable for having been assembled entirely without nails.
Orchard Road is one of the most fashionable streets in Singapore, it is here that all of the luxury 5 star hotels jostle with the most trendy of boutiques and shops. The nightlife here is unparalleled if pricy and there are enough shops to keep even the most demanding shopper satisfied all day.
Travel
Singapore has an excellently maintained underground system which is both easy and cheap to use, this is supplemented by a good bus service and together there isn't anywhere that you can't reach easily. An increasingly popular way to travel the city however is by rickshaw, small carriages towed by an energetic bike rider. When using these services or taxis always be sure to agree on a fare beforehand to avoid a nasty shock when it comes to time to pay.
Accommodation
There is an absolute wealth of choice when it comes to accommodation in Singapore. There are ample hotels of all types ranging from luxurious international standard hotels like the Raffles to cheap budget places. The Singapore Hotel Association can offer more information
There are a reasonable number of youth hostels in Singapore including a YMCA International hostel. In general it is easy to find a night in dormitory accommodation for under $10.
Health
Singapore General Hospital provides healthcare of an exceptionally high standard and generally treats emergency cases. There is also a huge private sector also with very high standards. There is no reciprocal health agreement with the UK at this time so travellers will be asked to find a way to pay for any medical costs incurred. This of course means that a comprehensive travel insurance policy is a necessity.
There are no vaccinations required for entry to Singapore. It should be noted that hepatitis A and B are widespread so appropriate precautions should be taken especially during sexual contact. Rabies is also present and travellers bitten should seek medical assistance immediately.
The water and food in Singapore is to be considered safe and only normal everyday precautions need to be taken.
Useful Links
The Singapore Hotel Association can offer more information on hotels in Singapore
Entry Visas for Singapore
All visitors must hold a passport which is valid for at least six months after the date of departure and be able to provide evidence of either a return ticket or enough funds to purchase one. British or Irish Nationals do not require a visa for stays up to 30 days, other EU nationals or US nationals do not require a visa for a visit of up to 14 days. Those exempt from visa requirements must obtain a Social Visit Pass which is issued on arrival at the airport for about $15. Those wishing to stay longer require a long-term Social Visit Pass which can be obtained from the Singapore High Commision.
Addresses
Visa and immigration enquiries should be directed to the local Singapore High Commission:
High Commission for the Republic of Singapore 
9 Wilton Crescent 
London 
SW1X 8SA 
Tel: (020) 7 235 8315
Fax: (020) 7 235 5874

If you require UK representation while abroad you should contact the British High Commission:
British High Commission 
Tanglin Road 
Singapore 247919 
Singapore 
Tel: + [65] 4739333
Fax: + [65] 4759706 
Consular. Email: brit_hc@pacific.net.sg

Tourist information is dispensed by the Singapore Tourism Promotion Board:
Singapore Tourism Promotion Board 
1st Floor 
Carrington House 
126 - 130 Regent Street 
London 
W1R 5FE 
Tel: (0171) 437 0033 
Fax: (0171) 734 2191
How to Say Common Mandarin Phrases
Meeting People
English

Cantonese

yes

hai

no

m hai

thank you

doh jeh, m goi

you are welcome

m sai haak hei

please

m goi, ching

excuse me

ching yeung, dui m chu

hello

nei ho

goodbye

joi gin

Good morning

jo san

Good night

maan on, jo taau

I do not understand

ngoh m ming baak

Do you speak…?

lei sik gong…ma?

English

ying man

What is your name?

lei giu me ye meng?

Nice to meet you

rho go hing ying sik lei

How are you?

nei ho ma?

good

ho

bad

m ho
Directions
English

Cantonese

map

dei to

left

joh

right

yau

straight on

jik hui

far

yuen

near

gan
Methods of Transport
English

Cantonese

Where is…?

bin do hai…?

How much is the fare?

che fai gei doh chin?

ticket

piu

A ticket to…, please

yat jeung piu hui…, m goi

Where are you going?

nei yui hui bin?

Where do you live?

nei ju hai bin?

train

foh che, tit lo

bus

gung gung hei che, ba si

underground

dei ha tit

airport

fei gei cheung

train station

foh che jaam

bus station

gung gung hei che jaam, ba si jaam

underground station

dei tit jaam

departure

chut ching

arrival

yap ching

parking

ting che cheung
Time
English

Cantonese

What time is it?

gei dim jung a?

today

gam yat

yesterday

kam yat

tomorrow

ting yat
Accommodation
English

Cantonese

hotel

lui goon

room

fong

reservation

ding, yue ding

Are there any vacancies?

ching man gam maan yau mo hung fong?

No vacancies

mo saai hung fong

passport

woo jiu
Places
English

Cantonese

post office

yau ching guk

bank

ngan hong

police station

ging chaat guk

hospital

yi yuen

chemist

yeuk fong

shop

dim po

restaurant

chaan teng, jau lau

museum

bok mat goon

church

gau tong

square

gong yuen

street

gaai do, ma lo
Shopping
English

Cantonese

How much does this cost?

ni goh gei doh chin?

I will buy it

ngoh yiu maai ni goh

I would like to buy…

ngoh seung maai…

Do you have…?

lei yau mo…?

open

hoi

closed

yau sik

postcard

ming shun pin

stamps

yau piu

little

siu-siu

lot

taai doh

all

chuen bo
Meals
English

Cantonese

breakfast

cho chaan

lunch

ng chaan

dinner

maan chaan

vegetarian

so sik jeh

cheers!

ging jau, yam booi

The bill please

maai daan, m goi
Drinks
Drinks
English

Cantonese

drink

yam ban

coffee

ga feh

tea

cha

juice

jap

water

shui

beer

beh jau

wine

jau
Food
English

Cantonese

meat

yuk

fish

yue

vegetable

sho choi

fruit

shui gwoh

potato

ma ling sue

salad

sa laai

dessert

tim ban
Buy phrasebooks online at Amazon.co.uk
Singapore Hostels
Hostels are a cheap form of accomodation, and so they are essential to backpackers and other budget travellers. We have compiled a list of hostels in Singapore to help you plan your journey. If you are looking for a hostel in Singapore, you've come to the right place.

There you have it, the ultimate Singapore backpacking guide. We hope you have found all the information you need for backpacking around Singapore.