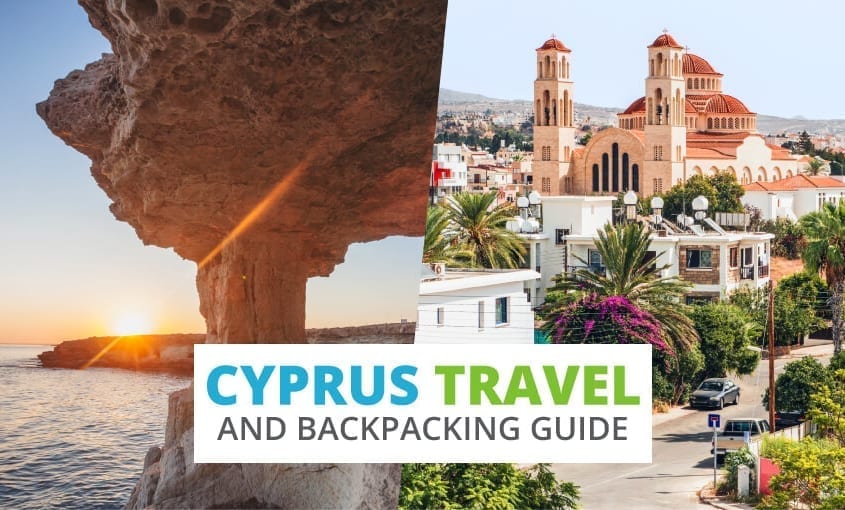 Backpacking Cyprus
Looking for important travel information while backpacking around Cyprus? Here you will find information on working in Cyprus, entry visas, Cyprus hostels, and much more.
Table of Contents

Facts About Cyprus
The Island of Cyprus is divided into two independent parts, roughly one-third of the island to the north is the Turkish Republic of Northern Cyprus (TRNC). The remaining two-thirds of the island is the Republic of Cyprus and is often referred (perhaps not politically correctly) to as the "Greek" part of the island. Despite there having been no major hostilities between the two communities for over a decade there are still UN peacekeepers maintaining a buffer zone between the two communities. This means that travellers unfortunately have to choose between visiting the TRNC part of the island or the Greek side. Crossing the border is very difficult and nigh on impossible. Most tourists choose to visit the Greek part of Cyprus and this guide will focus predominately on this region.
The Republic of Cyprus attract visitors in the summer for its fantastic Mediterranean climate but still manages to attract plenty of skiers to the Troodos mountains which provide good skiing for a couple of months during the winter. Visitors can also find fine examples of Byzantine churches, crusades era castles and fantastic vineyards, as well as the usual beach resorts expected of Greek Islands.
Currency: Cyprus Pound (CY) = 100 cents
Time Zone: GMT + 2
Language: Greek, some Turkish
Telephone Services: Country code 357, International dialing code 00
Emergency Numbers: All services 199
Climate
Cyprus benefits from a typical Mediterranean climate. As can be expected the summers are very hot and dry. What precipitation Cyprus does get is sporadic but normally occurs in the winter. In the mountain regions there is enough snow to support some modest skiing resorts but the rest of the island experiences very mild winter conditions. It should be noted that Cyprus has been known to suffer the occasional drought years to the extent that water is rationed during the height of summer between July and August. Before you plan a trip to Cyprus it is therefore advisable to check the weather forecasts to make sure you are not planning to go in an unusually dry year.
Things to see and do
The capital of Cyprus is indicative of the somewhat divided nature of the country. Both sides of the island share the same city as a capital, the city itself is divided by the green line into the Greek half (Lefkosi) and the Turkish half (Nicosia). In Lefkosia you can find several museums including the Leventis Municipal Museum and the cultural Dragoman Hadzigeogakis museum. Between the two these can give you a good overview of the history of the city ranging from prehistoric times right up to the present day. Also of interest is the St John's cathedral and the Archbishops palace which contains a fantastic Byzantine exhibit. The northern Turkish part of the city, Nicosia boasts the excellent Turkish Museum which is housed in a still used 17th century monastery. The heart of the northern part however is undoubtedly the Atatuk square which is situated at the end of the main street opposite the Kyrenia Gate.
Many tourists are also drawn to the west coast to see the famous Pafos mosaics. The mosaics date back to the 3rd century during Roman occupation and were only uncovered during the 60s. The ruins of Sarant Kolones fortress are well worth a look, this once mighty Lusignan fortress was toppled by an earthquake and now lies in ruins. Just 5 minutes away from the city proper is the fantastic Tombs of the Kings. These are an extensive complex of sinister tombs dug into the sea cliff itself.
The Troodos Mountains in the south are an excellent place to visit, especially if you want to avoid the package tourist crush of the beach resorts. In the winter the resort boasts some good skiing but even in the summer there are some worthwhile sights in this region. There are dozens of 15th century monasteries and vineyards, of particular interest if the Kykkos Monastery which has been extensively renovated and contains plenty of religious exhibits. This region also offers good walking and cycling trails so is perfect for those who prefer a more outdoorsy experience.
If you really want to get away from the crowds however you couldn't do much better than visiting Lemesos. This city is a good base for visiting the Kolossi Castle built in 1210 by the Hospitaller Knights. The castle was extensively restored by the British and is now well worth a visit. While you are here you can also visit some of the excellent markets, citrus orchards or the sugar factory.
Travel
Due to the small size of Cyprus there is no rail system in place at all. The best way to travel is either by public bus which are generally very comfortable or by service taxi. Car rental is reasonably cheap but your budget is probably better spent on other things if you are happy to get around by bus.
Buses are run by a variety of local companies with Clarious and Larnaka being two of the larger operators. Generally there is a separate winter and summer timetable and it is also worth remembering that bus services stop running at 5pm or 2pm at the weekends so make sure you don't end up stranded. Schedules and timetables for all operators are freely available at Tourist offices anywhere on the island. Fares are generally quite cheap and shound be more than a few pounds for single journeys.
Due to the limited operating hours of the buses many tourists make extensive use of the service taxis. Fares are more expensive than buses and you will often have a pound or so on the meter before even setting off. Also bear in mind that after 10:30pm prices rise by as much as 25%.
Accomodation
There are over 500 hotels spread throughout Cyprus but most are geared towards package holiday makers and many hotels are completely chartered by travel companies. The provisions for the casual traveller especially in the beach resorts but you may still be able to find some basic un-graded (no star rating) hotels that are reasonable value for money. A reasonable way to stay is in guest houses, in particular there is a reasonable number of countryside family run guesthouses that are worth the extra you would pay over a youth hostel. Agrotourism maintains a list of some traditional guest houses and you will also be able to find booking information on their comprehensive web page.
The cheapest way to stay is in youth hostels, there are hostels located in Nicosia, Larnaka, Pafos and Troodos. They are open to members of the Internatinoal Youth Hostels but most will eccept non-members provided you sign up for one of their "guest passes". The Cyprus Youth Hostel Association can provide information on every aspect of youth hostels, you can find their address in the useful addresses section below.
Health
Cyprus is not part of the EU so the E111 form is not recognised, in addition the UK has no reciprocal health agreement with Cyprus. This means that all costs must be borne by the traveller for healthcare. For this reason it is absolutely essential that you have comprehensive travel insurance arranged before you leave for Cyprus. You will not normally be allowed to leave Cyprus until any medical bills are settled.
All in all the status of health care in Cyprus is quite good and there are no particular health risks present on the island. The tap water is considered safe to drink and normal precautions should be observed when purchasing food and drink.
Useful Links
Agrotourism maintains a list of some traditional guest houses and you will also be able to find booking information on their comprehensive web page.
CyprusTourism.org contains a wealth of tourist information and is the official web page of the Cyprus Tourism Organisation.
Entry Visas for Cyprus
For entry a passport is required which is valid for 3 months after the date of departure from Cyprus. A return ticket is usually required for entry although proof of sufficient funds may suffice. It is advisable to contact the local consulate before travelling to verify these restrictions. Visas are not required by EU or USA nationals for tourist visits of up to 30 days. If you wish to stay longer or intend to work whilst you are in Cyprus you should contact the local Cypriote consulate.
Addresses
Visa and immigration enquiries should by directed to the consular section of the Cypriote High Commision:
High Commission of the Republic of Cyprus
93 Park Street
London
W1Y 4ET
Tel: (020) 7 499 8272
Fax: (020) 7 491 0691.
Consular Section Tel: (020) 7 629 5350
Fax: (020) 7 491 0691.

If you require UK representation while you are in Cyprus you should contact the British High Commision:
British High Commission
Alexander Pallis Street
PO Box 1978
Nicosia
BFPO 567
Tel: + [357] (2) 861100
Fax: + [357] (2) 861200

Tourist information can be obtained from the Cyprus Tourism Organisation:
Cyprus Tourism Organisation
213 Regent Street
London W1R 8DA
Tel: (0171) 734 9822
Fax: (0171) 287 6534

The Cyprus Youth Hostel Association provides information on the youth hostels in Cyprus:
Cyprus Youth Hostel Association
34 Theodotu Street
PO Box 24040
1700 Nicosia
tel: (22) 670 027 or 675 574
fax: (22) 672 896
e-mail: montis@logos.cy.net
Foreigner Work Permits in Cyprus
EU nationals do not need a Visa to enter and stay in Cyprus for up to three months. However, problems can occur if you have stamps for the 'Turkish Republic of Northern Cyprus' in your passport, and you could even be refused entry. If travelling to the TRNC it is best to ask for the stamps to be put on a separate document. Work permits can be difficult to obtain because your employer must show that there is no Cypriot national available for the job. Furthermore, Visas are issued for specific jobs so it is not easy to travel around and work from place to place legally. Despite this, many people choose to work illegally in the tourist industry where it is particularly difficult to get Visas for work. If you are caught you risk being fined and even deported, but nevertheless many do work in this way every year. Regulations are less strictly enforced in the TRNC.
Seasonal Work
Arriving early in the tourist season can secure you work in bars, restaurants, cafes etc. As is also the case in Greece, women will find it much easier to get this type of work, but should be careful that their employers do not expect them to work out of their job description. Wages for casual work are not flourishing, particularly given the somewhat high cost of living in Cyprus; some only earn about CY15 for a day's work. The best places to look for seasonal work are in the busier tourist resort areas of Ayia Napa and Protaras. English is spoken widely across Cyprus so it should not be difficult to communicate with employers, and you will rarely be expected to speak a lot of Cypriot to customers in tourist areas. In the TRNC there are usually plentiful job opportunities, best found by asking around and checking local newspapers and notice boards.
Agricultural Work
Various harvests throughout the year provide opportunities for work as fruit-pickers. Men are generally paid more than women. Grapes are harvested between August and October, and olives in the autumn. Strawberry harvests take place between May and June, and November and December. Most jobs of this kind can be found by asking around in person.
Volunteering
EIL is an organisation that places volunteers in projects, including environmental management and conservation, and working with people with disabilities. They offer a range of opportunities for volunteer work in European countries. Projects usually last for six or twelve months and volunteers are provided with pocket money, language training, accommodation, food, flights, and insurance. For shorter-term projects, Concordia arranges international volunteer work including social and childcare. As with EIL, volunteers are provided with food and accommodation, but are expected to pay their own travel fees and insurance. Concordia also asks for a CY 75 registration fee.
Useful Links
Experiment.org provides an insight into the volunteer work available with EIL
Concordia for information about Concordia volunteer projects
How to Say Common GreekPhrases
Meeting People
English

Greek (phonetic)

yes

nai'

no

o'hi

thank you

efharisto'

you are welcome

parakalo'

please

parakalo'

excuse me

signo'mi

hello

gia'sou

goodbye

andi'o sas

Good morning

Kalime'ra

Good night

Kalini'hta

I do not understand

Den katalave'no

Do you speak…?

Mila'te…?

English

Agglika'

Greek

Ellinika'

What is your name?

Pos se le'ne?

Nice to meet you

He'ro poli'

How are you?

Ti ka'nete?

good

kala'

bad

a'shima
Directions
English

Greek (phonetic)

map

xa'rtis

left

aristera'

right

deksia'

straight on

efthi'a

far

makria'

near

konda'
Methods of Transport
English

Greek (phonetic)

Where is…?

Pou i'ne

How much is the fare?

Po'so ka'ni to isiti'rio

ticket

esiti'rio

A ticket to…, please

E'na isiti'rio gia, parakalo'

Where are you going?

Pou' pa'te

Where do you live?

Pou' me'nis

train

tre'no

bus

leofori'o

underground

metro'

airport

aerodro'mio

train station

o stathmo's tou tre'nou

bus station

o stathmo's tou leofori'ou

underground station

o stathmo's tou metro'

departure

anaho'rsis

arrival

a'fixis

parking

pa'rking
Time
English

Greek (phonetic)

What time is it?

Ti o'ra i'ne

today

si'mera

yesterday

hte's

tomorrow

a'brio
Accommodation
English

Greek (phonetic)

hotel

ksenodohi'o

room

doma'tio

reservation

kra'tisi

Are there any vacancies?

E'hete e'na doma'tio gia' apo'pse

No vacancies

den ipa'rhoun doma'tia

passport

diabatirio
Places
English

Greek (phonetic)

post office

taxidromi'o

bank

tra'peza

police station

astinomiko'tmi'ma

hospital

nosokomi'o

chemist

farmaki'o

shop

magazi'

restaurant

estiato'rio

museum

mousi'o

church

eklisi'a

squre

plati'a

street

dro'mos
Shopping
English

Greek (phonetic)

How much does this cost?

Po'so ka'ni afto'

I will buy it

Tha to agora'so

I would like to buy…

Tha i'thela na agora'so

Do you have…?

'Ehete

open

anikta'

closed

klista'

postcard

ka'rt posta'l

stamps

gramato'sema

little

li'go

lot

poli'

all

o'la
Meals
English

Greek (phonetic)

breakfast

proino'

lunch

mesimeriano'

dinner

bradino'

vegetarian

gia hortofa'gous

cheers!

gia'sou

The bill please

Logariasmo' parakalo
Drinks
English

Greek (phonetic)

drink

anapsiktiko'

coffee

kafe

tea

ts'ai

juice

himo'

water

nero'

beer

mbi'ra

wine

krasi'
Food
English

Greek (phonetic)

meat

kre'as

fish

psa'ri

vegetable

lahanika'

fruit

frou'ta

potato

pata'ta

salad

sala'ta

dessert

glika'
Buy phrasebooks online at Amazon.co.uk
Cyprus Hostels
Hostels are a cheap form of accomodation, and so they are essential to backpackers and other budget travellers. We have compiled a list of hostels in Cyprus to help you plan your journey. If you are looking for a hostel in Cyprus, you've come to the right place.
There you have it, the ultimate Cyprus backpacking guide. We hope you have found all the information you need for backpacking around Cyprus.
Top Products for Backpackers