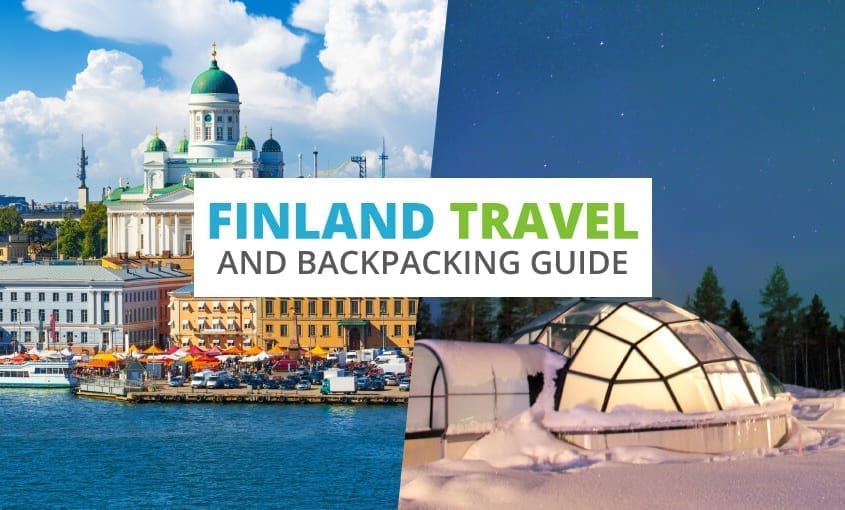 Backpacking Finland
Looking for important travel information while backpacking around Finland? Here you will find information on working in Finland, entry visas, Finland hostels, and much more.
Table of Contents

Facts About Finland
Finland's boundaries extend well into the arctic circle so this is a prime destination if you are looking for some midnight sun. From the modern and developed south to the furthest reaches of the northern wildernesses you will find Finland a pleasant and attractive country that is largely unspoilt with notably clean and healthy air. Don't let this fool you into thinking that Finland is a backwards country, they are in fact one of the most hi-tech countries in the world with internet connections per head of population surpassing even the US and the UK.
The beauty of Finland is that around the population centres you can have as many creature comforts and western technology as you want but there is also scope for venturing out into the untamed wilderness, perhaps to see the indigenous northern Sami people tending their reindeer herds or visit the Saimaa region famous for its crystal clear emerald lakes.
Although there is clear influence of both Russian and Swedish culture you will find Finland has developed its own independent character. In fact since people rarely visit anywhere other than Helsinki, Finland is one of the most underrated destinations in Europe. If you want to avoid tacky tourist crowds and experience a taste of life in a totally different environment then Finland is a very attractive choice.
Currency: Euro ($euro) = 100 cents
Time Zone: GMT + 2
Language: Finnish and Swedish
Telephone Services: Country code 358, International Access code 990
Emergency Numbers: 112 for all services
Climate
Finland is moderate if a little on the cold side throughout the summer, this is also the time where you will be able to experience the famous midnight sun. When winter comes round however Finland is bitterly cold with the North experiencing Arctic conditions and very little daylight. In Helsinki the winter temperature can be around -15C and the north can experience temperatures as low as -30C so it is well worth preparing well for your trip and bringing appropriate clothing.
Things to see and do
The southern city of Helsinki is the capital of Finland in most respects, it is a centre of commerce, culture and one of the few cities which draws a significant number of tourists. Helsinki lies on a Peninsula which allows it to offer patrons ferry rides to Suomenlinna Island. This small Island is perfect for a small excursion and even boasts the Ehrensvärd fortress and museum which are well worth the effort to go and see. Helsinki itself is a refreshing city with chiefly 19th century architecture and a much more picturesque skyline than most European cities. A sight unique to Helsinki is the Rock Church, this church runs concerts and traditional sermons but the truly unique aspect is that it is carved out of solid rock. To indulge yourself in a little culture the Anteneum is the countries primary gallery and the National Museum's collection of Sami artefacts is undoubtedly the finest in the world.
Turku is Finland's oldest city and was formerly the nation's capital. Although some travellers might be put off by the somewhat northerly position, Turku is the best entry point to Finland if you are coming through Sweden. The chief attraction is the Turku castle, built in 1820 it is easily the most famous historical building in the country and contains an extensive museum within its walls. Also of interest is the Turku Cathedral, this magnificent 13th century building which again houses its own internal museum.
Recently added to UNESCO's world heritage list, Rauma is an extensive and well preserved wooden town dating as far back as the 15th century. The key to this living historical town is undoubtedly its market square which is the bustling hub of day to day life in Rauma. This town is a little out of the way situated on the south-west coast but it makes a good stop over point for a more extended tour of the country.
Travel
The Finnish rail network is operated by VR who maintain a fast, clean and efficient service. Connections are reliable and trains are generally on time. Like most European countries Interail and Eurail passes are valid on practically all services. Tickets bought at the station are generally valid for 8 days in the case of a single ticket or a month in the case of a return ticket. Returns however are generally barely cheaper than buying two single tickets so if you need more flexibility you are better off just buying singles. There is a Finnrail pass available online which allows up to 10 days unlimited travelling within a one month period. This is by far the best option if you are travelling within Finland although if you are stopping in other countries an Interail pass might be a better bet. It is also worth noting that regular trains run from Helsinki to both Moscow and St Petersburg so it is easily possible to use Finland as a gateway to Russia. The bus service in Finland, like the train service is fast, efficient and also somewhat more extensive than the rail network. The 30 different regional operators in Finland can all be booked through ExpressBus which offers a choice of over 200 routes including international routes to Russia and Sweden.
Accomodation
Finland boasts plentiful good quality hotels however they are notoriously expensive. The only real option if you want to travel on a budget is to use youth hostels. The Finnish Youth association maintains information on state recognised youth hostels however they currently don't have a website. You can find their address in our useful addresses section.
Health
Finland has an extremely good health service and anyone carrying a completed E111 and with a comprehensive travel insurance policy should have no problem getting state of the art treatment should it be required.
There are no known health risks present in Finland, there are no vaccinations recommended before visiting the country and the tap water can be considered safe to drink.
Useful Links
VR operates the Finnish rail network
ExpressBus is a conglomerate of 30 local bus companies which together offer over 200 bus routes.
The Finnish Tourist board offers advice to travellers contemplating visiting Finland.
Entry Visas for Finland
A valid passport or EU identity card is required for the duration of your stay in Finland. As Finland is an EU member state holders of a USA or EU passport do not require a visa for a stay of up to 3 months. If you intend working while you are in Finland you should contact the Finnish Embassy to arrange the appropriate documentation.
Addresses
The Finnish Youth Hostel Association offers information on budget accommodation for travellers to Finland:
Finnish Hostel Association  
Yrj nkatu 38B 
00100 Helsinki 
Tel: +358-(0)9-565 7150 
Fax: +358-(0)9-565 7150

For visa and immigration related enquiries you should contact the Finnish Embassy:
Embassy of the Republic of Finland
38 Chesham Place 
London 
SW1X 8HW 
Tel: (020) 7 838 6200 
Fax (020) 7 235 3680

If you require UK representation while you are in Finland you should contact the British Embassy:
British Embassy 
Itainen Puistotie 17 
00140 Helsinki 
Finland 
Tel: +[358] (9) 22 86 51 00 
Fax: + [358] (9) 22 86 52 62 
email: info@ukembassy.fi
Foreigner Work Permits in Finland
EU nationals can enter and reside in Finland for up to three months without needing a Visa and are allowed to work and live there for this time. After three months you will need a residence permit from the local police station, but do not require a work permit. Casual work can often be difficult to find but the Centre for International Mobility (CIMO) runs International Trainee Exchange Programmes for work placements.
International Trainee Exchange Programmes
The CIMO runs placements in different industries, including agriculture, horticulture, tourism, teaching, and forestry. The programmes vary in length and can be anything from one month to eighteen months. Applicants must be over 18 and have completed two years or more at university or other higher education. Work is paid at between FIM 3500 and FIM 6000 (approx. €406-696) per month, but accommodation, food, and travel etc. are not provided so workers are expected to fund these necessities themselves. The deadline for applications each year is February 15th.
Casual Work
Various jobs are available in the field of casual work in Finland but can often be difficult to come across. As with most other European countries it is worth writing to or visiting hotels and restaurants found in guide books to ask for vacancies in kitchen and waiting staff etc. Some openings are also found by placing advertisements in local newspapers and on notice boards. English tuition can be quite a lucrative business if you can find willing clients, it is acceptable to charge around FIM 100 (approx. €11.60) per hour of teaching, although some people will not be prepared to pay as much as this.
Au Pairing
Avalon Au-Pairs arranges placements in Finland as well as other European countries. Au pairs live with host families for about six months looking after the children and performing basic domestic duties such as cleaning. The average weekly pocket money for au pairs is €40, and food and accommodation is included. Au pairs recruited by Avalon for Finland need no knowledge of Finnish but should ideally have some childcare experience, be aged between 18 and 27, and are expected to pay all travel costs. Alternatively, you could find work as a home stay, similar to au pair work but focused a lot more on teaching English to your host family. The CIMO can arrange placements as home stays for up to eighteen months. Work includes typical au pair duties as well as English tuition and you will be expected to work for five hours each day. The average monthly wage for home stays in Finland is FIM 1000 to FIM 2000 (approx. €116 to €232).
Agriculture
The Young Farmers' Clubs International Farm Experience Programme arranges placements for those who have at least two years in the agricultural industry and want to spend between three and twelve months abroad doing this type of work. Work is paid but varies depending on where you go, but you can usually anticipate covering the costs of travel etc. Applicants must be aged between 18 and 28.
Volunteering
A vast range of volunteer opportunities are available in Finland, from farming to social work. Below are just a few organisations that arrange different types of volunteer placements in the country.
WWOOF
WWOOF is a voluntary organisation placing volunteers on organic farms throughout the world. Workers are provided with board and accommodation and must pay an annual membership of €10 to WWOOF, see their website for more details.
Agriventure
Agriventure runs programmes around the world for people wanting to partake in voluntary work on farms. Volunteers sometimes live with host families on their farms and help with the daily running of the land but projects in Finland usually require you to live separately and travel to the farm each day.
Concordia
Volunteers work in groups with children and communities in a number of countries throughout the world. Projects last for up to three weeks, in the summer months. All volunteers are supplied with food and accommodation and are required to pay a fee of €75 to register with Concordia.
Involvement Volunteers Association Inc. (IVI)
IVI runs various programmes in Finland. Two of their current placements are on farms near Helsinki assisting with general duties and living with the families, so food and accommodation is provided. Other placements are available at primary schools in rural areas where volunteers assist in the teaching of English, again accommodation is provided with local families.
Camphill Communities
Camphill Communities run volunteer placements throughout the world, including Finland. Volunteers work in communities with adults with special needs. You will be expected to work for 6 days a week and it is usually preferred that you stay for at least one year. The village community of Myllylähde-yhteisö currently has places for volunteers. Accommodation is provided for the duration of your stay, but you will have to fund your own meals.
Useful Links
Useful Addresses
National Federation of Young Farmers' Clubs
The International Farm Experience Programme
YFC Centre
National Agricultural Centre
Stoneleigh Park
Kenilworth
Warwickshire CV8 2LG
How to Say Common Finnish Phrases
Meeting People
English

Finnish

yes

kylla

no

ei

thank you

kiitos

you are welcome

olet tervetullut

please

ole kiltti

excuse me

anteeksi

hello

hei

goodbye

Hyvästi

Good morning

Hyvää huomenta

Good night

Hyvää yötä

I do not understand

en ymmärrä

Do you speak…?

Puhutko…?

English

Englantia

Finnish

Suomea

What is your name?

Mikä sinun nimesi on?

Nice to meet you

Mukava tavata sinut

How are you?

Kuinka voit

good

hyvin

bad

huono
Directions
English

Finnish

map

kartta

left

vasen

right

oikea

straight on

suoraan

far

kaukana

near

lähellä
Methods of Transport
English

Finnish

Where is…?

Missä on…?

How much is the fare?

Kuinka paljon kyyti maksaa?

ticket

matkalippu

A ticket to…, please

Yksi lippu…, kiitos

Where are you going?

Minne olet matkalla?

Where do you live?

Missä sinä asut?

train

juna

bus

bussi

underground

metro

airport

lentokenttä

train station

rautatieasema

bus station

bussiasema

underground station

metroasema

departure

lähtö

arrival

saapuminen

parking

pysäköinti
Time
English

Finnish

What time is it?

Paljonko kello on?

today

tänään

yesterday

eilen

tomorrow

huomenna
Accommodation
English

Finnish

hotel

hotelli

room

huone

reservation

varaus

Are there any vacancies?

Onko olemassa avoimia työpaikkoja?

No vacancies

Ei ole tilaa

passport

passi
Places
English

Finnish

post office

posti

bank

pankki

police station

poliisiasema

hospital

sairaala

chemist

apteekki

shop

kauppa

restaurant

ravintola

museum

museo

church

kirkko

squre

aukio

street

katu
Shopping
English

Finnish

How much does this cost?

Kuinka paljon tämä maksaa?

I will buy it

ostan sen

I would like to buy…

Haluaisin ostaa…

Do you have…?

Onko sinulla…?

open

avoinna

closed

suljettu

postcard

postikortti

stamps

postimerkit

little

vähän

lot

paljon

all

kaikki
Meals
English

Finnish

breakfast

aamiainen

lunch

lounas

dinner

päivällinen

vegetarian

kasvissyöjä

cheers!

kippis!

The bill please

Saisinko laskun
Drinks
English

Finnish

drink

juoma

coffee

kahvi

tea

tee

juice

mehu

water

vesi

beer

olut

wine

viini
Food
English

Finnish

meat

liha

fish

kala

vegetable

vihannes

fruit

hedelmä

potato

peruna

salad

salaatti

dessert

jälkiruoka
Buy phrasebooks online at Amazon.co.uk
Finland Hostels
Hostels are a cheap form of accomodation, and so they are essential to backpackers and other budget travellers. We have compiled a list of hostels in Finland to help you plan your journey. If you are looking for a hostel in Finland, you've come to the right place.
Helsinki
Joensuu
Jyvaskyla
Kuopio
Lahti
Lappeenranta
Oulu
Pori
Porvoo
Ranua
Savonlinna
Seinajoki
Sotkamo-Vuokatti
Tampere
Tervola
Turku
Vaasa
There you have it, the ultimate Finland backpacking guide. We hope you have found all the information you need for backpacking around Finland.
Top Products for Backpackers