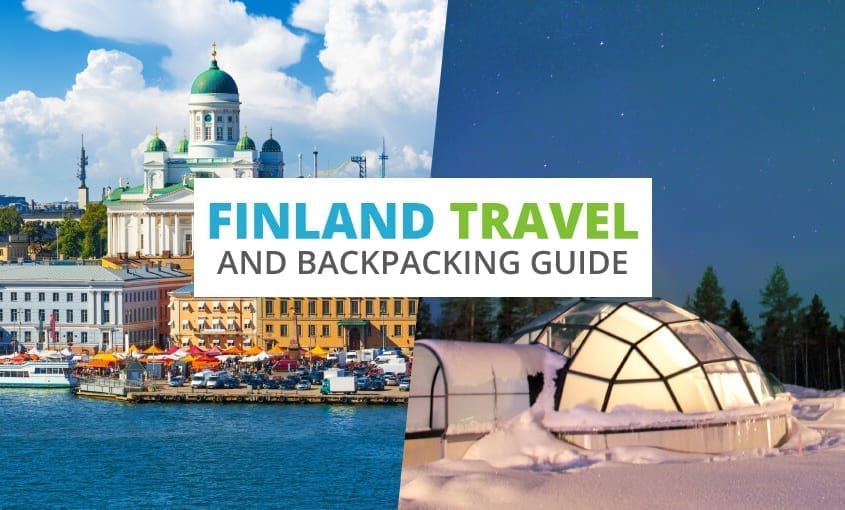 Backpacking Finland
Looking for important travel information while backpacking in Finland? Here you will find information on working in Finland, entry visas, Finland hostels, and much more.
Table of Contents
Facts About Finland
Finland's boundaries extend well into the arctic circle so this is a prime destination if you are looking for some midnight sun. From the modern and developed south to the furthest reaches of the northern wildernesses you will find Finland a pleasant and attractive country that is largely unspoilt with notably clean and healthy air.
The beauty of Finland is that around the population centres you can have as many creature comforts and western technology as you want but there is also scope for venturing out into the untamed wilderness, perhaps to see the indigenous northern Sami people tending their reindeer herds or visit the Saimaa region famous for its crystal clear emerald lakes.
Although there is a clear influence of both Russian and Swedish culture you will find Finland has developed its own independent character. In fact, since people rarely visit anywhere other than Helsinki, Finland is one of the most underrated destinations in Europe. If you want to avoid tacky tourist crowds and experience a taste of life in a totally different environment then Finland is a very attractive choice.
Currency: Euro ($euro) = 100 cents
Time Zone: GMT + 2
Language: Finnish and Swedish
Telephone Services: Country code 358, International Access code 990
Emergency Numbers: 112 for all services
Climate in Finland
Finland is moderate if a little on the cold side throughout the summer, this is also the time where you will be able to experience the famous midnight sun. When winter comes round however Finland is bitterly cold with the North experiencing Arctic conditions and very little daylight. In Helsinki the winter temperature can be around -15C and the north can experience temperatures as low as -30C so it is well worth preparing well for your trip and bringing appropriate clothing.
Things to do in Finland
Helsinki
The southern city of Helsinki is the capital of Finland in most respects, it is a centre of commerce, culture and one of the few cities which draws a significant number of tourists. Helsinki lies on a Peninsula which allows it to offer patrons ferry rides to Suomenlinna Island. This small Island is perfect for a small excursion and even boasts the Ehrensvärd fortress and museum which are well worth the effort to go and see.
Helsinki itself is a refreshing city with chiefly 19th-century architecture and a much more picturesque skyline than most European cities. A sight unique to Helsinki is the Rock Church, this church runs concerts and traditional sermons but the truly unique aspect is that it is carved out of solid rock. To indulge yourself in a little culture the Anteneum is the countries primary gallery and the National Museum's collection of Sami artefacts is undoubtedly the finest in the world.
Turku
Turku is Finland's oldest city and was formerly the nation's capital. Although some travellers might be put off by the somewhat northerly position, Turku is the best entry point to Finland if you are coming through Sweden. The chief attraction is the Turku castle, built in 1820 it is easily the most famous historical building in the country and contains an extensive museum within its walls. Also of interest is the Turku Cathedral, this magnificent 13th-century building which again houses its own internal museum.
Rauma
Recently added to UNESCO's world heritage list, Rauma is an extensive and well preserved wooden town dating as far back as the 15th century. The key to this living historical town is undoubtedly its market square which is the bustling hub of day to day life in Rauma. This town is a little out of the way situated on the south-west coast but it makes a good stopover point for a more extended tour of the country.
Tours and activities in Finland
Since popular places in Finland can get crowded during tourist season, it is wise to reserve tickets and activities ahead of time. GetYourGuide sells entrance tickets to museums and landmarks at face value so you can avoid the lines and save that precious time for more exploring.
Viator is another popular travel website that helps you book things to do in Finland. They work directly with local tour operators in Finland, so you won't have to scour the internet or roam around town trying to find the best deal.
If you know your schedule ahead of time, a great insider tip is to buy tickets for major tourist attractions ahead of time. Tiqets has entrance tickets and skip-the-line passes for major attractions in Finland which can be a worthwhile cost for mega attractions during peak tourist season.
How to Find Cheap Flights to Finland
If you're flying to Finland or plan to take short flights within the country, we recommend using a few different flight comparison search engines. Kiwi is a new favourite among travellers. On average, we have found the cheapest flights to Finland with them compared to the other websites out there.
Of course, it is always worth checking Skyscanner to guarantee you're getting the best deal. Both websites offer great flexible search options, allowing you to search the whole country of Finland to find the cheapest airport to fly into, and also see prices for a full month if you're flexible on travel dates.
How to Travel Around Finland on a Budget
The Finnish rail network is operated by VR who maintain a fast, clean and efficient service. Connections are reliable and trains are generally on time.
Train and long-distance bus are the standard modes of transport for how to get around Finland. Buses are the more economical option, nevertheless, they are well-equipped with the usual modern conveniences that expect when travelling in Europe. Train travel, on the other hand, is the fastest way between two cities in Finland, and the train stations are conveniently located right in the center of town.
Finland is a part of the Eurail network, which is a good choice if you plan to take multiple train journeys in a short period of time. If you plan on doing lots of train travel in a short amount of time, a Rail Pass from Eurail might be the right choice for you.
Regular trains run from Helsinki to both Moscow and St Petersburg so it is easily possible to use Finland as a gateway to Russia. The bus service in Finland, like the train service, is fast, efficient and also somewhat more extensive than the rail network. The 30 different regional operators in Finland can all be booked through ExpressBus which offers a choice of over 200 routes including international routes to Russia and Sweden.
Driving in Finland
You may also want the flexibility to stop in smaller towns between the major cities. If you decide you want to rent a car, you can use DiscoverCars to compare offers from the major car rental agencies in the region.
Ferries in Finland
Ferries are commonly used to travel around Finland since it's made up of hundreds of miles of coastline and a multitude of islands. 
Ferries link several offshore islands with major coastal towns and ports. They run from four to eight times a day depending on the season. Ferry Scanner provides further information and the schedules for the local ferries.
Small Group Adventure Travel
Though part of the fun of backpacking Finland is exploring on your own, there are situations, especially when venturing off the tourist trail, when it does make sense to go with a guide or a small group. 
The most popular option for a social travel experience is Contiki tours. Contiki trips offer more than just transportation, they are organized social group travel for travelers aged 18-35. Whether you're traveling by yourself or going with a group of friends, Contiki tours are perfect for people looking to have a blast, meet new friends, and form lifelong memories. They offer tours that travel primarily in Finland or longer tours that cover other nearby places.
G Adventures is another great option for organized travel, but with a smaller group. It's a great choice for anyone backpacking Denmark alone who would like to meet up with like-minded travellers. It's also a practical option for exploring places where you need an experienced guide, like a long hiking adventure or visiting a place well off the beaten path. You can choose from different styles of small group tours like active, wellness, hiking trips, 18-30somethings, and more. Their most popular trip in Finland is their 13-day Baltic Adventure tour, where you will visit Finland, Latvia, Lithuania, and Estonia.
Health and Safety in Finland
Finland has an extremely good health service and anyone carrying a completed E111 and with a comprehensive travel insurance policy should have no problem getting state of the art treatment should it be required.
There are no known health risks present in Finland, there are no vaccinations recommended before visiting the country and the tap water can be considered safe to drink.
As with travel to all other countries abroad, it is vital that you get travel insurance before you leave. Even for short trips, our go-to travel insurance provider is World Nomads, which is also recommended by Lonely Planet, HostelWorld, and other major travel companies.
Entry visa requirements for Finland
A valid passport or EU identity card is required for the duration of your stay in Finland. As Finland is an EU member state holders of a USA or EU passport do not require a visa for a stay of up to 3 months. If you intend working while you are in Finland you should contact the Finnish Embassy to arrange the appropriate documentation.
Foreigner work permits and backpacker jobs in Finland
EU nationals can enter and reside in Finland for up to three months without needing a Visa and are allowed to work and live there for this time. After three months you will need a residence permit from the local police station, but do not require a work permit. Casual work can often be difficult to find but the Centre for International Mobility (CIMO) runs International Trainee Exchange Programmes for work placements.
International Trainee Exchange Programmes
The CIMO runs placements in different industries, including agriculture, horticulture, tourism, teaching, and forestry. The programmes vary in length and can be anything from one month to eighteen months. Applicants must be over 18 and have completed two years or more at university or other higher education.
Work is paid at between FIM 3500 and FIM 6000 (approx. €406-696) per month, but accommodation, food, and travel etc. are not provided so workers are expected to fund these necessities themselves. The deadline for applications each year is February 15th.
Casual Work in Finland
Various jobs are available in the field of casual work in Finland but can often be difficult to come across. As with most other European countries, it is worth writing to or visiting hotels and restaurants found in guide books to ask for vacancies in the kitchen and waiting staff etc.
Some openings are also found by placing advertisements in local newspapers and on notice boards. English tuition can be quite a lucrative business if you can find willing clients, it is acceptable to charge around FIM 100 (approx. €11.60) per hour of teaching, although some people will not be prepared to pay as much as this.
Au Pairing in Finland
Avalon Au-Pairs arranges placements in Finland as well as other European countries. Au pairs live with host families for about six months looking after the children and performing basic domestic duties such as cleaning. The average weekly pocket money for au pairs is €40, and food and accommodation is included.
Au pairs recruited by Avalon for Finland need no knowledge of Finnish but should ideally have some childcare experience, be aged between 18 and 27, and are expected to pay all travel costs. Alternatively, you could find work as a homestay, similar to au pair work but focused a lot more on teaching English to your host family.
The CIMO can arrange placements as home stays for up to eighteen months. Work includes typical au pair duties as well as English tuition and you will be expected to work for five hours each day. The average monthly wage for home stays in Finland is FIM 1000 to FIM 2000 (approx. €116 to €232).
Agriculture Jobs in Finland
The Young Farmers' Clubs International Farm Experience Programme arranges placements for those who have at least two years in the agricultural industry and want to spend between three and twelve months abroad doing this type of work. Work is paid but varies depending on where you go, but you can usually anticipate covering the costs of travel etc. Applicants must be aged between 18 and 28.
Volunteering in Finland
A vast range of volunteer opportunities are available in Finland, from farming to social work. Below are just a few organisations that arrange different types of volunteer placements in the country.
WWOOF'ing in Finland
WWOOF is a voluntary organisation placing volunteers on organic farms throughout the world. Workers are provided with board and accommodation and must pay an annual membership of €10 to WWOOF, see their website for more details.
Involvement Volunteers Association Inc. (IVI)
IVI runs various programmes in Finland. Two of their current placements are on farms near Helsinki assisting with general duties and living with the families, so food and accommodation are provided. Other placements are available at primary schools in rural areas where volunteers assist in the teaching of English, again accommodation is provided with local families.
Finland Hostels and Budget Accommodation
Finland boasts plentiful good quality hotels however they are notoriously expensive. The only real option if you want to travel on a budget is to use youth hostels.
We have had good experiences finding hostels on HostelWorld. They have the largest inventory of hostels worldwide, and with over 10 million reviews and ratings from other travellers you know exactly what to expect.
Another good way to find accommodation in Finland is by checking booking.com. On their site, you'll find hotels, homestays, hostels, and other unique accommodation. They have the most reviews and advanced filtering of any accommodation-booking site, so you'll be sure to find a great place in your budget. We have discovered some great finds and have appreciated the ability to book ahead. Many of the places on booking.com also offer free cancellation, which takes the pressure off the planning phase of your trip to Finland.
If you are backpacking with another travel companion, we highly recommend booking a rental via VRBO. With a vacation rental, you'll have more space, your own kitchen, and you'll get a better feel for how the locals live. Plus, the cost of a vacation rental can be split among your group, oftentimes making it cheaper than doing individual hotel rooms. 
And lastly, CouchSurfing is a great community that connects travellers with local hosts. You can stay for free with verified hosts, who will usually show you around the locals spots.
Useful links for backpacking in Finland
VR operates the Finnish rail network
ExpressBus is a conglomerate of 30 local bus companies which together offer over 200 bus routes.
GAdventures

– guided small group tours in

Denmark

, great for solo travellers or for those interested in a more adventurous trip which would require a guide

Eurail

– Rail Passes for travellers who plan on doing lots of train travel in a short period of time. Single-Country passes for

Finland

as well as Multi-Country passes available

DiscoverCars –

The world's leading rental car search engines to rent a car in

Finland 

Kiwi

and

Skyscanner

– Flight comparison search engines to find the cheapest flights to

Finland

and within the country

GetYourGuide

and

Viator

–

a collection of local tours and activities in

Finland

. Also offers Skip the Line tickets for crowded attractions

Tiqets

– Website selling entrance tickets and skip the line tickets for major tourist attractions in

Finland

HostelWorld – #1 hostel search website to find accommodation while backpacking Finland. Thousands of hostels and millions of reviews from fellow travellers
Booking.com

– commonly used booking site for accommodation in

Finland

. Find hostels, hotels, and other unique accommodation in

Finland

with advanced filtering and millions of reviews

World Nomads Travel Insurance

– Comprehensive travel insurance for long and short trips when backpacking

Finland
---
There you have it, the ultimate Finland backpacking guide. We hope you have found all the information you need for backpacking around Finland.
Next up:
Liked this article? Share it with others who might be after the same information!