There are so many reasons why someone would choose to travel solo, it could be work, it could be a need for some "alone time," or just desire to experience different cities on your own. Traveling solo gives a different vibe from group traveling, one of life's most inspiring adventures that bring in a renewed passion to understand the world around you.
Traveling solo is an act of self-indulgence, a feeling of complete freedom to go just anywhere and do what you would love to. It empowers a traveler, helps build confidence, and helps you get more connected with the traveler within you.
Uganda is one of the best destinations for solo travelers, from hiking to volunteering to safaris, the country boasts of some of the most spectacular wildlife and natural landscapes in Africa and the world at large. Traveling alone in Africa can be daunting, especially with the number of misconceptions about this great continent, but in recent years many have done it, so why don't you try it too?
Uganda is safe; the people here are friendly and ready to help but still, precaution needs to be taken when traveling solo around Uganda, below are some tips.
Speak the Language
The majority of Ugandans are literate and can understand the Queen's language, English, which is the official language. If you're not a native English speaker, it would be great to brush up and learn some common phrases to help you out when the need arises.
Managing your Cash
Always carry just enough cash with you when moving around, a lot of cash attracts thieves easily. Be mindful that ATMs and forex shops are not always available everywhere, so it would be a great move if you keep yourself loaded with some local currency all the time.
Don't Carry Valuables with You
While traveling solo in Uganda is generally safe, it might turn into a nightmare if you had your lovely watch or necklace stolen amidst traffic. Always keep a copy of your passport and visa backed up on email, leave valuables and jewelry at home if possible, and keep your valuables in a safe place. A travel waist bag could be of help.
Dress Appropriately
Pack light loose clothes in fabrics like cotton, silk, or linen that are easily washed and worn again, it is always good to have an easy-to-carry backpack. Ladies should try not to wear clothes that are too revealing, especially in rural areas, as most people are conservative. 
Bring the Essentials With You
The big cities may have stuff available but if you're looking forward to experiencing the rural bit of Uganda; then having enough sunscreen, insect repellant with deet, any essential medicines, a travel first aid kit among others. This is because you never know how far you will have to travel to buy any of these.
Plan your Accommodation
Always plan your accommodation in advance. Depending on where you will be staying or visiting, the most disappointing thing is arriving in the locality, and you don't even know where you will lay your head. It would be good if your first-stop accommodation is booked in advance such that you base from there to plan your next move. Also, always have the location of the hotel you are staying at on your phone. You can find accommodation from guest houses, hostels, or hotels on booking.com, where you can also filter by guest reviews and budget.
Understand How to Travel Around
Local means of transport are cheap to travel solo in Uganda, especially for those on budget. Before you travel using either taxi or boda-boda, make research about the charges to the destination. If you are to use a bus, make sure you make payments in the bookings office of the recommended or preferred bus company, also first get the receipt before handing over your money as it's common practice to be ripped off by another company. Also, never leave your luggage unattended.
Go with the Flow
To have the best experiences comes with flexibility and going with the flow. Uganda is the same too, the more flexible and spontaneity you are, the more you enjoy the country, and also it's an opportunity for you to try those out of the box/guidebook ideas that locals may recommend because, at the end of the trip, it's the experiences and memories that matter.
---
Usually, solo travelers in Uganda are never alone for the entire trip/ tour, they always meet like-minded people, locals or not to join them at one point in time in their pursuit of adventure. As a solo traveler, Uganda should not miss out on your travel bucket list.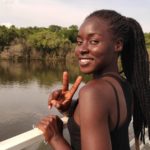 Beatrice Naigaga is a volunteer coordinator, travel guide, and consultant working with Ssamba Foundation and Safaris. She has a shrewd understanding of Uganda and the beauty that it holds.
https://www.the-backpacking-site.com/wp-content/uploads/2022/03/IMG_7807-min-scaled.jpg
1920
2560
Beatrice Naigaga
https://www.the-backpacking-site.com/wp-content/uploads/2018/08/the-backpacking-site-1.png
Beatrice Naigaga
2022-03-03 14:46:17
2022-03-10 07:30:35
Tips for Solo Travel in Uganda