Uganda, the famed Pearl of Africa, is a destination many travellers ought to have on their bucket list. There's a lot to see in this small yet mysterious country and if you are not careful enough, you will end up spending your blife's savings just to explore its beauty.
You might think that traveling Uganda on budget would be easy, given the foreign exchange rate and how literally almost everything seems cheap; accommodation, fruits, food, drinks, transportation and even some tours.
But with everything sounding cheap, it could hurt your bank account in the long run if you don't find ways to tame your expenses while out here in Uganda. Plus, some of the most famous activities in Uganda can be very pricey, like gorilla trekking, or safari. To help you backpack on a budget in Uganda, follow these insider tips.
Meals
When it comes to meals, there are various ways you can stick to your budget when backpacking Uganda. Food is generally cheap in Uganda, but of course it depends on your choice of restaurant. The most popular Ugandan dishes include matooke/ green bananas, cassava, sweet potatoes, potatoes, yams, beans, peas, peanuts, chicken, beef, cabbage, and pumpkin.
Usually, the best place to find affordable prices is to eat at a local restaurant, since they mostly serve local food and cuisines. If you are the kind that loves to integrate variety, there are plenty of midrange restaurants that serve delicious treats. Usually, their prices range on location and cuisines offered.
Cooking for yourself can also help you save some money; it is very much possible in big cities and towns where they have supermarkets that offer a wide range of spices, vegetables and tinned foods. Vegetables are readily available around Uganda, though vegetarians are less catered for in restaurants.
Accommodation
This is one of the areas that most travelers fail to stick to a budget. The accommodation in Uganda comes in all ranges, and you can find options ranging from 1 star to 5 stars depending on where you are. Usually in towns, accommodation rates are quite high, but if you travel a few kilometers outside of the city center, you might find a budget-friendly, comfortable and quiet option.
A budget option for backpackers in Uganda is to stay at a hostel, which is a great budget option for most travellers to Uganda both local and international. There are a wide range of hostels that you can check out like Kyampisi Backpackers Home, Nile River Camp, and Red Chilli among others.
Camping is greatly increasing in popularity in Uganda, there is also an increase in the number of organized campsites. The fees for these tend to differ depending on whether you have your own tent or not.
Another budget accommodation option is to find a home stay, though these are quite hard to arrange in Uganda. Most homestays are arranged through word of mouth, so if you have a friend who has travelled here before, they can recommend places they have been to.
Budget Safaris and Tours in Uganda
It is always good to visit a country and carry back as many memories of it as possible because we never know when we will visit again. Carrying a camera is very important on such trips and knowing how to get the best deals is another way.
When it comes to budget safari options, group tours are the best; you don't only get to mingle with people from other nations and walks of life, you also get to kick away the boredom of traveling alone, and it even gives you the courage to try out some adventures that you wouldn't have tried if you were alone.
For solo travelers, the best time to travel in Uganda is during the low season; that is the rainy season and there are pools in the parks, that's if you are not afraid of getting stuck while there. The most unique thing during this time though, it is the period when the country is most beautiful, the savannah plains and everywhere else is covered in green and photography is at its best. There a different glow too when the sun shines over in the afternoons and evenings.
Another unique and better way is to go off the beaten paths and explore places that most tourists rarely visit and discover these raw and untouched wild places. Among these are rarely visited waterfalls like Kisizi, Itanda, almost deserted islands in the Victoria Lake, dense forests like maramagambo, tea, sugarcanes and coffee plantations that adorn Uganda's nature. Such places keep you immersed in nature's own ambiance and make you part of it.
Transportation on a Budget
If your plan is backpack Uganda extensively, then you will most likely use public means or walk. There are private means of transport like hiring a cab or hiring a car to drive yourself but the charges on these make them expensive in the long run especially if you are staying longer in the country. There are a lot of options in regards to the public means for you to choose from as well.
Mini buses/ taxis or matatus are also used to get from city to city. These do not run on a set schedule but rather leave when full; they are the most affordable means when going from town to town or city to city though one has to be certain of their destination/ drop off when considering these.
And the boda-boda (motorcycle taxis) found almost every in Uganda; one of the most popular and exciting way of getting around though they should be approached with caution, and don't do it unless you feel comfortable.
The buses that go across regions and the most comfortable and more organized in regards to payments and staging. There are plenty of bus and coach service providers in Uganda that link nearly all towns and cities. Most tickets provided within Uganda are one way, so you can spend as much or less time in a region as you desire.
Private taxis/special hires are also helpful in some cases. These are comfortable and can be relied on when getting around as they drop/ pick up to/from your specified location. They usually charge per kilometer or route and depending on the deal you give them.
Volunteering
One other way of backpacking Uganda on budget is through volunteering. Volunteering gives you a touch to a country's culture than anything else; you get to move deep down to the grassroots, get immersed in particular culture, learn and share ideas, something an itinerary limits. There are number of organizations that provide volunteering services to students, professionals and seniors in different communities across the country and some of these have extra activities over the weekends that help you to discover and travel around. Ssamba Foundation provides free volunteering to Uganda.
Affordable Travel Insurance
It is always good to travel with Travel insurance, especially to a country like Uganda where you will have new experiences on almost everything. Insurance will help protect yourself from a lot of would-be hustles, when you run out of money, or when things are not going your way. Travel insurance will get you covered if you face the unexpected, like if your luggage gets lost and you need to replace your belongings, or when you fall seriously ill and need to fly back. One of the most commonly used travel insurance company is World Nomads and the reviews about it are very good.
---
There are many other ways a person can travel to Uganda on budget, it could be through consulting a friend who has been here before, or having to stick to a budget to get you going. Everyone traveling on budget has a special way of doing it apart from the basics, like having a local guide friend to help you juggle day to day life or get attached to an organization that offers country coordinators.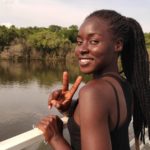 Beatrice Naigaga is a volunteer coordinator, travel guide, and consultant working with Ssamba Foundation and Safaris. She has a shrewd understanding of Uganda and the beauty that it holds.
https://www.the-backpacking-site.com/wp-content/uploads/2022/05/IMG_8612-1.jpg
900
1200
Beatrice Naigaga
https://www.the-backpacking-site.com/wp-content/uploads/2018/08/the-backpacking-site-1.png
Beatrice Naigaga
2022-05-19 14:03:02
2022-07-14 07:56:52
Backpacking Uganda on Budget