Despite being a relatively small resort on the Red Sea, El Gouna still impresses travelers everywhere with its never-ending list of attractions. And, if you live in, or near, Egypt, and want to escape the COVID-19 pandemic mess for a while, then try out some (or all) of these 10 fun things to do in El Gouna this summer season.
1. Visit The Tamr Henna Square
"The Tamr Henna Square is located in the heart of Downtown El Gouna," says Sophie Hanson, a travel writer at OXEssays and Essay Help. "This popular square is not only lined with palm trees, but also has a wide array of shops and cafes with outside seating. Whether you're there just to chill out to kill time, or looking for a great souvenir to take back home with you, you'll have a great time at Tamr Henna."
2. Scuba Diving
Scuba diving is a fun way to explore the shallow reefs, deep walls, and a shipwreck here and there in El Gouna. And as you dive, chances are, you'll spot the local residents of the sea: leopard sharks, turtles, dolphins, and tuna.
Although scuba diving takes skill, interested parties can take lessons to become a PADI-qualified diver. Or, divers can opt for renting a snorkel and mask from the local beach store.
3. Spa Treatment
Need a break? Try the Thai-themed Angsana Spa at the Movenpick Resort!
Having expert staff, as well as soothing massage sessions, you'll be able to de-stress for 90 minutes and enjoy every single minute of it.
4. Horseback Riding
Wouldn't it be cool to ride off into the sunset on a horse? Now, you can!
Anyone of any skillset can ride on a horse. For novice riders, they'll be assigned a guide who will hold the reins, while training the rider for most of the trek. By taking the back roads out of El Gouna, and riding through remote beaches, riders will enjoy the trip on horseback.
5. Stand Up Paddling (SUP)
When stand up paddling (or SUP, for short), you have to actually stand on the board, in order to make it work. Plus, you'll be working on shallow water, as you paddle. However, it's still a fun experience, regardless of skillset. Think of it as a suitable intro to surfing. Once you get the hang of it, you won't want to get off the board!
SUP is not only an activity that can be mastered with practice, but is also a great workout for your arms, core, and abs.
6. Golfing
Golfers of all ages can take advantage of the stunning golf courses in El Gouna. From simple putting to hitting at long-range – expert or novice – El Gouna is just the place for you to get away from the busy streets, and enjoy some peace and quiet on the green.
7. Aquarium
What's not to like about sea life? El Gouna has a small aquarium, where you'll see lots of sea life up close without getting wet. Simply walk around, and look at these creatures live there, and then learn more about them and their habitat.
8. Kitesurfing
Kitesurfing is similar to SUP; however, instead of paddling to move the board, you hold onto a kite, and let the wind do the rest! As you explore the remote beaches in El Gouna by kitesurfing, you'll take in the beautiful sights of the ocean and the brilliant sunshine.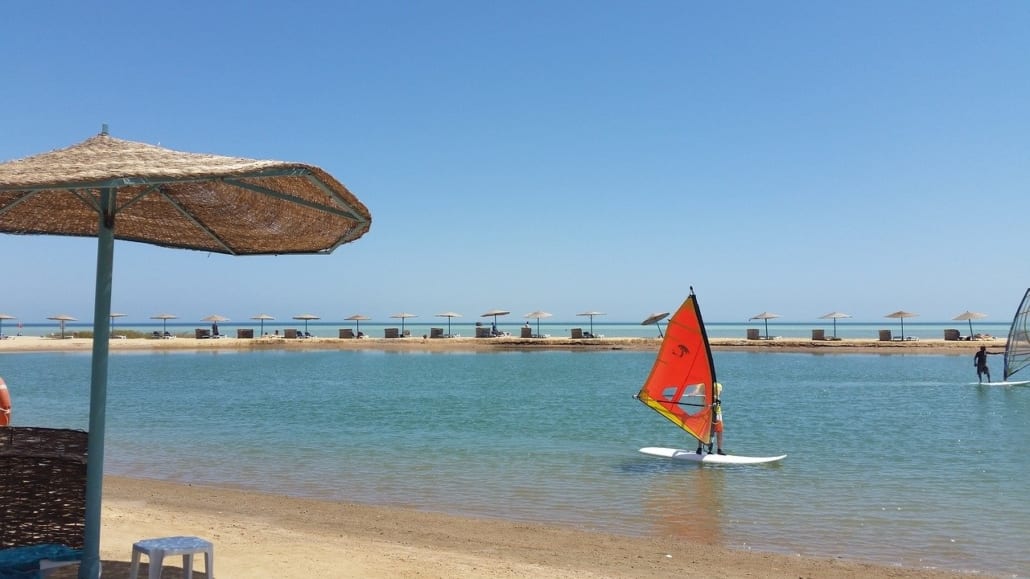 Of course, El Gouna offers lessons in kitesurfing. Or, if you prefer, you can always watch kitesurfers at a safe distance.
9. Ride A Segway
Want to practice balancing – but NOT in the water? And, would you rather be window-shopping than being in the water? Then look to riding a Segway.
Segway tours are one of the most popular things to do in El Gouna, and there is almost no shortage of Segways for visitors and tourists to zoom around town on – from off-road areas, to over roads, to around the marina.
10. Organic Farm
"Believe it or not, El Gouna holds the prestigious title of being Egypt's most environmentally-friendly travel destination," says Louis Dixon, a lifestyle blogger at Paper Fellows and Boom Essays. "Therefore, they don't tolerate any littering, and or harming plants."
In addition, fresh organic produce is sold in the farm's shop.
Conclusion
So, whether you're looking for adventure, searching for the best souvenir in Egypt, or want to get away from today's hard times for a while, then El Gouna is your go-to destination! With countless things to do in El Gouna – especially these 10 described above – you'll have fun at this resort on the Red Sea! And if you're planning a longer trip in Egypt, be sure to check out our Egypt Backpacking Guide for helpful tips!
https://www.the-backpacking-site.com/wp-content/uploads/2021/01/red-sea-796411_1280.jpg
853
1280
Katherine Rundell
https://www.the-backpacking-site.com/wp-content/uploads/2018/08/the-backpacking-site-1.png
Katherine Rundell
2021-01-16 11:32:41
2021-05-13 17:00:44
10 Best Things To Do In El Gouna, Egypt