It's been a tumultuous year for everyone. After being held prisoner in our own homes for most of 2020, there seems to be an incipient air of positivity on the horizon. The world is slowly but surely starting to open again. And for many adventurers, wanderlusters, and dreamers, that means one thing: travel.
The travel bug has been dormant against our will for a while, but the time has come to start thinking about our next escapades. If you let your mind wander, you can almost smell the potpourri of exotic dishes at an Asian night market, feel the warm sand between your toes on a Croatian beach, or walk amid exotic flora and fauna on a trek through the Peruvian jungle.
As the moment approaches when we can once again dust off our passports, it's time to start thinking about how to make the most of the experience and the essential items we need to have in our traveler's bag.
With so many must-have travel gadgets on the market these days, we need to be judicious with how we pack. But these are five of the ultimate travel gadgets that you don't want to leave home without.
Universal all in one power adaptor
Any seasoned traveler worth their salt knows that a universal power adaptor is a must-have travel gadget for everyone. It doesn't matter how many phones, tablets, laptops, or extension cord with a switch you have if you don't have a way to charge them.
Different countries have different shapes and sizes of power outlets, so you'll want to make sure you can plug in your favorite travel gadgets even when you're abroad. Having an all-in-one adaptor in your bag is a game-changer and takes the worry out of having dead electronics, no matter which country in the world you are in.
Portable Wi-Fi
Those who have traveled to distant countries will know the struggle of having to rely on your budget hostel's terrible Wi-Fi. Take the worry out of the game by packing a portable Wi-Fi/hot spot device to make sure you stay connected no matter where you are.
The plans on these devices can vary, but there are some affordable options available to you when you know that connecting to the internet will be a struggle. This is one of the best travel gadgets for digital nomads or for anyone that spends time off the beaten path.
Gimbal for your smartphone
It doesn't matter if you live for Instagram, are a travel blogger, or a vlogger; a stabilizing gimbal for your smartphone is one of the best travel gadgets to make sure you always get 'the shot.' Gimbals are designed to remove the shake while moving or shooting shifting footage.
Nothing is worse than a shaky, choppy video that you try to take while cruising in a Tuk Tuk in Thailand or zipping down the Hai Van pass in Vietnam. Gimbals often include great zoom features, slow motion, and time-lapse. Gimbals are small, portable, and a must-have travel gadget for anyone that uses their phone as the main source for video.
Waterproof case for phone and wallet
This might be the most understated but most important travel gadget out there. Especially for those heading to a beach location. How many times have you been to a beach or a lake but were reluctant to take a dip for fear that your valuables would get stolen if you left them on the shore?
It doesn't matter how close of an eye you keep on your things from the water; a thief can be out of sight with your things by the time you get to the beach. Having a small waterproof case that you wear around your neck can take all your worries away. These are lifesavers and are designed to hold your phone, wallet, keys, etc.
Travel drone
This travel gadget might fall into a little more of the expensive category; but, the coolness factor of a travel drone is hard to beat. With everyone taking the same photos for 'the Gram' these days, it's amazing to be able to get shots or footage that not many others can.
The cinematic shots that a drone can provide will no doubt take your vlog or blog to the next level and wow your viewers. Drones have gone down in price as technology improves and can be foldable and compact to make them easier to travel with than they used to be.
Whether you travel professionally or just for leisure, a drone will take your experience to the next level.
Conclusion
Hopefully, reading this has fanned the flames of your travel fire. Crossing borders will soon be a reality again, and equipping yourself with some of these must have travel gadgets is going to make your next trip a memorable one.
With so many options out there for travel accessories, picking the right ones can be dizzying. Think safety and practicality first by getting a waterproof phone case or universal power adaptor, and then move on to some of the fun stuff like drones and gimbals. Depending on how big your suitcase is, the possibilities are endless.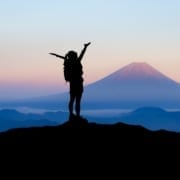 Rebecca Siggers is a passionate writer & guest blogger. Writing helps her to improve her knowledge, skills & understanding about the specific industry. She loves writing & sharing her knowledge mostly in the travelling industry. She believes travelling is the key to a peaceful life & wants to spread her belief across the world. Apart from writing, she loves traveling and reading.
https://www.the-backpacking-site.com/wp-content/uploads/2021/04/pexels-daria-shevtsova-3597111.jpg
853
1280
Rebecca Siggers
https://www.the-backpacking-site.com/wp-content/uploads/2018/08/the-backpacking-site-1.png
Rebecca Siggers
2021-04-15 06:52:26
2022-01-09 10:01:35
5 Essential Travel Gadgets for your Vacation Packing List