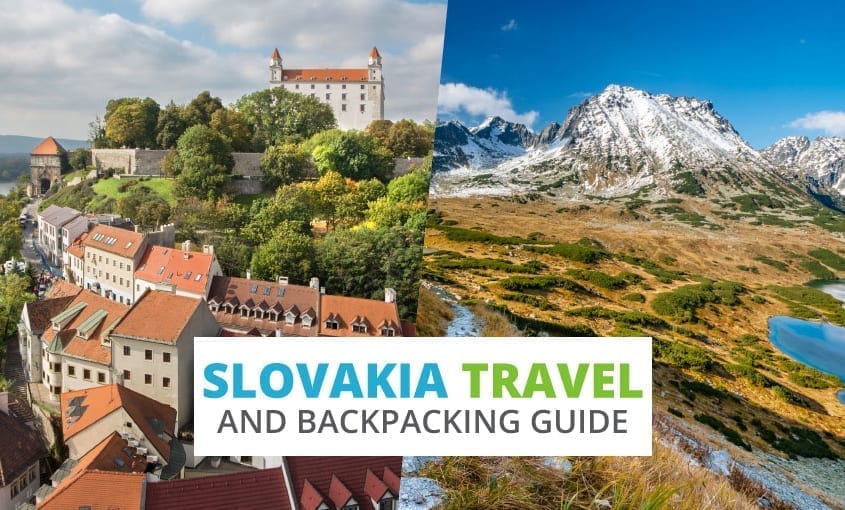 Backpacking Slovakia
Looking for important travel information while backpacking in Slovakia? Here you will find information on working in Slovakia, entry visas, Slovakia hostels, and much more.
Table of Contents
Facts About Slovakia
Located in Eastern Europe, Slovakia is a small, landlocked nation of five million inhabitants. Slovakia has rapidly become a popular holiday destination with western visitors, particularly after its accession to the European Union in January 2004.
Rural Slovakia is famed for its natural beauty and is the perfect destination for any visitor seeking a relaxed vacation. In recent years, the country has also attracted thousands of younger visitors, many of whom make the capital, Bratislava, the focal point of their visit.
Currency: Euro
Time: CET (UTC+1)
Language: Slovak
Telephone Services: +421
Emergency numbers: In the event of an emergency, dial 112, the universal emergency number. Alternatively, dial 158 for the police, 155 to obtain an ambulance, and 150 to alert the fire department.
Climate in Slovakia
Slovakia's climate can be broadly classed as temperate. In general, the country experiences warm summers and cold, overcast winters. However, because of Slovakia's diverse geography, the climate varies across the country.
The Carpathian mountain range stretches across the country and is a popular skiing destination. The average temperature across this region is a meagre 5 degrees Celsius, with temperatures during the warmest months still falling below 15 degrees Celsius. During the winter months, temperatures often fall well under -5 degrees. Whilst all ski resorts are well equipped to provide visitors with a comfortable stay through the winter, backpacking during these months is not advisable, particularly if you are intending to explore the many villages in the Orava and Spiš regions.
Slovakia's lowlands have a very pleasant climate. Average annual temperatures fluctuate between 9 and 10 Celsius and temperatures rarely exceed 25 degrees in the summer. The Slovak capital Bratislava is located within this climatic zone.
Things to do in Slovakia
In recent years Slovakia has become a major tourist hub. It remains popular with budget holiday-makers and backpackers, especially as prices tend to be very competitive compared to other European holiday destinations.
When deciding the best things to do in Slovakia, there is an abundance of options. Here are the top bucket-list items when backpacking in Slovakia.
Bratislava
Even if you are backpacking across Slovakia, be sure to spend some time exploring the historic city of Bratislava. Most sites of historical significance are located in Bratislava's Old Town. Bratislava's town hall, located here, was constructed during the 14th century and is now home to the Bratislava City Museum, one of the largest in Slovakia.
As is the case elsewhere in Slovakia, Baroque architecture dominates the Old Town's skyline. The Grassalkovich Palace is a prime example of such construction and is the home of the Slovak president. Bratislava's buildings, however, are not all characteristic of late medieval architecture. The Church of St. Elizabeth was built in 1903 and her construction keenly reflects the art nouveau influences of the period.
If you are planning on visiting the Slovak capital, then Bratislava Castle is a must-see stop. Located above the Danube, the Castle overlooks the city and provides a splendid view of its surroundings. If you are fortunate enough to visit Bratislava on a cloudless day, then you are likely to be able to catch a glimpse of the Austrian capital, Vienna on the horizon.
National Parks
Slovakia is famous for its natural beauty. The country's large forests are home to a number of species of brown bears, chamois and lynx. Whilst Slovakia's former communist rulers were not particularly interested in developing the nation's tourist infrastructure, they were responsible for the creation of numerous national parks and protected areas and many hotels arrange guided tours and hikes through these areas. (For a list of Slovakia's national parks, click here.
UNESCO World Heritage Caves
Whatever your budget, be sure to visit at least one of Slovakia's many magnificent caves. The Ochtinská Aragonite Cave has been named a UNESCO World Heritage Site and is one of only three aragonite caves in the world.
If you seek something a little more challenging, then why not consider scaling one of the Tatra Mountains? Slovakia's two mountain ranges, the High Tatras and the Low Tatras attract thousands of visitors each year who wish to take advantage of the excellent ski facilities on offer. Mountain rivers offer fine opportunities for white water rafting and kayaking.
Dunajec River
The Dunajec River which runs through northern Slovakia and southern Poland is very popular amongst tourists wishing to experience the best that Slovakia has to offer when it comes to water-sports. Slovak mineral springs and spas provide a fantastic opportunity to unwind after a day of sport. The most famous of these spas is located at Piešťany.
Castles and Cathedrals
Slovakia has gained international fame for its many magnificent castles. The country has the highest number of fortified castles per capita of any European nation and many Slovak palaces date back to the Middle Ages. Of these, the Bojnice Castle is easily the most famous. It dates back to 1113 and was originally constructed as a wooden fortification. Today, the castle has served as the setting of a number of Hollywood fairytales. It also hosts a summer music festival which always proves popular with visitors to the region.
Slovakia's many churches are a fine example of Renaissance and Baroque architecture. Two such examples are the Church of the Holy Spirit in the town of Žehra and the St. James Church at Levoča. The latter is a UNESCO World Heritage Site and has the highest wooden altar in the world. The wooden churches of northern and north-eastern Slovakia date as far back as the fifteenth century and are some of the country's most fragile ancient structures.
Unique Activities in Slovakia
Since popular places in Slovakia can get crowded during tourist season, it is wise to reserve tickets and activities ahead of time. GetYourGuide sells entrance tickets to museums and landmarks at face value so you can avoid the lines and save that precious time for more exploring.
Viator is another popular travel website that helps you book things to do in Slovakia. They work directly with local tour operators in Slovakia, so you won't have to scour the internet or roam around town trying to find the best deal.
How to Find Cheap Flights to Slovakia
In order to find the best flights to Slovakia we recommend using a few well-known flight comparison search engines. These websites offer powerful search options, like entering flexible dates and airports in order to find the cheapest flight to Slovakia.
Our go-to flight search engine is Skyscanner, which we love for its extremely flexible search options. Our favourite way to get travel inspiration is their "Everywhere" feature. Simply enter "Everywhere" as a destination, and it will then list all available flights from your departure city in order of price. This also works when entering the entire country of Slovakia as your destination. Skyscanner will search all possible airports in the country in order to find the cheapest option.
Kiwi is another new favourite flight search engine among savvy travelers. Kiwi works by combining flights from different carriers in order to get the best deal. Also, if there is a better ground or ferry option for the route you're searching, Kiwi will include that in the search results. On average, we have found the cheapest flights to Slovakia with them compared to the other websites out there.
Bratislava is a very popular destination with holidaymakers and a number of budget airlines offer regular services to the capital. The M. R. Tef Nik Airport is the largest airport in Slovakia and most international airlines use it as their base of operations. It is located some 9km away from the centre of Bratislava.
How to Travel Around Slovakia on a Budget
Train and long-distance bus are the standard modes of transport for how to travel in Slovakia on a budget. Buses are the more economical option, nevertheless, they are well-equipped with the usual modern conveniences that expect when travelling in Europe. Train travel, on the other hand, is the fastest way between cities in Slovakia, and the train stations are conveniently located right in the center of town.
Certain routes are better suited to one mode of transport than the other. To compare your options for journeys from A to B, you can try Omio. They compare trains, buses (and even flights) so you can decide for yourself the tradeoff between cost and travel time.
For finding a carpool option between cities in Slovakia, you can use BlaBlaCar, which is a favorite mode of transport among budget-savvy locals. Just search for your destination, pick the date you want to travel and you'll see different carpool options. Some rides allow you to book instantly, while others require the driver to approve manually. The BlaBlaCar site defaults to German but you can change the language at the bottom of the page.
Train travel in Slovakia
The country is a part of the Eurail network, which is a good choice if you plan to take multiple train journeys in a short period of time. Eurail offers both multi-country passes and One Country Passes. To decide whether you should buy individual tickets from A to B, or whether you should purchase a Eurail pass, read our Travelling Europe by Train guide.
Travel around Bratislava is relatively easy as the city has developed a good transportation system in recent years. The main railway station is located in Bratislava's Old Town. It provides services to all parts of Slovakia as well as to the Czech Republic, Austria and Hungary. The Petržalka railway station links Bratislava with the Austrian capital, Vienna.
If you would like to travel from Vienna to Bratislava via a more scenic route, then you might like to consider taking a ferry between the two cities. The Port of Bratislava is one of the largest in the country and a number of tourist companies provide services between the two capitals.
Driving in Slovakia
Bratislava's D1 motorway links the Slovak capital with the cities of Trnava, Nitra, Trenčn, and Žilina. The D2 motorway connects the capital with Prague and Budapest. Construction is currently underway on a highway linking Bratislava with Vienna. The Slovak authorities have set 15 November 2007 as the expected completion date.
You may also want the flexibility to stop in smaller towns between the major cities. If you decide you want to rent a car in Slovakia, you can use DiscoverCars to compare offers from the major car rental agencies in the region.
Public Transport in Slovakia
Within the capital, public transport is the responsibility of the Dopravn, Podnik Bratislava. Public transport within Bratislava is provided by three types of vehicles.
Buses – Buses are a frequent, relatively inexpensive and generally very efficient means of moving across the Slovak capital. There are 63 daily routes and 20-night routes. Services are provided even to remote Bratislava boroughs.
Trams – These cover 12 routes. However, services are not available in the Petržalka area.
Trolleybuses – These cover 12 routes as well.
Backpacking Group Tours in Slovakia
Though part of the fun of backpacking Slovakia is exploring on your own, there are situations, especially when venturing off the tourist trail, when it does make sense to go with a guide or a small group. 
The most popular option for social travel in Slovakia is Contiki tours. Contiki trips offer more than just transportation, they are organized social group travel for travelers aged 18-35. Whether you're traveling by yourself or going with a group of friends, Contiki tours are perfect for people looking to have a blast, meet new friends, and form lifelong memories. They offer tours that travel primarily in Slovakia or longer tours that cover other nearby places.
G Adventures is another great option for organized travel, but with a smaller group. It's a great choice for anyone backpacking Slovakia alone who would like to meet up with like-minded travellers. It's also a practical option for exploring places where you need an experienced guide, like a long hiking adventure or visiting a place well off the beaten path. You can choose from different styles of small group tours like active, wellness, hiking trips, 18-30somethings, and more.
Volunteering in Slovakia
Volunteer travel is a great way to explore Slovakia on a budget while also giving back. Typically, you'll work on the project a set number of hours per week in exchange for free accommodation, and sometimes other perks such as free food, free bike rentals, and more. 
If volunteer work in Slovakia sounds like something you want to do, it's best to do it via a reputable agency. An agency will help screen volunteer programs and hosts in Slovakia to make sure you have support every step of the way.
Volunteer work in Slovakia can be organized through the WorldPackers agency, and you can use promo code BACKPACKING10 to save $10 on your membership. WorldPackers can connect you with volunteering opportunities in Slovakia with NGOs, hostels and homestays, agricultural or wildlife experiences, and more.
Slovakia Hostels and Budget Accommodation

Finding good but inexpensive accommodation is essential while backpacking Slovakia on a budget. Almost all large Slovakian towns have youth hostels that cater to the needs of backpackers and those travelling on a budget.
Campsites are available at most major tourist destinations and are well equipped with telephones, showers and in some cases restaurants. Indeed, the Slovak countryside provides the perfect backdrop for a camping holiday.
Slovak hotels tend to be classified according to the European star system. The quality of hotel services does tend to vary, however. Whilst hotels in Bratislava are generally comparable to those in Prague and Warsaw, rural hotels do not always meet western standards. Slovak resorts, however, are excellent and can make fine holiday destinations.
We have had good experiences finding hostels in Slovakia on HostelWorld. They have the largest inventory of hostels worldwide, and with over 10 million reviews and ratings from other travellers, you know exactly what to expect.
Another good way to find accommodation in Slovakia is by checking booking.com. You'll find hotels, homestays, hostels, and other unique accommodations. They have the most reviews and advanced filtering of any accommodation-booking site, so you'll be sure to find a great place in your budget. Many of the places on booking.com also offer free cancellation, which takes the pressure off the planning phase of your trip to Slovakia.
If you are backpacking with another travel companion, we highly recommend booking a rental via VRBO. With a vacation rental in Slovakia, you'll have more space, your own kitchen, and you'll get a better feel for how the locals live. Plus, the cost of a vacation rental can be split among your group, oftentimes making it cheaper than doing individual hotel rooms. 
If you're looking to save even more money while backpacking in Slovakia, there are plenty of creative ways to get free accommodation in exchange for work. For example, one of our favorite ways to stay in amazing locations for free is by signing up as a petsitter with Trusted Housesitters. The site connects responsible animal lovers with petsitting opportunities in Slovakia and all over the world. It's a win-win for both sides – travellers can stay in amazing locations for free, and homeowners can rest easy knowing that someone is watching over their place.
And lastly, CouchSurfing is a great community that connects travellers with local hosts in Slovakia. You can stay for free with verified hosts, who will usually take some time to show you around the local spots.
Entry visa requirements for Slovakia
As a part of the European Union, citizens of other EU countries do not require visas. US, Canadian, Mexican, Australian and New Zealand nationals can stay in the country for up to 90 days without a visa. South African citizens require a visa unless they have visas for an indefinite stay in another EU country. If you require a visa, it is advisable to obtain one from your local embassy beforehand as they are not available at the Slovak border.
Visa requirements for Slovakia can vary widely depending on your country of origin and can change over time. To avoid any unpleasant surprises, be sure to check the latest visa requirements while you're still planning your trip.
Health and Safety in Slovakia
As with travel to all other countries abroad, it is vital that you get travel insurance before you leave for Slovakia. Even for short trips, our go-to travel insurance provider is World Nomads, which is also recommended by Lonely Planet, HostelWorld, and other major travel companies.
Visitors to Slovakia do not need to be particularly concerned about contracting illnesses whilst on holiday. If you are backpacking across Slovakia, then it is likely that you will spend a portion of your holiday in the countryside and as such it is advisable to be vaccinated against tick bites before you leave home.
Tap water is safe to consume across the country, indeed a number of studies have suggested that the tap water in the Bratislava region is some of the cleanest in the world. If you are backpacking and do not have access to clean water, then it is advisable to drink bottled mineral water.
Useful links for Backpacking in Slovakia
---
There you have it, the ultimate Slovakia backpacking guide. We hope you have found all the information you need for backpacking around Slovakia.
Next up:
Liked this article? Share it with others who might be after the same information!