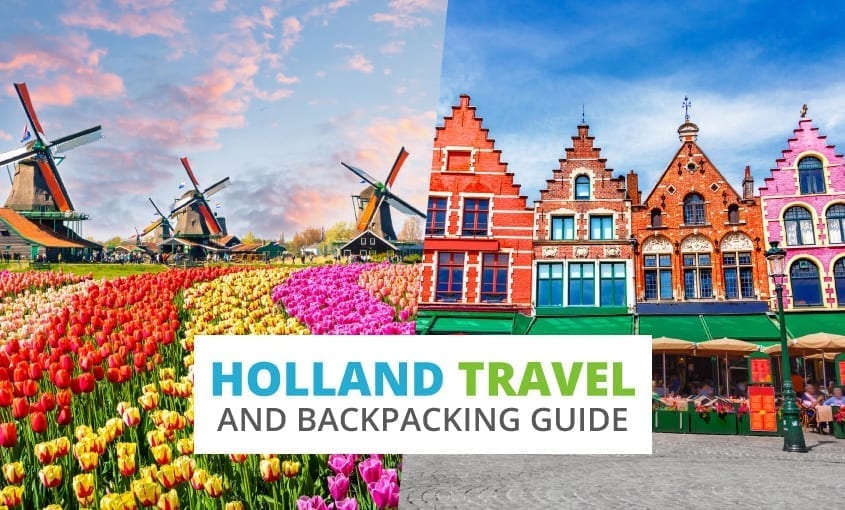 Backpacking The Netherlands
Looking for important travel information while backpacking in The Netherlands? Here you will find information on working in The Netherlands, entry visas, Netherlands hostels, and much more.
Table of Contents
Facts About The Netherlands
The open-minded, liberal country of the modern world. The Netherlands leads the way in political progress concerning human rights and has legalized sex work and cannabis. There is so much colour not only in political aspects but also the land itself; beautiful expanses of greenery where you can literally see for miles due to the remarkably flat geography.
Windmills, tulips and canals are everywhere you look and decorate the beautiful scenery with Dutch identity. Amsterdam, the outstanding capital, is a partying city with so much culture to experience that people tend to spend longer here than a lot of other cities.
Currency: Euro (€)
Time Zone: GMT + 1
Language: Dutch. English, French and German are also spoken
Telephone Services: Country Code + 31, International access code 00
Emergency Numbers: 112 for all services
Climate in The Netherlands
When deciding the best time to visit The Netherlands, weather should play an important role. The Netherlands experience a mild climate with prevalent rainfall all year round. The summer months are reasonably warm, but hot weather is not very common. Wintertime is generally quite cold and snow can be expected.
Things to do in The Netherlands
When deciding the best things to do in The Netherlands, there is an abundance of options. Here are the top bucket-list items when backpacking the Netherlands.
Amsterdam
Amsterdam is host to so many sight-seeing treats; the numerous flowing canals and renowned museums deserve to have the high reputation that they have been given. One of the most famous is The Van Gogh Museum and it is definitely worth a visit if you are taken by this artists work. The museum has some of his most famous work from the beginning of his life as an artist in Holland until his death in France.
The story of Anne Frank, the Jewish teenager who spent the end of her days in hiding before being deported to a concentration camp, is known and felt by millions. The house where Anne Frank and her family hid from the Nazis during Second World War has been named The Anne Frank House and has developed into a memorial site, which is a very moving place to see.
Amsterdam undeniably attracts thousands of tourists every year not only for its culture and artistic brilliance but also due to the fact that it is host to loads of Coffeeshops, which are in fact Marijuana cafes and dispensaries. In a city where you can have a spliff with your cup of coffee, rather than a biscuit, it is clear why Amsterdam is such a big attraction.
Since Amsterdam is one of the most visited cities in the world, it is wise to book tickets to popular attractions (landmarks, museums) ahead of time to avoid the lines. GetYourGuide sells entrance tickets at face value and you can avoid waiting in line. You might also see 'Skip the Line' tickets on their site. This actually refers to a separate entrance for a higher ticket price. It can be a worthwhile cost for crowded sites like the Anne Frank House, which can have up to a 2 hour wait time for General Entrance during peak tourist season.
Rotterdam
Rotterdam is another of the Netherlands beautiful cities and renowned for its architectural brilliance. There is so much to see and do, but one of the best sights, and a starting point, is a boat ride which leaves from Europort, the world's largest port, and tours around the city for over an hour.
The outstanding Erasmus Bridge, constructed by a Dutch architect, Ben van Berkel, is a light blue colour so during the day it can actually be difficult to see in bright sunlight, but at night, white light illuminates the bridge and you can really see what an incredible masterpiece this Bridge is.
There are almost thirty museums in Rotterdam and every one is wonderful for different reasons. The Museumpark is very convenient for you if you want to see several in a limited time-scale. The Museumpark combines five museums dedicated to architecture and art. If you are impressed by the architecture you see in Rotterdam then you should look into doing one of the architecture walks through the city organised by The Netherlands Architecture Institute.
The Hague
The Hague is the political centre in the Netherlands and the 'Binnenhof' is host to the parliament buildings. You can go on guided tours around the complex and the 13th century Knights Hall is fascinating. There is also The Peace Palace where the International Court of Justice and the Permanent Court of Arbitration are situated, and again these outstanding buildings are accessible by guided tours.
Finally, Lang Voorhout, an extensive lane between Kneuterdijk and Tournooiveld, has developed into the residential area for members of the government. There are lime trees along the roadside which decorate this famous area, where you can also find the Diligentia Theatre.
Unique Activities in The Netherlands
Since popular places in The Netherlands can get crowded during tourist season, it is wise to reserve tickets and activities ahead of time. GetYourGuide sells entrance tickets to museums and landmarks at face value so you can avoid the lines and save that precious time for more exploring.
Viator is another popular travel website that helps you book things to do in The Netherlands. They work directly with local tour operators in The Netherlands, so you won't have to scour the internet or roam around town trying to find the best deal.
If you know your schedule ahead of time, a great insider tip is to buy tickets for major tourist attractions ahead of time. Tiqets has entrance tickets and skip-the-line passes for major attractions in Amsterdam and other hotspots, which can be a worthwhile cost for mega attractions during peak tourist season.
How to Get Cheap Flights to The Netherlands
In order to find the best flights to The Netherlands we recommend using a few well-known flight comparison search engines. These websites offer powerful search options, like entering flexible dates and airports in order to find the cheapest flight to The Netherlands.
Our go-to flight search engine is Skyscanner, which we love for its extremely flexible search options. Our favourite way to get travel inspiration is their "Everywhere" feature. Simply enter "Everywhere" as a destination, and it will then list all available flights from your departure city in order of price. This also works when entering the entire country of The Netherlands as your destination. Skyscanner will search all possible airports in the country in order to find the cheapest option.
Kiwi is another new favourite flight search engine among savvy travelers. Kiwi works by combining flights from different carriers in order to get the best deal. Also, if there is a better ground or ferry option for the route you're searching, Kiwi will include that in the search results. On average, we have found the cheapest flights to The Netherlands with them compared to the other websites out there.
How to Travel Around The Netherlands on a Budget
The public transport system in the Netherlands is very efficient. You are able to travel anywhere in the country thanks to this well-thought-out system where no matter how small the village is, you can be assured that it is linked to the transportation network.
For finding a carpool option between cities in The Netherlands, you can use BlaBlaCar, which is a favorite mode of transport among budget-savvy locals. Just search for your destination, pick the date you want to travel and you'll see different carpool options. Some rides allow you to book instantly, while others require the driver to approve manually. The BlaBlaCar site defaults to German but you can change the language at the bottom of the page.
Train vs. Bus
Train and long-distance bus are the standard modes of transport for how to get around The Netherlands. Buses are the more economical option, nevertheless, they are well-equipped with the usual modern conveniences that expect when travelling in Europe. Train travel, on the other hand, is the fastest way between two cities in The Netherlands, and the train stations are conveniently located right in the center of town.
Certain routes are better suited to one mode of transport than the other. To compare your options for journeys from A to B, you can try Omio. They compare trains, buses (and even flights) so you can decide for yourself the tradeoff between cost and travel time.
Train travel in The Netherlands
The railway network is modern and notably, the trains run by the Netherlands Railways (NS) are among the best in Europe. The Intercity IC network runs a direct and rapid service between major cities, only making a limited number of stops. There are even trains that run throughout the night and, departing every hour, these trains connect the major cities, including Amsterdam Schiphol Airport. Train Timetables can be found on the NS website.
The Netherlands is a part of the Eurail network, which is a good choice if you plan to take multiple train journeys in a short period of time. If you plan on doing lots of train travel in a short amount of time, a Rail Pass from Eurail might be the right choice for you. 
Bus travel in The Netherlands
If you are travelling short distances then the bus is also a great means of transport. There are city buses, regional buses and express services. The buses run reasonably regularly to destinations in and around the cities, but it is during peak hours when the buses run most frequently. There is also the Interliner service available for longer distances.
The main cities of Amsterdam, The Hague and Rotterdam offer a tram service and Amsterdam and Rotterdam also have an underground network. Services by both these methods of transport are rapid and run from early morning until late at night.
There are public transport tickets for use on buses, trams and the underground. The National Strippen Card can be used all over the country and is also valid on trains which run within the major cities: Amsterdam, Rotterdam, Utrecht and The Hague. The Strippen Cards can be purchased at railway stations, post offices, newsagents and department stores. It is cheaper to buy it from one of these stated places as if you by it on the bus or tram it is more expensive.
The transport system has been divided up into zones and the tariffs relate to these zones. To travel to one zone you pay two 'strips' and then every zone after you pay one 'strip'. Once in a zone you travel 'free' within a certain time limit.
Driving in The Netherlands
You may also want the flexibility to stop in smaller towns between the major cities. If you decide you want to rent a car, you can use DiscoverCars to compare offers from the major car rental agencies in the region.
If you want the flexibility to have a car available on-demand, you can sign up for ShareNow, which is the car-sharing app in Europe. Using their app, you can unlock cars within Amsterdam whether you need to rent a car for 2 minutes or 2 weeks. To sign up you'll need to download the app, and have a valid driver's license, so it's best to sign up before your trip.
Backpacking Tours in The Netherlands
Though part of the fun of backpacking The Netherlands is exploring on your own, there are situations, especially when venturing off the tourist trail, when it does make sense to go with a guide or a small group. 
The most popular option for a social travel experience is Contiki tours. Contiki trips offer more than just transportation, they are organized social group travel for travelers aged 18-35. Whether you're traveling by yourself or going with a group of friends, Contiki tours are perfect for people looking to have a blast, meet new friends, and form lifelong memories. They offer tours that travel primarily in The Netherlands or longer tours that cover other nearby places.
G Adventures is another great option for organized travel, but with a smaller group. It's a great choice for anyone backpacking The Netherlands alone who would like to meet up with like-minded travellers. It's also a practical option for exploring places where you need an experienced guide, like a long hiking adventure or visiting a place well off the beaten path. You can choose from different styles of small group tours like active, wellness, hiking trips, 18-30somethings, and more.
Volunteering in The Netherlands
Volunteer travel is a great way to explore The Netherlands on a budget while also giving back. Typically, you'll work on the project a set number of hours per week in exchange for free accommodation, and sometimes other perks such as free food, free bike rentals, and more. 
If volunteer work in The Netherlands sounds like something you want to do, it's best to do it via a reputable agency. An agency will help screen volunteer programs and hosts in The Netherlands to make sure you have support every step of the way.
Volunteer work in The Netherlands can be organized through the WorldPackers agency, and you can use promo code BACKPACKING10 to save $10 on your membership. WorldPackers can connect you with volunteering opportunities in The Netherlands with NGOs, hostels and homestays, agricultural or wildlife experiences, and more. 
How to find Budget Accommodation in The Netherlands
The Netherlands has a huge variety of accommodation options, ranging from extremely expensive to very affordable.
We have had good experiences finding hostels on HostelWorld. They have the largest inventory of hostels worldwide, and with over 10 million reviews and ratings from other travellers you know exactly what to expect.
Another good way to find accommodation in The Netherlands is by checking booking.com. On their site, you'll find hotels, homestays, hostels, and other unique accommodation. They have the most reviews and advanced filtering of any accommodation-booking site, so you'll be sure to find a great place in your budget. We have discovered some great finds and have appreciated the ability to book ahead. Many of the places on booking.com also offer free cancellation, which takes the pressure off the planning phase of your trip to The Netherlands.
If you are backpacking with another travel companion, we highly recommend booking a rental via VRBO. With a vacation rental, you'll have more space, your own kitchen, and you'll get a better feel for how the locals live. Plus, the cost of a vacation rental can be split among your group, oftentimes making it cheaper than doing individual hotel rooms. 
If you're looking to save even more money while backpacking in The Netherlands, there are plenty of creative ways to get free accommodation in exchange for work. For example, one of our favorite ways to stay in amazing locations for free is by signing up as a petsitter with Trusted Housesitters. The site connects responsible animal lovers with petsitting opportunities in The Netherlands and all over the world. It's a win-win for both sides – travellers can stay in amazing locations for free, and homeowners can rest easy knowing that someone is watching over their place.
Another reasonably inexpensive way of visiting the Netherlands is to stay in one of the many campsites. Not all campsites offer pre-booking so it is just a matter of asking on the spot. The Netherlands Board of Tourism can give you a full list of available campsites and reservations for some can be made through the Stichting Vrije Recreatie at www.svr.nl.
And lastly, CouchSurfing is a great community that connects travellers with local hosts. You can stay for free with verified hosts, who will usually show you around the locals spots.
Entry Visa Requirements for The Netherlands
EU or US Nationals will require a valid passport or national ID card for the duration of their stay, up to three months. If the visit is more than three months then a visa is required. For information regarding visas contact the Dutch Embassy.
Visa requirements for The Netherlands can vary widely depending on your country of origin and can change over time. To avoid any unpleasant surprises, be sure to check the latest visa requirements while you're still planning your trip.
Health and Safety in The Netherlands
You require an E111 form which entitles you to emergency medical treatment on the same terms as Dutch nationals. This form is free of charge and can be collected from any post office, who also stamp it after you have completed it. You are recommended to take adequate medical and travel insurance too, and the post office offers good cover for around £30.
As with travel to all other countries abroad, it is vital that you get travel insurance before you leave. Even for short trips, our go-to travel insurance provider is World Nomads, which is also recommended by Lonely Planet, HostelWorld, and other major travel companies.
Useful Links for Backpacking in The Netherlands
---
There you have it, the ultimate Netherlands backpacking guide. We hope you have found all the information you need for backpacking around The Netherlands.
Next up:
Liked this article? Share it with others who might be after the same information!