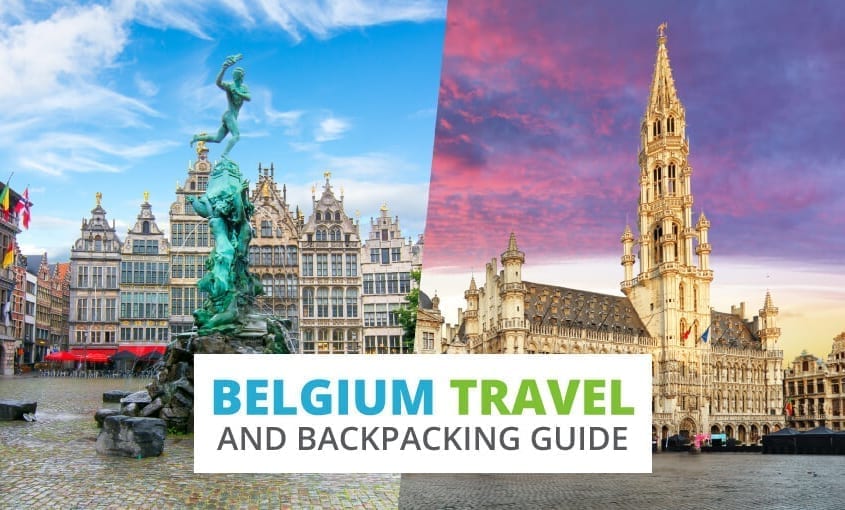 Backpacking Belgium
Looking for important travel information while backpacking around Belgium? Here you will find information on working in Belgium, entry visas, Belgium hostels, and much more.
Table of Contents

Facts About Belgium
Belgium is often overlooked by travellers as being dull and bureaucratic partly a reputation gained by being the home of the European Union and myriad of red tape jockeys that surround it. In truth Belgium is a somewhat under-rated country to travel in. It has some excellent beers including the smooth but powerful Duvel and some incredible cuisine not least of which are the famous Belgian truffles and Belgian chocolates.
Belgium, as it is quite a small country, is probably unsuitable for a full backpacking tour on its own but can easily provide enough to do for those wanting to stay a few days in the heart of the EU or those just travelling through to other areas of Europe.
Currency: Euro (€) 1 euro = 100 cents
Time Zone: GMT + 1
Language: French and Dutch
Telephone Services: County code +32, International access code 00
Emergency Numbers: 112 for all services
Climate
Belgium's climate is seasonal and reasonably similar to its neighbouring countries, snow is likely in the winter months although the summers can be quite temperate. There is a small amount of precipitation all year round so it is advisable to pack at least a waterproof no matter when you are coming to Belgium.
Things to see and do
Brussels is home to the EU, NATO and many other international institutions and many backpackers and travellers like to take a peek at the EU's headquarters despite it for the most part just being a very expensively decorated office building. However there is plenty of other things to do in Brussels, a "Brussels Card" costs about €20 and gives access to over 30 museums and access to public transport for 3 days. This should give you enough time to cover most of what the city has to offer. Sites of particular interest are the Church of Our Lady of Sablon, the Sunday antique market in the Atomium, a retro futuristic atom shaped tower originally built for the 1958 world trade fair. Europe's second largest port Antwerp is a city of high fashion with hundreds of exclusive boutiques and outlets spread throughout the city.
Antwerp is also known for its nightlife and boast an array of modern trendy bars and night clubs which might be needed to liven things up after some of the more historic aspects of Antwerp. Such historic landmarks include the Royal Museum of fine arts, the National Maritime Museum and the 17th century house which was home to famous Belgian painter Ruben.
For those wanting to avoid the crowds and travel a little off the beaten track one overlooked destination is Ghent. Ghent was formerly a centre for the cloth trade and at one point was the second largest medieval city in Europe after Paris. Key attractions include the foreboding Castle of the Counts, surrounded by the Lieve canal, and St Bavo's Cathedral where Charles V was baptised.
Travel
Rail travel in Belgium is a very quick and affordable way to travel but you may be confused at the multitude of ticketing methods on offer. By far the best bet is to use one of the available travel passes. The network is operated by b-rail.be and the trains are modern and comfortable. Within Belgium journeys will last a maximum of a couple of hours so you won't need to go looking for high speed trains here.
The best pass to use solely for Belgium is the B-Tourrail which allows you 5 days travel within a one month period and is available from train stations. However most people will be making Belgium a part of a larger tour in which case passes such as the Eurail and Interail passes are probably better options. See our section on European rail travel for more detail on these passes. Domestic bus services are operated by TEC and De Lijn which serve the French speaking south and the Flemish north respectively. These companies also between them operate most public transport systems in the bigger cities of Belgium. The buses are quite modern and well equipped but in reality the train is a much better way to get around Belgium especially if you have a Eurail or Interail pass.
Accommodation
Belgium boasts an extensive range of accommodation from luxury 5 star hotels to small family pensions and inns. You should have no trouble finding accommodation in Belgium and you shouldn't need to book in advance as long as you don't have your heart set on a particular hotel.
Youth hostels are mainly run by one of two companies; the Vlaamse Jeugdherbergcentrale runs extremely well organised youth hostels in the Flanders region which are especially popular with schools and youth groups. Centrale Wallonne run hostels in the French speaking areas which are somewhat more informal but still a very good choice for accommodation. The Belgian tourist office also maintains a page listing hostels suitable for young travellers (under 25).
Health
The standard of healthcare in Belgium is high and travellers carrying an E111 and adequate insurance should have no problems getting high quality medical care.
The tap water is safe to drink and there are no vaccinations recommended for those travelling to Belgium.
Useful Links
The Belgian tourist office provides tourist information in this somewhat Ameri-centric site.
B-rail runs the rail network in Belgium
De Lijn runs the bus network in the Flemish north of the country.
Vlaamse Jeugdherbergcentrale runs extremely well organised youth hostels in the Flanders region
Centrale Wallonne runs hostels in the French speaking areas of Belgium
Belgian tourist office maintains a page listing officially recognised Belgian Hostels.
Entry Visas for Belgium
A valid passport is required for all apart from members of the EU carrying an official ID card. A visa is not required by EU or US nationals for a stay of up to 3 months. The Belgian Embassy should be contacted for information regarding longer stays or for work permits.
Addresses
The Belgian Embassy should be contacted for all enquiries regarding visas, work permits and immigration enquiries. The embassy can be found at:
Embassy of the Kingdom of Belgium
103 - 105 Eaton Square
London
SW1W 9AB
Tel: (020) 7 470 3700 (general enquiries)
(020) 7 600 255 (recorded message 50p/min.)
Fax: (020) 7 259 6213

While in Belgium, British representation can be found at:
British Embassy
85 rue d'Arlon
B-1040 Brussels
Belgium
Tel: (2) 287 6211
Fax: (2) 287 6270
Foreigner Work Permits in Belgium
As with other EU countries, EU nationals may enter Belgium for up to three months without a permit. If you intend to stay for longer than three months you should apply to the Town Hall within eight days of your arrival for a certificate d'inscription au register des étrangers (CIRE), which will permit you to stay in the country for a year, or a certificate d'immatriculation, allowing you to look for work for three months.
Seasonal Work
Belgium's busiest tourist industry lies in Bruges. Here you are likely to find work in bars and restaurants, earning around €5 (approx. €3.50) an hour or more. The best way to find out about casual work is to travel from place to place and enquire in person. Some hostels even employ workers in exchange for accommodation. Other than the usual jobs in hotels, bars, and pubs etc. it might also be worth contacting Venture Abroad, a company who organise tours of Belgium and employ guides during peak tourist months. This kind of job will provide you with a bit of money whilst learning and seeing more of the culture of Belgium.
Campsites
Several British and European camping agencies operate throughout Belgium, and again most jobs can be found during the peak tourist times in the summer. Eurocamp arranges work for couriers on Belgian as well as other European campsites. It is preferred that you can speak another European language well because the job involves welcoming and interacting with a range of visiting nationalities. Employees must be over 18, and can anticipate earning approximately €95 per week.
Au Pairing
Au pairs in Belgium can earn up to €347  per month for performing typical au pair duties, which include looking after children and general domestic duties. Childcare International Ltd is an agency that can place au pairs with Belgian families, provided with accommodation, meals, time off, and about €40 weekly pocket money. Au pairs must be aged between 18 and 27.
Agricultural Work
One of Belgium's main harvests is hops. Often the best way to find jobs on farms is to visit in person and ask if there are any opportunities. Fruit and crop picking is not a particularly productive money-earner but it can tide you over for the time being. Payment depends on the employer. You may be paid depending on how much you can pick, how long it takes, or on the quality of the produce. The Young Farmers' Clubs International Farm Experience Programme places volunteers in three to twelve month projects working on international farms. You are required to pay your own fares, insurance, and registration, and experience in the farming industry is needed.
Volunteering
The International Voluntary Service (IVS) offers a range of opportunities for volunteering abroad. Short-term 'workcamps' are set up to focus on a community issue, which may include work with those with special needs, the elderly, or environmental conservation projects. Most workcamps are organised for summer months and last only a few weeks, during which time you will be provided with food and accommodation. You must pay a membership fee of €15 to IVS.
Useful Addresses
National Federation of Young Farmers' Clubs
The International Farm Experience Programme
YFC Centre
National Agricultural Centre
Stoneleigh Park
Kenilworth
Warwickshire CV8 2LG
Useful Links
Venture Abroad can help to find seasonal placements.
Eurocamp often have vacancies for employment at their campsites.
Children International can help you find au pairing services.
Sci-ivs.org provides information about the International Voluntary Service.
How to Say Common French Phrases
Meeting People
English

French

yes

oui

no

non

thank you

merci

you are welcome

de rien

please

s'il vous plaît

excuse me

pardon

hello

bonjour

goodbye

au revoir

good morning

bonjour

good night

bonne nuit

I do not understand

Je ne comprends pas

Do you speak…?

Parlez-vous…?

English

anglais

French

français

What is you name

Comment vous appelez-vous?

Nice to meet you

Enchanté de faire votre connaissance

How are you

Comment allez-vous?

Good

bon

bad

mauvais
Directions
English

French

map

carte

left

à gauche

right

à droite

straight on

tout droit

far

loin

near

près
Methods of Transport
English

French

Where is…?

Où est…?

How much is the fare?

Quel est le prix du billet?

Ticket

billet

A ticket to…, please

Un billet pour…, s'il vous plaît

Where are you going?

Où est-ce que vous allez?

Where do you live?

Où habitez-vous?

Train

le train

bus

un autobus

underground

le métro

airport

un aéroport

train station

la gare

bus station

la gare de bus

underground station

la station de métro

departure

le départ

arrival

une arrivée

parking

le parking
Time
English

French

What time is it?

Quelle heure est-il?

Today

aujourd'hui

yesterday

hier

tomorrow

demain
Accommodation
English

French

hotel

un hôtel

room

une chambre

reservation

la réservation

Are there any vacancies?

Avez-vous des chambres disponibles?

No vacancies

Complet

Passport

le passeport
Places
English

French

post office

la poste

bank

la banque

police station

le poste de police

hospital

l'hôpital

chemist

la pharmacie

shop

le magasin

restaurant

le restaurant

museum

le musée

church

une église

square

la place

street

la rue
Shopping
English

French

How much does this cost?

Combien ça coute?

I will buy it

Je le prends

I would like to buy…

Je voudrais acheter…

Do you have…?

Avez-vous…?

open

ouvert

closed

fermé

postcard

la carte postale

stamps

des timbres

little

un peu

lot

beaucoup

all

tout
Meals
English

French

breakfast

le petit déjeuner

lunch

le déjeuner

dinner

le dîner

vegetarian

végétarien

cheers!

à votre santé!

the bill please

l'addition s'il vous plait
Drinks
English

French

drink

la boisson

coffee

le café

tea

le thé

juice

le jus

water

l'eau

beer

la bière

wine

le vin
Food
English

French

meat

la viande

fish

le poisson

vegetable

le légume

fruit

le fruit

potato

la pomme de terre

salad

la salade

dessert

la dessert
Buy phrasebooks online at Amazon.co.uk
Belgium Hostels
Hostels are a cheap form of accomodation, and so they are essential to backpackers and other budget travellers. We have compiled a list of hostels in Belgium to help you plan your journey. If you are looking for a hostel in Belgium, you've come to the right place.
Brussels
Flanders
Wallonie
Ypres
There you have it, the ultimate Belgium backpacking guide. We hope you have found all the information you need for backpacking around Belgium.
Top Products for Backpackers