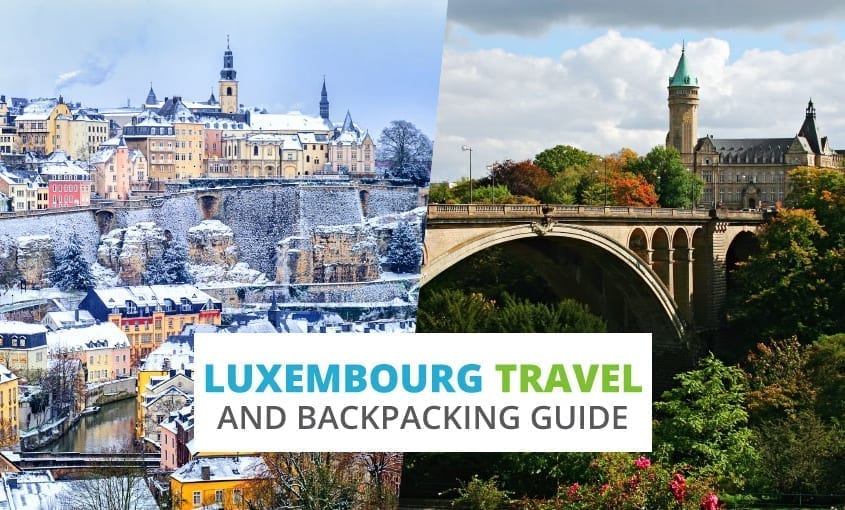 Backpacking Luxembourg
Looking for important travel information while backpacking around Luxembourg ? Here you will find information on working in Luxembourg , entry visas, Luxembourg hostels, and much more.
Table of Contents

Facts About Luxembourg
At 2,586 sq km, The Grand Duchy of Luxembourg is one of the smallest countries in Europe. But what it lacks in size, it makes up for in character. Think fairytale medieval castles, dense forests, rolling hills and a vibrant capital city.
Nestled between Belgium, Germany and France, Luxembourg's history and culture has been shaped by its powerful neighbours. It became independent as the Grand Duchy of Luxembourg in 1839, but is referred to simply as "Luxembourg". Uniquely accessible and keen to promote a modern, dynamic image, Luxembourg is a great place to stop off while backpacking around Europe.
Currency: Euro(€) 1 Euro = 100 cents
Time Zone: GMT + 1 hour
Language: Luxembourgish (national language), German, French
Telephone Services: +352 to dial in (00352 from the UK)
Emergency numbers: 112 for emergency services
Climate
Luxembourg's climate is characterised by mild temperatures and high precipitation.
The North of the country, including the forested Ardennes hills, tends to be quite wet. The south is drier and sunnier. In the extreme south-east, summers are warm enough for vines to be cultivated. Winters can be severe, with snow cover lasting several weeks.
Temperatures are around -2 to 5°C in winter and 20 to 24°C in summer. You can check weather conditions before you go by looking up Luxembourg on the BBC's 5 day forecast.
Things to see and do
Luxembourg (city)
Luxembourg's capital city, also called Luxembourg, is situated in the south of the country. Its central geographical location and multilingualism give it a cosmopolitan flair. The city was named European Capital of Culture in 1995 and 2007 and describes itself as a 'unique melting pot of culture and cultures'.
The city of Luxembourg boasts a rich history dating back to the Roman era. The watchtower in the Fish Market, the oldest part of the city, dates back to the 4th Century. The 10th century "Lucilinburhuc" (little fortress) has been widely extended over the years. Vauban's 17th century additions to the defences led to Luxembourg becoming known at the "Gibraltar of the North", but much of this fortress was dismantled between 1867 and 1883 under the Treaty of London.
The newly available space on the western side of the city was partly used to create beautiful city gardens. You can take a walk through the green areas of the city of Luxembourg starting at the Bock Outcrop and finishing at the Amalia Memorial (see link for map and suggested route).
The fortress ramparts and other remains in the Old Town are now a designated UNESCO World Heritage site. The Luxembourg City History Museum, housed in restored residential buildings in the heart of the city, has a floating glass facade and panoramic lift. Cafès, bars and restaurants provide plenty of opportunity for refreshment while exploring the narrow central streets.
Fans of modern art can make their way to the Musee d'Art Modern Grand-Duc Jeanor to Casino Luxembourg – Forum d'art Conterporain. Their respective websites are works of art in themselves and provide access information and details of temporary exhibitions. Music lovers can check what's on at the striking Philharmonie, which hosts jazz and world music performances as well as classical concerts.
There's no shortage of special events and festivals going on in Luxembourg's capital. The "Schueberfouer" is one of Europe's largest fairs, taking place between August and September every year. "Live at Vauban" is the autumn music festival, which is followed by "Winter Lights", a series of musical and theatrical events and Christmas markets. There's also a spring music festival "Printemps Musical" and the "New Orleans meets Luxembourg" jazz and blues event in summer.
Detailed information can be found at the Luxembourg City Tourist Office website.
The Ardennes
The Ardennes is a volcanic region of forested hills and fast-flowing rivers stretching between Belgium and Luxembourg.
The strategic position of the region made it a battleground for European powers for centuries, leaving numerous castles and fortifications. Those at Vianden and Clervaux are particularly impressive. Pretty hillside medieval villages provide perfect bases to explore surrounding countryside.
Walking, cycling, mountain biking and canoeing are popular pursuits in the Ardennes, with plenty of marked trails and guided routes.
The Mullerthal
The Mullerthal, in the north-east of Luxembourg, is known as 'Little Switzerland' due to its thick forests, craggy terrain and clear streams.
With 5,000 inhabitants, Echternach is the cultural and historic centre of the region. It holds a procession on Whit Tuesday and a festival of classical music in the summer. Berdorf, perched over the valleys of the Black Ernz, has footpaths leading to some fascinating rock formations. Beaufort, as the name suggests, has impressive ruins of a 12th century castle and a beautiful 17th century castle, which is still inhabited.
The Mullerthal region also provides opportunities for walking, climbing and mountain biking.
The Moselle
The Moselle region of Luxembourg is named after the wide river running through Germany, Luxembourg and France. Vineyards along the banks of the Moselle provide popular white wines.
The town of Grevenmacher is the commercial capital of wine-growing in Luxembourg. It is also home to the Jardins de Papillons (Butterfly Gardens).
Visitors to the region can enjoy boat trips and a river restaurant on the Moselle. Thermal waters at Mondorf les Bains feed the luxury (and pricey!) health spa Mondorf le Domaine (website in French), set in 50 hectares of tranquil gardens.
The Land of Red Rocks
The most southerly part of Luxembourg is characterised by the red earth which used to be mined for mineral-rich rock. The abandoned quarries now provide striking natural habitats. The open air Fond-de-Gras museum (website in French and German only) tells the story of industrial activity in the region.
Entry Visas for Luxembourg
According to its Ministry of Foreign Affairs, all visitors to Luxembourg should be able to provide relevant documents at the border relating to the purpose of their visit and proof of sufficient means of subsistence for their stay.
British passport holders and other EU citizens do not require visas to enter Luxembourg for a period of up to three months. Passports should be valid for at least six months. US citizens can also enter without a visa for a period of up to three months.
Luxembourg Embassy in the UK
27 Wilton Crescent
London
SW1X 8SD
Tel +44 (0)207 235 6961
British Embassy in Luxembourg 5 Boulevard Joseph II L-1840 Luxembourg Tel (+352) 22 98 64 or (+021) 18 66 53 out of hours Email: britamb@internet.lu
Ministre des Affaires trang res Ministry of Foreign Affairs in Luxembourg 5 rue Notre-Dame L-2240 Luxembourg Tel +352 478-8300 Fax +352 22 31 44 Email: officielle.boite@mae.etat.lu
Travel
Being situated between Belgium, Germany and France, Luxembourg is easily accessible by road or rail. Trains from Paris take around two hours and from Brussels around three.
Luxembourg Airport is 6km (4 miles) north-east of the capital and served by British Airways, KLM, Scandinavian Airlines and Luxair. Buses to the city centre leave every 20 minutes and a taxi will cost €20 – €35.
As a small country, it is perfectly possible to navigate Luxembourg by public transport. The rail network, run by CFL (website in French), fans out in five directions from the city of Luxembourg across the rest of the country.
Single train tickets cost €1.50 and a network ticket for the whole day costs just €5. Eurail and Interrail tickets are also valid in Luxembourg. There is a good bus service in and around the capital. The Luxembourg Tourist Office website has a public transport search facility.
Accommodation
There is a good range of accommodation in Luxembourg, with basic rooms costing around €18 – €60 a night and more luxurious lodgings reaching over €250 per night.
Luxembourg has an active Youth Hostel Association (CAJL) with an English version website and an online reservation system. Prices start from €15.30 with breakfast included. Visitors pay a supplement for a private room of €12 for a single or €5 for a double. You also need a youth hostel membership card from your own country, or you can buy stamps at €3 each.
Camping costs around €3-8 per person per night, plus a similar amount for the pitch. The Luxembourg Tourist Office publishes a handy downloadable guide to Camping in Luxembourg, listing prices and locations. If you have a bit more cash to spare, there is also a guide to Holiday apartments: containing detailed information on farm and rural self-catering accommodation.
Health care issues
The European Health Insurance Card (EHIC), which replaced the E111 form, entitles UK citizens to free or reduced-cost emergency medical treatment in the European Economic Area.
You can go to any doctor or dentist in Luxembourg, pay for treatment and medication and collect receipts to get all or part of the cost reimbursed. Hospital treatment is normally free but you pay a non-refundable daily charge. You should show your European Health Insurance Card to the hospital authorities. See the relevant Department of Health Country Guide for details.
Foreign and Commonwealth Office travel advice also recommends obtaining comprehensive travel and medical insurance for any overseas trip. No specific vaccinations are required for travel to Luxembourg.
Foreigner Work Permits in Luxembourg
If you are looking to travel to and work in Luxembourg, the below information will
Nationals from the European Union are able to work in Luxembourg without any extra hassle. Non-European Union workers must obtain a work permit by asking their employer to submit an application to the Employment Office (ADEM) before they arrive. Work permits are issued by the Ministry of Foreign Affairs, taking into account the current labour market.
Luxembourg is a prosperous country with one of the lowest unemployment rates in Europe (rarely exceeding 3%, according to STATEC). The banking and steel industries are particularly strong.
Standard casual jobs in shops, bars, restaurants, campsites and hotels are available in Luxembourg. Being able to speak French, German or Luxembourgish is an advantage. There are also openings for teaching English as a foreign language, but you normally need an official TEFL qualification.
Jobs.lu has an English version, though most of the actual job posts are in French. The international jobsite Monster also advertises jobs in Luxembourg.
How to Say Common Luxembourgish Phrases
The official language in Luxembourg is Luxembourgish, but French and German are also widely spoken.
Luxembourgish essentials
English

Luxembourgish

Welcome

Wëllkomm

Hello

Hallo

Goodbye

Äddi

Yes

Jo

No

Neen

Thank you

Merci

You're welcome

Wanechgelift

Excuse me

Entschellegt?/Pardon

Sorry

Pardon

Pleased to meet you

Schéin dech kennen ze léieren

Cheers/Good health!

Prost

My name is..

Mäin Numm ass..

What's your name?

Wéi heeschs du?

I don't understand

Ech verstinn net

Do you speak English?

Schwätzt Du Englesch?

I'm sorry, I don't speak Luxembourgish

Esou traureg, ech soen Lëtzebuergesch net

Where is the toilet, please?

Wou as Toilette, wann ech glift?

I need help

Ech brauch Hëllef.
Useful Links
Luxembourg climate map including average rainfall and temperature by month. Find the best time to backpack Luxembourg based on your climate preferences.