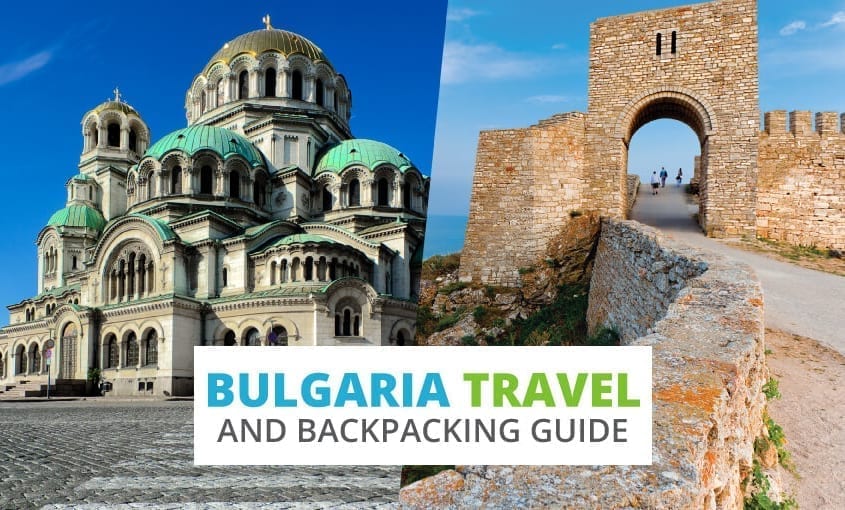 Backpacking Bulgaria
Looking for important travel information while backpacking in Bulgaria? Here you will find information on working in Bulgaria, entry visas, Bulgaria hostels, and much more.
Table of Contents
Facts About Bulgaria
Bulgaria is one of Europe's most diverse and naturally beautiful destinations. It is a small country situated in the southeast of Europe on the Balkan Peninsula. It boasts towering mountains and deep valleys, giving visitors great opportunities for skiing, hiking, walking and mountain biking.
There are six different ranges with much to offer, from snow-capped mountains to lush green forests with thermal springs and mineral spas. In contrast, the scenic Black Sea coast has fine sandy beaches and inviting blue waters making Bulgaria a popular destination for holidaymakers and travellers alike.
The colourful culture, hospitality and folklore traditions still exist and have stayed unchanged for centuries. Throughout the summer, regular folk rituals and festivals are held all around the country, where Bulgarian culture, hospitality and friendliness shine through making any visitor feel very welcome.
The Valley of the Roses is in the very heart of the country and each year is transformed with breath-taking blooms in May and June. The festival of the Roses is celebrated in towns across the region with rose picking rituals and folklore displays. Bulgaria is rapidly developing as a popular tourist destination, where you are seeking a relaxing beach break, skiing down the slopes or taking in the culture, this magical country has it all.
Currency Lev (2.3 to £1 sterling)
Time Zone GMT +2 (GMT +3 from April to September)
Language Bulgarian
Telephone Services +359
Emergency Numbers Ambulance 150 Fire 160 Police 166
Climate in Bulgaria
Bulgarian summers are generally comfortable, with low humidity and temperatures averaging 24 degrees. The Black Sea resorts offer sunbathing from May until October, while in winter heavy falls of snow are guaranteed the skiing resorts. It frequently rains during spring and autumn.
Things to do in Bulgaria
Sofia
Bulgaria's capital Sofia is diverse and compact with a great mix of architectural styles which were mainly built after the WWII bombings. The city boasts many great art galleries, museums and opera houses and the churches in Sofia are well worth a visit, especially as some date back to the early 14th Century.
From earlier times, Sofia's main attraction has been its thermal springs which are still in public use today. The city is bursting with character, its various bazaars, markets and open-air cafes give it a cosmopolitan, laid back atmosphere with plenty to see and do.
Rila
Rila is south of Sofia and provides the perfect mountain locations for hikers. The great trip across the mountains to the Rila Monastery can be done in a few days. The monastery was originally founded in the 10th century and is admired by many for its unusual architectural features. Visitors can enjoy its valuable museum collection with jewellery, textiles and old manuscripts. Rila also gives visitors an excellent starting point for discovering the surrounding areas of Bulgaria.
Black Sea
For beach lovers, Bulgaria has dozens of attractive resorts on the Black Sea coastline. Golden Sands, is the largest resort on the Black Sea coastline and provides a varied range of eating spots and probably the best nightlife in the area.
Albena is the newest resort and is surrounded by lush forests. Its magnificent 7 kilometre long sandy beach and calm waters make it a haven for relaxing, sunbathing and 'taking it easy'. If you feel like treating yourself, many of the hotels in these resorts offer impressive health, beauty and spa treatment that promise to help you to relieve stress and really relax.
If you are feeling more energetic, there are many sporting activities on offer, including waterskiing, paragliding and volleyball. The daily costs for food and drink also make Bulgaria an attractive destination with a bottle of beer costing 50p and a two-course meal for one costing £4.00.
Ski Resorts
Bulgaria is fast growing as a popular skiing destination with recent improvements in the three major ski resorts in the country. Excellent skiing conditions can be found, especially for intermediate and novice skiers.
Borovets is the largest and oldest mountain resort in Bulgaria, conveniently located just 45 miles south of Sofia. There are several well-run hotels with a superb network of ski runs for every ability. Many of the hotels offer indoor swimming pools, saunas and gyms and also provide much of the nightlife. There are also wine bars, folk taverns, clubs and discos for those apres ski drinking sessions.
National Parks
Nature lovers might like to visit one of Bulgaria's national parks where in recent years facilities have really improved. Outdoor and nature enthusiasts will find a variety of different types of accommodation offered, including lodges, private chalets, small hotels with camping also becoming more available to visitors.
Unique Activities in Bulgaria
Since popular places in Bulgaria can get crowded during tourist season, it is wise to reserve tickets and activities ahead of time. GetYourGuide sells entrance tickets to museums and landmarks at face value so you can avoid the lines and save that precious time for more exploring.
Viator is another popular travel website that helps you book things to do in Bulgaria. They work directly with local tour operators in Bulgaria, so you won't have to scour the internet or roam around town trying to find the best deal.
If you know your schedule ahead of time, a great insider tip is to buy tickets for major tourist attractions ahead of time. Tiqets has entrance tickets and skip-the-line passes for major attractions in Sofia, Rila, and other hotspots, which can be a worthwhile cost during peak tourist season.
How to Find Cheap Flights to Bulgaria
Bulgaria's domestic service Bulgaria Air connects Sofia with the coast and other main towns. Journeys from Sofia to Bourgas and Varna can be made in one hour by air travel and it's fairly cheap – only slightly more expensive than rail travel.
If you're flying to Bulgaria or plan to take short flights within the country, we recommend using a few different flight comparison search engines. Kiwi is a new favourite among travellers. On average, we have found the cheapest flights to Bulgaria with them compared to the other websites out there.
Of course, it is always worth checking Skyscanner to guarantee you're getting the best deal. Both websites offer great flexible search options, allowing you to search the whole country of Bulgaria to find the cheapest airport to fly into, and also see prices for a full month if you're flexible on travel dates.
How to Travel Around Bulgaria on a Budget
Train and long-distance bus are the standard modes of transport for how to get around Bulgaria. Buses are the more economical option, nevertheless, they are well-equipped with the usual modern conveniences that expect when travelling in Europe. Train travel, on the other hand, is the fastest way between two cities in Bulgaria, and the train stations are conveniently located right in the center of town.
Certain routes are better suited to one mode of transport than the other. To compare your options for journeys from A to B, you can try Omio. They compare trains, buses (and even flights) so you can decide for yourself the tradeoff between cost and travel time.
Bulgaria is a part of the Eurail network, which is a good choice if you plan to take multiple train journeys in a short period of time. If you plan on doing lots of train travel in a short amount of time, a Rail Pass from Eurail might be the right choice for you.
Train travel in Bulgaria
For information on rail travel in Bulgaria see the State Rail Office site. If you are entering Bulgaria by car you must state which border crossing you'll be using when you leave and also pay a road tax. Route restrictions only apply if you're in transit through Bulgaria.
Bus travel in Bulgaria
Bulgaria has a reliable and sophisticated coach service which allows visitors to travel inland between major towns and cities. A return trip from Sofia to the coast would only cost you about £10 and would normally take between 5 or 6 hours depending on traffic and weather conditions. For further details on schedules and prices contact www.etapgroup.com – one of Bulgaria's biggest coach companies.
Driving in Bulgaria
You may also want the flexibility to stop in smaller towns between the major cities. If you decide you want to rent a car, you can use DiscoverCars to compare offers from the major car rental agencies in the region.
Public transportation in Bulgaria's cities
Bus and tramway services operate in Sofia and a metro is currently being built. Tickets must be pre-purchased and flat fares are charged. Taxis are available in all towns and for intercity journeys. It is recommended that the taxi fare is agreed with the driver before the journey.
Backpacking Tours in Bulgaria
Though part of the fun of backpacking Bulgaria is exploring on your own, there are situations, especially when venturing off the tourist trail, when it does make sense to go with a guide or a small group. 
The most popular option for a social travel experience is Contiki tours. Contiki trips offer more than just transportation, they are organized social group travel for travelers aged 18-35. Whether you're traveling by yourself or going with a group of friends, Contiki tours are perfect for people looking to have a blast, meet new friends, and form lifelong memories. They offer tours that travel primarily in Bulgaria or longer tours that cover other nearby places.
G Adventures is another great option for organized travel, but with a smaller group. It's a great choice for anyone backpacking Bulgaria alone who would like to meet up with like-minded travellers. It's also a practical option for exploring places where you need an experienced guide, like a long hiking adventure or visiting a place well off the beaten path. You can choose from different styles of small group tours like active, wellness, hiking trips, 18-30somethings, and more. Their most popular trip in Bulgaria is their 13-day Budapest to Istanbul tour which also includes time in Turkey, Hungary, Romania, and Bulgaria.
Health and Safety in Bulgaria
Bulgaria has a reciprocal health agreement with the UK. If a UK passport and NHS medical card are produced, hospital, dental and other medical care will normally be provided free of charge. However, prescribed medicines must be paid for and can be supplied by public pharmacies.
No vaccinations are required for entry to Bulgaria. It is advisable to drink bottled water for the duration of your stay. Generally food is safe in restaurants and hotels; however the street vendors should be avoided.
As with travel to all other countries abroad, it is vital that you get travel insurance before you leave. Even for short trips, our go-to travel insurance provider is World Nomads, which is also recommended by Lonely Planet, HostelWorld, and other major travel companies.
Entry visa requirements for Bulgaria
Most EU citizens are admitted to Bulgaria without a visa for stays of less than 90 days. If you wish to reside in Bulgaria on a more permanent basis you should contact the Bulgarian Embassy in London and arrange for an appropriate visa. Prior to travelling you should ensure that your passport has a validity of at least three months beyond the end of your intended stay.
Foreigner work permits and backpacker jobs in Bulgaria
Bulgaria's main areas of tourism are the beach and ski resorts. New hotels, holiday complexes and restaurants are constantly emerging with the need for all sorts of workers from waiters and bartenders to supporting personnel and office staff. See www.bulgariaski.com and www.beachbulgaria.com for more information.
There are some opportunities in Bulgaria to work in telesales. A company called Taxback supply accommodation, with offices ideally located in the centre of Varna and only a five minute walk to the beautiful Black Sea beaches. They arrange your visa and your return flight is paid for after 6 months of working with them. Full training is provided plus one year of work with a possible extension.
Further Information
Bulgaria Hostels and Budget Accommodation
For those of you watching your budget, youth hostels can be found in over 30 main towns. We have had good experiences finding hostels on HostelWorld. They have the largest inventory of hostels worldwide, and with over 10 million reviews and ratings from other travellers you know exactly what to expect.
Another good way to find accommodation in Bulgaria is by checking booking.com. On their site, you'll find hotels, homestays, hostels, and other unique accommodation. They have the most reviews and advanced filtering of any accommodation-booking site, so you'll be sure to find a great place in your budget. We have discovered some great finds and have appreciated the ability to book ahead. Many of the places on booking.com also offer free cancellation, which takes the pressure off the planning phase of your trip to Bulgaria.
If you are backpacking with another travel companion, we highly recommend booking a rental via VRBO. With a vacation rental, you'll have more space, your own kitchen, and you'll get a better feel for how the locals live. Plus, the cost of a vacation rental can be split among your group, oftentimes making it cheaper than doing individual hotel rooms. 
And lastly, CouchSurfing is a great community that connects travellers with local hosts. You can stay for free with verified hosts, who will usually show you around the locals spots.
Campsites in Bulgaria are characterised from I to III, with the top two categories having hot and cold water, showers, restaurants, shops, sports facilities and telephones. The camping areas are located in the main tourist areas.
Hotels in Bulgaria are classified according to the European star-grading system, but some standards are comparatively low. However, some hotels have taken special measures to ensure they meet international standards with luxury hotels available in the larger cities.
Useful Links for travel in Bulgaria
---
There you have it, the ultimate Bulgaria backpacking guide. We hope you have found all the information you need for backpacking around Bulgaria.
Next up:
Liked this article? Share it with others who might be after the same information!