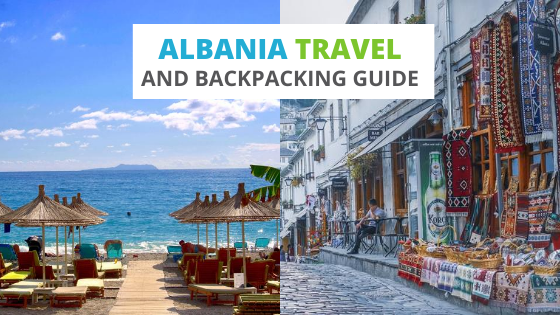 Backpacking Albania
Looking for important travel information while backpacking in Albania? Here you will find information on working in Albania, entry visas, Albania hostels, and much more.
Table of Contents
Facts About Albania
Albania is a Balkan country in south-eastern Europe. It borders Kosovo to the north-east, Montenegro to the north, Macedonia to the east and Greece to the south. To the west and south-west are the Adriatic and Ionian seas respectively. It has been inhabited since prehistoric times.
The country currently has a population of around 3.5 million. After decades of turbulent government, Albania rebelled against almost 50 years of communist rule in the early 1990s and is now an emerging democracy.
Due to its chequered history, Albania is still relatively undiscovered as a tourist destination. There is a fascinating mixture of influences and cultures as well as stunning scenery and a range of outdoor activities.
Currency Lek (around 181 lek per UK pound)
Time GMT +1
Language Albanian
Telephone Services Country Code +355
Emergency numbers Police 19, Ambulance 17 and Fire 18.
Climate in Albania
When deciding the best time to visit Albania, weather certainly plays a role. Despite being a relatively small area of land, Albania has a number of different climatic regions. It has coastlines along the Adriatic and Ionian seas and to the northeast lies the vast mountainous landmass of the Balkans. Weather and climate are variable depending on region (particularly between north and south) and time of year.
Around the coast, the climate is Mediterranean. Winters are mild in the lowlands, with temperatures of around 7oC. In the summer, temperatures average 24oC (lower in the south) and humidity can be uncomfortably high. The average rainfall is heavy and higher in the north.
Things to do in Albania
Albania's long history and varied relationships with other countries have left some fascinating material behind  Greek, Roman, Byzantine, Venetian, Ottoman and more. In the south of the country near the Greek border, Butrint is the largest archaeological site in Albania. It is a UNESCO World Heritage site and has remains stretching from the Bronze Age through to the Ottoman period.
There are a number of opportunities for hiking in Albania. The Tomorri Mountain Ridge in the south offers wild scenery and the Bektash (an order of Islamic mysticism) monastery at the top.
Dhermi, on the south-western coast between Vlore and Saranda, has one of the best beaches in the country and is great for camping.
Unique Activities in Albania
Another good way to get an idea of things to do in Albania is to scan the activities offered by Get Your Guide or Viator. They work directly with local tour operators, so you won't have to scour the internet or roam around town trying to find the best deal.
How to Travel Around Albania
Direct flights to Albania can be expensive, so it may be better value to fly to Italy and take a ferry across. If you're flying to Albania or plan to take short flights within the country, we recommend using a few different flight comparison search engines. Kiwi is a new favourite among travellers. On average, we have found the cheapest flights to Albania with them compared to the other websites out there.
Of course, it is always worth checking Skyscanner to guarantee you're getting the best deal. Both websites offer great flexible search options, allowing you to search the whole country of Albania to find the cheapest airport to fly into, and also see prices for a full month if you're flexible on travel dates. 
Mother Teresa International Airport (Albania's only international airport) is located 16 miles north-west of the capital city of Tirana. Taxis are available throughout the day and night to shuttle you into the city centre for around 25 Euros. The airport is served by a number of airlines, including British Airways from London Gatwick.
It is not possible to enter the country by train, as there are no connections. Coaches travel to Tirana from Istanbul (Turkey), Athens (Greece), Sofia (Bulgaria) and Tetovo (Macedonia). Ferries serve several ports, including Durres from the Italian ports of Ancona, Bari, Brindisi and Trieste.
If you are entering by car, you will be issued with a certificate which you will need again to leave, as well as paying a charge of two Euros per day. Drivers can be aggressive and unpredictable (and possibly armed). Roads can be very poor, particularly in rural areas. Look out for potholes and don't expect streets to be lit. Take all spares and repair equipment with you as there is no national recovery service.
Bus travel in Albania
Within the country, most people travel by furgons, private minibuses which go to destinations around the country. There is no set timetable and the drivers simply leave when they have enough passengers. Train services are limited and the trains themselves can be very basic.
Renting a Car in Albania
If you want the flexibility to stop in smaller towns between the major cities, you can use AutoEurope to compare offers from the major car rental agencies in the region. Before deciding, read more about what to expect of driving in Europe.
Backpacking Tours in Albania
Though part of the fun of backpacking Albania is exploring on your own, there are situations, especially when venturing off the tourist trail, when it does make sense to go with a guide or a small group. For these times, a popular option among backpackers is G Adventures. They hand-select local guides to ensure authenticity and quality. This is especially a good option for those travelling Albania alone who would like to meet up with like-minded travellers. Their most popular trips which include Albania are their 9-day or 15-day Adriatic tours spanning Croatia, Albania, and Greece.
Health and Safety in Albania
Make sure you have valid medical insurance and a dated letter from your GP detailing any relevant conditions. Any medication you take should be clearly labelled. Doctors and hospitals will expect payment in cash. Medical care is rudimentary and many essential supplies may not be available.
You will need a number of vaccinations before leaving for Albania. Everyone should be inoculated against Hepatitis A as well as having a current Tetanus-diptheria vaccination and Measles, Mumps and Rubella for those born after 1956. If you are planning to travel widely and eat anywhere other than major hotels and restaurants, Typhoid and Hepatitis B inoculation are recommended.
Water is not safe to drink in Albania unless it has been boiled or otherwise purified. Fruit and vegetables should be peeled and cooked before eating and it is probably best to avoid food sold by street vendors.
The northeast of the country can be dangerous, with land mines and armed gangs around the Kosovan border. Travellers are advised to avoid this region altogether.
Entry visa requirements for Albania
Most European nationals, UK citizens included, will not need a visa to enter Albania (for a list of requirements for other countries see the embassy website). You will need a valid passport. There is a 10 Euro entry and exit fee. This is enforced rigidly if you are travelling by air, though other borders are less strict. Guards may allow you to pay in US dollars or will waive it altogether. Officials at Mother Teresa airport won't give you change.
Foreigner work permits and backpacker jobs in Albania
Albania is one of the poorest countries in Europe. Many Albanians are unable to find work and are leaving to look for it elsewhere. Prospects for visitors are extremely limited. On the other hand, there are a large number of charities active in the country and many opportunities for volunteer work in Albania. There are projects involved with peace work and UN volunteer projects.
Albania Hostels and Budget Accommodation
Within Albania's cities, hotels are easy to find and prices are generally low, starting at around 15 Euros for the most simple. They are usually clean and staff should speak English or Italian. Elsewhere, hotels are less common.
We have had good experiences finding hostels in Albania on HostelWorld. They have the largest inventory of hostels worldwide, and with over 10 million reviews and ratings from other travellers, you know exactly what to expect.
Another good way to find accommodation in Albania is by checking hotels.com and  booking.com. With both sites, you'll not only find hotels, but also homestays, hostels, and other unique accommodation. We have discovered some great finds and have appreciated the ability to book ahead. You can use their advanced filtering to narrow your results by budget, location score, overall review score, and amenities. Many of the places on booking.com also offer free cancellation, which takes the pressure off the planning phase of your trip.
Useful Links for Backpacking in Albania
---
There you have it, the ultimate Albania backpacking guide. We hope you have found all the information you need for backpacking around Albania.
Next up:
Liked this article? Share it with others who might be after the same information!