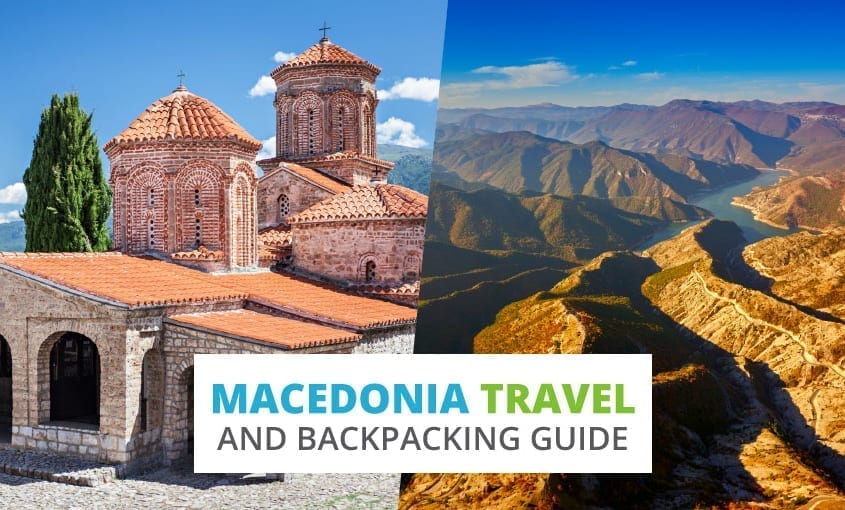 Backpacking Macedonia
Looking for important travel information while backpacking around Macedonia ? Here you will find information on working in Macedonia , entry visas, Macedonia hostels, and much more.
Table of Contents

Facts About Macedonia
Landlocked in the Balkan peninsula of southeastern Europe, Macedonia (officially the former Yugoslavian Republic of Macedonia) offers a mix of great scenery, culture and nightlife. Around eighty percent of the landscape in this small country is mountainous, as well as there being many spectacular lakes, including Europe's deepest, Lake Ohrid. In these beautiful surroundings visitors can enjoy all kinds of exciting activities, including paragliding, hiking, and skiing.
Macedonia's cities have other delights. In particular, Skopje, Bitola, and Ohrid are all replete with history, each abundant with surviving vestiges of the Roman, Byzantine, Ottoman and Yugoslav periods. There is a healthy nightlife to discover as well. A good diversity of street-side cafés, clubs, bars, music events, and restaurants means that it is possible for anyone to have a great evening – and at a good price.
Of course, it's difficult to think about any of the Balkan states without remembering the ugly violence visited upon the region throughout the 1990s. However, Macedonia avoided the bloody civil wars endured by Bosnia and Croatia, and the violence witnessed in Serbia. Despite some underlying ethnic tensions causing some security concerns, it has begun to shake off the grim legacy of the last decade and is now a welcoming tourist destination.
Currency Macedonian denar (MKD) Time GMT +1 Language(s) Macedonian, Albanian Telephone Services Country Code +389 Emergency numbers Police 192 (or 112), Ambulance 194 (or 112) and Fire 193 (or 112).
Climate
The climate in Macedonia reflects its geographical diversity. Generally, during the summer months, hot and dry weather is to be expected, although the nights tend to be cooler. In summer temperatures often average in the high twenties (Celsius). Throughout the winter temperatures often remain mild, but be prepared for a fair amount of rain. As you might expect, however, the higher mountain regions usually experience cold, snowy winters and shorter summers.
Things to do and see
Skopje, the capital city, sits on the Vardar River in the North near the Serbian border. One particularly agreeable pastime here is to stroll along the quayside on a warm evening down to the famous Stone Bridge, perhaps after a day's shopping at the nearby Trgovski Centar. Other attractions include the City Museum of Skopje, which was once a beautiful railway station before the catastrophic earthquake of 1963. It's now a great place to learn the history of the city since prehistoric times.
Skopje is also full of good hotels, cinemas and restaurants, but if you fancy a quick break from bright lights it is certainly worth venturing out to Mount Vodno, which lies just outside the southwestern boundary of the city. A trip in the summer is especially rewarding – for the May Opera, the various jazz festivals, and youth theatre events.
Like Skopje, Macedonia's second largest city, Bitoli, is characterised by centuries-old architecture. Down in the warm South, the café lifestyle is a firm favourite among citizens, a tradition that reflects the Ottoman period. Bitoli also has all the hallmarks of a modern city, with quality restaurants, hotels, and bars. For film lovers and general culture vultures, there is a renowned cinematography festival held each September.
Ohrid, situated in the Southwest, is a popular and beautiful tourist destination. Once again, relics from the past mark the city – this time ruins from the ancient world. Combined with the scenic (and remarkably deep) lake, Ohrid is a great place to have a relaxing holiday. In fact, these two attractions were enough to gain the city UNESCO World Heritage Site status. The summer festival in late August is a must. First organised in the early 1960s, it now draws a crowd of around twenty thousand each year, who are treated to a colourful mix of music, drama, and art from all over the world.
Away from the cities, Macedonia boasts spectacular natural beauty, nowhere more so than in the mountains. The Pelister National Park is home to some of the highest peaks in the entire Balkan region, great for serious hikers and climbers. However, it is worth a trip just to see the gorgeous forests. In the west, the Mavrovo National Park offers more of the same. Skiing in these areas is possible in the winter months, but not on a large scale.
Travel
The two international airports in Macedonia are in Skopje and Ohrid. Alexander the Great Airport sits about 30 km outside the capital, near the village of Petrovec. In Ohrid, the St. Paul the Apostle airport is only 9km from the city. There are car hire companies and taxi firms aplenty in both airports, though it is advisable to always look for official taxi signs to avoid paying over the odds.
By train, a service runs between Belgrade in Serbia and Skopje five times a day. There is also a rail link between Thessaloniki in Greece and Skopje.
Within Macedonia, there are good intercity rail and bus systems, which can get you all over the country. Trains are slow, but this is a perfect way to absorb some of the fascinating scenery. One tip for those using the buses is to plan where you are going and book tickets in advance, as seats fill up very quickly during the holiday periods.
Accommodation
Many of Macedonia's hotels charge a lot for rooms, so it is worth doing some homework to root out good deals. In Skopje, for example, it is quite possible to find a more than agreeable room for as little as £25 per night. For backpackers, who may have a tighter budget, there are youth hostels charging even less. Being more of a tourist centre, Ohrid has plenty of accommodation to choose from, as well as holiday apartments for families, some with great views of the lake.
Safety and Health
With the Balkan conflict of the 1990s resolved, and the region's increasingly close EU ties, Macedonia is generally regarded as a safe destination. However, it pays to keep abreast of the security situation when planning your trip – watch the news or check out the Foreign Office website.
Food and drink are usually safe here, although for those with a weak constitution, it is advised to drink bottled water for the first week or so.
It is worth visiting your GP before departure. Hepatitis B and tetanus jabs (or boosters) are the likely recommendations for travel to Macedonia. Vaccination against Hepatitis B, diphtheria, tuberculosis, and tick borne encephalitis may also be advisable – be sure to ask you doctor.
Prescriptions must be paid for, so travel health insurance is a must.
Useful Links
Macedonian Youth Hostel Association Prolet 25 Skopje Macedonia Tel: +389 91 114 849
Tourist Association of Macedonia Str. Makedonija 39 Skopje Macedonia Tel: + 389 2 3161 348
Entry Visas for Macedonia
There are no visa requirements for visitors from the United States of America or the European Union. This also extends to Yugoslav passport holders. For those who must obtain a visa, they are available at the Alexander the Great Airport near Skopje. Do bear in mind that you need to get a visa in advance, so phone ahead.
Foreigner Work Permits in Macedonia
Being a tourist centre, Ohrid is a natural place to seek employment, especially during high season. As the capital, and the largest city, Skopje is also a great place to find work. Employees from abroad must have a valid work permit. Companies have no limit on how many foreign workers they are allowed to employ and there is no time limit on contracts.
How to Say Common Macedonian Phrases
Macedonian is a South Slavic language, which uses the Cyrillic alphabet. Here are a few useful words and phrases, written in Latin script as phonetically as possible:
Greetings and Basics
English

Macedonian (Phonetic Translation)

yes

da

no

ne

hello

zdravo

goodbye

priatno

please

veh molahm

thank you

blagodaram

you're welcome

molahm

excuse me

prohstehteh

i'm sorry

eezveenehteh

it is nice to meet you

meelo mee eh

how are you?

kahkoh steh?

very well, thank you

mnohgoo dohbroh, blagodaram

what is your name?

kahkoh she veekahteh?

my name is…

yahs seh veekahm…

pleased to meet you

drahgoh mee eh shtoh veh zahpohnahv

I speak a little…

yahs zbohrooyahm mahlkoo…

do you speak English?

zbohroovahteh lee ahngleeskee?

does anyone speak English?

zbohrooyah lee nehkohyuh ahngleeskee?

good morning

dohbroh ootroh

good evening

dohbrahyehchehr

good night

dohbrah nohkee

I don't understand

yahs neh rahzbeerahm

where are the toilets?

kahdeh seh toh aleteeteh

take me to my hotel

odnaysaytay may do moyot hotel, ve molam

where is the bathroom?

kaday eh vaytzeto?

how much does this cost?

kolkoo cheeneeh ova?
Emergencies
English

Macedonian Phonetic Translation

help!

pohmohsh!

it's an emergency

eetnoh eh

doctor

doktor

police

politzia

pharmacy

apteka
Travel
English

Macedonian Phonetic Translation

taxi

taksi?

train

voz

subway

podzemnah zhelezneetsa

bus

aftoboos

motorcycle

motor

bicycle

velosiped

tram

tramvayot

airline

avion

boat

brod
Directions
English

Macedonian Phonetic Translation

left

levo

right

desno

middle

sraydeeanh

under

pod
Food and Drink
English

Macedonian Phonetic Translation

beef

gohvedskoh maysoh

chicken

kokoshka

lamb

yagne

fish

riba

pork

svinya

veal

teleshko

ham

shoonkah

broil

paychay

bake

pechee

boil

varee

fry

przhee

vegetable

zaylehnchoock

salad

salata

bread

leb

cheese

seeraynje

rice

oriz

potato

kompeer

soup

soopa

chocolate

chokolado

dessert

slatko

coffee

kafe

tea

tchay

milk

mleko

beer

peevo
Macedonia Hostels
Hostels are a cheap form of accommodation, and so they are essential to backpackers and other budget travelers.
Sorry, no hostels have been registered for this country yet.
There you have it, the ultimate Macedonia backpacking guide. We hope you have found all the information you need for backpacking around Macedonia .