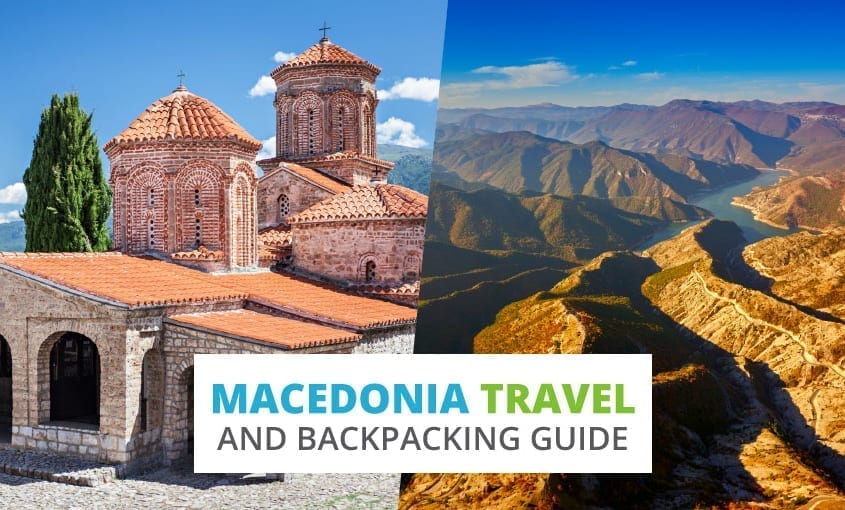 Backpacking Macedonia
Looking for important travel information while backpacking in Macedonia? Here you will find information on working in Macedonia, entry visas, Macedonia hostels, and much more.
Table of Contents
Facts About Macedonia
Landlocked in the Balkan peninsula of southeastern Europe, Macedonia (officially the former Yugoslavian Republic of Macedonia) offers a mix of great scenery, culture, and nightlife. Around eighty percent of the landscape in this small country is mountainous, as well as there being many spectacular lakes, including Europe's deepest, Lake Ohrid. In these beautiful surroundings, visitors can enjoy all kinds of exciting activities, including paragliding, hiking, and skiing.
Macedonia's cities have other delights. In particular, Skopje, Bitola, and Ohrid are all replete with history, each abundant with surviving vestiges of the Roman, Byzantine, Ottoman and Yugoslav periods. There is a healthy nightlife to discover as well. A good diversity of street-side cafés, clubs, bars, music events, and restaurants means that it is possible for anyone to have a great evening – and at a good price.
Of course, it's difficult to think about any of the Balkan states without remembering the ugly violence visited upon the region throughout the 1990s. However, Macedonia avoided the bloody civil wars endured by Bosnia and Croatia, and the violence witnessed in Serbia. Despite some underlying ethnic tensions causing some security concerns, it has begun to shake off the grim legacy of the last decade and is now a welcoming tourist destination.
Currency Macedonian denar (MKD) Time GMT +1 Language(s) Macedonian, Albanian Telephone Services Country Code +389 Emergency numbers Police 192 (or 112), Ambulance 194 (or 112) and Fire 193 (or 112).
Climate in Macedonia
The climate in Macedonia reflects its geographical diversity. Generally, during the summer months, hot and dry weather is to be expected, although the nights tend to be cooler. In summer temperatures often average in the high twenties (Celsius). Throughout the winter temperatures often remain mild, but be prepared for a fair amount of rain. As you might expect, however, the higher mountain regions usually experience cold, snowy winters and shorter summers.
Things to do in Macedonia
When deciding the best things to do in Macedonia, there is an abundance of options. Here are the top bucket-list items when backpacking Macedonia.
Skopje
Skopje, the capital city, sits on the Vardar River in the North near the Serbian border. One particularly agreeable pastime here is to stroll along the quayside on a warm evening down to the famous Stone Bridge, perhaps after a day's shopping at the nearby Trgovski Centar. Other attractions include the City Museum of Skopje, which was once a beautiful railway station before the catastrophic earthquake of 1963. It's now a great place to learn the history of the city since prehistoric times.
Skopje is also full of good hotels, cinemas, and restaurants, but if you fancy a quick break from bright lights it is certainly worth venturing out to Mount Vodno, which lies just outside the southwestern boundary of the city. A trip in the summer is especially rewarding – for the May Opera, the various jazz festivals, and youth theatre events.
Bitoli
Like Skopje, Macedonia's second largest city, Bitoli, is characterised by centuries-old architecture. Down in the warm South, the café lifestyle is a firm favourite among citizens, a tradition that reflects the Ottoman period. Bitoli also has all the hallmarks of a modern city, with quality restaurants, hotels, and bars. For film lovers and general culture vultures, there is a renowned cinematography festival held each September.
Ohrid
Ohrid, situated in the Southwest, is a popular and beautiful tourist destination. Once again, relics from the past mark the city – this time ruins from the ancient world. Combined with the scenic (and remarkably deep) lake, Ohrid is a great place to have a relaxing holiday. In fact, these two attractions were enough to gain the city UNESCO World Heritage Site status. The summer festival in late August is a must. First organised in the early 1960s, it now draws a crowd of around twenty thousand each year, who are treated to a colourful mix of music, drama, and art from all over the world.
National Parks in Macedonia
Away from the cities, Macedonia boasts spectacular natural beauty, nowhere more so than in the mountains. The Pelister National Park is home to some of the highest peaks in the entire Balkan region, great for serious hikers and climbers. However, it is worth a trip just to see the gorgeous forests. In the west, the Mavrovo National Park offers more of the same. Skiing in these areas is possible in the winter months, but not on a large scale.
Tours and activities in Macedonia
Since popular places in Macedonia can get crowded during tourist season, it is wise to reserve tickets and activities ahead of time. GetYourGuide sells entrance tickets to museums and landmarks at face value so you can avoid the lines and save that precious time for more exploring.
Viator is another popular travel website that helps you book things to do in Macedonia. They work directly with local tour operators in Macedonia, so you won't have to scour the internet or roam around town trying to find the best deal.
How to Find Cheap Flights to Macedonia
In order to find the best flights to Macedonia we recommend using a few well-known flight comparison search engines. These websites offer powerful search options, like entering flexible dates and airports in order to find the cheapest flight to Macedonia.
Our go-to flight search engine is Skyscanner, which we love for its extremely flexible search options. Our favourite way to get travel inspiration is their "Everywhere" feature. Simply enter "Everywhere" as a destination, and it will then list all available flights from your departure city in order of price. This also works when entering the entire country of Macedonia as your destination. Skyscanner will search all possible airports in the country in order to find the cheapest option.
Kiwi is another new favourite flight search engine among savvy travelers. Kiwi works by combining flights from different carriers in order to get the best deal. Also, if there is a better ground or ferry option for the route you're searching, Kiwi will include that in the search results. On average, we have found the cheapest flights to Macedonia with them compared to the other websites out there.
The two international airports in Macedonia are in Skopje and Ohrid. Alexander the Great Airport sits about 30 km outside the capital, near the village of Petrovec. In Ohrid, the St. Paul the Apostle airport is only 9km from the city. There are car hire companies and taxi firms aplenty in both airports, though it is advisable to always look for official taxi signs to avoid paying over the odds.
How to Travel Around Macedonia on a Budget
Train and long-distance bus are the standard modes of transport for how to travel in Macedonia on a budget. Buses are the more economical option, nevertheless, they are well-equipped with the usual modern conveniences that expect when travelling in Europe. Train travel, on the other hand, is the fastest way between cities in Macedonia, and the train stations are conveniently located right in the center of town.
Train travel in Macedonia
By train, a service runs between Belgrade in Serbia and Skopje five times a day. There is also a rail link between Thessaloniki in Greece and Skopje.
Within Macedonia, there are good intercity rail and bus systems, which can get you all over the country. Trains are slow, but this is a perfect way to absorb some of the fascinating scenery. One tip for those using the buses is to plan where you are going and book tickets in advance, as seats fill up very quickly during the holiday periods.
Driving in Macedonia
You may also want the flexibility to stop in smaller towns between the major cities. If you decide you want to rent a car in Macedonia, you can use DiscoverCars to compare offers from the major car rental agencies in the region.
Health and Safety in Macedonia
With the Balkan conflict of the 1990s resolved, and the region's increasingly close EU ties, Macedonia is generally regarded as a safe destination. However, it pays to keep abreast of the security situation when planning your trip – watch the news or check out the Foreign Office website.
Food and drink are usually safe here, although, for those with a weak constitution, it is advised to drink bottled water for the first week or so.
It is worth visiting your GP before departure. Hepatitis B and tetanus jabs (or boosters) are the likely recommendations for travel to Macedonia. Vaccination against Hepatitis B, diphtheria, tuberculosis, and tick-borne encephalitis may also be advisable – be sure to ask your doctor.
Prescriptions must be paid for out of pocket.
As with travel to all other countries abroad, it is vital that you get travel insurance before you leave for Macedonia. Even for short trips, our go-to travel insurance provider is World Nomads, which is also recommended by Lonely Planet, HostelWorld, and other major travel companies.
Entry visa requirements for Macedonia
There are no visa requirements for visitors from the United States of America or the European Union. This also extends to Yugoslav passport holders. For those who must obtain a visa, they are available at the Alexander the Great Airport near Skopje. Do bear in mind that you need to get a visa in advance, so phone ahead.
Visa requirements for Macedonia can vary widely depending on your country of origin and can change over time. To avoid any unpleasant surprises, be sure to check the latest visa requirements while you're still planning your trip.
Foreigner work permits and backpacker jobs in Macedonia
Being a tourist centre, Ohrid is a natural place to seek employment, especially during high season. As the capital and the largest city, Skopje is also a great place to find work. Employees from abroad must have a valid work permit. Companies have no limit on how many foreign workers they are allowed to employ and there is no time limit on contracts.
Volunteering in Macedonia
Volunteer travel is a great way to explore Macedonia on a budget while also giving back. Typically, you'll work on the project a set number of hours per week in exchange for free accommodation, and sometimes other perks such as free food, free bike rentals, and more. 
If volunteer work in Macedonia sounds like something you want to do, it's best to do it via a reputable agency. An agency will help screen volunteer programs and hosts in Macedonia to make sure you have support every step of the way.
Volunteer work in Macedonia can be organized through the WorldPackers agency, and you can use promo code BACKPACKING10 to save $10 on your membership. WorldPackers can connect you with volunteering opportunities in Macedonia with NGOs, hostels and homestays, agricultural or wildlife experiences, and more.
Macedonia Hostels and Budget Accommodation
Many of Macedonia's hotels charge a lot for rooms, so it is worth doing some homework to root out good deals. In Skopje, for example, it is quite possible to find a more than agreeable room for as little as £25 per night. For backpackers, who may have a tighter budget, there are youth hostels charging even less. Being more of a tourist centre, Ohrid has plenty of accommodation to choose from, as well as holiday apartments for families, some with great views of the lake.
We have had good experiences finding hostels in Macedonia on HostelWorld. They have the largest inventory of hostels worldwide, and with over 10 million reviews and ratings from other travellers, you know exactly what to expect.
Another good way to find accommodation in Macedonia is by checking booking.com. You'll find hotels, homestays, hostels, and other unique accommodations. They have the most reviews and advanced filtering of any accommodation-booking site, so you'll be sure to find a great place in your budget. Many of the places on booking.com also offer free cancellation, which takes the pressure off the planning phase of your trip to Macedonia.
If you are backpacking with another travel companion, we highly recommend booking a rental via VRBO. With a vacation rental in Macedonia, you'll have more space, your own kitchen, and you'll get a better feel for how the locals live. Plus, the cost of a vacation rental can be split among your group, oftentimes making it cheaper than doing individual hotel rooms. 
If you're looking to save even more money while backpacking in Macedonia, there are plenty of creative ways to get free accommodation in exchange for work. For example, one of our favorite ways to stay in amazing locations for free is by signing up as a petsitter with Trusted Housesitters. The site connects responsible animal lovers with petsitting opportunities in Macedonia and all over the world. It's a win-win for both sides – travellers can stay in amazing locations for free, and homeowners can rest easy knowing that someone is watching over their place.
And lastly, CouchSurfing is a great community that connects travellers with local hosts in Macedonia. You can stay for free with verified hosts, who will usually take some time to show you around the local spots.
Useful links for backpacking in Macedonia
---
There you have it, the ultimate Macedonia backpacking guide. We hope you have found all the information you need for backpacking around Macedonia.
Next up:
Liked this article? Share it for others who might be after the same information!