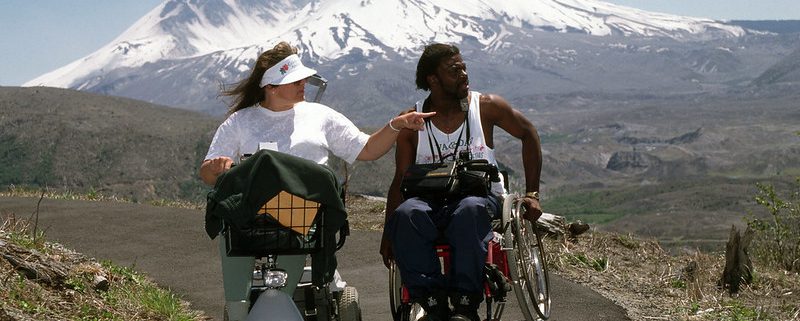 Going abroad requires some amount of prep, even beyond deciding where you're going or what you intend to do. There are world events and politics to consider, cultural norms, and crime rates to all think about before you board a plane. And that's all before you consider your disability. 
We're not about to tell you to not go it alone. We're all striving for as independent a life as possible, so if you feel like you need someone nearby or not is up to you. Instead, we're looking at practical things you can do to make backpacking with a disability easier, and less likely to end badly. 
Understand your limitations
Your limitations aren't something to be ignored or tiptoed around, but something you simply have to adapt to. 
If you are newly disabled, rather than having grown up with a disability, this might be harder to address. You will have to look at your situation and think of ways you can get around the sometimes physical obstacles you are facing. Maybe backpacking in the traditional sense isn't for you. Can you take a train tour instead? Travel by cycling with handbike, or drive? Try the van-lifestyle for a trip? The literal walking for miles with your thumb out is a small piece of a bigger picture of backpacking. Maybe the limitations of that situation can be worked around by other common means of traveling. 
Learn adaptive hiking
If you are determined you are walking, understand that the idea might not be as easy as it seems. This article outlines a paralympic swimmer having to face the fact that hiking with a lower-knee amputation was harder than he realized, and in fact, he had to adapt to hiking. You will need to adapt literally how you hike, how long you hike for, and where you hike. This might take some experimentation and will vary depending on the disability you are dealing with, but some basics include building up your stamina and energy and stick to paved trails.
Make sure you're insured
The exciting but also risky factor of all this is that you're likely to be abroad, with different sets of rules on who can be treated and what the literal cost of that is. 
And unfortunately, the fact is there is more of a risk for you abroad. Make sure you have travel insurance in place to avoid any nasty bills when you head back home. Staysure is a travel insurance company that not only covers the hospital bills and lost baggage and cash, but also cancellation of your flights, even due to Covid. 
It's a good safety net to hand, should the unthinkable happen, and while we're on the subject…
Be prepared for the worst
The advice here will depend on your disability, but just make sure you're ready for any eventuality. 
There are, of course, invisible disabilities and so it won't be so obvious to a passing fellow backpacker that you're in need of help – or how to help you. 
If you need a shot, keep it in a pocket. Somewhere you would usually keep a wallet, for the same reason: to keep it close and easy to access. Perhaps consider taking a bracelet a step further and leave some instructions on a business card in your pocket with your shot, so that anyone trying to help you can quickly figure out what's happening and what they can do about it. 
Look into the local hospitals of your destinations and see if they are able and equipped to deal with your particular disability while backpacking and consider staying at an Airbnb for a more personable experience where you can explain your situation. 
https://www.the-backpacking-site.com/wp-content/uploads/2022/03/36201918331_f76a8aa5d6_c.jpg
534
800
Monica W.
https://www.the-backpacking-site.com/wp-content/uploads/2018/08/the-backpacking-site-1.png
Monica W.
2022-03-10 07:13:54
2022-03-10 17:09:09
Backpacking with Disabilities: How to Go About It the Right Way