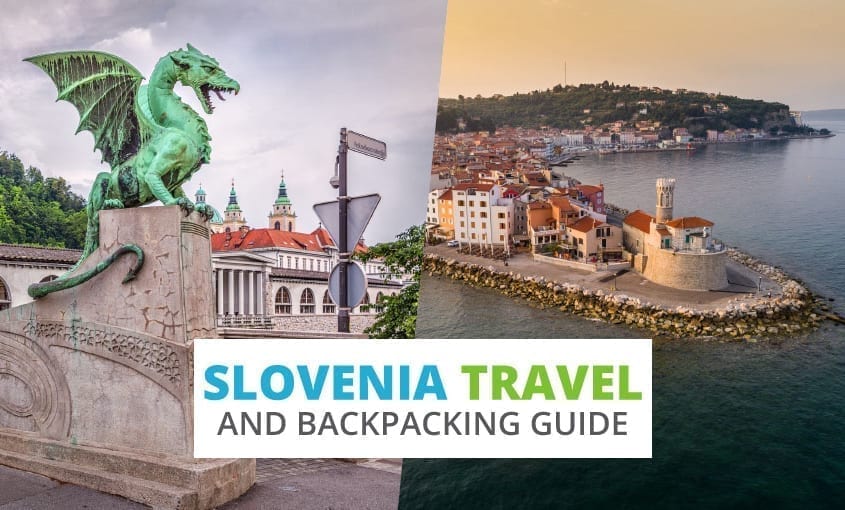 Backpacking Slovenia
Looking for important travel information while backpacking in Slovenia? Here you will find information on working in Slovenia, entry visas, Slovenia hostels, and much more.
Table of Contents
Facts About Slovenia
Perhaps un-chartered territory for many Western travellers, Slovenia is a remarkably scenic country in south-central Europe. It is not only home to a dramatic Alpine region, but also boasts a spectacular coastline running along the Adriatic Sea.
You can visit this small country to ski, to explore the lakes and the caves, or to roast yourself on the beach. Then, of course, you have Slovenia's cities, beautiful and historical, with a thriving nightlife, top shopping, and great cafes and restaurants. Slovenia is truly a mix of breathtaking natural splendour and modern lifestyle.
Slovenia is all the more impressive for having so quickly turned its back on those grisly Communist years. The Slovenes have embraced their own cultural and ethnic heritage and transformed their home into an affluent country. One mark of this progress came in 2004 when Slovenia was accepted into the EU.
Currency – Euro (€)
Time – GMT + 1
Languages – Slovenian, Hungarian, Italian
Telephone services – Country code +386 Emergency numbers – Police 113 Ambulance and Fire 112
Climate in Slovenia
Slovenia's coastal region sits on the Adriatic and enjoys the same wonderful Mediterranean climate as Italy and parts of Croatia. Hot and dry weather is the norm for the summer months and temperatures are often around 30°C (86°F). Winters also tend to be mild, though it is quite usual for them to be wet too.
Away from the coast, summers are a little cooler. The average highs are usually near the 20°C (68°F) mark. Unfortunately for sunbathers, heavy downpours are also frequent during the summer. As for the winter, there is a lot of sun, but be prepared for cold weather in the Alpine regions.
Things to do in Slovenia
Ljubljana
Slovenia's capital, Ljubljana, is an endlessly interesting place to visit. Italian Baroque and Austrian Art Nouveau architecture characterize the look of this seductive city. Among the old buildings, a modern, urban lifestyle flourishes, from which art galleries, music festivals and interesting museums have emerged.
There are trendy fashion houses as well as outlets selling more traditional Slovenian goodies. In particular, the flea market (near to Tromostoyje) has all kinds of cheap antiques to buy.
The metropolitan centre is also host to great nightlife. Bars, clubs, cafes, concerts, and theatre are all on offer. One not to miss is the Jazz Club Gajo. Over the years it has attracted some of the most famous figures from the world of jazz. A visit in July may be worthwhile as this is when Ljubljana is taken over by the International Summer Festival.
The natural beauty of Slovenia is a hugely important part of the country's appeal to visitors from abroad. Just outside Ljubljana are the Postojna Caves. So breathtaking are these caves that UNESCO made them a World Heritage Site. Guided tours will take you by train through the many miles of galleries and chambers.
Maribor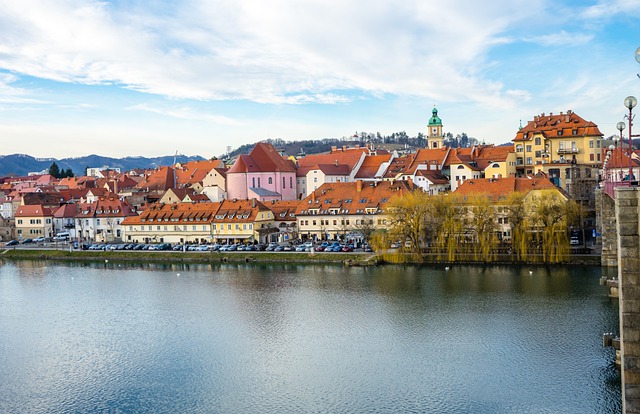 Maribor, acknowledged as Slovenia's second city, is in the northeast. Here you'll find a melange of old and new. Maribor has the hallmarks of a heavily industrialized city juxtaposed with mysterious old streets and highlighted by the Gothic cathedral. Glavni Trg, a charming Renaissance square, captures the essence of Maribor's past. While visiting, one might like to venture to nearby Ptuj. This is the oldest town in the country and is full of art galleries, museums, and a theatre.
Slovene Istria
For those perhaps seeking a lazy sun-drenched holiday, the Slovene Istria region is perfect. Bordering Italy and Croatia, this popular area of Slovenia basks in the Mediterranean sun and runs along the warm Adriatic Sea. Towns like Piran are picturesque seaside havens, embellished by cobbled piazzas and charming buildings. The port of Koper is equally attractive, full of nice hostels and restaurants.
Slovenian Alps and Lakes
In the northwest are the Julian Alps, made even more remarkable by the mountain lakes, Bled and Bohinj. Entirely untarnished by modernity, visitors can enjoy alpine views and sleepy mountain hamlets set in the wooded shores of the lakes. Once again it's the summer months that offer spectacular entertainment, with the Rikli's Days festival in July, when thousands of candles are floated on Lake Bled.
Finally, wherever you happen to be in Slovenia, part of the fun is to enjoy some of the homemade wines and honey.
Unique Activities in Slovenia
Since popular places in Slovenia can get crowded during tourist season, it is wise to reserve tickets and activities ahead of time. GetYourGuide sells entrance tickets to museums and landmarks at face value so you can avoid the lines and save that precious time for more exploring.
Viator is another popular travel website that helps you book things to do in Slovenia. They work directly with local tour operators in Slovenia, so you won't have to scour the internet or roam around town trying to find the best deal.
If you know your schedule ahead of time, a great insider tip is to buy tickets for major tourist attractions ahead of time. Tiqets has entrance tickets and skip-the-line passes for major attractions in Slovenia, which can be a worthwhile cost during peak tourist season.
How to Find Cheap Flights to Slovenia
The three major domestic and international airports in Slovenia are Ljubljana (or Brnik) Airport, Maribor Airport and Portoroz Airport near Piran. All have good bus and taxi services.
If you're flying to Slovenia or plan to take short flights within the country, we recommend using a few different flight comparison search engines. Kiwi is a new favourite among travellers. On average, we have found the cheapest flights to Slovenia with them compared to the other websites out there.
Of course, it is always worth checking Skyscanner to guarantee you're getting the best deal. Both websites offer great flexible search options, allowing you to search the whole country of Slovenia to find the cheapest airport to fly into, and also see prices for a full month if you're flexible on travel dates.
Ferries to Slovenia
Another way to get to Slovenia (and one that many Italians use every year) is the catamaran journey from Venice to Izola, which runs between April and October.
How to Travel Around Slovenia on a Budget
Train and long-distance bus are the standard modes of transport for how to get around Slovenia. Buses are the more economical option, nevertheless, they are well-equipped with the usual modern conveniences that expect when travelling in Europe. Train travel, on the other hand, is the fastest way between two cities in Slovenia, and the train stations are conveniently located right in the center of town.
Certain routes are better suited to one mode of transport than the other. To compare your options for journeys from A to B, you can try Omio. They compare trains, buses (and even flights) so you can decide for yourself the tradeoff between cost and travel time.
Slovenia is a part of the Eurail network, which is a good choice if you plan to take multiple train journeys in a short period of time. If you plan on doing lots of train travel in a short amount of time, a Rail Pass from Eurail might be the right choice for you.
Travelling around the diverse regions of Slovenia is straightforward, with good train and bus links. The more remote areas, such as the lakes, are often only accessible by bus, so it is wise to plan out your routes and connections if you are visiting places like lakes Bohinj or Bled. Another way to get absolutely anywhere is to go by car on the good and well-connected road networks.
Driving in Slovenia
You may also want the flexibility to stop in smaller towns between the major cities. If you decide you want to rent a car, you can use DiscoverCars to compare offers from the major car rental agencies in the region.
Backpacking Tours in Slovenia
Though part of the fun of backpacking Slovenia is exploring on your own, there are situations, especially when venturing off the tourist trail, when it does make sense to go with a guide or a small group. 
The most popular option for a social travel experience is Contiki tours. Contiki trips offer more than just transportation, they are organized social group travel for travelers aged 18-35. Whether you're traveling by yourself or going with a group of friends, Contiki tours are perfect for people looking to have a blast, meet new friends, and form lifelong memories. They offer tours that travel primarily in Slovenia or longer tours that cover other nearby places.
G Adventures is another great option for organized travel, but with a smaller group. It's a great choice for anyone backpacking Slovenia alone who would like to meet up with like-minded travellers. It's also a practical option for exploring places where you need an experienced guide, like a long hiking adventure or visiting a place well off the beaten path. You can choose from different styles of small group tours like active, wellness, hiking trips, 18-30somethings, and more. Their most popular tours which include time in Slovenia are their 10-day Venice to Budapest Explorer tour covering Hungary, Austria, Italy and Slovenia, or their 10-day Sailing Italy to Croatia tour covering Croatia, Italy, and Slovenia.
Health and Safety in Slovenia
Tick-borne Encephalitis can be caught from ticks in the forests, so vaccination is suggested. More generally, vaccinations for hepatitis B, tuberculosis and diphtheria are sometimes advised. The sensible thing is to consult your doctor before going.
Fortunately, drinking water from the taps is safe, though people with an unsteady constitution may experience some cramping to begin with. In addition, milk and other dairy products are usually safe to consume, as are meats.
As with travel to all other countries abroad, it is vital that you get travel insurance before you leave. Even for short trips, our go-to travel insurance provider is World Nomads, which is also recommended by Lonely Planet, HostelWorld, and other major travel companies.
The Official Language in Slovenia
Slovenian (or Slovene) is the official and predominant language of the country. Italian and Hungarian are also widely used and are recognized as official languages. English is also spoken throughout Slovenia.
Entry visa requirements for Slovenia
Visitors from European Union countries do not need a visa to enter Slovenia, nor do they need a residence permit for a stay of up to three months. After this point, a permit can be obtained from the nearest Administrative Unit.
Foreigner work permits and backpacker jobs in Slovenia
Compared to some of its eastern European neighbours, Slovenia is a good environment to work in, having signed all the major laws regarding equality.
Seasonal jobs may be found in the busier coastal towns, while Ljubljana offers more diversity for work seekers. Whatever you are looking to do, it is best to go through the extensive network of student employment agencies, as these are most likely to find casual and temporary work quickly.
If you are heading to Slovenia planning to find employment, it is important to run off a few copies of your up-to-date CV before leaving, as this, in particular, is the first essential step to being hired in Slovenia.
Slovenia Hostels and Budget Accommodation

For backpackers travelling on a limited budget, Slovenia is a good choice because of its many youth hostels. There is cheap accommodation on offer throughout the cities and mountainsides. As always, a bit of homework helps to root out the nicer digs.
We have had good experiences finding hostels on HostelWorld. They have the largest inventory of hostels worldwide, and with over 10 million reviews and ratings from other travellers you know exactly what to expect.
Another good way to find accommodation in Slovenia is by checking booking.com. On their site, you'll find hotels, homestays, hostels, and other unique accommodation. They have the most reviews and advanced filtering of any accommodation-booking site, so you'll be sure to find a great place in your budget. We have discovered some great finds and have appreciated the ability to book ahead. Many of the places on booking.com also offer free cancellation, which takes the pressure off the planning phase of your trip to Slovenia.
If you are backpacking with another travel companion, we highly recommend booking a rental via VRBO. With a vacation rental, you'll have more space, your own kitchen, and you'll get a better feel for how the locals live. Plus, the cost of a vacation rental can be split among your group, oftentimes making it cheaper than doing individual hotel rooms. 
And lastly, CouchSurfing is a great community that connects travellers with local hosts. You can stay for free with verified hosts, who will usually show you around the locals spots.
Ljubljana has a range of accommodation, from luxury hotels to more modest simple guestrooms. During the university vacation period, it is often possible to rent out student halls of residence for extremely competitive prices.
The coastal towns in Slovene Istria offer more resort-style hotels that inevitably cost a little more. This is owing to the popularity of the region. Of course, you are paying for all the trappings of nicer accommodation in a charming holiday destination.
Camping in Slovenia
For those adventurous people travelling around the mountains, there is a good scattering of campsites to be found. Campsites are generally very cheap, if a little cold in the winter. And, for those who are tackling some of the big peaks, like Mount Triglav, you may want to stay in a mountain hut on the way up.
Useful links for backpacking in Slovenia
---
There you have it, the ultimate Slovenia backpacking guide. We hope you have found all the information you need for backpacking around Slovenia.
Next up:
Liked this article? Share it with others who might be after the same information!