Bangkok is the capital and largest city of Thailand, and it is a city that is rich in history, culture, and diversity. There are many things that Bangkok is famous for, and in this blog post, we will be exploring 15 of the top reasons why Bangkok is such a popular and beloved destination.
From its delicious food and vibrant street markets to its stunning temples and bustling streets, there is something for everyone in Bangkok. Whether you are a foodie, a shopper, or a history buff, you will find plenty to love about this vibrant and exciting city. 
So without further ado, let's take a look at 15 things that Bangkok is famous for.
Delicious Thai Food
Firstly, Bangkok is famous for its delicious Thai food, which is known for its bold flavours and aromatic herbs. From street food stalls to high-end restaurants, you can find a wide variety of delicious dishes in Bangkok. Some popular Thai dishes to try in Bangkok include tom yum goong (spicy shrimp soup), pad thai (stir-fried noodles), and green curry.
In addition to traditional Thai dishes, you can also find a wide variety of international cuisines in Bangkok, including Chinese, Indian, Italian, and more. China Town in Bangkok is always a busy part of the capital! The city is a food lover's paradise, and it is a great destination for anyone looking to try new and delicious dishes.
Vibrant Street Markets
Another thing Bangkok is famous for is its vibrant street markets. These markets are a must-see attraction for any visitor to the city, and they offer a great way to experience the city's culture and find unique and affordable items.
You can find just about anything at these markets, including local handicrafts and souvenirs, clothes, electronics, and more. Whether you are looking for traditional Thai crafts or modern souvenirs, you are sure to find something that catches your eye at one of Bangkok's many markets.
Bustling Streets
Bangkok is known for its bustling streets, which are always full of life and energy. The city is known for its chaotic, but somehow organized, traffic, and there are always people on the go. It's similar to Vietnam and the scooters, but not quite as hectic. Nonetheless, the bustling streets of Bangkok are just one of the many things that make this city such a vibrant and exciting place to visit.
Stunning Temples such as Wat Arun and Wat Pho
Bangkok is famous for its beautiful temples, and two of the most iconic and stunning temples in the city are Wat Arun (Temple of Dawn) and Wat Pho (Temple of the Reclining Buddha). Wat Arun is known for its stunning architecture and intricate details.
The temple's central spire is adorned with ceramic tiles and seashells, and it stands over 80 metres (262 feet) tall. Wat Pho, on the other hand, is home to the largest reclining Buddha in Thailand, which is over 46 metres (151 feet) long and 15 metres (49 feet) high.
Of course, they are beautiful to look at, but these temples also have a rich cultural and spiritual significance in Bangkok and the rest of Thailand.
Shopping, including high-end malls and local markets
Bangkok is a paradise for shopping lovers. As already mentioned, there are plenty of excellent street markets. However, one of the most popular shopping destinations in Bangkok is the Chatuchak Weekend Market, which is astonishingly big and contains more than 15,000 stalls.
Other popular shopping areas in Bangkok include the Siam Square area, which is known for its high-end malls, and the Pratunam Market, which is a hub for wholesale fashion. There is without a doubt something for everyone in Bangkok's vibrant shopping scene.
Thai Massage
Thai massages are very popular in Bangkok and can be found at many spas and massage parlours throughout the city. Thai massage is a traditional therapeutic massage that has been practised in Thailand for centuries. They involve the use of hands, elbows, knees, and feet to apply pressure to the body and stretch the muscles. Many spas in Bangkok also offer traditional Thai treatments such as herbal steam baths and oil massages.
Nightlife
The seventh thing Bangkok is famous for is its nightlife. The city is known for its vibrant and diverse nightlife scene, which caters to all tastes and budgets. From high-end rooftop bars and clubs to casual street food stalls and live music venues, there is something for everyone in Bangkok after dark.
One popular area for nightlife in Bangkok is the Sukhumvit Road area, which is home to many clubs, bars, and restaurants. A popular destination amongst those backpacking Thailand is the Khao San Road area, which is known for its budget-friendly bars and clubs.
The Chao Phraya River and Boat Tours
The Chao Phraya River is a major river in Thailand that flows through the centre of Bangkok. The river is an important transportation hub and is home to a network of waterways that are commonly referred to as the "Venice of the East." Boat tours along the Chao Phraya River are a popular way to explore the city and experience its unique waterways. 
Museums, such as the Bangkok National Museum
Bangkok is home to a number of interesting and informative museums that offer visitors a chance to learn about the city's rich history and culture. Some popular museums in Bangkok are the National Museum, which houses a large collection of Thai art and artefacts, and the Bangkok National Gallery, which features a diverse range of contemporary and traditional Thai art. Bangkok's museums offer a fascinating insight into the city's past and present and this is why they are famous around the world.
Beautiful Parks
Bringing in the 10th reason that Bangkok is famous is its beautiful parks.
is the largest and most well-known park in the city, and it is a popular destination for locals and tourists alike. Located in the heart of Bangkok, the park features lush gardens, a lake, and numerous paths.
It is also home to a variety of wildlife, including turtles and monitor lizards. There are many other great parks in Bangkok too as they are an important part of the city's attractions and contribute to its reputation as a destination for nature lovers.
Backpacking Culture and Communities
Backpacking is a form of budget travel, where a traveller lives out of a backpack, stays in hostels and tries to travel as cheaply as possible. Backpacking South East Asia, known as the Banana Pancake Trail is an extremely popular route for backpackers.
Thailand is in the heart of the trail and is commonly where the backpacking journey for many begins. Throughout Thailand, there are likely thousands of backpackers at any given time. The country is filled with hostels, backpacking bars and other cheap ways of life.
It's clear to see why Thailand is so popular with backpackers, as it is a beautiful and affordable country. Backpackers would typically spend around a month in Thailand, if not more, and this allows for enough time to see most of the country. 
Cultural Attractions
At number 12 is Bangkok's cultural attractions. They provide visitors with a glimpse into the city's rich history and traditions. One of the most iconic cultural attractions in Bangkok is the Grand Palace, which is a complex of ornate buildings and temples that were once the residence of the Thai royal family. The palace is a popular tourist destination and is known for its intricate architecture and stunning decor. 
Floating Markets like Damnoen Saduak
Bangkok's floating markets are a popular tourist destination and offer a unique and authentic look at Thai culture. The markets are held on the waterways that crisscross the city and are known for their colourful boats filled with fresh produce, flowers, and other goods.
The most well-known floating market in Bangkok is the Damnoen Saduak Floating Market. Visiting a floating market is a great way to see a different side of Bangkok and to purchase unique and locally-made products.
Bicycle Tours and other Outdoor Activities
Bangkok is famous for its cycling tours, which offer visitors a unique and active way to explore the city. There are several different cycling tour companies in Bangkok that offer guided tours of the city, ranging from leisurely sightseeing tours to more strenuous rides through the city's streets and parks. Cycling is a popular mode of transportation in Bangkok and is a great way to get around and see the city from a different perspective. 
Cultural Festivals and Events
Lastly, Bangkok is known for its cultural festivals and events, which celebrate the city's rich history, traditions, and religion. One of the most popular festivals in Bangkok is Songkran, which is the Thai New Year celebration and is held in April.
Songkran is known for its water-throwing celebrations, which take place on the streets of the city. Another important festival in Bangkok is Loy Krathong, which is held in November and involves the release of floating lanterns into the waterways.
Of course, there are endless other festivals too, Bangkok's cultural festivals and events offer visitors a unique and authentic look at Thai culture and traditions.
What Is Bangkok Famous For: Conclusion
And there you have it, 15 reasons why Bangkok is famous around the world. Bangkok and the rest of Thailand are such a unique part of the world and are definitely worth visiting if you get the chance. As you can tell, there are plenty of reasons that Bangkok is famous and these reasons are appealing.
From the cultural landmarks and festivals to the street and floating markets, from the cuisine to the massages, Bangkok is one of the best cities in the world. And there are good reasons why it is famous.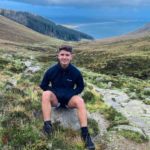 Josh Band is the adventurer behind A Backpacker's World. Josh loves to write about backpacking all around the world. From Southeast Asia to Europe, and everything in between, Josh loves to explore and spend as little as possible while doing so. Who doesn't love budget travelling, right?!
https://www.the-backpacking-site.com/wp-content/uploads/2023/01/visiter-bangkok-1.jpg
709
1200
Josh Band
https://www.the-backpacking-site.com/wp-content/uploads/2018/08/the-backpacking-site-1.png
Josh Band
2023-01-08 21:08:22
2023-01-08 21:10:57
What is Bangkok Famous For? 15 reasons to visit the remarkable city