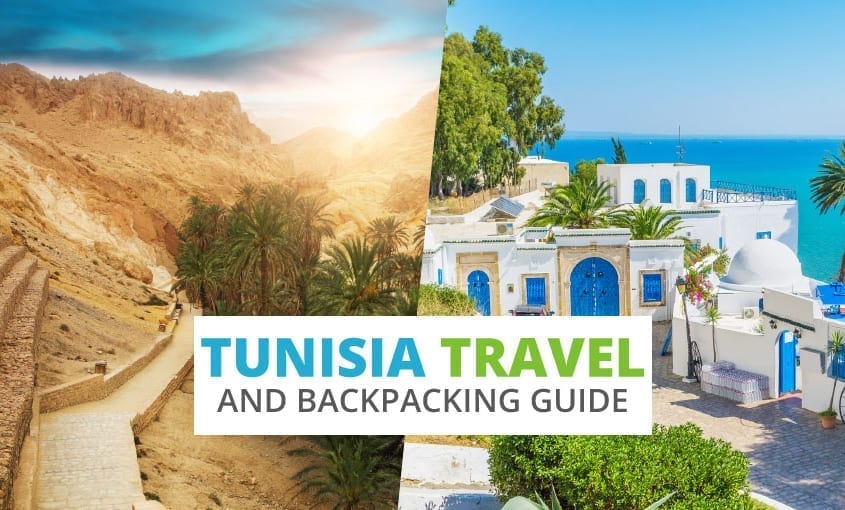 Backpacking Tunisia
Looking for important travel information while backpacking around Tunisia? Here you will find information on working in Tunisia, entry visas, Tunisia hostels, and much more.
Table of Contents
Facts About Tunisia
Tunisia is a very small country yet somehow it manages to boast a huge number of attractions. History and culture fans will love the ancient ruins of Carthage, outdoors types come to see the stunning oases, sun seekers come for the glorious beaches and geeks and film buffs alike will make eager pilgrimages to Star Wars sets of Matmata. Many travellers dismiss a country this small or include only a cursory few days of a longer tour but they are doing this country a grave injustice in not exploring all that this feature-packed destination has to offer.
Currency: Tunisian Dinar (TD) = 1000 millimes
Time Zone: GMT + 1
Language: Arabic
Telephone Services: Country code +216, International access code 00
Emergency Numbers: 197 police, 198 firefighters, 190 emergency
The best time to visit Tunisia
Tunisia is hot and dry all year round especially inland. The best time to visit is in the spring and autumn when temperatures drop slightly to a more comfortable level. Winter is very mild and experiences the most of what little rainfall Tunisia experiences.
Top Things to do in Tunisia
There are a number of must-see places while backpacking in Tunisia. The capital of Tunisia, Tunis, in many ways reflects its parent country. It is small by the standards of modern capitals yet still manages to pack literally scores of compelling sites within its boundaries. The medina is the oldest area of the city, constructed in 7AD it also houses the Zitouna Mosque which was built in part from the ruins of Roman Carthage, although non-Muslims are not allowed right into the mosque it is still a fascinating structure to see. Just a stone's throw away is the Tourbet el-Bey which is an enormous mausoleum that houses the remains of much of the Husseinite court. Also worth checking out is the Dar Ben Abdallah Museum which specialises in popular arts and the Cathedral of St Vincent de Paul.
One of the most interesting areas of the country is Carthage. This city was once an incredibly influential city under both Carthaginian and Roman rule. Most of the ruins which remain are from the Roman period but they are still quite spectacular. The key sight is the huge Roman amphitheatre which is rumoured to have once been one of the biggest in the world and despite much of the ruins being scavenged for other building projects, it is still worth taking a look at. The other main attraction is the Sanctuary of Tophet which was a Carthaginian sacrificial sight with an adjoining burial ground, the myths and folklore around this site is immense but it is rumoured that the Carthaginians killed and roasted children at this site to appease their gods.
Another good way to get an idea of what to do is to scan the activities offered by Get Your Guide or Viator. They work directly with local tour operators, so you won't have to scour the internet or roam around town trying to find the best deal. The most popular tour with Get Your Guide is their 3-day Sahara desert camel trek.
How to Travel Around Tunisia
If you're flying to Tunisia or plan to take short flights within the country, we recommend using a few different flight comparison search engines. Kiwi is a new favourite among travellers. On average, we have found the cheapest flights with them compared to the other websites out there. Of course, it is always worth checking Skyscanner to guarantee you're getting the best deal. Both websites offer great flexible search options, allowing you to search the whole country of Tunisia to find the cheapest airport to fly into, and also see prices for a full month if you're flexible on travel dates. Another flight search site that can be hit or miss but still worth checking out is Opodo. For our past few trips, it was on their site that we found the flight that we ended up booking.
Tunis air operates a small number of domestic flights although these are quite reasonably priced they are only really useful if you are in a hurry, especially since they are so busy that you will normally have to book in advance.
Train travel in Tunisia
The SNCFT operates the rail network which links Tunis, Gabes, Sousse, Sfax and Gafsa. It is worth noting that tickets bought on the train are usually over double the price of those bought at stations so it is well worth purchasing before you get on the train. The majority of services now have air conditioning and a buffet car although the air-conditioned facilities are very popular so when you can try to book them in advance. Trains passing through Tunis, Gabes, Sousse, Sfax and Gafsa are all air-conditioned, but for travelling from Tunis to Hammamet through Bir bouregba it's not advised to take a train as they are not comfortable.
Bus travel in Tunisia
There is a state-run bus service recognisable by its green and yellow buses, these are operated by SNTRI and are air-conditioned, comfortable and affordable. In addition, there are numerous small private companies offering a similar service. Between these and the SNTRI buses, you should have any problem reaching anywhere in Tunisia.
Health and Safety in Tunisia
Tunisia has a fairly well-developed health service but it is not available throughout the country. Health insurance is essential and it is advisable to purchase a policy which will cover the cost of repatriation if required.
There is a significant cholera risk in Tunisia and you should consult your GP for advice concerning the somewhat disputed cholera vaccination. Vaccination against typhoid is recommended; this can be supplied by your local GP and should cost around $40. Rabies is present in the country and those at risk (i.e./ working around animals) should consider vaccination before arrival. Anyone bitten by an animal is advised to seek immediate medical advice.
Water in the main urban areas is chlorinated and while safe to drink may cause mild stomach upset, it is advisable to use bottled water for the first week or so of stay. Drinking water from other sources should be treated as potentially contaminated and should be sterilised before use. Both pasteurised and unpasteurised milk is sold so always check the packaging and ensure you are buying pasteurised milk. If pasteurised milk is unavailable milk should be boiled before consumption. Dairy products should be avoided as they are not guaranteed to be made from properly sterilised milk. Meat should be well cooked and eaten hot, fruit and vegetables should be washed and cooked or peeled where appropriate. Caution should be observed when buying food from street vendors.
Entry visa requirements for Tunisia
All foreign visitors to Tunisia require a passport valid for at least 3 months after the period of intended stay as well as evidence of a return ticket. EU nationals do not require a visa for a tourist visit of up to 3 months and US nationals do not require a visa for tourist visits of up to 4 months. All visa application and enquiries should be directed towards the local Tunisian Embassy, Consulate or High Commission.
Tunisia Hostels
There are plenty of hotels in Tunisia, mainly centred around urban areas. Hotels are graded by a star sign ranging from luxury (close to international standard) 5-star hotels to cheap and basic 1-star hotels. During the peak tourist season, it is advisable to book in advance as hotels can fill up.
We have had good experiences finding hostels while backpacking in Tunisia on HostelWorld. They have the largest inventory of hostels worldwide, and with over 10 million reviews and ratings from other travellers, you know exactly what to expect.
Another good way to find accommodation in Tunisia is by checking hotels.com and booking.com. With both sites, you'll not only find hotels, but also homestays, hostels, and other unique accommodation. We have discovered some great finds and have appreciated the ability to book ahead. You can use their advanced filtering to narrow your results by budget, location score, overall review score, and amenities. Many of the places on booking.com also offer free cancellation, which takes the pressure off the planning phase of your trip.
Useful links for Backpacking in Tunisia
Kiwi & Skyscanner

 

– Flight comparison search engines to find the cheapest flights to Tunisia and within the country

GetYourGuide

and

Viator –

a collection of local tours and activities. Also offers Skip the Line tickets for crowded attractions

Tiqets

– Website selling entrance tickets and skip the line tickets for major attractions

G Adventures

– guided small group backpacking tours in Tunisia, great for solo travellers or for those interested in a more adventurous trip which would require a guide

HostelWorld

– #1 hostel search website to find budget accommodation while backpacking in Tunisia. Thousands of hostels and millions of reviews from fellow travellers

Booking.com

– commonly used booking site. Hostels, hotels, and other unique accommodation with advanced filtering and millions of reviews

Travel Insurance

– read our comprehensive overview of Travel Insurance and some recommended providers for your backpacking trip to Tunisia
There you have it, the ultimate Tunisia backpacking guide. We hope you have found all the information you need for backpacking around Tunisia.
Next up:
Liked this article? Share it with others who might be after the same information!