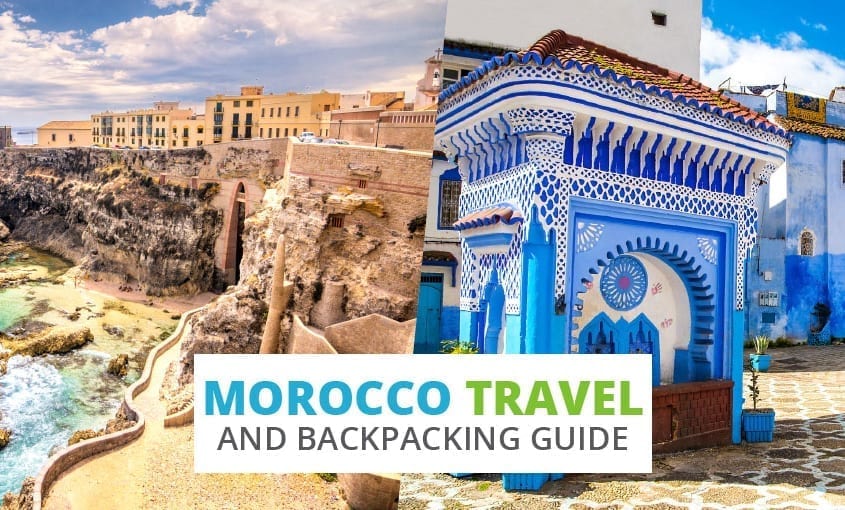 Backpacking Morocco
Looking for important travel information while backpacking around Morocco? Here you will find information on working in Morocco, entry visas, Morocco hostels, and much more.
Table of Contents

Facts About Morocco
Morocco is a good introduction to Africa for those just starting to explore the continents riches. Travellers will no doubt be familiar with the names of the countries exotic cities such as Marrakech, Tangier and Casablanca. The whole country is an intoxicating introduction to the Islamic world with abundant open markets selling everything from jewellery and woodwork to rugs and of course the country's world famous leather. There are also numerous sun kissed beaches, the ancient medieval building in Fes and even the snow-capped Atlas mountains to keep travellers busy.
Travel Warning
Due to a series of terrorist attacks targeting soft targets including hotels known to be frequented by foreigners, the FCO recommends that travellers in this region maintain a high level of vigilance in public places and avoid public gathering, particularly political gatherings. The disputed Western Sahara is still prone to armed clashes between Moroccan authorities and the Polisano Front; the roads in this region are also mined. For this reason it is recommended that travellers avoid the Western Sahara altogether.
Currency: Moroccan Dirham (DH) = 100 Centimes
Time Zone: GMT
Language: Arabic
Telephone Services: Country code +212, International Access Code 00
Emergency Numbers: 12 Police, 15 Fire and Ambulance
Climate
The climate throughout the country is hot and dry but does have some regional variations. The coastal area most closely resembles a Mediterranean climate with inland areas being hotter and drier. Rain falls almost exclusively in November to March and is most prevalent in the coastal areas. Throughout the country the winters are hot but with cool nights.
Things to see and do
Tangier is the nations capital and is a popular port of arrival for tourists taking a ferry crossing from Spain or perhaps Gibraltar. The city is the country's most cosmopolitan town and this shows in the tri-lingual street signs throughout the city. The most famous region is undoubtedly the Kasbah which contains the Dar el-Makhzen. This 17th century structure was once a palace but has now been converted into fascinating museum. The Grand Socco is an excellent market which is not to be missed by those seeking good souvenirs. Other sites of interest include the Mendoubia Gardens, the Moulay Isamil Mosque and the American Legation Museum.
Fes is the oldest of Morocco's four imperial cities and is easily reachable by train from Marrakech or Tangier. This historic city contains some of Morocco's oldest surviving buildings. The old city is centred around the Al-Qarawiyin and Al-Andulus mosques and is dominated by the towering theological college of Medersa Bou Inania. Fes has in the past been a centre of culture and learning, a fact which is demonstrated by its Karaouine University which was founded even before Oxford. Those who want possibly the finest haggling experience in the world should head to the UNESCO recognised market in Fes El Bali which is reputedly one of the largest markets in the world. Other sites of interest include the Dar Bath Museum, numerous mosques and the Royal Palace.
The Pink City of Marrakech was once the capital of an enormous African Empire. The city was founded in 1062 and gains its nickname from the colour of earth used in its construction. The epicentre of this lively and colourful city is the ironically named Djemaa el-Fna or Place of the Dead. The Djemaa is in fact a square which after dark hosts throngs of street entertainers including story tellers, acrobats, fortune-tellers and dancers. The most notable building is the enormous 12th century Koutoubia mosque which dwarfs the surrounding buildings. The Ben Youssef Medersa is a UNESCO heritage site partly for its unique theological significance but mostly for its spectacular mosaics and marble work. Other sites of interest include the Saadian tombs, the Dar Sisaid Museum and the Koubba Ba'adiyn mosque.
Travel
The Office National des Chemins de Fer operate the Moroccan rail network. The standard of service is quite reasonable and fares tend to be quite cheap. Major routes have the addition of a first class carriage and sleeping and restaurant cars are provided on most major services. A supplement is required for an air conditioned carriage but due to the low prices this isn't a problem at all. In addition Inter-Rail passes are valid on all services in Morocco. See our "Europe by train" section for more information on this rail pass. For booking and fare enquiries contact Rail Europe.
There is a wide range of inter city coach and bus services linking all of the main towns. These are run by a wide variety of private companies but one of the most reputable is CTM. Fares are normally ludicrously cheap although tipping the guard and the driver is somewhat expected.
Accommodation
Morocco has a very healthy tourist trade so there are plenty of hotels in and around all of the major cities and tourist hotspots. Hotels are regulated by the Federation Nationale de l'Industrie Hoteliere and standards range from basic budget accommodation to international class hotels in places like Tangier.
There are youth hostels in the major cities including Casablanca, Fes and Rabat but hostelling provision outside major populated areas is quite minimal. For more information contact the Federation Royale Marocaine des Auberges de Jeunes (see usefull addresses section).
Health
There are good well equipped hospitals in all of the main cities and the Government Hospitals will often provide free or cheap emergency care. Be aware however that you may be expected to pay for treatment and therefore you should have fully comprehensive medical insurance including cover for repatriation costs.
It is recommended to be vaccinated against polio and typhoid before travelling to Morocco. These vaccinations can be provided by your local GP and generally cost around DH40. There is a minimal risk of malaria during the spring and summer, mainly in rural areas, although only the benign vivax form has been reported it is recommended that you seek up to date medical advice from your GP on whether you need any malaria treatments.
The tap water in main cities is safe to drink but it is recommended that tourists stick to bottled water for the first week or so of their stay. Outside main settlements water should not be considered safe and should be sterilised before use. Milk is un-pasteurised and this should be avoided along with dairy products. Meat should be well cooked and served hot and fruit and vegetables should be peeled and cooked respectively.
Useful Links
The Federation Nationale de l'Industrie Hoteliere regulates hotels in Morocco
Office National des Chemins de Fer operate the Moroccan rail network
Rail Europe provides online booking for Inter-Rail passes
Entry Visas for Morocco
All visitors to Morocco must have a valid passport for the duration of their stay and also valid for at least 6 months from the date of entry in addition to proof of a return ticket. Visas are not required by US and EU nationals except nationals of Andorra, Hungary, Iceland, Malta and Switzerland who do require visas. Eligible US and EU nationals may stay without a visa for up to 3 months. Entry visas are valid for 3 months and if you who wish to stay longer then you should apply to the local police station within 15 days of arrival. For any other visa enquiries you should contact the Embassy.
Addresses
Any queries regarding visas or immigration should be addressed to the local British Embassy:
Embassy of the Kingdom of Morocco
49 Queens Gate Gardens
London
SW7 5NE
Tel: (020) 7 581 5001 or Visa Section- (020) 7 600 035

If you require UK representation while you are in Morocco you should contact the British Embassy:
British Embassy 
17 Boulevard de la Tour Hassan
BP 45
Rabat
Morocco
Tel: +(212) (7) 72 96 96 or +70 45 32
Fax: +(212) (7) 70 45 31

Alternatively there are also British Consulates located in Agadir, Casablanca, Marrakech and Tangier.
The youth hostel network is run by Federation Royale Marocaine des Auberges de Jeunes:
Federation Royale Marocaine des Auberges de Jeunes 
BP 15998 
Casa Principale 
Parc de la Ligue Arabe 
Casablanca 
21000 
tel: (22) 470 952 
fax: (22) 227 677
How to Say Common Arabic Phrases
Meeting People
English

French

yes

oui

no

non

thank you

merci

you are welcome

de rien

please

s'il vous plaît

excuse me

pardon

hello

bonjour

goodbye

au revoir

good morning

bonjour

good night

bonne nuit

I do not understand

Je ne comprends pas

Do you speak…?

Parlez-vous…?

English

anglais

French

français

What is you name

Comment vous appelez-vous?

Nice to meet you

Enchanté de faire votre connaissance

How are you

Comment allez-vous?

Good

bon

bad

mauvais
Directions
English

French

map

carte

left

à gauche

right

à droite

straight on

tout droit

far

loin

near

près
Methods of Transport
English

French

Where is…?

Où se trouve…?

How much is the fare?

Quel est le prix du billet?

Ticket

billet

A ticket to…, please

Un billet pour …, s'il vous plaît

Where are you going?

Où est-ce que vous allez?

Where do you live?

Où habitez-vous?

Train

le train

bus

un autobus

underground

le métro

airport

un aéroport

train station

la gare

bus station

la gare de bus

underground station

la station de métro

departure

le départ

arrival

une arrivée

parking

le parking
Time
English

French

What time is it?

Quelle heure est-il?

Today

aujourd'hui

yesterday

hier

tomorrow

demain
Accommodation
English

French

hotel

un hôtel

room

une chambre

reservation

la réservation

Are there any vacancies?

Avez-vous des chambres disponibles?

No vacancies

Complet

Passport

le passeport
Places
English

French

post office

la poste

bank

la banque

police station

le poste de police

hospital

hôpital

chemist

la pharmacie

shop

le magasin

restaurant

le restaurant

museum

le musée

church

une église

square

la place

street

la rue
Shopping
English

French

How much does this cost?

Combien cela coûte?

I will buy it

Je le prends

I would like to buy…

Je voudrais acheter…

Do you have…?

Avez-vous…?

open

ouvert

closed

fermé

postcard

la carte postale

stamps

des timbres

little

un peu

lot

beaucoup

all

tout
Meals
English

French

breakfast

petit déjeuner

lunch

le déjeuner

dinner

le dîner

vegetarian

végétarien

cheers!

à votre santé!

the bill please

l'addition s'il vous plait
Drinks
English

French

drink

la boisson

coffee

le café

tea

le thé

juice

le jus

water

l'eau

beer

la bière

wine

le vin
Food
English

French

meat

la viande

fish

le poisson

vegetable

le légume

fruit

le fruit

potato

la pomme de terre

salad

la salade

dessert

la dessert
Morocco Hostels
Hostels are a cheap form of accomodation, and so they are essential to backpackers and other budget travellers. We have compiled a list of hostels in Morocco to help you plan your journey. If you are looking for a hostel in Morocco, you've come to the right place.
There you have it, the ultimate Morocco backpacking guide. We hope you have found all the information you need for backpacking around Morocco.