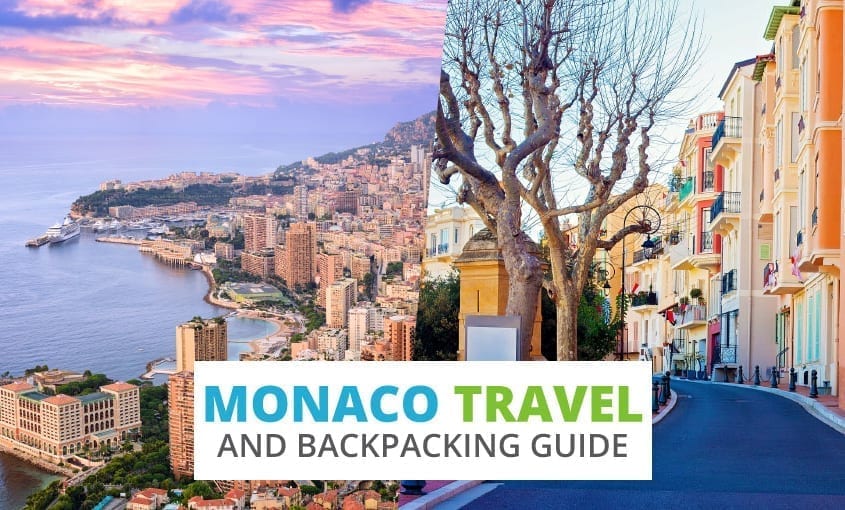 Backpacking Monaco
Looking for important travel information while backpacking in Monaco? Here you will find information on working in Monaco, entry visas, Monaco hostels, and much more.
Table of Contents
Facts About Monaco
After Vatican City, Monaco is the smallest country in the world. The tiny principality set into the French coast has been ruled over by the Grimaldi family since the 13th Century. Today, Monaco is famous as the location of the Grand Prix and playground for its rich and famous residents and their rich and famous guests.
Foreigners make up over 80% of the principality's 'permanent' population due to laws which exempt citizens from taxes. As a result, international, super-rich individuals set up their primary 'residence' – and their primary bank account – in Monaco. The country's nightclubs, casinos and its royal family, into which Grace Kelly married in 1956, are the greatest draws for travellers seeking a bit of sparkle.
Monaco's official language is French but Italian is mixed in and English is widely spoken as the most international language. The local language, Monegasque, and southern French dialect Occitan are also traditionally spoken within the principality, though they are becoming rarer as Monaco's local population sinks lower. If you don't speak French, communication shouldn't be too great a problem, but it's definitely worth reminding yourself of a few basic phrases.
Climate in Monaco
Monaco enjoys a typically Mediterranean climate, with long hot summers and mild winters, though a coastal breeze keeps the heat temperate during the hottest months.
Perhaps the best time to visit is during the spring, when the weather will be warm but before the heat of the summer, and before the hordes of tourists arrive. Winter can bring heavy downpours and electric storms occur at any time of the year.
Things to do in Monaco
Perhaps Monaco's most famous destination is the Monte Carlo Casino. Frequented by film stars and politicians, royalty and spies, the glamorous gambling den is definitely worth a peek, even if you've only a few dollars, and especially if you've got money to burn. Pay $10USD for entry into one of the 'exclusive' rooms, where stakes will be higher and punters better-dressed. Make sure you bring age ID and are well-presented, as doormen can be ruthless.
Near the casino is the Palais Princier, the official residence of Monaco's glitzy royal family, parts of which are open to the public. The official website can be found here.
Monte Carlo's Cathedral draws almost as many Kelly fans as genuine pilgrims. Princess Grace's lavish wedding to Prince Rainier took place here, and the couple is buried behind the altar.
Monte Carlo also hosts the Formula 1 Grand Prix every year during May. Even if you're not a racing enthusiast, it's a good time to see the town with every bar buzzing, although the crowds will be bad and prices will be high. Saying that, if you don't like crowds and you don't have expensive tastes, Monaco's probably not for you at any time of year!
As you might expect, Monaco's classier attractions are of a very high standard. The national opera, national ballet and the philharmonic orchestra are very good, and during the summer months, international companies often perform at the theatre and other destinations within the principality.
Sports are also well catered for, with yachting and golf naturally popular at the Monte Carlo Country Club. However, it is also possible to arrange diving and fishing trips, or book squash and tennis courts on the Visit Monaco website. And if all that is a bit pedestrian, you can always contact Heli Air Monaco, who will arrange a helicopter to pick you up and whisk you away to the Alps for a day's skiing during the season.
If your budget can't stretch to that lifestyle, you can get a taste of five-star luxury by booking a treatment at one of the health spas in town. Spas such as the Monte-Carlo Spa offer treatments and day passes that won't break the bank.
There are a few other sights in Monte Carlo: a museum of maritime history, Prince Rainier's collection of antique cars, and a pleasant Jardin des Plantes, but most visitors do not really want to be distracted from the principality's most serious industry: pleasure. People come to Monaco on yachts and in helicopters to hit the shops, night-clubs and casinos.
For those without a spare helicopter at their disposal, it is possible to pass a pleasant time in Monaco enjoying the beautiful, well-manicured city and watching its beautiful, well-manicured residents and visitors. Walk along the palm-lined Avenue Princesse Grace on the sea-front at sunset and look at the fabulous yachts, and try to match them to the celebrities and super-rich visitors you can see being escorted to five-star restaurants.
Luckily for the budget traveller, Monaco also has a typically Mediterranean cafe culture and a number of beautiful parks, so you can afford to eat, drink and watch people go by without retreating to France.
And the free beach is the other blessing for the traveller on a budget. Don't laugh at the term 'free beach': in Monaco, beaches aren't necessarily free, with visitors paying hundreds of dollars for being seen in the right bikini with the right cocktail on the right beach. The free beach is at the end of av. Princesse Grace.
Tours and Activities in Monaco
Another good way to get an idea of what to do is to scan the activities offered by Get Your Guide or Viator. They work directly with local tour operators, so you won't have to scour the internet or roam around town trying to find the best deal.

If you know your schedule ahead of time, a great insider tip is to buy tickets for major tourist attractions ahead of time. Tiqets has entrance tickets and skip the line passes for major attractions in Monaco so that you can avoid the lines and save that precious time for more exploring.
How to Travel Around Monaco
Monaco has no airport of its own. Buses run to France from around the country. You can find timetabling and price details on either side of the border. In Monaco, information on trains can be found at the tourist information centre.
There is also a train station in Monte Carlo, from which trains travel up the beautiful coastal line towards Nice.
The other option, other than the aforementioned helicopter, is to arrive in Monaco by boat. During the summer season, it should be possible to find day-trip pleasure boats departing from Nice and other towns along the coast. Ask around locally for details of times and prices.
As Monaco is less than 2 kilometres across, it is not really necessary to take transport within the principality. Taxis zip along the well-maintained modern roads but are not really worth the high prices.
A particularly pleasant fruit of Monaco's wealth is the public lift system, which enables tourists to travel up and down the picturesque hillside, whether to get to the top of the steep incline or just to admire the view.
Hiring a car is another travel possibility for Monaco. Although you won't really need it once you're in the principality, it might be a convenient way to travel down the coast, with stop-offs in Monaco. If you decide you want to rent a car, you can use AutoEurope or Europcar to compare offers from the major car rental agencies in the region.
Health and Safety in Monaco
Healthcare in Monaco is private and of an internationally high standard, though you may have to pay a bit more than usual, especially if you are from a country with a national healthcare system.
Because of this, despite the fact that Monaco is a relatively safe destination for travellers, it is important that you take out comprehensive medical insurance before you travel.
Monaco has two main health-centres. The general hospital is the Princess Grace Hospital:
Av Pasteur BP 49
MC 98012 Monaco
Tel: +377 93 25 99 00
Entry visa requirements for Monaco
EU citizens do not need a visa to enter Monaco. For citizens of other countries, it is best to contact the embassy before travel – find details online at the Monaco consulate's website.
Although the fight for independence from France has been going on for centuries, the Monegasques don't seem to be too bothered about their national difference now they have it. As a perfect example of the principality's priorities, there is no border control between Monaco and France so you do not need your passport to enter the country but you'll have to take it anyway if you want to get past the fearsome doormen who guard entry to the casinos.
Foreigner work permits and backpacker jobs in Monaco
As Monaco is so small, it is very rare for travellers to find short-term work in the country. It is worth asking around, looking on hostel notice-boards, or asking taxi drivers- for any leads. There is always a little casual work for international applicants, working in travel agencies or at the marina, and bars and restaurants may take English speakers if you look the part. Multi-lingual applicants are at an advantage.
Somewhat ironically, the shortage of casual labour at the lower end of the market is partly compensated for by a few opportunities for more glamorous casual work. International recruitment agencies such as Mandy sometimes advertise employment as runners or even actors and actresses in film studios and other locations around the principality.
Teaching English as a foreign language is an option for English-speaking travellers: official TEFL websites such as the ESL Base have information on training courses, schools and positions available. However, even this reliable source of employment is not in great demand in Monaco, as a considerable percentage of the population speak English anyway, and the population is pretty small in the first place.
EU citizens do not need a visa to work in Monaco. Citizens of other countries should check with the consulate before beginning a job search.
Monaco Hostels and Budget Accommodation
If it's a five-star luxury you want, you can take your pick from a number of exclusive and attractive options. Book ahead for the most famous central hotels, especially during the Grand Prix.
For the budget traveller, finding accommodation will be a little trickier. It's not that the cheaper accommodation is of a very poor standard, it's simply that there isn't much of it. We have had good experiences finding hostels on HostelWorld. They have the largest inventory of hostels worldwide, and with over 10 million reviews and ratings from other travellers you know exactly what to expect.
Another good way to find accommodation in Monaco is by checking hotels.com and  booking.com. With both sites, you'll not only find hotels, but also homestays, hostels, and other unique accommodation. We have discovered some great finds and have appreciated the ability to book ahead. You can use their advanced filtering to narrow your results by budget, location score, overall review score, and amenities. Many of the places on booking.com also offer free cancellation, which takes the pressure off the planning phase of your trip.
One option might be to stay over the border in the nearby French town of Beausoleil, 10 minutes' travel from the Monte Carlo Casino. To all intents and purposes, you remain in Monaco, but you'll be paying a bit less for the privilege.
If these are still too expensive, it's worth considering making your visit to Monaco a day-trip.
---
There you have it, the ultimate Monaco backpacking guide. We hope you have found all the information you need for backpacking around Monaco.
Next up:
Liked this article? Share it with others who might be after the same information!