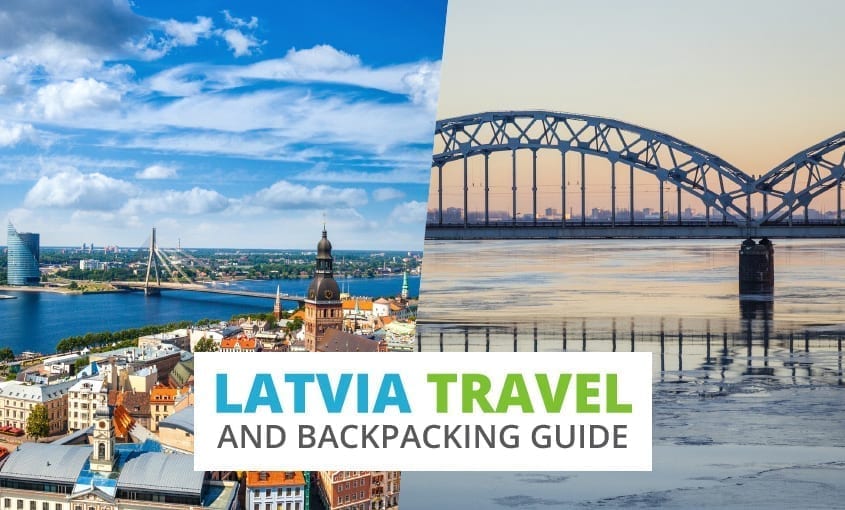 Backpacking Latvia
Looking for important travel information while backpacking in Latvia? Here you will find information on working in Latvia, entry visas, Latvia hostels, and much more.
Table of Contents
Facts About Latvia
Latvia is a small country situated on the Baltic Coast, between Estonia and Lithuania. For over half a century Latvia was occupied by the Soviet Union. With entry into the EU in 2004 and a booming economy, Latvia is slowly becoming a popular tourist destination. The divisions between occupying nations throughout history have meant the country has social and cultural differences between regions, which make Latvia an interesting place to explore.
Despite Latvia's small size, there is an incredible amount to see and do, Riga, the Latvian capital has so much to offer, not only a rich history with architectural sights but many bars and clubs to entertain you. Most other sights can be seen as day trips from the capital. With such a diverse range of attractions on offer, Latvia is one of Europe's hidden treasures just waiting to be explored.
Currency: Euro (EUR)
Time Zone: GMT + 2. (GMT + 3 from last Sunday in March to Saturday before last Sunday in October.)
Language: Latvian
Telephone services: Country Code +371, International Access Code 00
Emergency numbers: Police 02, Ambulance 03 and Fire 01; or 112.
Climate in Latvia and the best time to go
From early November until April, temperatures struggle to rise above 0°C. The sun makes an appearance briefly during the day, but it drops to well below zero at night. Between the months of June and August highs can reach around 20 to 22°C. July and August are the warmest months, although persistent showers can occur. Snowfall is common in winter months.
Top Things to do in Latvia
Riga
Riga, the beautiful capital, is Latvia's major tourist attraction. Rich in history and culture, Riga has some remarkable buildings and architecture. The centre of Riga is considered to have some of the finest Art Nouveau buildings in Europe and has been declared a UNESCO World Heritage Site.
History lovers should visit the Dome Cathedral; dating back to 1211, this spectacular building has a blend of Gothic, Baroque and Renaissance styles. The Cathedral's organ holds nearly 7000 pipes and is considered to be one of the world's greatest musical instruments. Frequent musical concerts are held here.
Riga also offers a great number of museums and art galleries. Climb the spire of St Peter's Church for a panoramic view of the city or maybe sip some champagne in the Skyline Bar on top of the Reval hotel for a perfect view, but be warned if you are on a budget, drinks are expensive.
The Baltic Sea
Apart from ancient cities and picturesque towns, this small Baltic country also offers 310 miles of beautiful beaches and lovely unspoilt landscape. So, why not take a break from the city and visit the Baltic Sea. With endless sandy beaches, sun and freshly scented air from the forests, the coastline has something for everyone.
Jurmala is the largest resort in the Baltic States and extends over 19 miles along the Gulf of Riga, making it an increasingly popular tourist destination. With great pubs and inns, and only 15 minutes on the train from the capital, Jurmala is ideally situated to be easily included on your itinerary, even if your stay is a short one. Why not recover, strengthen or boost your health by enjoying the healing effects of the mineral waters and mud bathing?
Valmiera
For history lovers, the ancient city Valmiera in the Northern region of Latvia has much to offer. The beautiful Gauja River running near makes the city picturesque and attractive. St Simon's Church and The Livonian castle ruins are very popular among both the locals and visitors of Valmiera. Other cities of historical interest are Cesis, Limbazi and Jelgava.
Gauja National Park
Nature enthusiasts will enjoy the natural surroundings. Gauja National Park is situated around the River Gauja and features woods, rocks and caves. Wildlife includes brown bears, deer and wolves. Why not try one of the special nature trails where you can see the wildlife for yourself. The largely unspoilt landscape also offers great opportunities for hiking and in the summer months, hikers can take to the many trails of protected areas and national parks. A great favourite includes the Amber Trail.
Tours and activities in Latvia
Since popular places in Latvia can get crowded during tourist season, it is wise to reserve tickets and activities ahead of time. GetYourGuide sells entrance tickets to museums and landmarks at face value so you can avoid the lines and save that precious time for more exploring.
Viator is another popular travel website that helps you book things to do in Latvia. They work directly with local tour operators in Latvia, so you won't have to scour the internet or roam around town trying to find the best deal.
If you know your schedule ahead of time, a great insider tip is to buy tickets for major tourist attractions ahead of time. Tiqets has entrance tickets and skip the line passes for major attractions in Latvia which can be a worthwhile cost for mega attractions during peak tourist season.
How to Get Cheap Flights to Latvia
If you're flying to Latvia or plan to take short flights within the country, we recommend using a few different flight comparison search engines. Kiwi is a new favourite among travellers. On average, we have found the cheapest flights to Latvia with them compared to the other websites out there.
Of course, it is always worth checking Skyscanner to guarantee you're getting the best deal. Both websites offer great flexible search options, allowing you to search the whole country of Latvia to find the cheapest airport to fly into, and also see prices for a full month if you're flexible on travel dates.
How to Travel Around Latvia on a Budget
Train and long-distance bus are the standard modes of transport for how to get around Latvia. Buses and trains seem to go everywhere in Latvia although services to more remote locations are less frequent. Travel is inexpensive but can be very slow. There are express connections to major towns which will save you time. If you have luggage you may need to pay extra depending on the bus company. For bus timetables visit www.autoosta.lv.
Buses are the more economical option, nevertheless, they are well-equipped with the usual modern conveniences that expect when travelling in Europe. Train travel, on the other hand, is the fastest way between two cities in Latvia, and the train stations are conveniently located right in the center of town.
Certain routes are better suited to one mode of transport than the other. To compare your options for journeys from A to B, you can try Omio. They compare trains, buses (and even flights) so you can decide for yourself the tradeoff between cost and travel time.
Train travel in Latvia
For more information about trains, check out the following website. Riga also has a network of trams, buses and trolleys which can reach all parts of the city. Usually, these run from 6 am till about midnight and you buy your ticket onboard.
Driving in Latvia
You may also want the flexibility to stop in smaller towns between the major cities. If you decide you want to rent a car, you can use DiscoverCars to compare offers from the major car rental agencies in the region.
Ferries in Latvia
Ferries are commonly used to travel around Latvia since it's made up of 500km of shoreline along the Baltic Sea. Some visitors prefer to reach Latvia by boat, and Ferry Scanner provides further information and the schedules for the local ferries.
Backpacking Tours in Latvia
Though part of the fun of backpacking Latvia is exploring on your own, there are situations, especially when venturing off the tourist trail, when it does make sense to go with a guide or a small group. 
G Adventures is another great option for organized travel, but with a smaller group. It's a great choice for anyone backpacking Latvia alone who would like to meet up with like-minded travellers. It's also a practical option for exploring places where you need an experienced guide, like a long hiking adventure or visiting a place well off the beaten path. You can choose from different styles of small group tours like active, wellness, hiking trips, 18-30somethings, and more. Their most popular trip in Latvia is their 13-day Baltic Adventure tour, where you will visit Finland, Latvia, Lithuania, and Estonia.
Health and Safety in Latvia
No vaccinations or health certificates are required to enter Latvia, although visitors are advised to have an inoculation against tick-borne encephalitis if you are planning to hike in the country and forests or stay in rural areas.
As with travel to all other countries abroad, it is vital that you get travel insurance before you leave. Even for short trips, our go-to travel insurance provider is World Nomads, which is also recommended by Lonely Planet, HostelWorld, and other major travel companies.
Entry visa requirements for Latvia
UK/EEA nationals have the right to live and work in Latvia without a permit. However, a full ten-year UK/EU passport is essential. EU/EEA citizens will require a residence permit for stays of over three months. Residence permits are usually issued for a fixed period of time, depending on the purpose of the applicant's stay. If you are planning to stay in Latvia for a long period of time or intend to work or study there, you should check with the Embassy regarding visa requirements.
Work permits and backpacker jobs in Latvia
There are opportunities for English Teachers, Latvia has language schools and summer language centres. Some won't hire teachers without a TEFL certificate unless they have a lot of teaching experience. Visit the TEFL website for information about enrolling on a course.
There are specially trained EURES advisers in all EU/EEA countries. Their job is to support those seeking employment in another EU/EEA country. For more information on working in Latvia, visit their website.
Other opportunities to volunteer in Latvia can be found through the British Organisation, The International Voluntary Service.
Latvia Hostels

For accommodation in Latvia, it is advisable to make reservations well in advance of your trip. Several of the main hotels in Riga have recently been renovated and a number of newer hotels including some major international chain hotels have recently opened. A star grading system has also been introduced. There are various different types of hotels ranging from luxurious to modest. For more information and accommodation listings, check out the following website.
Renting a room in a guesthouse is an option to consider if you are staying in the countryside. Most of Latvia's campsites are located along the main highways and the Gulf of Riga.
We have had good experiences finding hostels on HostelWorld. They have the largest inventory of hostels worldwide, and with over 10 million reviews and ratings from other travellers you know exactly what to expect.
Another good way to find accommodation in Latvia is by checking booking.com. On their site, you'll find hotels, homestays, hostels, and other unique accommodation. They have the most reviews and advanced filtering of any accommodation-booking site, so you'll be sure to find a great place in your budget. We have discovered some great finds and have appreciated the ability to book ahead. Many of the places on booking.com also offer free cancellation, which takes the pressure off the planning phase of your trip to Latvia.
If you are backpacking with another travel companion, we highly recommend booking a rental via VRBO. With a vacation rental, you'll have more space, your own kitchen, and you'll get a better feel for how the locals live. Plus, the cost of a vacation rental can be split among your group, oftentimes making it cheaper than doing individual hotel rooms. 
And lastly, CouchSurfing is a great community that connects travellers with local hosts. You can stay for free with verified hosts, who will usually show you around the locals spots.
Useful Links for Backpacking in Latvia
—
There you have it, the ultimate Latvia backpacking guide. We hope you have found all the information you need for backpacking around Latvia.
Next up:
Liked this article? Share it for others who might be after the same information!