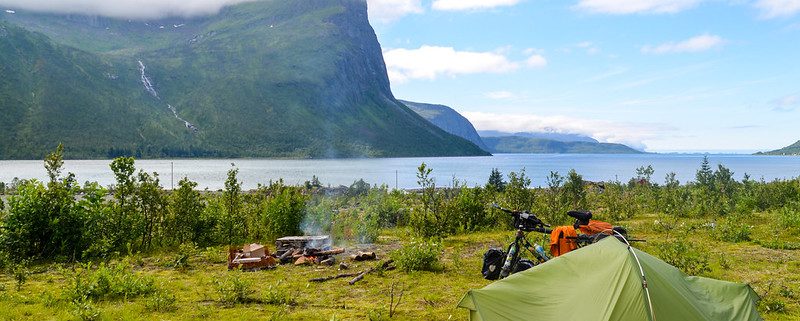 Europe's best camping spots that are off the beaten path
If you're looking for a truly unique camping experience, you'll want to check out some of these hidden gems in Europe. From secluded mountain retreats to idyllic coastal spots, these locations offer everything you need for a relaxing and memorable trip. So, if you're ready to explore some of Europe's best kept camping secrets, read on!
Norway's Lofoten Islands
If you're looking for breathtaking scenery and incredible hiking opportunities, the Lofoten Islands in Norway are the perfect place for you. This archipelago is known for its dramatic landscapes, with towering mountains, pristine lakes, and picturesque coastline. There are also plenty of opportunities to spot wildlife, including seals, eagles, and even whales.
Italy's Cinque Terre
The Cinque Terre is a stunning stretch of coastline in Italy that is made up of five picturesque villages. This is the perfect spot for a relaxing camping trip, as you can spend your days swimming in the crystal-clear waters, exploring the charming villages, and indulging in delicious Italian cuisine.
The Isle of Skye in Scotland
The Isle of Skye is one of Scotland's most scenic and popular tourist destinations. With its rugged coastline, towering mountains, and lush green landscapes, it's easy to see why. There are also plenty of opportunities for outdoor activities such as hiking, biking, and kayaking. And if you're lucky, you might even spot some dolphins or whales offshore.
Lake Bled is a beautiful glacial lake in Slovenia that is surrounded by forests and mountains. It's the perfect place to escape the hustle and bustle of everyday life and enjoy some peace and quiet. There are also plenty of activities to keep you busy, such as hiking, swimming, boating, and horseback riding.
Why you should go camping in Europe
If you love spending time outdoors and enjoying nature, then camping in Europe is definitely for you. The continent is home to some of the most beautiful camping spots in the world, and there are plenty of hidden gems to be discovered. Here are just a few reasons why you should go camping in Europe:
There are so many different types of scenery to explore. Whether you want to camp in the mountains, by the sea, or in a forest, Europe has it all. And with so many different countries to choose from, you're sure to find the perfect spot for your next camping adventure.
You can find campsites that suit all budgets. Whether you're looking for a luxury camping experience or something more basic, there are plenty of options available across Europe. There are also a number of free campsites if you're on a tight budget.
The weather is usually pretty good. Of course, the weather can never be guaranteed but in general, the climate in Europe is ideal for camping. In the summer months, you can enjoy long days and warm nights, perfect for spending time outside. And in the winter, there are plenty of opportunities for winter camping if that's what you're after.
There's a huge range of activities on offer. From hiking and cycling to swimming and fishing, there's no shortage of things to do when camping in Europe. And with so much natural beauty to explore, you'll never get bored.
You can meet new people and make lifelong friends. One of the best things about camping is the sense of community that comes with it. You'll meet like-minded people from all over the world and form friendships that will last a lifetime.
The best time to go camping in Europe
In Europe the climate can vary a lot from country to country so the best time to go camping here will depend a lot on your destination.
For example, in Spain, the best time to go camping is in the springtime. The weather is perfect for spending time outdoors, and the flowers are in bloom. Camping in the Pyrenees is a must-do for any nature lover.
In Italy, it is ideal to go camping in autumn. The weather is still warm enough to enjoy the outdoors, but the crowds have thinned out since summer. Plus, you'll get to see the leaves changing color in all of their autumnal glory.
In Norway, it is much better to go camping in summer. The days are long and there's plenty of daylight to enjoy all that Norway has to offer.
No matter what time of year you choose to go camping in Europe, you're sure to have an incredible experience. So, what are you waiting for? Start planning your trip today!
How to plan a camping trip in Europe
Make sure to pack everything you need – and then some!
No matter where you're camping in Europe, it's always a good idea to come prepared. This means packing all of the essentials like a tent, sleeping bag, food, and water, as well as some extra items just in case. A first-aid kit, flashlight, and multi-purpose tool are always a good idea, and don't forget any medications you might need.
Choose your campsite carefully
When it comes to camping in Europe, not all campsites are created equal. Do your research in advance to find a spot that suits your needs, whether that's close to hiking trails or near a lake for swimming. You'll also want to make sure the campsite has all the amenities you need, such as toilets and showers.
Hire a campervan
If you're planning on doing a lot of camping, it might be worth hiring a campervan. To do find a suitable campervan to rent out, it can be useful to consult online booking and price comparison sites such as www.campstar.com.
Hiring a campervan will allow you to have your own space and all the amenities you need while still being able to explore different parts of Europe. Just make sure you're aware of the restrictions on where you can park.
Be respectful of nature
This one goes without saying, but it's important to remember that you're camping in nature and should treat it with respect. This means leaving no trace behind when you leave, picking up any litter you see, and being considerate of other campers
Don't make these mistakes when camping in Europe
Don't forget to pack your passport! While most European countries are part of the Schengen Area and don't require passports for travel, there are a few exceptions.
Don't forget to research the local laws and customs before you go camping. In some countries, like Germany, there are strict rules about where you can and can't camp.
Don't forget your travel insurance! This is especially important if you're going to be camping in a remote or wilderness area.
Don't leave your trash behind. Remember to take all your trash with you when you leave, and to leave no trace of your stay.
Camping in Europe: An experience you'll never forget…
Camping in Europe is a great way to explore the continent and collect unforgettable memories. You will discover new cultures and meet new people while enjoying the great outdoors and nature. All in all, camping in Europe is an experience you'll never forget!
https://www.the-backpacking-site.com/wp-content/uploads/2022/07/30325832835_40fca604ba_c.jpg
530
800
Monica W.
https://www.the-backpacking-site.com/wp-content/uploads/2018/08/the-backpacking-site-1.png
Monica W.
2022-07-21 07:39:24
2022-07-21 07:47:58
Europe's Best-Kept Camping Secrets