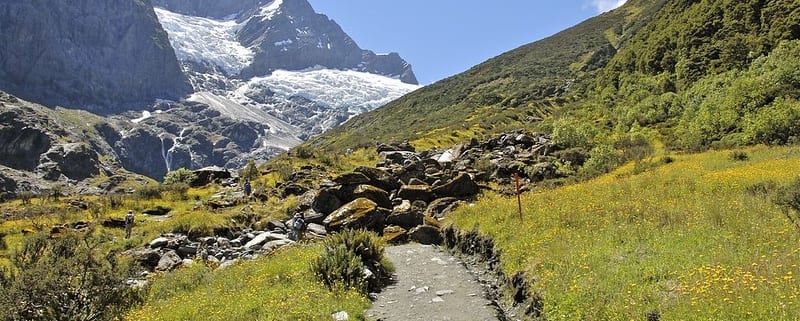 There is a reason New Zealand is a popular shooting location for fantasy movies and TV shows. The stunning and other-worldly landscapes make New Zealand one of the most beautiful countries in the world. There is no better way to take in this beauty than by hiking one of the best day hikes in New Zealand. That said, we have listed ten must-visit hiking trails in the Land of the Long White Cloud.
To ensure you have a great hiking experience in New Zealand, be sure to get the AllTrails app before you go. The app has an extensive list of the best trails for hiking in New Zealand, with reviews from other hikers to keep you up to date on the latest trail conditions. You can filter by trail difficulty, length, and suitability and download trail maps to help keep you on track even when you're offline.
The Best Day Hikes on New Zealand's North Island
The North Island is home to a diverse set of stunning landscapes. When comparing hiking conditions between the North and South Island of New Zealand, the North Island offers warmer temperatures on average.
From the alpine peaks in Tongariro National Park to coastal paths in Northland, there is something here for everyone, regardless of your hiking style.
Tongariro Alpine Crossing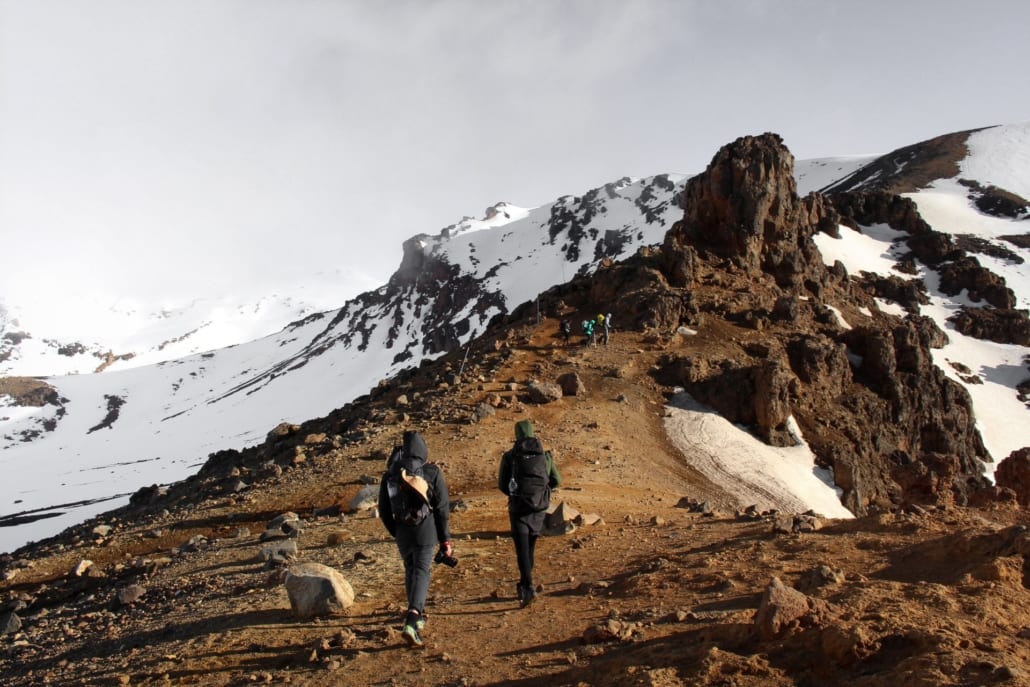 One of the best day hikes you in New Zealand would be the Tongariro Alpine Crossing. This hike is so memorable, that many people have heralded it as New Zealand's Greatest Day Hike. When you try it for yourself, you'll see that this is no flattery or exaggeration on anybody's part.
Aside from the stunning mountainous terrain, you'll be able to see emerald lakes and volcanic views. Since this is rocky and steep terrain, it would be a good idea to bring your hiking poles with you to be safe, even if you're a veteran hiker. 
Tama Lakes Track
Another one of the best day hikes in New Zealand that you should try if you're hoping to visit beautiful lakes in New Zealand is the Tama Lakes track. This particular hiking trail passes the Taranaki Falls trail, which you'll pass by in order to get to the Lower Tama Lake lookout.
The Tama Lakes Track is a great trail for taking in the view of the Tongariro volcanic area. The whole track takes about 5-6 hours round trip.
Cape Brett Track
If you want to go hiking along the New Zealand coasts, you should head to the North Island and try the Cape Brett Track. It's a gorgeous coastal hiking trail that is at the far north of North Island. It's considered one of the more challenging day hikes in New Zealand, because of the elevation changes and length of the trail. 
If you want to cap your hike off with a refreshing swim at the end of the track, you can head to the Deep Water Cove. It's possible to do the hike in one day, but that would require you to skip part of the trail. If you have the time, you could consider staying in a hut along the way to turn your hike into an overnight adventure.
Pinnacles Track
Nowadays, most people are aware that New Zealand is the setting of many fantastical movies and shows. The most famous film set in New Zealand within the fantasy realm is the Lord of the Rings. If you want to see one of its filming locations in New Zealand, you should try the Pinnacles Track.
The Pinnacles Track is named so due to the pinnacles towering above you. These are pillars that the winds and water have shaped into what they are now. It takes just under 4 hours to reach the summit from the trail head, which makes the Pinnacles Track one of the best day hikes in New Zealand to enjoy the country's beauty.
The Best Day Hikes on New Zealand's South Island
New Zealand's South Island is home to some of the most stunning landscapes in the country. The Aoraki/Mount Cook National Park has plenty of options for breathtaking day hikes, so any trip to New Zealand should include plenty of time exploring the area.
But don't forget to pay a visit to Wanaka, known for its incredible scenery, snow-capped mountains, and turquoise lakes.
Sealy Tarns Track
The Sealy Tarns Track is one of the more challenging day hikes for New Zealand hikers who want a bit more of an adventure. If you're hoping to get a gorgeous view of Mount Cook and even Hooker Valley, the Sealy Tarns Track is where you should head to. The entire track takes 3-4 hours, and there are multiple viewpoints along the way for an excellent picnic spot.
Mueller Hut Route
If you're looking for unique and popular places to go to when hiking New Zealand, you should embark on the Mueller Hut Route. This route is trendy for its red Mueller Hut, hence the name.
Although you can finish this trail within one day, you also have the option of turning it into a 2-day trek and spending the night in the famous red Mueller Hut.
Hooker Valley Track
Hiking in New Zealand will lead you to all sorts of places that you've never seen, let alone heard of before. Therefore, if you come across unique names for hiking trails, don't be dissuaded.
Such is the case for when you make your way over to conquer the Hooker Valley Track that would lead you right to Hooker Lake. The trail crosses 3 suspension bridges and finishes at a lookout above Hooker Lake with an excellent view of Mount Cook.
This 10 km/6 mile hiking trail is one of the easier day hikes in New Zealand since it's a flat trail. However, it can get quite crowded, so you should take this track early so that you don't have to drown in the hiking crowds. You'll be able to enjoy the Hooker Valley better that way.
Roys Peak Track, Wanaka
Roys Peak Track in the Wanaka region is one of the more challenging day hikes in New Zealand that gets you up to Mount Roy's summit. It takes about 3 and a half hours to reach the top, where you'll be rewarded with sweeping views. You should take this track sometime around January to October for the best experience.
Rob Roy Glacier Trail, Wanaka
Beneath Mount Rob Roy, you can try the Rob Roy Glacier Trail, which follows the Rob Roy Stream after crossing the West Matukituki River. The gorgeous stream across the deep grey valley of rocks is a sight to behold. The track typically takes 3-4 hours and is considered an easy track, making it suitable for beginners.
Along the way, you're going to encounter a beech forest and waterfalls, which adds to its value as a hiking trail.
Avalanche Peak, Arthur's Pass National Park
Another peak that you should consider climbing if you're looking for a challenging hiking trail is the hike up to Avalanche Peak. This one-day hike in New Zealand can take five to eight hours, depending on your condition and hiking skills.
This is a challenging track to traverse, so make sure that you prepare and research beforehand. If there's poor visibility or the peak is very snowy, it will be dangerous. However, if you go there on a good day, you'll feel a great sense of accomplishment after reaching the peak and taking in the view of the valleys below.
---
Hiking in New Zealand is an excellent way to explore the country. That's because there are plenty of hiking trails that will allow you to explore the beauty of the stunning landscape. If you ever manage to go to this lovely country, be sure to take to the trails and enjoy the best day hikes in New Zealand.
https://www.the-backpacking-site.com/wp-content/uploads/2021/04/3457308864_02739ff99d_c.jpg
536
800
Geraldine Mills
https://www.the-backpacking-site.com/wp-content/uploads/2018/08/the-backpacking-site-1.png
Geraldine Mills
2023-05-14 11:42:16
2023-05-24 17:04:26
The 10 Best Day Hikes in New Zealand