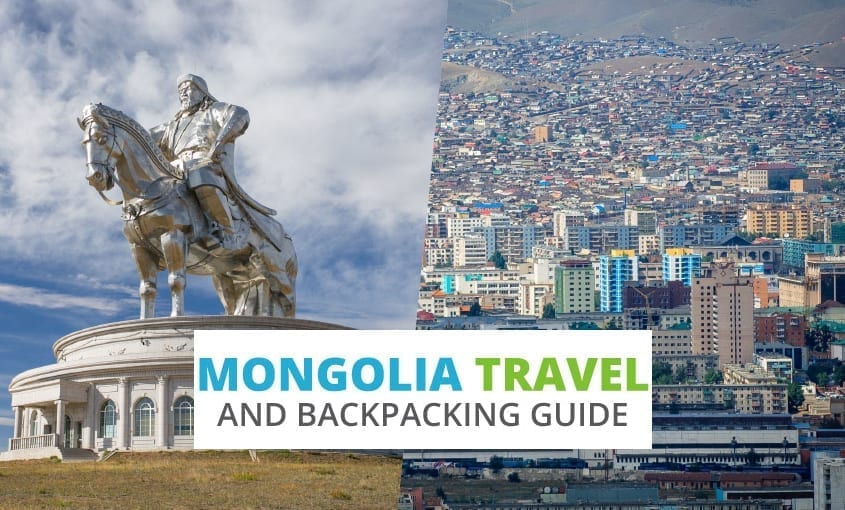 Backpacking Mongolia
Looking for important travel information while backpacking in Mongolia? Here you will find information on working in Mongolia, entry visas, Mongolia hostels, and much more.
Table of Contents
Facts About Mongolia
Bordered by Russia to the north and China to the south, Mongolia (also known as Outer Mongolia) is marked by vast mountains, valleys, steppes and desert land. It is an independent country, unlike Inner Mongolia on Mongolia's eastern border, which is under Chinese rule. Sparsely populated outside of its capital, Mongolia has the lowest population density in the world and much of its land is barren and very wild.
Its recent history has been tied to Russia, being a part of the Soviet Union for seventy years until 1990, when it moved towards new democratic and economic reforms. Since the withdrawal of Soviet support, however, Mongolia has struggled to develop economically and, as such, unemployment and poverty are commonplace. Such facts should not dissuade the visitor from venturing beyond the cities and exploring its incredible countryside.
Climate in Mongolia
Mongolia has an extremely varied climate with temperatures ranging from 0°C up to 37 °C in one day. The climate in the desert areas varies between extreme heats and night temperatures, reaching up to 40°C during the summer months and as low as -30 °C with the winter winds.
The rainy season in the north lasts through July and the duration of August and the travel season lasts from May to October, when the temperatures have not plummeted to the bitterly cold depths of the winter months. Between May and October, extreme snowstorms cause road blockages and in March and April, it is not uncommon for livestock to die through lack of rain and freezing conditions.
Things to do in Mongolia
Ulan Bator
Outside of the Ulan Bator, Mongolia's capital conditions are wild and largely uninhabited. Widely regarded as the coldest capital city in the world, Ulan Bator is over 360 years old and was founded in 1639 as 'Urga' by Bogd Zanabazar, the first Mongol spiritual leader. Since the 1960s, however, Ulan Bator has become dominated by Soviet-style buildings and is today home to over a million inhabitants. Despite being heavily populated and surrounded by bleak suburbia though, Ulan Bator is situated along the banks of the Tuul river and backed by a beautiful mountain range. As a result, it is a truly fascinating city to visit.
Surrounding Ulan Bator are four mountains known as the four holy peaks. Known as Named Tsetseegum, Chingeltei, Songino Khairkhan and Bayansurkh, the peaks roughly correspond to the four points on a compass and offer the visitor spectacular views, woodland walks and a wide variety of bird, plant and animal life.
Shiliin Bogd
Over in the east of Mongolia stands Shiliin Bogd, an extinct volcano that at 1778 m high is a sacred peak to natives. The mountain can be reached by Jeep and offers splendid walks and views ranging to the Chinese border.
Gobi Desert
Mongolia is perhaps best known for the Gobi desert, the coldest desert in the world. The desert consists of gravel-like sands and conjures images of camels and galloping wild horses. The best time to visit the desert is in June or September when the temperatures are neither freezing nor blisteringly hot, although it is advised that backpackers do not attempt a trek in the desert without an experienced guide.
Tavanbogd National Park
Separated from China by a range of snowcapped peaks, the Tavanbogd National Park has a wealth of natural attractions. The park has three lakes which offer beautiful lakeside walks and visitors can also take a raft trip down the Dayn Nurr river.
Amarbayasgalant Khiid
Built by the Manchurian emperor Kansu in 1737, Amarbayasgalant Khiid is considered to be one of Mongolia's most beautiful and important Buddhist monasteries. In the 1930s, the monastery met opposition from the communists and ten of its thirty-seven temples were destroyed. Today, the monastery is inhabited by 30 practising monks and visitors are welcome to watch the monks conduct their daily routines.
Tours and activities in Mongolia
Another good way to get an idea of what to do is to scan the activities offered by Get Your Guide or Viator. They work directly with local tour operators, so you won't have to scour the internet or roam around town trying to find the best deal.
How to Travel Around Mongolia
Mongolia's main airport is situated in Ulan Bator, which is served by regular flights from Berlin, Moscow and Beijing. If you're flying to Mongolia or plan to take short flights within the country, we recommend using a few different flight comparison search engines. Kiwi is a new favourite among travellers. On average, we have found the cheapest flights with them compared to the other websites out there. Of course, it is always worth checking Skyscanner to guarantee you're getting the best deal. Both websites offer great flexible search options, allowing you to search the whole country of Mongolia to find the cheapest airport to fly into, and also see prices for a full month if you're flexible on travel dates. Another flight search site that can be hit or miss but still worth checking out is Opodo. For our past few trips, it was on their site that we found the flight that we ended up booking.
Alternatively, visitors can travel to Mongolia via the Trans-Mongolian railway which links Beijing and Moscow. The best way to get around the country is by air, as other transport links can be very unreliable due to the weather and the sparse population outside of the major cities. There are regularly scheduled flights served by MIAT airlines and Aeromongolia to most major cities across Mongolia, although tickets for foreign nationals are usually very expensive.
Overland travel in Mongolia
There is no railway system outside of the north-south Trans-Mongolian line and the roads outside of the cities are in dangerously poor condition. There are very few buses anywhere in Mongolia and, instead, backpackers wishing to travel across land can hire a shared Jeep and driver. Journeys by Jeep are guaranteed to be slow and will often be hindered by poor weather conditions or breakdowns. It is not advised that visitors attempt to drive across land themselves, as petrol is very hard to come by outside of the cities.
Small group adventure travel
Though part of the fun of backpacking is exploring on your own, there are situations, especially when venturing off the tourist trail, when it does make sense to go with a guide or a small group. For these times, a popular option among backpackers is G Adventures. They hand-select local guides to ensure authenticity and quality. This is especially a good option for those travelling alone who would like to meet up with like-minded travellers. Their most popular trip in Mongolia is their 10-day Local Living Mongolia- Nomadic Life tour.
Health and Safety in Mongolia
While Mongolia's health care system has improved significantly in recent years, its health care facilities are still very poor even in Ulan Bator. It is strongly advised that visitors take out private travel insurance when visiting Mongolia as, otherwise, it is very difficult to organise emergency treatment
There are no immunisations recommended for travellers but it is advised that visitors travel well-equipped with medical supplies, as even basic medicines are difficult to come by anywhere in the country. The biggest risk to visitors is petty crime and violent muggings, particularly in Ulan Bator, and travellers should be wary of going out unaccompanied at night.
Entry visa requirements for Mongolia
When visiting Mongolia for up to 30 days, UK citizens must have a Mongolian visa, which can be obtained from the Mongolian embassy and is normally valid for six months from the date of issue.
Foreigner work permits and backpacker jobs in Mongolia
English teachers are in high demand in Mongolia although compared to British salaries, wages are low. Teachers can get working visas through the employer school and jobs are very easy to come by.
The bulk of jobs for foreigners will naturally be in the teaching industry. Due to the nature of the country, with so few areas urbanised, jobs in other sectors will be difficult to come by prior to arrival. Once in Mongolia, however, foreign bars and restaurants are obvious options. Any aptitude with the language will naturally be a huge advantage.
Mongolia Hostels and Budget Accommodation
There is a reasonable amount of accommodation available in Ulan Bator, including six large Western-style hotels and a range of guest houses and hostels. Outside of Mongolia's capital, accommodation is harder to come by and generally in poor condition, although it is also the cheapest option. Some locals rent out a room in their house to tourists, which usually includes breakfast and an evening meal. Alternatively, it is permissible to camp almost anywhere in the country as nearly all the land is public property.
We have had good experiences finding hostels on HostelWorld. They have the largest inventory of hostels worldwide, and with over 10 million reviews and ratings from other travellers, you know exactly what to expect.
Another good way to find accommodation in Mongolia is by checking hotels.com and  booking.com. With both sites, you'll not only find hotels, but also homestays, hostels, and other unique accommodations. We have discovered some great finds and have appreciated the ability to book ahead. You can use their advanced filtering to narrow your results by budget, location score, overall review score, and amenities. Many of the places on booking.com also offer free cancellation, which takes the pressure off the planning phase of your trip.
Useful links for Backpacking in Mongolia
---
There you have it, the ultimate Mongolia backpacking guide. We hope you have found all the information you need for backpacking around Mongolia.
Next up:
Liked this article? Share it for others who might be after the same information!