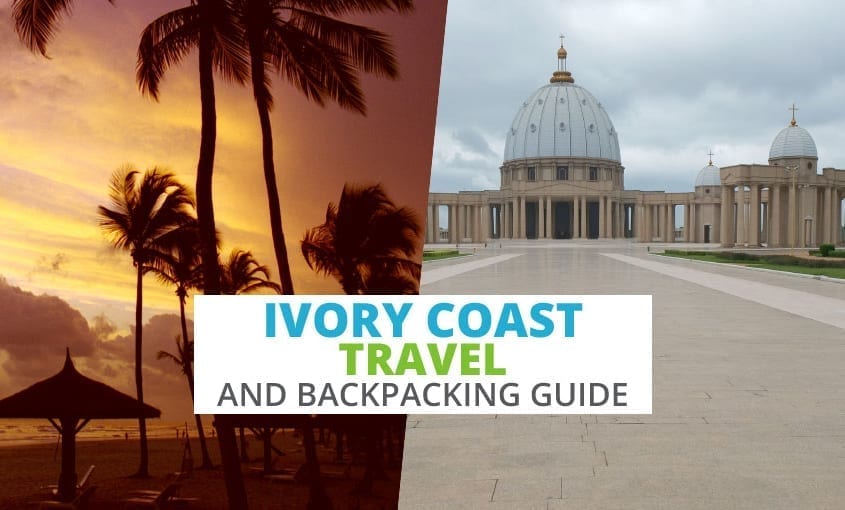 Backpacking Ivory Coast
Looking for important travel information while backpacking in Ivory Coast? Here you will find information on working in Ivory Coast, entry visas, Ivory Coast hostels, and much more.
Table of Contents
Facts About Ivory Coast
The Ivory Coast is an excellent place to find out more about Africa's history art and culture, the tense political situation has unfortunately made it somewhat difficult to take advantage of all that the country has to offer. The country is also blessed with some fantastic natural beauty including the Comoe National Park which is the largest in Africa.
The FCO currently advises against any non-essential travel to within 20km of the border with Liberia and advise avoiding large public gatherings and political rallies. It's best to check your government website for the most up to date information before travelling.
Currency: CFA Franc (CFAFr) = 100 centimes
Time Zone: GMT
Language: French
Telephone Services: Country code +225, International access code 00
Emergency Numbers: Not present
The best time to visit the Ivory Coast
The Ivory Coast has a largely tropical climate. There are four distinct seasons with the dry seasons occurring from December to April and August to September. The two rainy seasons run from May to July and October to November. The temperature is hot all year round reaching a peak around February and March.
Things to do in the Ivory Coast
A good way to get an idea of what to do is to scan the activities offered by Get Your Guide. They work directly with local tour operators, so you won't have to scour the internet or roam around town trying to find the best deal.
Abidjan
Abidjan is the biggest city in the Ivory Coast and until 1983 was the capital of the country. The city is however informally considered to still be the capital city, a fact shown by its bustling atmosphere and enormous population. There is a considerable proportion of French ex-pats which has lead to the city acquiring the nickname of the "Paris of West Africa". Sights worth seeing include the spectacular Hotel Ivoire which is an enormous hotel complex containing swimming pools, an ice rink and even a cinema within its confines. Also of interest is the St Paul's Cathedral whose tower boasts the best view in the city. The cathedral was built in 1985 and was consecrated by the Pope himself. When the city gets all too much there is a fantastic rainforest reserve just out of town called the Parc du Banco which is one of the essential sights of the region.
Yamoussoukro
Yamoussoukro conjures up images of typical European beaurocracy with its unfinished roads, deserted eight-lane highways and concrete block dwellings. This result was achieved when President Houphouet-Boigny came to power in the sixties and subsequently began spending enormous sums of money developing his native village. The most extreme and beautiful example of this insane spending spree is the three million dollar Basilique de Notre Dame de la Paix which is an exact replica of Rome's St Peter's Cathedral. The basilica was constructed in only three years and the fantastic stained windows were hand made in France. The city's nightlife is impressive with a good range of bars and nightclubs and a lively population to make a night out in this city unforgettable.
Note that the current political situation makes travelling alone after dark somewhat dangerous due to criminals which take advantage of the political tension. Always walk in a group and take a taxi wherever possible.
How to Travel Around the Ivory Coast
If you're flying to the Ivory Coast or plan to take short flights within the country, we recommend using a few different flight comparison search engines. Kiwi is a new favourite among travellers. On average, we have found the cheapest flights with them compared to the other websites out there.
Of course, it is always worth checking Skyscanner to guarantee you're getting the best deal. Both websites offer great flexible search options, allowing you to search the whole country of Ivory Coast to find the cheapest airport to fly into, and also see prices for a full month if you're flexible on travel dates. 
Air Ivoire runs a domestic air service between Abidjan and all major towns. Although this may be prohibitively expensive for short journeys it is useful when combining the Ivory Coast as part of a larger African Tour.
Train travel in the Ivory Coast
There is a rail link between Abidjan and Ouagadougou, happily this is one of the most efficient rail links in Africa and runs daily trains stopping at Bouak, and Ferkessedougou. Fares are generally cheap with the "rapide" service which only runs as far as Bouak, costing about a third less than the full express train. Children under 4 enjoy free travel while those between four and 9 pay half fares.
Bus and Taxi travel in the Ivory Coast
The roads in the Ivory Coast are very good by African standards and there are numerous bush taxi's and bus services available. There are small privately owned buses available cheaply for short distance travel, they are generally well maintained as well as comfortable and affordable. For longer journeys, there is generally at least one company offering a coach service with air conditioning.
Health and Safety in The Ivory Coast
Healthcare in major towns is up to international standards if not western ones. You will be required to pay for any medical care you receive so comprehensive travel insurance is essential. In addition, it is recommended that you purchase a policy which will cover the cost of repatriation if necessary.
Vaccinations are required for yellow fever, cholera and typhoid when visiting the Ivory Coast. These can be obtained from your local GP who should also advise you against any other vaccinations which are recommended.
There is a serious malaria risk in the country, even in urban areas. There have been reported cases of resistance to chloroquine so mefloquine is the recommended treatment. You should consult your GP about malaria and its treatment before you take any medication, however.
All water should be treated as potentially contaminated and should be sterilised before use for any purpose. Milk is unpasteurised and should be boiled before use, dairy products should be avoided due to the high probability of having been made from improperly sterilised milk.
Meat should be well cooked all the way through and eaten hot, fruits and vegetables should be washed and where appropriate cooked or peeled before consumption.
Entry visa requirements for Ivory Coast
All visitors to the Ivory Coast require a passport valid for 6 months after the duration of intended stay as well as evidence of a return ticket and a visa. Visas are available from the nearest local Embassy or Consulate. The price of visas varies considerably according to nationality but UK citizens can obtain a single entry tourist visa for CFA35 or a multiple entry visa for CFA45. In addition, all travellers over 1 year of age require a certificate of vaccination against yellow fever.
Ivory Coast Hostels and Budget Accommodation
There are a reasonable number of hotels in major cities, particularly in Abidjan which boasts several of international standard. In general, most towns will offer three classes of accommodation ranging from luxury right down to economy which are pretty basic. Hotels are busy so it is advisable to book your stay in advance.
There isn't much bed and breakfast or hostel style accommodation available in the country and due to the current political climate, we would recommend travellers to stay in a reputable hotel rather than the more tradition lodging used by backpackers.
We have had good experiences finding accommodation by checking hotels.com and  booking.com. With both sites, you'll not only find hotels, but also homestays, hostels, and other unique accommodation. We have discovered some great finds and have appreciated the ability to book ahead. You can use their advanced filtering to narrow your results by budget, location score, overall review score, and amenities. Many of the places on booking.com also offer free cancellation, which takes the pressure off the planning phase of your trip.
Useful links for travel in the Ivory Coast
Air Ivoire runs the domestic air service in the country
Africa Guide offers some good travel advice for those visiting the Ivory Coast

Kiwi

 and

Skyscanner

– Flight comparison search engines to find the cheapest flights to the Ivory Coast and within the country

Booking.com

– commonly used booking site. Hostels, hotels, and other unique accommodation with advanced filtering and millions of reviews

Travel Insurance

– read our comprehensive overview of Travel Insurance and some recommended providers
---
There you have it, the ultimate Ivory Coast backpacking guide. We hope you have found all the information you need for backpacking around Ivory Coast.
Next up:
Liked this article? Share it for others who might be after the same information!