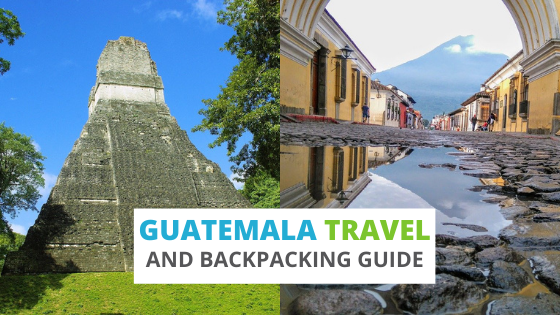 Backpacking Guatemala
Looking for important travel information while backpacking in Guatemala? Here you will find information on working in Guatemala, entry visas, Guatemala hostels, and much more.
Table of Contents
Facts About Guatemala
Guatemala's history starts with the Mayan civilization which flourished in the region as early as the year 2000 BC. Later, Guatemala was conquered by the Spanish, until ultimately gaining independence in 1841. This diverse history makes Guatemala the colorful place it is today, with Mayan, indigenous, and Spanish influences seen in the architecture, food, and clothing of the locals.
The landscape of Guatemala is marked by mountains and volcanoes, with parts of the country covered in jungle and rain forest. Perhaps the biggest attraction to Guatemala is its wealth of Mayan ruins found throughout the country. The locals are welcoming to tourists, and the food is delicious, featuring a mix of traditional street food, to cuisine featuring Italian, Indian, and Middle Eastern influences.
Currency – Guatemalan quetzal
Time – GMT – 6 hours; no daylight saving
Telephone area code – 502
Climate in Guatemala
When deciding the best time to go backpacking in Guatemala, weather certainly plays a role. As a tropical country, the weather in Guatemala is warm to hot year-round with distinct dry and wet seasons. The biggest factor when determining the best time to visit Guatemala is the infamous rainy season, which happens from May through October. The best time to visit is therefore from October to April so that you can make the most of the many hiking opportunities, and stay relatively dry during your trip.In Guatemala, the climate is tropical, hot all year round in the lowlands, while in mountainous areas, it becomes cooler with increasing altitude.
Things to do in Guatemala
The tourism industry in Guatemala is growing thanks to the enthusiastic efforts of the government. Although the country is very poor, there are many attractions: villages left by Spanish conquistadors, ancient Mayan ruins, as well as the natural beauty of beaches, coral reefs and the mountains, forests, volcanoes and wildlife of the national parks.
Guatemala is home to 3 UNESCO World Heritage sites, including the colonial city of Antigua, the Archaeological Park and Ruins of Quirigua, and Tikal National Park with its Mayan ruins.
For those interested in natural beauty, Guatemala is home to beautiful lakes like Atitlan, as well as large areas of rainforest and jungle. Ecotourism is becoming more and more popular, and visitors enjoy the country's natural beauty by scuba diving, trekking in the mountains, and river rafting. 
Guatemala's varied terrain includes rain forests and cloud forests (reaching almost 3,000 metres above sea level), mangrove swamps, mountain ranges and savannahs. The region is a biodiversity hotspot, with a concentration of plant and animal species. There are about 1246 species of mammals, reptiles, amphibians, and birds found in Guatemala, according to the World Conservation Monitoring Centre. 
Festivals and celebrations are held around the year (most towns and cities have patron saints, with annual events in their honour). Like other countries in Latin America, the celebrations during Semana Santa (Holy Week) are a central focus for the year. During this week, the cobble stone streets of Antigua are covered in intricate decorations and patterns made up of colored sawdust. It's a very special time to visit Guatemala and witness the cultural events put on by the locals.
Unique activities in Guatemala
Another good way to get an idea of what to do in Guatemala is to scan the activities offered by Get Your Guide or Viator. They work directly with local tour operators, so you won't have to scour the internet or roam around town trying to find the best deal.
How to Travel Around Guatemala
The country's international airport, La Aurora is located near Guatemala City. Flights are available to most Central and Latin American capitals and to major cities in the USA, Europe, South America, the Caribbean and Asia. A departure tax of around US$30 is also required when you leave.
If you're flying to Guatemala or plan to take short flights within the country, we recommend using a few different flight comparison search engines. Kiwi is a new favourite among travellers. On average, we have found the cheapest flights with them compared to the other websites out there. Of course, it is always worth checking Skyscanner to guarantee you're getting the best deal. Both websites offer great flexible search options, allowing you to search the whole country of Guatemala to find the cheapest airport to fly into, and also see prices for a full month if you're flexible on travel dates.
Ferry crossings to Guatemala are also available from Punta Gorda in Belize and Omoa, Guatemala. Some travelers who are coming from a neighboring country choose to take a long distance bus, which connects main cities in the region. The buses are of high standard, even including bathrooms and air conditioning. The main bus company in the Central American region is Tica Bus company.
If driving yourself in a private car across the border, be sure to take precaaustions. There are poor road conditions, limited services, and some corrupt behavior at the border crossings. 
Bus Travel Within Guatemala
Bus services around the country are good, but in order to get the most efficient service it is advisable to travel between 9am and 3pm and to avoid Friday and Sunday afternoons.
The buses are all painted brightly and have numerous luggage racks making them ideal for backpacks. Most bus terminals are pretty chaotic, so make sure you hang on to all your belongings as pickpockets are rife here. Many will not have travel information posted, but you can guarantee that someone will be able to point you in the right direction. All tickets are bought on the bus once you are seated, and fares are extremely cheap, although weekend fares increase by 25%.
Travel by Car in Guatemala
If you decide to travel by car or motorcycle make sure you always have a map with you as roads and turnoffs are often not marked, often making it tricky to find where you want to go! Petrol is not cheap so this is a more expensive way of seeing the country, although you can travel at your own pace and often see more. Remember to honk your horn before you turn a corner to alert oncoming traffic you are there.
Backpacking Tours in Guatemala
Though part of the fun of backpacking Guatemala is exploring on your own, there are situations, especially when venturing off the tourist trail, when it does make sense to go with a guide or a small group. For these times, a popular option among backpackers is G Adventures. They hand-select local guides to ensure authenticity and quality. This is especially a good option for those travelling Guatemala alone who would like to meet up with like-minded travellers. Their most popular trips in Guatemala are their 17-day Volcano Trail including time in Guatemala, Honduras, Nicaragua, and Costa Rica and their 16-day Mayan Sun Southbound: Boat Rides & Ruins trip covering Guatemala, Belize, and Mexico.
Hostels and Budget Accommodation in Guatemala
You will be able to find cheap accommodation almost anywhere in Guatemala. There are hostels throughout the country, as well as tourist lodges for a reasonable rate.
We have had good experiences finding hostels on HostelWorld. They have the largest inventory of hostels worldwide, and with over 10 million reviews and ratings from other travellers, you know exactly what to expect.
Another good way to find accommodation in Guatemala is by checking hotels.com and  booking.com. With both sites, you'll not only find hotels, but also homestays, hostels, and other unique accommodation. We have discovered some great finds and have appreciated the ability to book ahead. You can use their advanced filtering to narrow your results by budget, location score, overall review score, and amenities. Many of the places on booking.com also offer free cancellation, which takes the pressure off the planning phase of your trip.
Health and Safety in Guatemala
Tap water in Guatemala is not safe to drink for travelers. Hotels and restaurants in the cities should use purified water for their drinks and ice. Elsewhere rely on bottled water without ice. To be safe, only drink bottled water as gastroenteritic diseases are one of the most common complaints from travellers. If you spend a night on the Coast or in the East of the country take precautions against malaria. There is a high transmition of dengue fever in Guatemala, so be very careful as no inoculations are available at this time.
Before traveling to Guatemala, you will also need vaccinations for yellow fever (required) and hepatitis A and B, typhoid, tetanus-diphtheria, measles and chickenpox (recommended). Malaria occurs in the Bay Islands and rural areas. Be sure to check the world health organization and Center for Disease Control advice about which immunizations to get before traveling to Guatemala.
You should obtain comprehensive travel and medical insurance before you travel to Guatemala, and make sure that it covers you for all the excursions you may want to take.
Most crimes in Guatemala are related to drug and gang activities, and can happen throughout the country, even in tourist destinations. If in any doubt, err on the side of caution. Use taxis if you are out late at night and don't leave any belongings unattended
Entry visa requirements for Guatemala
To enter the country every tourist must have a passport that is valid for at least 6 months beyond the date of entry to Guatemala. Citizens of US, Canada, Australia, and most European countries do not need a visa to enter Guatemala. Any traveler who needs a visa can easily apply for one, and visas on arrival are valid for 90 days with the possibility to extend. If you overstay the limit on your visa then you will be charged a fine when you exit the country. If leaving Guatemala by air, there is an exit fee of about $30, but this is usually included in the price of your airline ticket. There is no exit fee for anyone crossing the border over land. If you are at all unsure about whether you are being taken advantage of with regards to exit fees and penalties, be sure to ask for an official receipt which will typically discourage dishonest policing.
Foreigner work permits and backpacker jobs in Guatemala
Guatemala is one of the poorest countries in Central America. The economy is growing, but slowly. 50% of the population is below the poverty line and average wages are very low.
Opportunities for paid employment in Guatemala are consequently not easy to find. There are a growing number of language schools and looking for a job teaching English is probably the best option.
Volunteering in Guatemala
If you have the budget to support yourself, a worthwhile cause is to spend some time volunteering in Canada.
Idealist is a multi-faceted website where you can find Internships, minijobs, and volunteer opportunities in Guatemala. Another great database of information and volunteer placements in Guatemala is Volunteer World. They have many placements which focus on conservation and animal rescue work, which will put you up close and personal with the great wildlife in Guatemala.
Official Language of Guatemala
Spanish is the official language of Guatemala. English is used in business and in the bigger settlements, but hardly anywhere else. Some native Amerindian languages are also spoken, but Spanish is becoming more common in these areas because the government has made it the official language of education.
Useful Links for Backpacking in Guatemala
There you have it, the ultimate Guatemala backpacking guide. We hope you have found all the information you need for backpacking around Guatemala.
Next up:
Liked this article? Share it for others who might be after the same information!