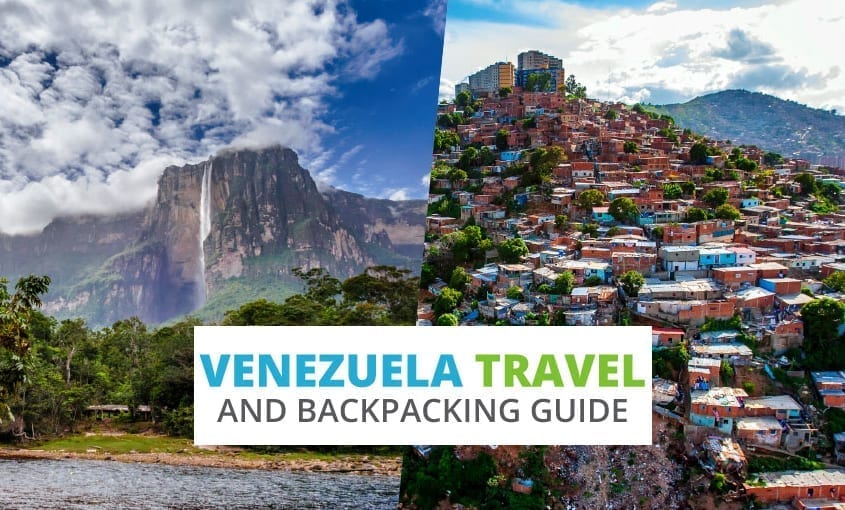 Backpacking Venezuela
Looking for important travel information while backpacking around Venezuela? Here you will find information on working in Venezuela, entry visas, Venezuela hostels, and much more.
Table of Contents

Facts About Venezuela
Venezuela was the first country on the South American mainland to be 'discovered' by Colombus. The country's networks of waterways, particularly around the Orinoco Delta, were reminiscent of Venice to the early explorers, and led them to christen the country 'Venezuela'.
The first Spanish settlements in South America were built in Venezuela, and acted as a base as the Conquistadors gradually moved south to colonise the rest of the continent. Venezuela was also home of Simon Bolivar, the revolutionary leader who led much of South America to independence from the Spanish. As such, the country has been a pivotal location in the political history of the continent.
The country's wide diversity of geography and culture makes it popular with backpackers. The long Caribbean coastline offers great beaches, the northern tip of the Amazon offers opportunities for some eco-tourism, and the Andes are great for the intrepid hiker looking for high-altitude trekking.
Language – Spanish (also around 30 native tongues)
Currency – Bolivar (although US Dollars are widely accepted.)
Dialling code – +58
Emergency services – 171
Climate
Venezuela is close to the equator, and as such doesn't experience four distinct seasons as in more temperate zones. The climate is sub-tropical, with temperatures varying between 22oC and 32oC in the low-lying regions. In the Andes, temperatures are much lower, below freezing at some points. The wet season lasts from May to November, with the dry season from December to April. During the rainy season, roads, especially in the rural areas, can become impassable.
Things to see and do
Caracas, Venezuela's capital and home to around three million people, should feature on the itinerary of any traveller's visit. It is one of the continent's oldest colonial cities, and much can be discerned about the history of the area by taking a walk through the varied streets of Caracas. La Casa Natal de Simon Bolivar is a reconstruction of the house in which Simon Bolivar was born. The city's university is a UNESCO World Heritage Site and revered as a triumph of modern architecture. Plaza Bolivar is the centre of activity in the city. It contains the 1594 cathedral, which houses pieces by the masters Murillo and Rubens. The city's art galleries and theatres are also to be found near to the square. Numerous parks, including Parque del Este which is popular with joggers and Parque del Oeste, which has a small but charming zoo, can be found in Caracas. Las Mercedes is the hub for night-life in the city. The area has an array of bars, clubs and restaurants, making it a favourite haunt for the city's youth. The Cafe-Trattoria Mediterraneo comes highly recommended as a hospitable and good value-for-money eatery.
Another colonial city worth a visit is Santa Ana de Coro. The city is crammed with fascinating and unique structures: the 100 windows, Arcaya's House and the Cathedral de Coro are only a few. Traditional Spanish colonial architecture is mixed with native techniques and show a strong Dutch influence. This city has more religious buildings per head than any other in South America: the churches of San Nicloas, San Gabriel San Francisco and San Clement are among the remarkable examples worthy of a visit. This richness of history and culture has led to the city being declared a UNESCO 'City of Human Patrimony.'
Cuare should be towards at the top of the must-visit list for wildlife enthusiasts. The 11,000 hectare national park plays host to hundreds of species of birds, fish, mammals and reptiles. In 1972 it became the first area of special conservation to be created in Venezuela , and it remains a subject of national pride today (at least among conservationists). Its mangrove swamps and forests are intersected by deeper inlets, along which visitors can take boat rides and see how many species of birds they can spot. Asides from flamingos and kingfishers you will find endangered species such as the Chusmita, Caricare and Buceadora.
Margarita Island is one of the most popular destinations among Venezuelans wanting a domestic holiday, and with good reason. Only 40 km from the mainland and a short ferry trip away, the island's fabulous golden beaches, the beautifully forested interior, and the warmth and hospitality of its residents are its main attractions. Playa el Agua is one of the island's most popular tourist beaches , it is surrounded by shops and eateries, and boasts some of the best nightlife on the island. La Asuncion is the island's capital, situated at the base of the Cerro El Copey mountain. It contains one of South America's oldest cathedrals, and a beautiful castle that provides panoramic views of the island. Parque El Agua(website in Spanish) is a water park popular with the younger contingent of Venezuelan tourists. Featuring many exciting slides and various pools, there is also plenty of room to relax. For the pick of the best places to stay on the island, see the 'Accommodation' section of this guide.
When American pilot Jimmy Angel landed his light aircraft on Auyan Tepuy's plateau in 1937, he was in search of gold. He didn't make his fortune, but he did succeed in finding the highest waterfalls on the planet, which now bear his name. His abandoned aircraft stands at the entrance to the airport at nearby Ciudad Bolivar. The Angel Falls drop uninterrupted for 807m and provide a dramatic spectacle for miles around. If you want to visit the falls up-close, you will have to travel via canoe from a neighbouring settlement and then trek through forest. You are better off taking a guided tour from Ciudad Bolivar, but buy your tickets whilst in the city rather than from an agency. You shouldn't expect to pay more than $250 US Dollars for a trip.
Canaima National Park is one of the few remaining places on earth you can experience nature as it would have been before human civilization. It is home to one of the oldest rock formations on the planet , 'the Valley of a Thousand Columns'. As if the geological wonders weren't enough of a draw, the park's 3 million hectares contain an amazingly rich ecosystem, boasting ancient trees, giant flowers, monkeys, jaguars, and probably many as yet undiscovered species. An eco-tourist can travel up the Orinoco River, camping at various stages along the banks. The park contains the largest cave in the world, with a width and depth of 350 metres. The cave is called 'Sima Humboldt' and is towards the southern portion of the park.
Travel
The Simon Bolivar International Airport is Venezuela's main airport. It is located in Maiquetia, about 10 miles from Caracas. Refurbishments to bring the airport up to international standards are ongoing. You probably won't find a direct flight from the UK, but Lufthansa fly from Frankfurt, Iberian Airlines from Madrid, Alitalia from Rome and Air France from Paris.
Once inside the country, there is no national railway system, so to get around you must use the road network. 'Expresos Ejecutivos' are a recommended coach carrier. The vehicles are air conditioned and the drivers are trained to drive safely. There are many accidents on Venezuelan roads, usually either due to overly aggressive driving or poorly maintained roads. If you would like to join the ranks of Venezuelan motorists yourself, you can compare prices for car hire here. Checkpoints are common, and you should have identification (preferably your passport) on you at all times to prevent difficulties arising. You might come across corrupt officials at these checkpoints. It is usually better to co-operate with them and pay any bribe they are seeking, as the consequences of doing otherwise could be very unpleasant.
Accommodation
If you would like to stay near to Playa el Agua on Margarita Island, the Miramar Village is a contemporary resort popular with Venezuelans. However, it is perhaps more suited for a family on a beach holiday than a backpacker. More backpacker-friendly accommodation on the island may be found within the lodging houses in Asuncion.
Within the city of Santa Ana de Coro the best option for backpackers is the various 'State Inns.' Staying in one of these fascinating venues gives good value and an insight into the local culture. Examples include 'the House of Tree Windows' and 'the House of the Birds'. Check venezuelatuya.com for further information.
There are numerous hostels to be found in Venezuelan cities. The best place to look is usually around the transport terminals. As always, don't pay for the room before you see it. Venezuelans are usually hospitable and friendly, but like anywhere, there will be certain individuals looking to exploit an unsuspecting traveller. Around the coast, it is quite common to camp on beaches when the weather is warm enough. Otherwise there are sometimes huts close by that can be hired cheaply. Ask locals for their advice.
Health care issues
Drinking tap water is not recommended: always use bottled or boiled water where available. In tourist areas, you will find food vendors at the side of the road. These are usually best avoided as their knowledge of hygiene leaves much to be desired. Under the socialist regime of Hugo Chavez, the state has invested in healthcare facilities all over the country, even in the more remote rural areas. It now has some of the best medical coverage per capita in all of South America. Hepatitis and Yellow Fever vaccinations are recommended before travel. There is a small risk of Malaria in the area around the Angel Falls. For more information, check with the NHS at fitfortravel.scot.nhs.uk.
Useful links
Entry Visas for Venezuela
Upon arrival, you will need to present a passport which is valid for at least 6 months. Tourists do not require a visa, providing your stay is for less than 90 days. You will be issued with a Tourist Entry Card, which will be issued by your air carrier. If you are planning to stay for longer than 90 days, you should apply to a Venezuelan embassy. In the UK, they are found at;
1 Cromwell Road,
London SW7 2HR, UK
Tel: (020) 7584 4206 or 581 2776.
Foreigner Work Permits in Venezuela
If you would like to work during your stay in Venezuela, take a look at learn4good.com. You will need to be able to speak Spanish well if you are considering employment. It is more common for backpackers to get involved in volunteer projects. There are a variety of schemes run in rural areas , check volunteerabroad.com for an idea of what's available. Teaching English and working on infrastructural projects are the most popular options.
How to Say Common Spanish Phrases
The official language of Venezuela is Spanish. Below are some useful words and phrases that should allow you to be understood during your stay. Venezuelan Spanish is called 'Castellano', and differs slightly from standard Spanish in the way some verbs are conjugated. There are around 30 native languages spoken throughout the country, and you may occasionally meet people who don't speak Spanish in the more remote Andean settlements.
Meeting People
English

Spanish

yes

si

no

no

thank you

gracias

You are welcome

De nada

please

por favor

Excuse me

Discúlpeme

hello

hola

goodbye

adiós

Good morning

Buenos dias

Good night

Buenas noches

I do not understand.

No entiendo.

Do you speak…?

Habla usted…?

English

Inglés

Spanish

Español

What is your name?

Como se llama usted?

Nice to meet you

Encantado de conocerle

How are you?

Cómo estás?

Good

bien

bad

mal
Directions
English

Spanish

map

el mapa

left

la izquierda

right

la derecha

Straight on

directo

far

lejos

near

cerca
Methods of Transport
English

Spanish

Where is…?

Dónde está…?

How much is the fare?

Cuanto es lo justo?

Ticket

boleto

A ticket to…, please.

Un boleto para…, por favor.

Where are you going?

Hacia dónde vas?

Where do you live?

Dónde vive usted?

train

el tren

bus

el autobús

underground

el metro

airport

el aeropuerto

Train station

la estación del tren

Bus station

la estación de autobuses

Underground station

la estación del metro

departure

la salida

arrival

la llegada

parking

el estacionamiento
Time
English

Spanish

What time is it?

Qué hora es?

Today

hoy

yesterday

ayer

tomorrow

mañana
Accommodation
English

Spanish

hotel

el hotel

room

el cuarto

reservation

la reservación

Are there any vacancies?

Tiene habitaciones?

No vacancies.

No hay lugares.

Passport

el pasaporte
Places
English

Spanish

Post office

la officina de correo

bank

el banco

Police station

la estación de policía

hospital

el hospital

chemist

la farmacia

shop

la tienda

restaurant

el restaurante

museum

el museo

church

la iglesia

square

la plaza

strret

la calle
Shopping
English

Spanish

How much does this cost?

Cuánto cuesta?

I will buy it

Lo compro

I would like to buy…

Me gustaría comprar…

Do you have…?

Tiene usted…?

open

abierto

closed

cerrado

postcard

la postal

stamps

los timbres

little

poco

lot

mucho

all

todo
Meals
English

Spanish

breakfast

el desayuno

lunch

el almuerzo

dinner

la cena

vegetarian

vegetariano/vegetariana

cheers!

skal!

The bill please

Me trae la cuenta por favor
Drinks
English

Spanish

drink

la bebida

coffee

el café

tea

el té

juice

el jugo

water

el agua

beer

la cerveza

wine

el vino
Food
English

Spanish

meat

la carne

fish

el pescado

vegetable

las verduras

fruit

la fruta

potato

la patata

salad

la ensalada

dessert

el postre
Venezuela Hostels
Hostels are a cheap form of accomodation, and so they are essential to backpackers and other budget travellers.
Sorry, no hostels have been registered for this country yet.
There you have it, the ultimate Venezuela backpacking guide. We hope you have found all the information you need for backpacking around Venezuela.