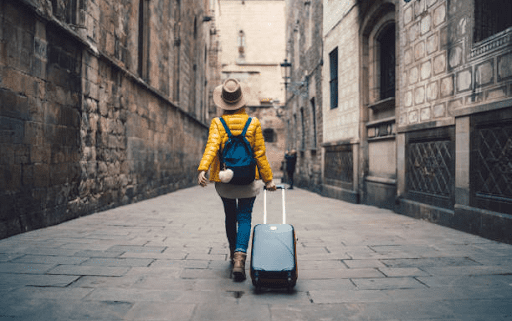 The world is full of so many things to discover. So much so that it can feel almost impossible to see it all in one lifetime. This is why you might as well get paid doing it. You can find many job opportunities alongside traveling on job sites like Jooble. They can let you travel the world and do important assignments. You can get paid to traverse many countries as a travel blogger and write about their unique cultures. One could travel and teach overseas to learn new languages. There will always be a place for good skills in any part of the world. Here is how you can do just that:
Influencer
Companies out there will happily pay those to advertise products overseas. You can find many different ways to promote a product by studying the target audiences of other countries. Being an influencer means you can use the most advertised platform there is. Social media is by most of the world's population. You can use social media connections to find people from all over the world and find out where to travel next. Learning how people use social media in different countries can help elevate your skills in using the apps.    
Affiliate Marketing
If you speak for a company and become its voice, you can create a global network of contacts. You can always find places where certain products or services can fare a lot better. By joining several organizations across the world, there will always be a target audience ready to service. For instance, you can share sales from America to the UK. Find a product in Brazil that someone in Spain might enjoy. Connections are an essential part of any business. Joining affiliate programs allows you to expand your business more than ever before.    
Photography
Sometimes, professional-quality photos can be the next best thing for those who cannot travel. So if you have skills in photography, try to get that job to provide those pictures for people. Magazines, websites, and travel agencies will happily take photos from exotic locations to advertise holiday destinations. It won't just be hotels or cities you will be taking pictures of. You may find yourself in a deep jungle with a gorgeous waterfall. You may find a hard of animals traversing across a desert. Magical moments are there waiting for you to capture them and show them off to ordinary people.    
Destination Marketing
Knowledge of certain countries can provide people with valuable insight into how to sell products. It won't just be learning where to deal but how to sell them. Some companies can pay you to write about your experiences traveling to a different country. They may want to know about the food, the customs, the hot spots, and so much more. You can discuss how you interacted with the locals and recommend some behavior patterns. 
Display Adverts
Big brands such as Google use advertising platforms that involve unique displays. These types of adverts can benefit significantly from having a more global network. The adverts themselves can become more relevant to the society of that country. You can earn your income with more people who interact with these ads. If you can make them more specific to what people in that country are looking for, it makes it even better. They can also integrate well with YouTube videos if you plan to use other social media platforms for the adverts. Make sure the display is adapted to the different formats you could use. 
A Public Speaker
If you become a successful blogger, this may involve traveling to conferences around the world. If that is the case, then be prepared for some public speaking. You may wish to learn different languages and behaviors to be a more effective speaker in whatever country. You can use this as a great opportunity to meet more people and develop your global contacts. The more experience you have in speaking, the greater you will come across. This experience can lead you to even bigger opportunities if you impress potential investors.    
Travel Writing
As mentioned before, running your own blog is a good excuse to get you to travel. Some so many people feel confined in their own country. Your blog could be an excellent opportunity to look at a whole new culture or nature. You can write about all of the exciting things you have learned, the sights you have seen, and the fantastic people who have come to speak with you. You can either write about your own experiences or write about the customs you have grown to learn. Speak about the culture insightfully and respectfully to offer a real peek at the country's inner workings.   
Tour Giver
Once you have learned a lot from your travels, you can put it to good use through tour guides. Most people love traveling just for the fun of it. You can travel to make money by giving these free-loving tourists a more intimate walk through the country. Either you provide a guide on the local hot spots or take them through the whole landmark. You can offer your insight into the country or read off the latest exciting facts. Make your tour guide entertaining to convince people to keep on traveling and discovering new things.  
Selling Books or Courses
If you wish to earn income on the go, you can turn your current experiences into something that can be sold. Something more physical that people are willing to buy. Writing a book on how to travel is not the only example. You could give people a course on saving up money and any security tips needed for safe travels. You can write a book on all of the best parts of each country you have visited. Perhaps you can convince more people to travel by talking about the most favored destinations.  
---
You can use job sites to find any travel-related profession, such as travel blogger. Usually, these openings will include that the requirements will include travel in their information text. If there is incomplete information, don't hesitate to ask the employer directly for more details on the matter.  
https://www.the-backpacking-site.com/wp-content/uploads/2023/11/unnamed.png
341
512
Monica W.
https://www.the-backpacking-site.com/wp-content/uploads/2018/08/the-backpacking-site-1.png
Monica W.
2023-11-11 20:57:14
2023-11-11 20:57:14
Getting Paid to Travel the World