Regardless of your travel style, Berlin is a must when backpacking around Europe. This city has something for everyone: history buffs, night owls, foodies. But between the history and the infamous modern Berlin vibe, how can possibly decide what to do in Berlin in 3 days?
After living here for 5 years, I have put together a list of things to do if you only have 3 days in Berlin, to make sure you get an authentic impression of the city. I share it with my friends who come to visit! Berlin's storied past is one of the reasons I love this city, but I'll also provide some ways for you to get off the tourist trail and see a glimpse of the real Berlin.
1. Get an Introduction to Berlin with a Free Walking Tour
If you have 3 days in Berlin, it's definitely worth spending at least half a day soaking in the history. There's no better way to get an introduction to Berlin's important history than with a free walking tour. Sandemans is the most popular, and for good reason. In about 3 hours you'll learn about Berlin's role during WWII and how the Berlin Wall later divided the city in two. The historical center of Berlin is compact, and this walking tour will hit all the major highlights. It's one of the first things you should do while backpacking in Berlin in order to get your bearings. During your tour, you'll see the major highlights of central Berlin including the Brandenburg Gate, Holocaust Memorial, and Checkpoint Charlie.
2. Explore the Reichstag and Tiergarten (by Bike!)
During your 3 days in Berlin, you should rent a bike to explore the areas around the Reichstag and the Tiergarten. You can walk the symbolic glass dome of the Reichstag, but you'll need to make reservations in advance. Continue deep into the Tiergarten, don't miss the Victory Column (Siegessäule). End your bike tour with beers and snacks at the Cafe am Neuen See Biergarten, where you can rent a rowboat for one of the kitschy fun things to do in Berlin.
3. Spend an Evening at a Local Watering Hole
Whether you want a swanky cocktail bar, a grungy dive bar, or an outdoor Biergarten, Berlin has tons of options. Over the years I've selected a few favorites that I always recommend to my friends.
I love Monkey Bar on the rooftop of the 25 hours hotel. The bar gets its name from its view over the monkey habitats at the Berlin Zoo. This place has artisan cocktails, upscale bar snacks, and an unbeatable view over Berlin's skyline. It's one of my favorite viewpoints in the city and should definitely be on your list for your 3 days in Berlin.
If you're looking for a locals-style bar, you have endless choices. You can find a large concentration of great bars on Oranienstrasse in Kreuzberg or the area around Boxhagener Platz in Friedrichshain. Some of my favorites are Mano Cafe, Das Hotel, Mein Haus am See. Keep in mind that most bars in Berlin still allow smoking inside, but if you do your research ahead of time, you can find some smoke-free options.
For an outdoor drink spot, my favorite place in Berlin is James Simon Park with its stunning view of the River Spree, Berlin Cathedral and Museum Island. You can relax in a Biergarten chair and try a Berliner Weiße (a beer mixed with fruit flavor). While in the area, wander over to Mombijou park to watch the locals dancing Salsa.
While Berlin isn't particularly known for Biergartens (it's more of a Bavarian thing), you still have some great options. Schleussen Krug in the Tiergarten boasts organic Biergarten fare, Prater Garten in the heart of Prenzlauer Berg was the first and still-largest Biergarten in Berlin, and BRLO Brewery is a modern interpretation of a Biergarten serving craft brews and modern food pairings.
4. Eat a Delicious Brunch
Take advantage of each day you're in Berlin to check out some great brunch spots around the city. You'll wish you had a full week in Berlin to try them all! I love Napoljonska in Prenzlauer Berg, Distrikt Coffee in Mitte, or Restaurant Bastard in Kreuzberg. Some of our other favorites are Hallesches Haus or House of Small Wonder (make a reservation).
5. Mauerpark Flea Market
If you happen to be in Berlin on a Sunday, be sure to visit the Mauerpark Flea Market in the afternoon. More than a market, it's like a music festival every weekend with buskers, the popular karaoke amphitheater, and people from all over the world picnicking in the park. An afternoon in Mauerpark is one of the quintessential things to do in Berlin, and it's not to be missed.
6. Take Your Pick of UNESCO Museums on Museum Island
If you have 3 days in Berlin, you should spend at least some time exploring Museum Island, which is home to 5 (yes 5!) UNESCO World Heritage Museums. The Pergamon is the most visited art museum in Germany and features Babylonian and Islamic exhibits. The DDR Museum is a living-history time capsule displaying typical East Berlin life. Both Museums are along the river where you can later take a Spree River Cruise to see East and West Berlin from the water.
7. Stroll Around an Iconic Berliner Kiez
Berlin is famous for its Kiez-culture (Kiez = neighborhood). During your 3 days in Berlin, you can window shop, people watch, and mingle with the locals for an afternoon in one of the bustling neighborhoods in Berlin. My favorite areas are:
Bergmannkiez in Kreuzberg
The area around Kastanienallee, Eberswalderstrasse, & Oderbergerstrasse in Prenzlauerberg
Wrangelkiez in Kreuzberg.
8. Sample Berlin's Best Restaurants
Berlin is home to a growing foodie scene, and there is something for everyone from takeaway Döner Kebab to Michelin Star cuisine. During your 3 days in Berlin, be sure to explore the restaurant scene. Great options are The Bird (Burgers), Zula (Israeli), but seriously… don't leave Berlin without a Döner Kebab– they were invented here!
9. Walk the East Side Gallery
Nowadays, most of the Berlin Wall itself is gone, but the border is still marked throughout the city by a line of bricks. You'll likely cross between former East and West sides of the city multiple times during your 3 days in Berlin! If you want to see the longest stretch of the Wall still standing, you should visit the East Side Gallery, which is basically an outdoor museum using the Berlin Wall as an ever-changing canvas for artists. After walking 1.3 km/.8 mile stretch of mural-covered wall, cross the red Oberbaumbrücke bridge into the heart of Kreuzberg. Meander along Skalitzer Strasse toward Oranienburgerstrasse, and you'll encounter more famous Berlin street art and get a taste of Kreuzberg. End your afternoon at Markthalle 9, a culinary smorgasbord.
10. Go Clubbing
Clubbing in Berlin may require recovery time the next day– you won't be home before sunrise if you want to do it right. If you only have 3 days in Berlin keep in mind that one full day will be spent recovering.
To start your evening in Berlin, head to an outdoor bar near the Spree River. Badeschiff is a beach bar named after its swimming pool, which floats in the river and is actually a repurposed boat.
If clubbing is at the top of your list of things to do while backpacking in Berlin, keep in mind that the door policies differ from club to club. Be sure to do a bit of research ahead of time. People start to trickle in around midnight, but the real action gets started around 2 or 3. Most of the famous clubs are near the Warschauer Strasse U-Bahn stop. You can try your luck at the notorious Berghain or head to other favorites Club Zur Wilde Renate or Ritter Butzke. Just don't get too dressed up because the vibe is decidedly black T-Shirt
Berlin also has a steady rotation of themed dance parties around the city (Dirty Dancing 80s, Balkan Beats, Electro Swing, etc.). If techno isn't your thing and you just want to let loose and dance, you can probably find all sorts of theme parties happening all around the city. You'll see posters for parties like this all over the city, or you can check out Facebook events to see what's happening.
And More…
If you've already hit the highlights during your 3 days in Berlin, and you're looking for something further afield, spend some time checking out these awesome parks and day trips.
Tempelhofer Feld
The site of the supply airdrops and airlifts for West Berlin, this huge expanse is now an open park where Residents have created 'installations' such as community gardens and pop-up mini-golf courses. Best explored with a bike because it's HUGE, on a weekend you can spot kite-surfing skateboarders, or families having barbecues. The old airport building at Tempelhoferfeld is currently home to many refugees and the park is the site of a regular 'Schön, dass ihr da seid' (Good to have you here) welcome barbecue.
Teufelsberg
Translated as 'Devil's Hill' Teufelsberg is the site of Soviet-era spy tower station where the Americans listened in on East Berlin. The hill itself is man made – it's built from the rubble of the city after WWII. The buildings still standing at Teufelsberg are covered with street art, and you can get lost meandering through the rooms which lead to the roof. A popular room is the echo room at the top of the towers.
Next Up: Learn more about Backpacking and Travel in Germany
Liked this article? Share it with others who might be after the same information!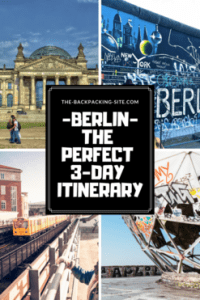 https://www.the-backpacking-site.com/wp-content/uploads/2019/02/3-days-in-berlin.png
315
560
Monica Woerner
https://www.the-backpacking-site.com/wp-content/uploads/2018/08/the-backpacking-site-1.png
Monica Woerner
2019-02-23 11:40:02
2021-05-07 13:00:36
3 Days in Berlin - an Insider's Guide to See It All