Although freeze dried food is the light-weight way to build your hiking menu, any seasoned backpacker will be familiar with the struggle to find a tasty option. To save you the trial and error, we've gathered a ranked list of the best freeze dried meals from the backpacking community, plus some expert tips to take your meals to the next level.
Mountain House makes some of the best freeze dried meals in the backpacking industry. The company was founded in 1969, is readily available in backpacking supply stores, and has a loyal following. The long shelf life of Mountain House (30 years!) also makes their freeze dried meals popular among survivalists looking to stock their emergency kits.
The Chicken and Dumplings meal is one of the best Mountain House meals according to backpackers and even has 5 out of 5 stars on Amazon. I think the flavor is closer to a chicken pot pie than to traditional chicken and dumplings, but either way, it's delicious comfort food on the trail!
Recipe Tip: Be sure to add enough boiling water, seal the bag while it soaks, and wait a little longer than the recommended time so that the dumplings get nice and soft. To bring this meal to the next level, sprinkle on some French's Crispy Onions to add crunch and extra flavor.
It's difficult to find freeze dried backpacking meals that taste like their original, but the Beef Stroganoff from Mountain House comes close. Even as new freeze dried food comes onto the market, this classic is on solid rotation for many backpacking menus.
Recipe Tip: As is the case with many of the best Mountain House meal recipes, let this one soak for at least 5 minutes more than the recommended time to make sure the noodles can fully rehydrate.
Made by a fellow backpacker out of Maine, Good to Go makes some of the best freeze dried food in the industry because of their commitment to locally-sourced, healthy ingredients. The healthy freeze dried meals are more expensive than other options, but if you're focused on sustainable backpacking, the extra cost is worth it.
The vegetarian freeze dried Thai Curry meal is the most popular meal from Good to Go, both for its flavor and texture. It rehydrates beautifully and comes very close to what you'd make at home. One packet of Good to Go has less protein compared to the best Mountain House meals, so you can double the portions if you tend to get ravenous at the end of the day, or add a scoop of freeze dried chicken if you're not a vegetarian.
Backpacker's Pantry is another industry leader in freeze dried backpacking meals. Their food tends to be less expensive compared to other options. The best Backpacker's Pantry meal is their Louisiana Red Beans recipe, probably since beans and rice are the easiest base ingredients to rehydrate and make the best freeze dried meals for backpacking. Not only is it a delicious blend, it's also one of the best freeze dried vegan meals!
Recipe Tip: My pro-tip is to add a little less water than the recipe calls for, check it half-way through, and let it soak for up to 10 minutes longer than the suggested time. Otherwise, you run the risk that the beans won't fully rehydrate.
Lasagna is great comfort food after a day hiking in the great outdoors, and the lasagna recipe from Mountain House is the go-to for many people in the backpacking community. The result is pretty close to the taste and consistency of a deconstructed lasagna. 
This flavorful vegetarian freeze dried Mexican Quinoa Bowl is packed with plenty of protein thanks to the generous amount of quinoa and black beans. With cumin, chile, and Mexican mole in the mix, it has a more interesting flavor profile compared to typical freeze dried backpacking meals, which are usually on the bland side to appeal to the masses. And the Good to Go company focuses on local and sustainable ingredients, which makes it a winner in our book.
This gluten-free Southwest Skillet Mountain House food packet has potatoes, shredded beef, black beans, green chilies, and veggies. It's has a wonderful flavor but is the spiciest recipe that Mountain House offers so proceed at your own risk.
Recipe Tip: To make a balanced meal and take the edge off some of the heat, we like topping the Southwest Skillet with shredded cheese and wrapping it in a tortilla.
Packed with rice, black beans, and quinoa, this stew is one of the best freeze dried vegan meals from Backpacker's Pantry. It's a hearty, tasty meal after a day in the wilderness–  perfect if you're looking for something that will appeal to all taste buds.
Get it on the Backpacker's Pantry Website
It's Mac & Cheese, no frills here, just no-fuss comfort food. What makes this one of the best Mountain House meals is the fact that it tastes exactly as you'd expect at home. 
Recipe Tip: In our experience, the recommended serving of water can result in a soupy consistency. Add a bit less than you think and check it half-way. This basic Mac & Cheese is an excellent candidate for adding mix-ins, like bacon cubes, French's Crispy Onions, dehydrated meat, or dehydrated broccoli.
Peak Refuel offers a lot of alternatives to Moutain House if you're looking to mix up your backpacking menu. This Pesto Pasta is their most popular meal featuring ziti noodles, chicken, and a creamy pesto sauce.
The flavor is amazing and comes close to restaurant taste, actually. Our one gripe with Peak Refuel is that it has a shorter life (4 years) compared with Mountain House's 30-year shelf life, but if you're buying for an upcoming trip, this shouldn't be an issue.
Recipe Tip: Be sure to soak the meal long enough in boiling water so that the chicken and noodles become fully rehydrated.
Runners Up:
The taste of this Chili Mac exceeded our expectations. However, some others in the backpacking community have warned that they had some, so to speak, lingering effects after eating this meal, so it's best enjoyed as a solo backpacker in the summer when you can air out your tent!
Recipe Tip: You should definitely let this one soak for longer than the recommended time, otherwise the meat might end up with a chewy consistency, which means the freeze dried pieces haven't fully rehydrated yet.
A well-rounded mix of green peas, carrots, peppers, and onions, this Chicken Teriyaki has a great flavor.  If you can get the consistency right, it's nice comfort food on the trail!
Recipe Tip: Be sure that you mix it with boiling water and let it soak for the full time. Otherwise, the rice has a hard time rehydrating, and you might end up with a soupy consistency.
A great vegetarian freeze-dried meal, this Pasta Primavera recipe has spiral macaroni in a parmesan cheese sauce, along with zucchini, cauliflower, broccoli, red & yellow peppers, and green peas. We are always pleasantly surprised at the flavor and the consistency of the cheese sauce. Our one complaint is that there is a lot more pasta compared to the ratio of vegetables, but the overall flavor is delicious.
Recipe Tip: If you're not following a vegetarian diet, you could add a scoop of Auguson's Farms freeze dried chicken to round out the meal.
Yellow curry with vegetables and chicken always hits the spot after a long day on the trail. It's a good option if you're after a little more kick. It's not too spicy but it has a robust flavor. It's also a gluten-free recipe.
Recipe Tip: Based on our previous experience with Mountain House, we ended up adding more water than the recipe called for, and ended with more of a soup. It was still delicious though! For this recipe, we recommend following the directions for the water amount. This one is also a great contender if you want to add additional dehydrated vegetables to stretch the meal further.
Once one of the best Mountain House meals, the Breakfast Skillet recipe has been recently revamped, and the jury is still out on whether it's an improvement or not. The new recipe has less fat, but also a smaller portion than before.
Loyalists claim that the new one isn't as good as the former recipe, but most still agree that it's still one of the best freeze dried meals for backpacking. Good for more than just breakfast, this one contains shredded Potatoes mixed with scrambled eggs, pork sausage, peppers, and onions. 
Recipe Hacks for the Best Freeze Dried Meals
To bring your packaged dehydrated meals to the next level, we've identified some of the best add-ons that make your food feel more special than just eating out of a bag. Add a portion of these mix-ins to your backpack so that you have them on-hand at meal time. Our favorite recipe hack add-ons are:
French's Crispy Fried Onions – Instant yumminess that can pretty much be added to any savory backpacking meal. The crunchy, salty, caramelized flavor of crispy fried onions can save a mushy meal and makes each bite better.
Crushed, Roasted Nuts

– As a high-nutrition add-on, nuts provide a great crunch when sprinkled over a backpacking meal. Peanuts, almonds, pine nuts, or walnuts would work.

Sesame Seeds

– Sesame seeds are an easy way to add a nice texture to curries and noodle dishes. A little goes a long way to spice up your backpacking food along the trail.

Shredded Cheese

– Sometimes you just need a little real cheese to add extra yumminess to a freeze dried meal. You can add parmesan cheese to pastas or cheddar cheese to stews.

Chili Flakes

– if you're looking to add a little heat, chili flakes can be used in almost any style of dish, whether it's mac & cheese, chicken & dumplings, or a curry dish. Most of the best freeze dried meals are made to appeal to the average palate, so they are usually mildly flavored. If you want a little more heat in your meal, bring some chili flakes on the trail.

Freeze dried Chicken – If you want to add some protein, most freeze dried meals can be elevated by adding a scoop of freeze dried chicken. Auguson Farms has a bulk pack that you can bring on your trip and add to meals as you like.
The Best Freeze Dried Food Companies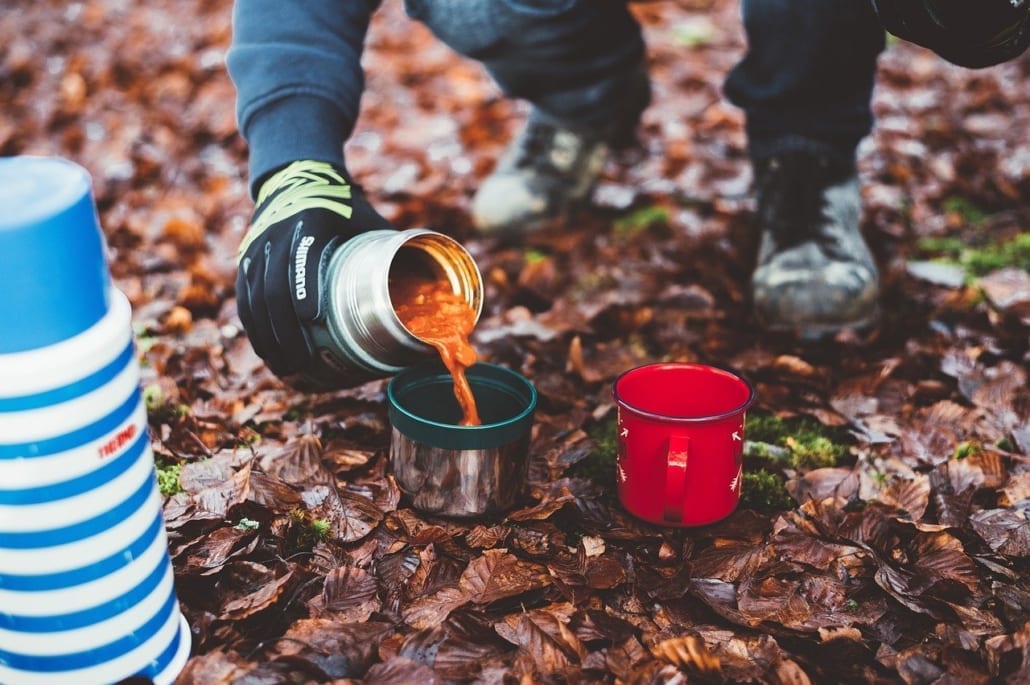 Mountain House and Backpacker's Pantry have been the leaders in dehydrated backpacking food, but there are many new companies on the market that offer amazing options. Some of them are focused on Paleo, no-carb, or vegan freeze dried meals. While we haven't been able to try all of these yet, we are hearing good things in the community and they are definitely worth a shot!
https://www.the-backpacking-site.com/wp-content/uploads/2021/03/people-2588805_1280.jpg
851
1280
Monica W.
https://www.the-backpacking-site.com/wp-content/uploads/2018/08/the-backpacking-site-1.png
Monica W.
2021-03-12 14:25:35
2022-01-09 10:12:11
The 10 Best Freeze Dried Backpacking Meals (Plus Recipe Tips!)