The city of Boston is one that encompasses many things; extensive history, impressive academics, world-class health care and that infamous thick accent that screenwriters across the country have come to know and love. While Boston is known for many "touristy" things, such as Faneuil Hall and the Freedom trail, there are so many other hidden gems in Boston that only locals typically frequent. 
While COVID-19 has affected us, like the rest of the world, Boston is opening its doors and the city is starting to come alive again.  As we are living in unprecedented times, please remember to follow any local COVID guidelines and double check to make sure everything is open prior to arrival!
Off the Beaten Path around Charles Street
In terms of restaurants and bars, some of Boston's best kept secrets are in the heart of the city, right on Charles Street. Running down the middle of Beacon Hill, Charles Street is a quaint yet bustling street that connects down to the Boston Common.
One of my favorite breakfast spots of all time is The Paramount. It's a small place but be careful, it gets packed on the weekends so head there early. It's cafeteria style, but the food is top notch. After grabbing breakfast there, you can head on down to the common and walk through the Boston Public Garden. 
If you're looking for more of a true Boston bar in that area, then you have to stop at The Sevens, also on Charles Street. It's a small bar that perfectly encompasses the intersection of dive bar and historical haunt, and is always overlooked by tourists. If you're looking for one of those hidden gems in Boston with a true pub room feel, The Sevens definitely is a bar for you.
Exploring Around Newbury & Boylston Street
After exploring the area around Charles Street, you can head on over to Newbury and Boylston streets to do some shopping (window or otherwise), check out the Boston Marathon Finish Line and see the map room at the Boston Public Library. 
If you're exhausted from your shopping and want to grab some food or a drink, there are plenty of great spots along Newbury and Boylston. One of my favorites is Sonsie on Newbury. Sonsie is more of an upscale place but they have a cute bar with great food.
Boston overall is a very casual town though, so even "upscale" here really just means put on your jeans instead of your COVID-friendly sweatpants. Stephanie's on Newbury also is great and has a cute front patio if you want to relax and people watch as well. 
Hidden Gems and Boston Harbor Views in the Seaport District
If you don't want to get up early for breakfast, then starting your trip in the Seaport District is another great way to go. There they have the Barking Crab, which is a seafood restaurant with a unique atmospheric blend that's casual, but with fantastic waterfront views.
Nearby is the Envoy Hotel which has more of a high class feel. There you can go to the roof and check out the Lookout Rooftop and Bar. While the drinks are on the pricier side, the scenery is gorgeous, and they even have COVID-approved igloos that you can rent as well.
In that area, you also can walk down the street to the rooftop at Legal Seafood, or you can get a true Boston experience by going to Harpoon Brewery for a brew tour and a few beers.
Breweries and Dive Bars off the Beaten Path in Boston
If our city's watering holes are one of the reasons that brought you here, then look no further. Boston's food scene is still up and coming, but our alcohol scene has been top level since the Revolution!
If you want a brewery feel in downtown, then I would suggest Trillium Brewery which has a Fort Point location and also has an outdoor spot in their Garden on the Greenway. They have great hazy IPAs and are typically rated some of the best beers in the country. 
If you're looking to take more of a self-guided brewery tour, then I would suggest heading outside of downtown and going into the neighboring town of Somerville. There you can do your own "brew tour" and hit up places like Aeronaut, Remnant Brewing, and the Winter Hill Brewing Company. These places have more of a hipster vibe than the breweries downtown and also can tout some of the best hazy IPAs in the state. 
If you're staying slightly outside the city, I also would always suggest checking out Nightshift in Everett. They have a great outdoor spot and often times have a lot of fun beers relating to classic 80s and 90s themes.
They too have a satellite location called Nightshift – Lovejoy Wharf, which is right near the TD Garden and is a perfect spot to stop at if you're in town checking out a game.
To continue the fun after the game, look no further than Sullivan's (Sully's) right down the street from the garden. This is true dive bar atmosphere but is a perfect place if you're not ready to go home after watching a good Bruins or Celtics game.
Hidden Gems in the Boston North End
Close to the Garden lies Faneuil Hall and Quincy Market. This you need to check off your list if you're coming to Boston, but personally I feel like it's over touristy and doesn't really give you a glimpse into the city.
After making a quick pit stop there, head over to the city's famous North End. If you can catch it on a feast day, which occur sporadically throughout the summer, then I would highly suggest checking it out. 
Walk through the city's old cobblestoned narrow streets and experience our Little Italy, either with friends or on a date night. They have amazing restaurants there, my personal favorite being Bricco, which has incredible food and a dark moody, yet modern, atmosphere. Ristorante Fiore is also fantastic and has a beautiful roof deck for the summer months. 
The Improv Asylum is a great little comedy club right on Hanover Street and makes a perfect pairing with some good Italian food later in the night. After you've gone to dinner and checked out a comedy show, then you have to head over to the original Regina Pizzeria at 11 ½ Thatcher Street, just a few minutes' walk from Hanover. The pizza is truly amazing and is perfect if you need a late-night snack.
Staying Active In Boston
At this point, if you've drunk all you can drink and eaten all that you can eat, then I would suggest taking a walk along the Charles River Esplanade to burn off some of those calories.
It's also a great place to bring a picnic and watch the sunset over the river if the weather is nice enough. Parking in that area can be difficult, but you can park at the Boston Common (along the Beacon Street side) and walk over. 
If you want more activity than just a casual stroll and don't mind waking up early, then you have to check out the November Project. This is a great work out and is free, which is even better! All you need to do is show up.
They offer workouts Monday, Wednesday and Friday mornings at varying locations across the city. Typically, these workouts involve things like doing the stairs at Harvard Stadium or running hill sprints in Brookline. More information can be found on november-project.com and I highly recommend joining their community if fitness is top of your priority list!
If you want to do an activity that doesn't involve acting like Rocky Balboa running up and down stairs, then check out Boda Borg which is a combination of an escape room and an obstacle course.
It's fun and easy for all levels, perfect for an afternoon with friends. You also could bring your skates and go skating at the public rink in the North End which has a partial glass wall where you can see the harbor. 
Lastly, the city's location in beautiful New England makes it a great jumping-off point for some amazing day hikes near Boston. This four-season guide includes 60 great trails in Eastern Massachusetts to help you get even further off the beaten path when visiting Boston.
Boston's Lesser-Known Guided Tour
Now at this point, I don't know about you, but I'd be pretty tuckered out and would want someone just to show me around. While the Duck Tours are the most popular tour of the city, I always recommend something a little spookier.
The Ghost and Gravestones tour of Boston is fantastic, albeit a little gimmicky. They give you a great tour of the city while also enlightening you to some of the spookier aspects of Boston, such as the Boston Strangler, the Great Molasses Flood and the ghosts of the revolution that haunt our streets. You'll need to make reservations in advance, but I always suggest this as I feel like it's a little more off the beaten path and a fun way to explore Boston.
---
Truly, Boston is an amazing town full of a lot of character, grit, and plenty of hidden gems. Of course, if this is your first time visiting, be sure to also take a look at the top things to do in Boston to make sure you're not missing out! And if you're heading to Boston from the Big Apple, check out Wanderu for bus options from from NYC to Boston.
The history here is fantastic and there are enough things to do in and around the city to last a lifetime.  Once you've been once, you'll understand why we Bostonians think our city is "wicked" cool. Have fun!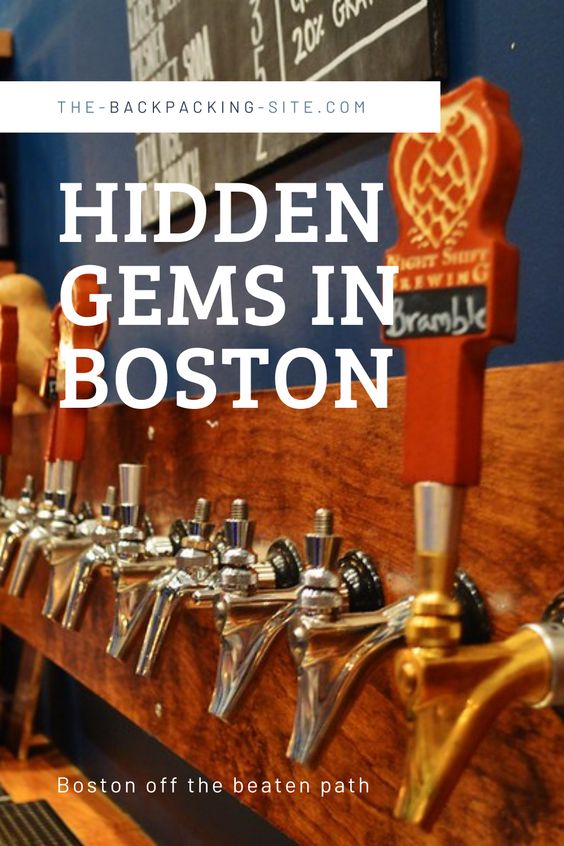 https://www.the-backpacking-site.com/wp-content/uploads/2021/03/15072687022_401a72652b_c.jpg
600
800
Caroline Maguire
https://www.the-backpacking-site.com/wp-content/uploads/2018/08/the-backpacking-site-1.png
Caroline Maguire
2022-03-15 16:07:08
2023-02-01 19:16:07
Hidden Gems in Boston - A Local Insider's Guide