If you're new to backpacking, it can be hard to know what gear you need for days on the trail. Backpacking and outdoor sports are more popular than ever, and you've probably seen a huge number of companies advertising their hiking backpacks and touting all the spectacular features they have. While these backpacks are great, and they are necessary for some things like backpacking, you won't always need to choose best, shiniest product on the market.
In some cases, yes, you can use a regular hiking pack for backpacking. If you aren't doing any serious trips, won't be in poor weather conditions, or just need to carry some extra things on an impromptu trek in the woods, a regular backpack is more than sufficient. However, if you are going for multiple days, carrying a lot of weight, or in bad weather, you may be wondering how to choose a backpacking pack.
Like always, that answer will vary based on your plans, distance traveled, and needs on your trip. A good rule of thumb is that under 5 miles, your regular backpacks will work relatively well. Beyond that, you'll begin to notice discomfort, and may start wishing for the features of a proper backpacking packs. 
How Do I Know If I Need a Backpacking Pack?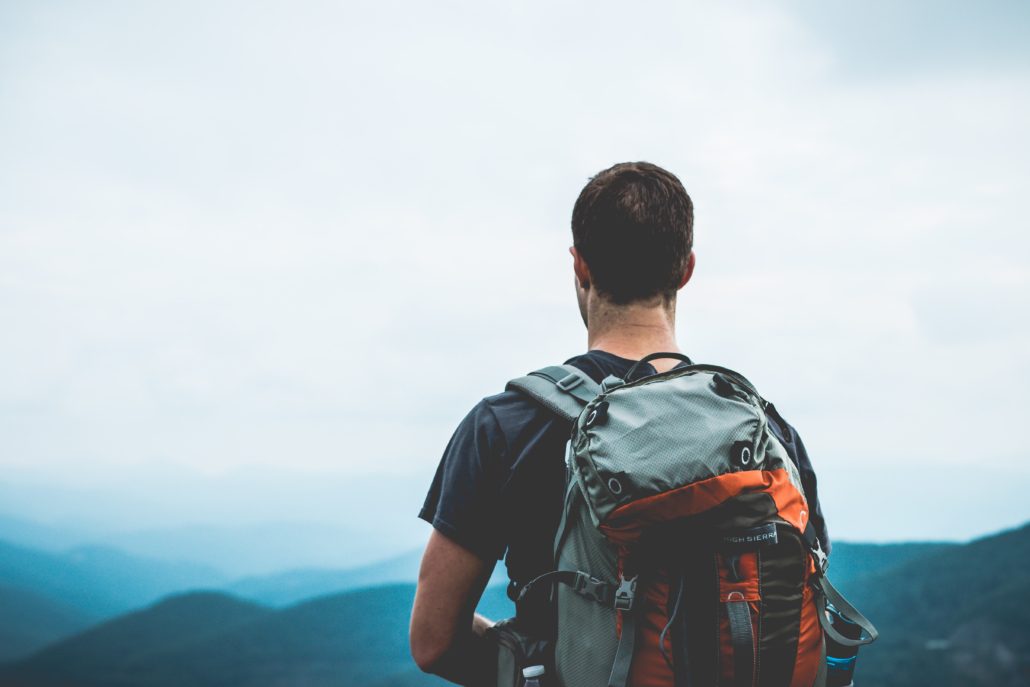 You may want to consider upgrading from a regular backpack if you're taking longer backpacking trips and need more capacity, or you're noticing discomfort due to the style of backpack you have chosen. Most types of backpacking packs have extra padding, straps, and a more ergonomic construction compared to a backpack you may just use for school books.
This means you can carry your gear for longer periods, and higher amounts of weight will be more comfortable to carry. If you're backpacking for more than a day, or your pack is getting to be on the heavier side, you should probably start looking into a more suitable option than a regular backpack.
What features are important when choosing a backpacking pack?
The most imperative thing is to simply plan for the trip you are taking. If you're on a day hike, you need a much different pack than you would for backpacking. If you're carrying heavy weight or traveling great distances in a day, a school backpack will likely become uncomfortable or challenging to use effectively. If your regular backpack is lacking in technical features or isn't cutting it on your longer hikes, look out for backpacks with features like those listed below:
Top loading design

Extra pockets

Additional padding

Waist and/or sternum straps

Adjustability 

Water-bladder pocket/Hydration reservoir

Sleeping bag stash

Attachment points and/or tool loops

Raincover

Ventilation features

Greater variability of sizes

More comfortable weight distribution

Removable daypack
I also recommend a waterproof option if you expect a trip in less than perfect conditions. One positive is that many backpacks made for general use have hiking features, and there's a good chance you may have a North Face or Osprey bag you use already around the house. If that's the case, you've already got a great tool that will hold up to a lot of your needs.
What are the different types of backpacking packs to choose from?
Generally, backpacking packs are defined by their size and style. The 3 different types of backpacking packs are the external frame, internal frame, and frameless backpacks. As far as size, they are measured in liters and you will often see different sizes listed as Daypacks, weekend backpacks, multi-day backpacks, and extended trip/expedition packs.
The different styles of the frame can be confusing, especially if you don't have experience backpacking or rucking. Frameless backpacks are very light with flexible construction and are designed to carry light loads. However, choosing a frameless backpacking pack means you will not have any rods or frame sheets to distribute weight.
They generally don't hold more than 40 liters and are not meant to carry a heavy load. Internal frame backpacks are the most popular type of backpacking pack available, and feature a more rigid construction that distributes weight more, and keeps the backpacking pack from collapsing. They're often made with a frame-sheet on the inside. External frame packs feature a frame often made of aluminum on the outside, with a harness attached to it.
They're used for carrying very heavy loads. They are not as commonly available in modern times, but some companies still offer this style due to their highly adjustable style, and customizable nature.
Sizes are often defined as follows: daypacks (1 day or less) are what you use for very short adventures, and often hold under 30 liters. A weekend pack (1-3 days) measures about 30-50 liters. Multi-day backpacks (3-5 days) hold 50-80 liters, and extended trip backpacks (5+ days) hold 70+ liters.
Depending on your needs and what outdoor sport you perform, you obviously may need a larger or smaller pack. For instance, if you're a climber and need to carry ropes, shoes, harnesses, protection, and so on, a bigger backpacking pack may be necessary.
Many people also prefer small packs in which they carry very little gear so they can travel faster. You can choose a smaller backpacking pack if you're disciplined about what you pack and comfortable with a lack of supplies. The reverse also works, if you want a more comfortable experience and you're alright with the extra weight. 
Each option has its advantages, but the average hiker will be perfectly fine with a mid-sized, internal frame backpack. This is what makes up the vast majority of the market, and most people won't need anything beyond that. 
What are the best brands of backpacking packs?
I can't give you a fully comprehensive list of brands that will suit every need when choosing a backpacking pack, but generally, you'll see excellent products in outdoor stores, or from the companies, you commonly associate with outdoor products. Ideally, I would recommend going to a local outdoor store and seeing what packs fit you comfortably and suit your needs, but researching products online is a great option. You should choose your backpack based on your specific needs.
With all the different types of backpacking packs, there are a massive number of brands, and I'm just going to list a few. If you choose a backpacking pack from a brand that isn't listed, that doesn't mean it's a bad option. I still recommend looking for reviews online or checking forums for information. Another great method is to see what type of pack people in your area or sport use. A few brands to check out are below:
Osprey

REI

North Face

Patagonia

Hyperlite Mountain Gear

Granite Gear

Mountainsmith

Deuter

Mystery Ranch

ULA Equipment
One thing you may have noticed is that many of these companies make "regular" backpacks that you may see daily. For me, seeing North Face, Osprey, Patagonia, and REI packs on a school campus was never uncommon. I even use a North Face backpack when going on short hikes or to carry gear when bouldering. My North Face pack is just a mid-sized backpack with hiking features, and it works great if I'm not on a longer trip.
A "regular" backpack from an outdoor gear company generally has several hiking features like waist straps, extra pockets, and so on. If you're just going on some moderate hikes where you need to carry a bit of gear, you probably already have a backpack in this style that you can use. 
Should I choose an internal or external frame pack?
Generally, most hiking backpacks these days are internal frames, but there are still some models featuring an external frame. If you aren't aware, external frame packs are a style of backpack that feature a frame on the outside of the pack, generally constructed out of aluminum or composite material.
There's also often space on the frame above or below the pack itself so you can attach larger gear like backpacking tents or sleeping bags. They were once the standard for backpacking, and they're generally meant to be used for heavier loads. You can sometimes find external frame packs for a cheaper price compared to internal frame packs, but since internal frames are so common now that isn't as true as it once was. 
If you're wondering how to choose a backpacking pack and aren't sure if you should get an external frame model, just consider what activities you will be performing, and how much weight you will carry. This type of backpacking pack is spectacular for long trips and heavy loads, but for an average hike, they are completely unnecessary.
There's a good chance you've never even seen an external frame backpacking pack in a store. If you happen to try one and find it comfortable, there's no problem using it, just keep in mind they're generally for more serious adventures. Another thing to note, there are frameless backpacks as well, but they are generally designed for very light loads. 
Are there any alternatives to backpacking packs?
If you're on a short trip but you don't want to carry a traditional backpack, you may be wondering what alternatives are available. While backpacks are the best option for most scenarios, there are some alternatives. Shoulder/sling bags are a smaller option that can be easier to carry than a two-strap backpack, and they're excellent if you don't have much you want to carry.
Lumbar packs are another alternative. They sit in the lumbar area of the back and are smaller capacity options that may be more comfortable for you. Fanny packs are another good choice if you don't have many pockets but you want to carry some essentials on the trail. Each of these options comes in several sizes from reputable outdoor companies, but it's important to note that most of these products hold under 20 liters. 
Conclusion
It can be difficult to know if your backpack will work on the trail, or if you need to invest in a new type of backpacking pack to hike in. With outdoor sports being so popular, and more options available than ever, it may be tempting to choose a fancy hiking backpack for your next trek in the woods. Personally, I think that you'll know when your pack isn't working. For most of my days outside, a simple North Face backpack with fairly basic features is more than sufficient.
I can fit most of my hiking gear on or in it, and it's comfortable for day hikes. Once you get into the range of multi-day trips, backpacking adventures, or have a lot of gear, it becomes apparent that a hiking backpack is necessary. Without the extra features, you'll likely become uncomfortable, or leave out a necessary piece of gear. I always recommend further research, and it's imperative to choose a backpack that is comfortable for you. If your bag isn't comfortable, then there's little chance you're going to enjoy a great day in nature.
https://www.the-backpacking-site.com/wp-content/uploads/2022/01/andreas-wagner-8H5kNkYmJYQ-unsplash-scaled.jpg
1707
2560
Hussain
https://www.the-backpacking-site.com/wp-content/uploads/2018/08/the-backpacking-site-1.png
Hussain
2022-01-28 16:20:28
2022-12-06 15:52:44
How to Choose a Backpacking Pack - The Ultimate Guide