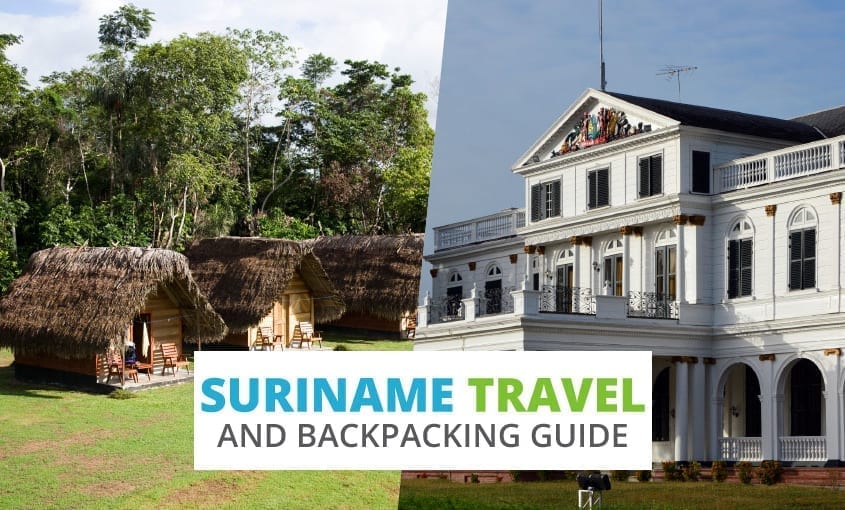 Backpacking Suriname
Looking for important travel information while backpacking around Suriname? Here you will find information on working in Suriname, entry visas, Suriname hostels, and much more.
Table of Contents

Facts About Suriname
The Republic of Suriname is the smallest sovereign state in terms of area and population in South America. Situated on the Northern Atlantic coast of the peninsula, the country is sandwiched between French Guiana to the east, Guyana to the west and Brazil to the south. Geographically divided into two main areas: lower lying northern coastal areas, where the land is more cultivated and the majority of the population resides; and the southern tropical rainforests and almost uninhabited savannah area that share the border with Brazil.
Formerly a Dutch colony, Suriname received its complete independence in 1975. Dutch is still the country's official language, but a plethora of other languages are spoken, the most widespread of which is Sranang, which is essentially an English Creole with influences from Dutch, Spanish and Portuguese. English is also spoken by the majority of people, especially in tourist areas, making navigating one's way around the country relatively uncomplicated.
Currency – Surinamese Dollar (SRD)
Time – GMT/UTC -3
Language – Dutch
Telephone Service – Calling code +597
Emergency Numbers – 115 for Police, Fire and Rescue
Climate
The climate in Suriname is tropical and characterized by high precipitation, humidity and hot temperatures. Luckily, the searing temperatures are kept within reasonable limits by trade winds blowing from the north-east.
Suriname experiences four seasons: two dry seasons from August to November and February to April, and two wet seasons from April to August and November to February. The seasons are of a very loose definition, as none are ever completely dry or wet; this is something to bear in mind when packing for your trip – always pack a good quality light raincoat, light clothing and finally, shades.
Situated just above the equator, Suriname experiences two kinds of weather, hot and wet – usually simultaneously. The high humidity levels can create quite oppressive conditions, particularly in the lowlands and coastal areas. Fortunately, temperatures never soar to especially dangerous levels, usually remaining around the 30°C mark. Sunshine is always aplenty in Suriname.
Things to See and Do
Colonial architecture coupled with vibrant native cultural symbols and cuisine make Paramaribo a perfect point from which to begin exploring the country. The Surinamese capital city is a product of its multi-ethnic history, with striking Dutch colonial influences.
Taking a wander to the heart of the city you stumble upon Independence square or 'Onafhankelijkheidsplein'. In the centre of the square the statue of the former prime minister Johan 'Jopie' Pengel can be found, surrounded by 18th century Dutch colonial architecture, the most striking of which being the stately Presidential Palace.
The people of Suriname are proud of their multi-ethnicity and the city is a staggering melting-pot of sights, smells and flavours. One of the best places to begin sampling this bubbling culture is the central market, also known as Saramacastraat. All manner of exotic items are on show in the market that lies along the waterfront, from caged monkeys to strange and wonderful South American fruits. Close by is the outdoor bustling fish market, where you can watch the fisherman bring in the latest fresh catch.
However, you must get out of Paramaribo and into the rugged jungle interior to truly explore and appreciate the country's allure. In easy reaching distance of the capital is the popular Brownsberg Nature Reserve. The reserve is a stunning, rainforest covered, mountainous area riddled with trails for the intrepid walker. The reserve is set above the Brokopondo Reservoir.
In any trip to Suriname, the stunning Central Suriname Nature Reserve must not be missed. Encompassing the Raleighvallen, Tafelberg and Eilerts de Haan nature parks, the 1.6 million hectare (3.9 million acre) World Heritage Site covers in total, 12% of Suriname's total land surface. This area is an excellent opportunity to witness some of the biodiversity of plant and animal species that the Amazon rainforest can support. Any trip to Suriname should include at the very least, a brief exploration of this magnificent area of the world.
Within Raleighvallen Nature Reserve there are two features of stunning natural beauty. Firstly, Raleigh Falls are fed by the Coppename River and situated in a diverse area of jungle inhabited by numerous exotic species. Secondly, the imposing Voltzberg is quite a spectacular sight, especially at sunrise and sunset. It is a 240m dome-shaped geological upheaval, composed of granite and therefore ideal for rock-climbers and other such risk takers.
Above all, Suriname is an incredibly diverse and in many ways, untouched area of dense rainforest, rivers and mountains. If you are allured by exceptional natural surroundings then this is for you. Ensure that you research all the options before embarking on your trip to explore this wonderful country.
Travel
The majority of travellers visit Suriname through the months of July and August, which in fact are not the best months of the year to see the country; prices also slightly inflated during these high season months. It is much more advisable to go during the dry seasons, early February to late April and mid-August to early December. Between the months of March and July, species of sea turtles come ashore to nest at Wia Wia and Galibi reserves, an extraordinary sight to see, and something to consider when planning the timing of your trip.
There are flights twice a week from Amsterdam to Paramaribo. From America, most of the planes for Suriname fly from Miami or Atlanta. Surinam Airways flies from Miami and Amsterdam, and other carriers flying into Suriname include KLM, Air France and Caribbean Airlines.
Accomodation
In the capital city Paramaribo, there is a great deal of accommodation: hotels, hostels and private lodgings. Prices can range from extremely cheap (usually in hostels) $3-25 to very expensive (luxury hotels) $100+.
Venturing outside the capital, finding cheaper accommodation becomes slightly trickier. When travelling into the nature reserves in the rainforest interior of the country, there are two good options for backpackers. One is to find one of the comfortable tourist lodgings in the reserves; however, relying on this option could drain the funds of even the most moneyed backpacker. Many of the organised trips into the jungle include accommodation arrangements of some description in the package.
Health
Medical care is not as extensive as in the UK or many other European countries. For example, outside of Paramaribo emergency medical care is limited, and virtually non-existent when you reach the interior of the country. Medical insurance therefore comes highly recommended – especially to cover the possibility that medical evacuation is required. Consult your medical insurance company prior to travelling abroad in order to confirm what is covered by your policy.
Before travel, be sure you are up to date on all routine immunisations according to schedules approved by the Advisory Committee on Immunization Practice (ACIP). See your doctor at least 4-6 weeks before your trip to allow time for shots to take effect.
Required Vaccinations
Yellow fever is present in Suriname and vaccination is recommended if you travel to the endemic zones. The interior of the country is a risk zone, except Paramaribo and coastal districts of Nickerie, Coronie, Saramacca, Wanica, Commewijne, and Marowijne north of latitude 5°N.
Recommended Vaccinations:
Hepatitis A Hepatitis B Malaria Rabies Typhoid
Useful Links
Hospital Academisch Ziekenhuis Hospital (AZ) Flustraat Tel: 597 442222 (info)
This is the only hospital in Paramaribo for emergency services. There is excellent care available and practitioners speak perfect English. It's located about 2km (1.2miles) west of the city centre.
Tourist Information Centre
First Stop Waterkant 1 Tel: 597 479200 (info) Hours: Mon-Fri 9:00am-3:30pmTourist Office website
Post Office
Korte Kerkstraat 1
Post Office website
UK Embassy in Suriname
British Honorary Consul
c/o VSH United Buildings Van't Hogerhuysstraat 9-11 P O Box 1860 Paramaribo Tel: (597) 402558 Email: britishconsulate@vshunited.com
Entry Visas for Suriname
Suriname requires British nationals to carry a visa that you must get before your trip from the Suriname Consulate in Amsterdam.
A yellow fever vaccination certificate is also mandatory for anybody entering Suriname via Guyana, French Guiana or Brazil.
On leaving Suriname you will have to pay a departure tax of $35 US , please note that Surinamese dollars are not accepted.
If you require a Visa extension a passport and outgoing ticket must be presented to complete the procedure. Like lots of South American countries, the visa extension is almost always granted, but one must undergo the bureaucratic rigmarole that these procedures entail.
Foreigner Work Permits in Suriname
To be able to work in Suriname, it is necessary to apply for a working visa. Tourist visas do not permit legal work, but of course, volunteering is an option.
Teaching English
If you manage to get a working visa, a solid work option is teaching English. Even better if you arrive in possession of a TEFL qualification as you will be in a better position to demand decent working conditions. However, English teachers are in such high demand that even without the TEFL qualification, it shouldn't be a problem to find work. Work is readily available in private language institutions, public schools and also within companies.
Volunteering
Volunteering work is a great thing to do if you really want to spend some time in the country and also want to access areas and situations that are not common to the regular tourist route. Many volunteer projects require you to raise a large sum of money in sponsorship and for this reason it is worth researching this in great depth and well in advance if you are considering it as a serious option.
How to Say Common Dutch Phrases
Dutch is the official language of Suriname
Meeting People
English

Dutch

yes

ja

no

nee

thank you

dank u

you are welcome

niets te danken, geen dank

please

alstublieft

excuse me

excuseert u mij

hello

hallo, goede dag

goodbye

tot ziens

Good morning

goede morgen

Good night

goede nacht

I do not understand

Ik begrij u niet

Do you speak…?

Spreekt u…?

English

Engels

What is your name?

Hoe heet je?

Nice to meet you

Leuk je te ontmoeten

How are you?

Hoe gaat het ermee?

good

goed

bad

slecht
Directions
English

Dutch

map

kaart

left

links

right

rechts

straight on

rechtdoor

far

ver weg

near

dichtbij
Methods of Transport
English

Dutch

Where is…?

Waar is…?

How much is the fare?

Wat kost een kaartje?

ticket

kaartje

A ticket to…, please

Een kaartje naar…, alstublieft

Where are you going?

Waar ga je heen?

Where do you live?

Waar woon je?

train

trein

bus

bus

underground

metro

airport

vliegveld

train station

treinstation

bus station

bushalte

underground station

metrostation

departure

vertrek

arrival

aankomst

parking

parkeerplaats
Time
English

Dutch

What time is it?

Hoe laat is het?

today

vandaag

yesterday

gisteren

tomorrow

mor
Accommodation
English

Dutch

hotel

hotel

room

kamer

reservation

reservering

Are there any vacancies?

Is er nog een kamer vrij?

No vacancies

vol

passport

paspoort gen
Places
English

Dutch

post office

postkantoor

bank

bank

police station

politiebureau

hospital

ziekenhuis

chemist

apotheek

shop

winkel

restaurant

restaurant

museum

museum

church

kerk

square

plein

street

straat
Shopping
English

Dutch

How much does this cost?

Wat kost dit? Hoeveel kost dit?

I will buy it

Ik koop het

I would like to buy…

Ik zou graag… kopen

Do you have…?

Hebt u…?

open

open

closed

gesloten

postcard

briefkaart

stamps

postzegels

little

weinig

lot

veel

all

alles
Meals
English

Dutch

breakfast

ontbijt

lunch

lunch

dinner

diner

vegetarian

vegetarisch

cheers!

proost!

The bill please

De rekening, alstublieft
Drinks
English

Dutch

drink

drank

coffee

koffie

tea

thee

juice

sap

water

water

beer

bier

wine

wijn
Food
English

Dutch

meat

vlees

fish

vis

vegetable

groente

fruit

fruit

potato

aardappel

salad

salade

dessert

nagerecht
Suriname Hostels
Hostels are a cheap form of accomodation, and so they are essential to backpackers and other budget travellers. We have compiled a list of hostels in Suriname to help you plan your journey. If you are looking for a hostel in Suriname, you've come to the right place.
There you have it, the ultimate Suriname backpacking guide. We hope you have found all the information you need for backpacking around Suriname.