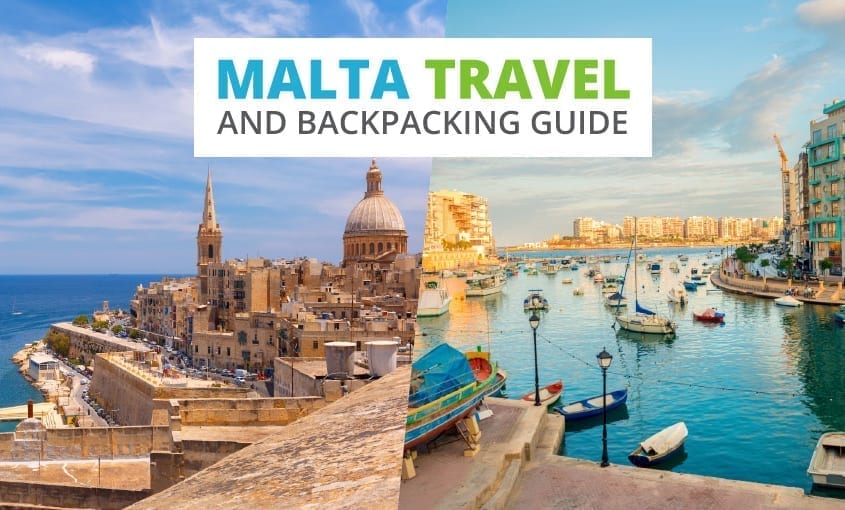 Backpacking Malta
Looking for important travel information while backpacking around Malta ? Here you will find information on working in Malta , entry visas, Malta hostels, and much more.
Table of Contents

Facts About Malta
With a coastline of coves, beaches and harbours, this beautiful island offers a peaceful and relaxing atmosphere. Situated in the middle of the Mediterranean, this magnificent destination lies only 60 miles south of Sicily. Steeped in history, Malta has an abundance of temples, grottoes, catacombs, medieval settlements and Renaissance buildings for visitors to enjoy.
The capital, Valletta, is bursting with history and character. From its spectacular Grand Harbour, to its wealth of 16th Century architecture built by the knights of St John. For travellers really wishing to explore Malta, there is no shortage of easy walks offering great views. Why not try island hopping to Gozo or Comino for a change of scene and pace. Gozo offers a charming atmosphere, smaller and more rural then Malta and much more secluded.
Even if you are only visiting Malta for a short period of time, you can see and do an incredible amount, from historical sightseeing to adventure sports like snorkelling and diving. The clear blue waters, sandy beaches and secluded bays offer great opportunities for diving and boast some of the clearest waters in the Mediterranean. With visibility down to around 30 metres, you can see why this why the Maltese Islands are a divers paradise.
Approximately 90 per cent of Malta's population Roman Catholic; every town and village has a parish saint's day. In the summer these are celebrated in the streets with brass bands, dancing, processions and fireworks.
Currency: Maltese Lira (1MTL: = 1.56 BGP 1GBP = .64cents (MTL))*
Time Zone: GMT + 1 (GMT +2 between the last Sunday in March and the Saturday before the last Sunday in October).
Language: Maltese
Telephone Services: Country Code +356 International Access Code is +00
Emergency Numbers: Ambulance, Fire and Police +112
*Malta has recently (March 07) applied to join the Euro convergence. Malta will change to Euro and if its application is approved Malta would adopt the Euro as on 1st January 2008. The current rate against the EURO is .4293 to the Maltese Lira. This will be revised for the last time on the 1st July 2007, although it is more likely to remain the same.
Climate
Malta's climate is typical of the rest of the Mediterranean, with hot, dry summers and mild winters. In the summer temperatures can reach up to 84°F (30°C) with a daily average of twelve hours of sunshine. However, the constant sea breeze makes for a more bearable heat. Malta has very limited rainfall which mainly occurs between October and April. During spring and autumn a hot wind, called the Xlokk, sometimes blows. February to June and September to October are good times to visit, you can avoid the crowds and humidity of the summer months.
Things to see and do
Vibrant Valletta, Malta's capital, is crammed with character and history, with Baroque Palaces and magnificent architecture this capital is surely one not to be missed. The town was built at the end of the 16th Century by the knights of St John as a fortress and has recently been listed by UNESCO as part of the World Heritage. For music lovers, why not book a play or a concert at The Manoel, a working theatre since the time of the Knights. At St James Cavalier, you'll find contemporary theatre, cafes, cinemas, exhibitions and much more. If you happen to be visiting in July, why not enjoy The International Jazz Festival, now over ten years old, it's seen newcomers and legends perform in a spectacular venue by the floodlit Grand Harbour.
For an excellent introduction to the country, The Malta Experience is a 30 minute slideshow which prepares you for all the sights you can see. A great starting point for any visitor.
Why not try a spot of island hopping for a change of scene and pace. Gozo is Malta's sister island, with its spectacular coastline and rugged landscape this small island is just waiting to be explored. Between Malta and Gozo lies Comino, this island offers a paradise for snorkellers, windsurfers, and divers. The island's main attraction is the Blue Lagoon, with its sparkling blue water and stunning white beaches.
Sliema is a lively popular tourist area and lies facing the capital, Valetta. This modern cosmopolitan town boasts a whole range of bars, cinemas, shops, cafes, hotels and clubs. The neighbouring resort St Julian also offers a lively atmosphere. These resorts are fast becoming the destination for clubbing, attracting top international DJs throughout the year.
Mdina, once Malta's capital and known as the noble city, is situated on a high plateau about nine miles west of Valletta. With a history of over 4000 years and overlooking the rest of the island this is a town that should definitely feature on your itinerary. The town contains narrow streets lined with churches, monasteries and palaces and is entered into by a stone drawbridge. The town is alive with museums, craft markets and at the heart of Mdina is its landmark the Baroque Cathedral of St Paul. Not to be missed is the truly breathtaking view of St Paul's Bay and the surrounding villages which can be found from Bastion Square.
Travel
There is a helicopter service which operates all year round between Malta International Airport and Xewkija, Gozo. It is a quick alternative to the ferry service and takes approximately 10 to 15 minutes.
A regular ferry service operates several times daily carrying cars and passengers between Cirkewwa in Malta and Mgarr in Gozo. Crossing time is approximately 30 minutes. For further information and timetables, check out the following website.
A good bus service operates in Malta from Valletta to all other towns. Fares are relatively cheap; most buses start and stop in Valletta so you may have to take a detour back to the capital to reach your destination.
Taxis are also a good way to travel from place to place and although taxis are under meter charge at government controlled prices, it is recommended to agree a price with the driver before your journey.
For independent travellers, why not hire a car to explore the island. Both Avis and Hertz operate services in Malta and have desks at the airport. Car Hire rates in Malta are among the cheapest in Europe. Compare providers and book Malta Car Hire.
For a slow paced form of transport why not try a horse drawn Karrozin. They offer a great relaxed way to visit the key historical sights including Mdina and Valletta.
For further information on getting around Malta, see maltatransport.com. This sight has a comprehensive list of bus times and prices.
Accommodation
Malta has accommodation to suit all tastes and budgets. With deluxe options such as health and spa centres and luxury club hotels. The lively resorts of Silema and St Julian's offer some of Malta's newest hotels and apartments. However, Valetta offers accommodation with a historic atmosphere. Options can range from five star hotels to bed and breakfasts.
The central inland region of Malta has some of the most interesting places to stay, ranging from town house hotels and ancient farmhouses to baroque palaces with spectacular gardens. It is important to note that many hotels in Malta offer substantial reductions, especially during the low season. For further information contact the Malta Tourism Authority.
There are a small number of youth hostels in Malta and Gozo.. Some offer private self catering studio suites with their own facilities. For further information take a look at our Malta hostels directory or check out the following website.
Health
There are no major health risks associated with travel to Malta, and water and food is safe for consumption. A reciprocal agreement between EU member states enables you to get free or reduced cost necessary treatment is available if a valid European Health Insurance Card (EHIC) is produced. This has replaced the E111 which was no longer valid as of 31 December 2005. The EHIC gives access to state-provided medical treatment only, so it is advisable to take out comprehensive travel insurance before visiting Austria. For information, and how to apply for an EHIC online, please check Department of Health. It is highly recommended that adequate health insurance is taken out before visiting Malta.
Useful Links
Malta High Commission in the UK
Malta House, 36-38 Piccadilly, London W1V 0PQ, UK 
Tel: (020) 7292 4800. 
Website:  www.gov.mt 

Malta Tourist Office in the UK
Unit C, Parkhouse, 14 Northfields, London SW18 1DD, UK 
Tel: (020) 8877 6990. 
Website:  www.visitmalta.com

British Foreign and Commonwealth Office 
Tel: (0845) 850 2829. 
Website:  www.fco.gov.uk
Entry Visas for Malta
British nationals do not require a visa to visit Malta. Your passport must be valid for at least three months beyond length of stay and duration of stay can last up to three months without a visa. EU and EEA nationals are only required to produce evidence of their nationality and identity in order to be admitted to an EU/EEA Member State. This can take the form of a valid national passport or a national identity card. Either is acceptable.
Visitors from outside the EU, including Americans must fill out landing cards which are available on board flights.
Employment licences (work permits) are still a requirement for non-Maltese wishing to work in Malta. These are usually issued for one year and can be renewed.
Foreigner Work Permits in Malta
Paid employment in Malta can be found with tour operators, hotels, bars and restaurants in the main tourist areas including Qwara, Silema and St Julians. There are specially trained EURES advisers in all EU/EEA countries. Their job is to support those seeking employment in another EU/EEA country. For more information on working in Malta check out their website.
There are opportunities to volunteer in Malta. The Malta Youth Hostels Association (MHYA) offers free, temporary accommodation to people needing social assistance. It also receives young travellers and camp volunteers to assist in the achievement of this aim. The MHYA operates work camps all year round. Volunteers are accommodated in return for a minimum of three hours per day unpaid work. Volunteers up to the age of 30, from all countries, may stay between two weeks and three months and reside in the youth hostels. Visit http://nsts.org for more information.
How to Say Common Maltese Phrases
Some Basic Maltese Phrases
Meeting People
English

Maltese

Yes

Iva

No

Le

Thank you

Grazzi

You are welcome

M'hemmx imniex

Please

Jekk joghgbok

Excuse me

Skuzi

Hello

Hello

Goodbye

Sahha

Good morning

Bongu

Good night

Il-lejl it-tajjeb

I do not understand

Ma nifhimx

Do you speak…English?

Titkellem bl-….Ingliz?

What is you name

X'jismek?

Nice to meet you

Ghandi pjacir

How are you

Kif inti?
Food and Drink
English

Maltese

Cheers!

Sahha

Drink

xorb

Water

ilma

Beer

birra

Wine

inbid

Food

ikel

Meat

laham

Chicken

tigiega

Pork

majjal

Fish

hut

Pasta

ghagin
If you know more useful Maltese phrases, let us know and we will add them to this page to help other travellers.
Malta Hostels
Hostels are a cheap form of accomodation, and so they are essential to backpackers and other budget travellers. We have compiled a list of hostels in Malta to help you plan your journey. If you are looking for a hostel in Malta, you've come to the right place.
There you have it, the ultimate Malta backpacking guide. We hope you have found all the information you need for backpacking around Malta .
Top Products for Backpackers