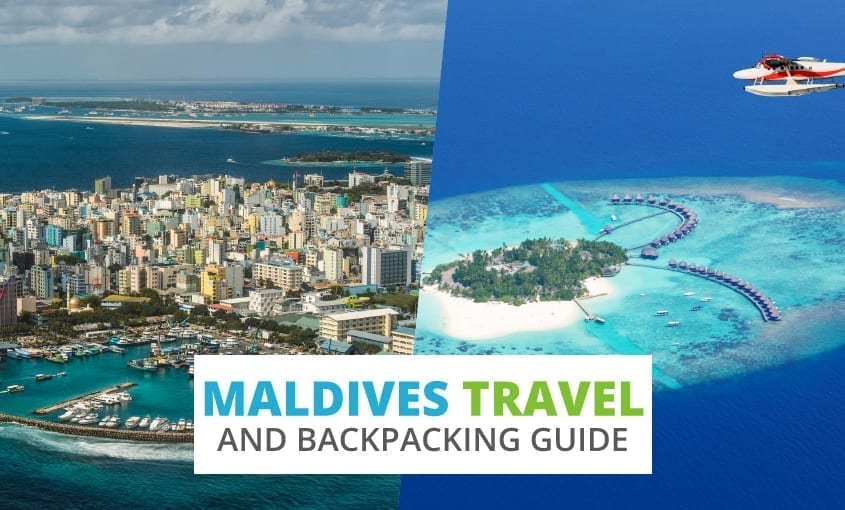 Backpacking Maldives
Looking for important travel information while backpacking around Maldives? Here you will find information on working in Maldives, entry visas, Maldives hostels, and much more.
Table of Contents

Facts About Maldives
The Republic of the Maldives has an area of 90,000 square kilometres, the majority of which is covered by the sea. The area, set in the Indian Ocean, is made up of atolls rings of coral which grow close to the surface of the water) creating a unique lagoon environment. Unlike the sparsely inhabited open ocean, the lagoons created by the rings of coral are rich in sea life owing to the accumulation of nutrients undisturbed by the ocean currents. The varying depth of the water within the lagoons creates an unbelievable range of colours which take pride of place on the Maldives' postcards. To take in the views first hand, small planes can easily be chartered either specifically for sightseeing, or to travel between the islands. There are 26 different atolls and almost 1200 islands, only 200 of which are inhabited.
The republic's economy depends on agriculture, fishing and tourism. The resorts therefore have some of the world's most idyllic settings with specialist surf resorts dotted alongside the areas used for drying fish and cultivating fruit. This juxtaposition of the local culture and western luxuries makes the area a favourite for international travellers made up predominantly of honeymooners and wealthy sports enthusiasts.
In stark contrast to the white sand beaches and beach huts is the capital Malé which is home to roughly 75,000 people. The city contains the majority of the country's official buildings and has an impressive skyline of towering skyscrapers. Despite the concrete roads and shopping centres, the city maintains a green atmosphere with streets lined with trees and tropical gardens, and creepers sprouting from many of the buildings in the suburbs. The shops and restaurants in Malé reflect the country's vast cultural influences.
The exact history of settlement in the area is not known, but the earliest settlers are thought to have been from Sri Lanka and Southern India. Although the most common religion is now Islam, the earlier Buddhist and Hindu influences are still extant today in many aspects of the culture. Dhivehi, an Indo-Indian language, is the most widely spoken, although there are many different dialects spoken across the different atolls. In summary, the Maldives has a great deal to offer in terms of both historical and cultural interest as well as the natural beauty of the area.
Climate
The Maldives enjoys a climate that could easily be described as an eternal summer. The average minimum temperature for the coolest months, December to January and July to September, is only just below 25oC and even during these months temperatures are usually in the high twenties. The variations in temperature are due to the two monsoon seasons, but the country's close proximity to the equator means that even these changes are only slight.
The average annual rainfall is below 2 metres, with the wettest months seeing up to 300mm. The Southwest monsoon occurs from May to October and the Northeast from November to April. The Southwest brings the slightly more extreme weather conditions with the highest rainfall and strongest winds in June and July, but even with this in mind you would only need to pack a light waterproof for these months with light summer clothes remaining adequate for the majority of the time. The best time to visit is between December and April, making it peak season, when you will be hard pushed to find any room in the already limited budget accommodation.
Things to do and see
Independence Day – The Maldives were a British Protecorate from 1887 to 26th July 1965, during which time they were forced to consult the British on all foreign affairs in exchange for protection from other colonies. Every year, the end of this era is celebrated in the form of national parades, street parties and dancing. Schools spend a good deal of time preparing for the event and there are also demonstrations by the security forces. This reflects the actual level at which the day is celebrated and the people's feelings towards the holiday. The current political climate and overbearing Presidential influence means that many people see the celebration of independence at a personal level rather than at a national level. Many believe the country is far from achieving independence from the political powers that be, which is illustrated by the fact that the parades and celebrations are sometimes cancelled at the last minute by the government.
Malé Fish Market – The market is located at the beach at Republic square. The pace of life there is incredibly relaxed and so this market offers a vibrant alternative. The market is in full swing throughout the day with shops and stalls selling various goods and produce, and with all types of material being traded between people from the surrounding atolls. The busiest time is mid-afternoon when the fishermen bring in the day's catch, which is promptly laid out on the floor and sold.
Hufaven Fushi Underwater Spa Resort – This is possibly one of the most extravagant places to stay in the Maldives, and is marketed mainly towards honeymooners with its overly lavish rooms and "personal dining rooms", which consist of one table and two chairs on a platform out to sea. The real attraction however is the underwater spa, a series of rooms below the sea where you can enjoy the relaxing treatments and spa sessions while taking in the marine environment and wildlife. The prices for accommodation are well beyond most backpackers; the treatments start at around $100 US and may appeal to the more frivolous traveller.
Diving and Snorkelling – The vast majority of the Maldives' land mass lies a fraction below the water level, and is probably the main attraction of the region. It can be explored extremely cheaply and easily with a snorkel, with the shallow waters offering a vast range of marine activity to take in. Snorkel trips are organised by most hostels and hotels, and in addition there are plenty of local guides operating their own boat tours to the most productive and more inaccessible spots. For those interested in diving, there are plenty of sheltered areas ideal for learning, as well as more open areas affected by currents. The latter have a higher flow of nutrients and so sustain more sea life, meaning that you are likely to come into contact with the larger marine animals such as sharks and rays.
Travel
Malé International Airport sees about 700 scheduled flights per month with only a small proportion of passengers coming through on transit. Major airlines fly directly from a great range of international airports across Asia, including Hong Kong, Singapore, Shanghai, and Kuala Lumpar. Other international destinations include Johannesburg, London Heathrow, Colombo Bandaranaike Airport (Sri Lanka), Dubai and Milan Malpensa (Italy). Flights are available from other main international destinations but will usually involve a stopover or transfer. Gan International Airport currently only sees domestic commercial flights, although there are plans in place for it to become a fully operational international airport.
There are also domestic airports at Kaadedhdhoo, Kadhdhoo and Hanimaadhoo. Tickets for domestic flights can be booked in advance or may come as part of a tour package. They can also be booked from travel agents or flight company outlets once in the country, and this may indeed be the cheapest way to travel between islands. The only disadvantage in buying the flights directly is that you will need to organise your own transfers to the airport, and this can be tricky with only limited public transport. Sightseeing tours of the islands also operate from these domestic airports.
The only other option for travelling between the islands is by sea. Going with a tour operator means that this will probably be included in the cost of the trip. If you wish to organise things independently then there are several options. Small boats can be chartered or hired from the main ports and jetties. Travelling between the smaller, less populated islands is also possible by ferry and can be done relatively cheaply, although you may find yourself sharing the vessel with all sorts of cargo rather than passengers. It is also worth noting that there have been several tragic accidents involving ferries in the last ten years, so it is of paramount importance that you are confident about the safety of the boat, and check the weather beforehand.
Travelling independently from resorts or without the aid of a tour organiser is almost impossible, especially if you wish to visit island communities. If you want to try and do this, you will need to get in contact with the local authorities and enquire about getting a permit, although you will most likely be redirected towards the tour operators.
Accommodation
The attractive climate and increasing number of people who can afford to go on holiday in the area means that the Maldives' islands are readily being converted into exclusive resorts. The number of resorts is rapidly approaching a hundred, although they do not differ massively in terms of standard and services offered. Most provide relatively basic accommodation: a bar, restaurant and tours around the surrounding area with a few extra touches such as flower arrangements on the bed and themed nights. Prices are quoted per night, and you should expect to pay around a hundred US dollars a night, with a discount for couples or those sharing (although do not expect much dorm style accommodation: rooms rarely cater for more than two). Some good resorts to try are:
Hotels in the capital Malé are not much cheaper, and the setting is somewhat less idyllic. The facilities are slightly better, with most rooms having satellite television, a mini-bar and room service. Most people however, choose not to stay in the capital for more than a few days to stock up on souvenirs. Some good hotels in Malé are:
The Relax Inn – Being the tallest hotel in the area, this offers some of the best views in the capital, although the most obvious sight is the nearby airport. It has all the basics you would expect from a hotel in the city centre such as a restaurant and tour booking services. Beyond this it has little to offer apart from the view.
Kai Lodge – This is a small hotel which offers some of the cheapest accommodation in the city. Rooms are very basic, but do offer a reasonable choice for those on a tight budget wishing to share a triple room.
Hotels can be booked through tour operators in advance or directly from an agent at the airport. Failing that you can simply walk into a travel agent and they will most likely be able to sort out some sort of discounted room for you. At time of writing there are no designated "hostels" as such in the Maldives but this may change if it becomes more established on the backpacker/gap year route.
Health Care Issues
Hepatitis A vaccines are recommended for all visitors and should be taken at least 2 weeks before you travel. Hepatitis B vaccine may be necessary if you are planning to come into direct contact with members of the local population, for example if you're planning on doing some sort of volunteer work.
However, the main health concern is diarrhoea. This can be avoided by drinking bottled water that has not been tampered with and being careful with food preparation and hand washing. Water on the resorts is usually safe to drink. However, it is not always possible to ensure the cleanliness of your food, meaning that you may come into contact with bacteria that your body is not used to and so you should ensure that you carry a good supply of anti-diarrhoea medication and rehydration sachets.
Rabies is present in the Maldives but you need not be vaccinated unless you are planning to be away from access to medical care for long periods of time. If you are unfortunate enough to need medical attention at one of the hospitals on Malé you will face a fairly hefty bill unless you have comprehensive health insurance. The Abduarahman Don Kaleyfan Hospital (ADK) is the only hospital that will accept insurance plans. The standard of service at the hospitals is somewhat limited. Most resorts have basic first aid facilities.
Indhira Gandhi Memorial Hospital Kanbaa Aisa Rani Hingun, Male Tel: +960 316647 Fax: 330049
Useful Links
Maldives Government Tourist Information Office
Aschaffenburger Str.
96g, 63500 Seligenstadt, Germany
Tel: +49 (0) 6182 9 934 857
Fax: +49 (0) 6182 9 934 858
E-mail: info@visitmaldives.de
www.visitmaldives.com
Entry Visas for Maldives
Citizens of most countries (including UK and US) do not need to apply for a visa to enter Malaysia providing the trip is for tourist purposes and the length of stay no more than 90 days.
In all cases a valid passport is required with at least six months remaining beyond the date of entry. Also, all travellers must be in possession of a return or onward ticket and sufficient funds (at least Rf250). It is advised that you enter Malaysia on the passport on which you exited your last country of departure, as dual nationality is not recognised.
Unless flying from Malaysia (where it is already tacked onto the ticket price) you will have to pay a Rf20 departure tax when flying international.
Addresses
Malaysian Embassy in London
Malaysian High Commission,
45 Belgrave Square,
London SW1X 8QT.
Tel: 020 7235 8033
Malaysian Embassy website
How to Say Common Dhivehi Phrases
Useful phrases
English

Dhivehi

Hello (formal)

Assalaamu Alaikum

Hello (informal)

Kihineh?

How are you?

Haalu kihineh?

Ys

Aan

No

Noon

Thank you

Shukuriyaa

I am sorry

Ma-aafu ku
Maldives Hostels
Hostels are a cheap form of accomodation, and so they are essential to backpackers and other budget travellers. We have compiled a list of hostels in Maldives to help you plan your journey. If you are looking for a hostel in Maldives, you've come to the right place.
Haa Dhaalhu Atoll
North Male Atoll
There you have it, the ultimate Maldives backpacking guide. We hope you have found all the information you need for backpacking around Maldives.
Top Products for Backpackers