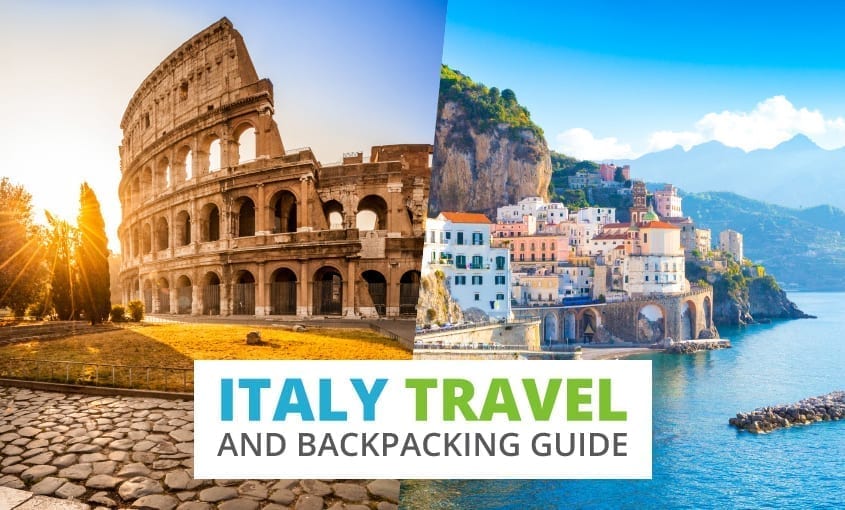 Backpacking Italy
Looking for important travel information while backpacking around Italy? Here you will find information on working in Italy, entry visas, Italy hostels, and much more.
Table of Contents

Facts About Italy
Birthplace of the Roman Empire, home of the Catholic church and spiritual home of the pizza, Italy is understandably one of the most popular places to visit in the world. With the industrialised and cultured north considered a centre of high fashion, high living and high prices, and the rustic south packed with its own share of heritage and charm, Italy has something to offer everyone.
However, such qualities don't come cheap. Depending on when you go and where you stay, Italy can be an expensive proposition, so make sure you budget well before travelling and expect to spend no less than €30 a day. Indeed, if you want to stay in a high class hotel and really take advantage of Italy you probably want to budget at least €75 a day.
Currency: Euro (€) 1 euro = 100 cents
Time Zone: GMT + 1
Language: Italian
Telephone Services: Country code +39 (N.B. Don't drop the zero for city codes but do drop the zero for Italian mobiles), International access code 00
Emergency Numbers: 112 for all services
Climate
Italy has a hot, Mediterranean climate. The weather becomes hotter further south, and winter can be relatively dry and warm in these southern regions. Mountain regions are colder and endure heavy snowfall during the winter months.
Things to see and do
Perhaps the most unique attraction in Italy is the ancient Roman town of Pompeii. Situated just 10 minutes from Naples, this town used to be a wealthy Roman country retreat. In 79AD, however, Mount Vesuvius erupted and buried the village in volcanic ash. Fortunately for tourists today, Pompeii has since been excavated and restored, with a range of ancient villas as well as a temple and the old forum on show. From nearby Ercolano or from Naples it is possible to take the bus to Mount Vesuvius itself and visit both of these spectacular sights in one day.
A major city in its own right and the capital of Italy, Rome is unsurprisingly also one of the country's major attractions. Split in two by the River Tiber, with the world's smallest country – the Vatican City – overlooking the historic centre of the city, Rome's incredible history and culture is attested to by the many phenomenal edifices.
The most famous of these structures is, of course, the Colosseum, but be sure to look beyond the old arena and check out other amazing sights like the Forum, the Castel Sant'Angelo and the Pantheon. You should also make the trip across the river to the Vatican City at least once, as the tiny state boasts the immense Vatican Museums (home to the Raphael Rooms and incorporating the monumental Sistine Chapel), and the world-renowned Basilica di San Pietro (containing Michelangelo's fabulous Pieta). If that's not enough, Rome also boasts an impressive number of bars, restaurants and clubs, particularly around the area of Trastevere on the west bank of the Tiber, and the student district of San Lorenzo, near Termini station.
Another famous Italian attraction is the Leaning Tower of Pisa. Constructed in 1174, the reason for the tower's unique prefix is the swampy ground on which the tower was built, which gradually caused subsidence and meant one side of the tower was 5 metres lower than the other. As well as its aesthetic appeal, the tower is also historically significant, having been used by Galileo to demonstrate his theory of motion whilst he held the Chair of Mathematics at Pisa University.
Of course, these sights represent but a snapshot of what you can expect to see should you visit Italy. Whether you confine yourselves to the beautiful sights and museums of major cities like Florence, Rome and Milan, or venture out into the fine countryside of Tuscany and Umbria, you will always find plenty to keep yourself occupied.
Travel
The Italian train system, while cheap and quite extensive, is unfortunately incredibly slow and somewhat poorly managed. Trenitalia runs the network and imposes a bizarre set of supplements which are chargeable on seemingly random trains. These supplements are paid on top of the ticket price and are usually printed in red on timetables, although there seems to be no rhyme or reason as to which trains charge supplements and which don't. Despite this, Italy is one of the few countries where ticket prices are actually cheap enough that you might want to consider buying single tickets, so don't fret too much about the price.
Where you have the option, you should always pay the surcharge to make a reservation on Italian trains. Some services are extremely busy and those without a reservation may need to stand for the duration of the journey. Reservations can be made up to three hours before departure, with some particularly modern services allowing reservations up till 30 minutes before departure.
There are local train passes available, but these do not represent good value for money unless you are certain you will be using the trains very frequently. Passes offer between 4 and 10 days of travel within 2 months. Using this pass means that you won't have to pay any supplements except on Eurostar and Italia trains. You can order the pass online at Railkey.
Much like the trains, the bus system in Italy is of questionable quality, being largely fragmented into lots of competing private services. That said, however, it is usually cheaper and faster than the rail network. The most extensive operator, STAM, operates buses calling at most major Italian cities, including Naples, Rome, Venice and Florence.
Accommodation
There are tens of thousands of hotels spread throughout Italy to suit whatever budget you have in mind. Naturally, what you can expect from your money will differ from place to place but, in general, the most economical options will offer board only. Conversely, the most luxurious hotels will require advance booking and offer premium location and the option to eat in should you wish.
Italy's Youth Hostel Association runs around 54 hostels, with listings and opening dates available from the Rome Tourist Office and offices in other major cities. During the summer, you will almost certainly have to book at least 2 weeks in advance as these hostels fill up very quickly indeed. In addition, most larger towns have independent student hostels which are generally of reasonable quality. However, be wary as these have not been registered with any official body and you would be well advised to check out the rooms before you hand over any money.
Health
The health service in Italy is good, and possession of an EHIC card and comprehensive travel insurance will guarantee you treatment without it being a financial burden to you.
The drinking water is considered safe and there are no recommended vaccinations required for visiting Italy.
Entry Visas for Italy
A valid passport is required by all except for EU nationals bearing a valid national ID card. A tourist visa is not required for EU or USA nationals for stays of up to 90 days. For stays longer than this, or if you intend working in Italy, you should contact your local Italian Embassy or Consulate.
The Italian Embassy should be contacted if you have any visa or immigration related enquiries:
Embassy of the Italian Republic 14 Three Kings Yard Davies Street London W1Y 2EH Tel: (020) 7 312 2200 Fax: (020) 7 312 2230 Embassy of Italy in London – Packed with information for visitors. Particularly good for finding out about visas. UK representation in Italy can be found at:
British Embassy
Via XX Settembre 80a
I-00187 Roma RM
Tel: + [39] 06 4220 0001
Fax: + [39} 06 487 3324
email: bcflocom@tin.it britishembassy.gov.uk
There are also Consulates in Bari, Brindisi, Cagliari, Catania, Florence, Genoa, Messina, Milan, Naples, Palermo Trieste, Turin and Venice.
Useful links
Foreigner Work Permits in Italy
EU nationals do not have to obtain a visa before they enter Italy. However, if intending to stay for longer than three months, you will need to apply for a residence permit (permesso di soggiorno) from the police and sometimes an employment book (libretto di lavoro) from the local town hall (municipio). Before this time, you must apply to the police for a ricevuta de segnalazione di soggiorno, which authorises your three-month stay whilst looking for work.
Teaching English
There are many language schools around Italy, mostly in city areas such as Milan, Rome, and Naples. The best way to find jobs is to go in person to the schools. Without a qualification such as the CELTA or CertTESOL, however, you are likely not to be noticed. If you are serious about wanting to pursue a job abroad then check the TEFL website listed below for details of qualifying before travelling. If you would like to qualify in Italy, there are institutions around which can accommodate you as well, so look around.
Au Pairing
Childcare International Ltd and Home from Home are just two organisations that organise placements for those wanting to work as au pairs in Italy. Host families in Italy will provide accommodation, meals, and personal expenses such as travel. As an au pair you will be expected to work five days a week, taking care of the children, as well as general domestic duties.
As in a lot of other countries, au pairs are required to attend a language or vocational course locally and will be given time to do so. However, although your job will be in the form of an au pair, you are more likely to be hired as a 'nanny' or 'domestic help' because the UK is not part of the European agreement of au pair placements and Italian au pairs are required to have a permit specifically for au pair employments.
This permit can only be received after the Provincial Labour Office has approved. As a result, many families choose to by-pass such laws and most often instead regard their employees as nannies. Whatever your job title, duties will be similar across most vacancies, and you can expect to be paid between €208 and €312 (approx. €146 to €219) per month.
Campsites
Eurocamp and Canvas Holidays operate on campsites throughout Europe, including Italy. Most jobs with these companies and other similar organisations do not differ greatly. Eurocamp employs couriers, administrators and children's helpers during the peak tourist summer months. Workers can expect to receive about €95 per week. It is advantageous, both for your job application and job satisfaction, to know a European language, at least on a conversational level, as jobs will usually involve interaction with customers from far and wide.
Holiday Resorts
Summer or winter, holiday resorts in Italy offer a good chance of finding some casual work for the willing traveller. Coastal resorts and well-known tourist areas and cities are a good place to start looking for casual work during the summer months. Types of jobs include waitressing, bar work, and DJing, and wages depend on the type of job and the employer. However, bear in mind that working in the tourist trade can be demanding because you will be expected to deal with customers of all nationalities at the peak time of the tourist season.
Check the Club Mediterranee website for details of jobs in their holiday village in Milan which range from dancers to lighting technicians. As with work for campsite operators, specific jobs in holiday villages may require you to have knowledge of a foreign language and good interpersonal skills will also work to your advantage.
As well as having a busy summer tourist industry, winter in Italy means peak season for the many ski resorts around the Alps, Dolomites, and Apennines. PGL Ski Holidays and Crystal Holidays are good places to consult for opportunities of employment in ski resorts. As with summer holiday resorts, the type of jobs in ski resorts are numerous and it is best to get there early in the tourist season to secure yourself work. Mark Warner is a recruitment agency that can locate you with seasonal jobs, both summer and winter, similar to those already mentioned, including work in the Alps, their contact details are listed below.
Volunteering
A whole host of volunteer jobs can be found and applied for with EIL, whether it is community, environmental, or conservation work you are interested in. Their European Voluntary Service (EVS) can place you on a six to twelve month project in Italy as well as other European countries. Accommodation is provided by EIL as well as food, training, travel expenses, and pocket money.
How to Say Common Italian Phrases
English

Italian

yes

si

no

no

thank you

grazie

you are welcome

prego

please

per favore

excuse me

mi scusi

hello

salve

goodbye

arrivederci

Good morning

Buon pomeriggio

Good night

Buona notte

I do not understand

Non capisco

Do you speak…?

Parla…?

English

Inglese

French

Francese

What is your name?

Come si chiama?

Nice to meet you

Felice di conoscerla

How are you?

Come sta?

good

buono

bad

cattivo
Directions
English

Italian

map

mappa

left

sinistra

right

destra

straight on

diritto

far

lontano

near

vicino
Methods of Transport
English

Italian

Where is…?

Dove si trova?

How much is the fare?

Quanto costa il biglietto?

ticket

biglietto

A ticket to…, please

Un biglietto a …, per favore

Where are you going?

Dove sta andando?

Where do you live?

Dove abiti?

train

treno

bus

autobus

underground

metropolitana

airport

aeroporto

train station

stazione del treno

bus station

stazione degli autobus

underground station

stazione della metroploitana

departure

partenza

arrival

arrivo

parking

parcheggio
Time
English

Italian

What time is it?

Che ore sono?

today

oggi

yesterday

ien

tomorrow

domani
Accommodation
English

Italian

hotel

hotel

room

camera

reservation

prenotazione

Are there any vacancies?

Ci sono posti liberi?

No vacancies

Niente camere libere

passport

passaporto
Places
English

Italian

post office

ufficio postale

bank

banca

police station

stazione di polizia

hospital

ospedale

chemist

farmacia

shop

negozio

restaurant

ristorante

museum

museo

church

chiesa

square

piazza

street

strada
Shopping
English

Italian

How much does this cost?

Quanto costa?

I will buy it

Va bene, lo compro

I would like to buy…

Mi piacerebbe comprare…

Do you have…?

Avreste…?

open

aperto

closed

chiuso

postcard

cartolina postale

stamps

francobolli

little

poco

lot

molto

all

tutto
Meals
English

Italian

breakfast

prima colazione

lunch

pranzo

dinner

cena

vegetarian

vegetariano

cheers!

alla salute!

The bill please

Il conto, per favore
Drinks
English

Italian

drink

bevanda

coffee

caffè

tea

tè

juice

succo

water

acqua

beer

birra

wine

vino
Food
English

Italian

meat

carne

fish

pesce

vegetable

legumi

fruit

frutta

potato

patata

salad

insalata

dessert

dessert
Buy phrasebooks online at Amazon.co.uk
Italy Hostels
Hostels are a cheap form of accomodation, and so they are essential to backpackers and other budget travellers. We have compiled a list of hostels in Italy to help you plan your journey. If you are looking for a hostel in Italy, you've come to the right place.

Abruzzo Hostels
Calabria Hostels
Campania Hostels
Emilia Romagna Hostels
Friuli-Venezia Giulia Hostels
Lazio Hostels
Le Marche Hostels
Liguria Hostels
Lombardy Hostels
Molise Hostels
Piemonte Hostels
Puglia Hostels
Rimini Hostels
Rome Hostels
Sardinia Hostels
Sicily Hostels
Trentino Alto Adige Hostels
Tuscany Hostels
Umbria Hostels
Valle d'Aosta Hostels
Veneto Hostels
There you have it, the ultimate Italy backpacking guide. We hope you have found all the information you need for backpacking around Italy.